The best way to win on mobile is to holistically benchmark against the competition and market. Meet App Annie's Performance Score, a 360-degree view of your mobile performance.
We spoke with Natalie Korn, the App Annie Data Scientist leading the development of Performance Score and Insights, two industry-first features that recently debuted in the App Annie Pulse app on February 10, 2021.
The best way to win on mobile is to holistically benchmark against the competition and market. Meet App Annie's Performance Score - a 360-degree view of your mobile performance, with options to compare and evaluate other apps. 
What prompted the App Annie team to build Performance Score?
Natalie: The idea actually came from our own executive team. We wanted to build an app that would help executives in the mobile space to quickly measure how well their apps were doing with one, singular, numeric source of truth: a Performance Score.
We wanted to create a baseline snapshot of performance that was easy to benchmark. And most importantly, we wanted it to be actionable, so that executives could see their score and be better informed to make mobile strategy decisions.
We were also inspired by the existing and respected benchmark of NPS, or net promoter score, and thought, why not create this for the mobile industry? As leaders in the mobile analytics space, we were in the right position to build this new standard.
What is the data science behind Performance Score?
Natalie: As Ted Krantz, our CEO has said, "We are unmatched in our data science capabilities – no other data provider is 100% end-to-end data science."
So to jump into a bit more detail (but not our secret sauce), our Performance Score is calculated from 9 high-quality metrics across 4 main themes: acquisition, engagement, monetization, and sentiment.
For

acquisition

, we look at the activity of app downloads recently, and over the lifespan of the app.

For

engagement

, we highlight how many users frequently use an app, as well as how often and for how long users are interacting with the app.

For

monetization

, we estimate mobile app

revenue from app and in-app purchases, as well as monetization from advertising.

To calculate the

sentiment

generated by an app, we use the recent app ratings, combined with app ratings over time, to give you a picture of how users are feeling.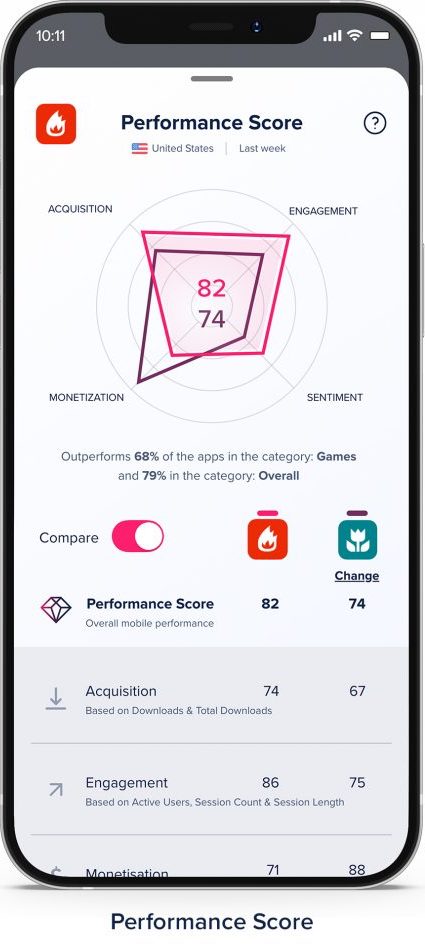 What makes Performance Score unique or innovative in comparison with the few app scoring models we've seen in the market?
Natalie: What makes Performance Score unique is how quickly it enables users to see the full picture of their app's health. With App Annie Pulse, users can easily click from the Performance Score to see their performance over time on individual metrics, like average ratings or session duration, and strategize future upgrades.
We're also uniquely capable of making a Performance Score that uses the most points of reference, because App Annie has the broadest variety and the highest quality of metrics in the industry. Only App Annie can create a composite score encompassing such a broad picture of app performance. Other scores on the market only cover a couple areas of performance, or are only available for certain app verticals. The Performance Score can measure games, finance, social apps, and more
There is also no other scoring system in the industry that allows you to configure your own scoring system based on the metrics that you value the most!
Speaking of which, can you discuss the power of using Configurable Metrics?
Natalie: The great thing about Configurable Metrics is that the power lies in the customer's hands! You can create your own scoring model: one that best fits your business model, KPIs, and most impactful metrics. You can also choose how important each metric is to your Configurable Metric. For our initial release we have 13 metrics available for you to create a Configurable Metric, and we have more on the way!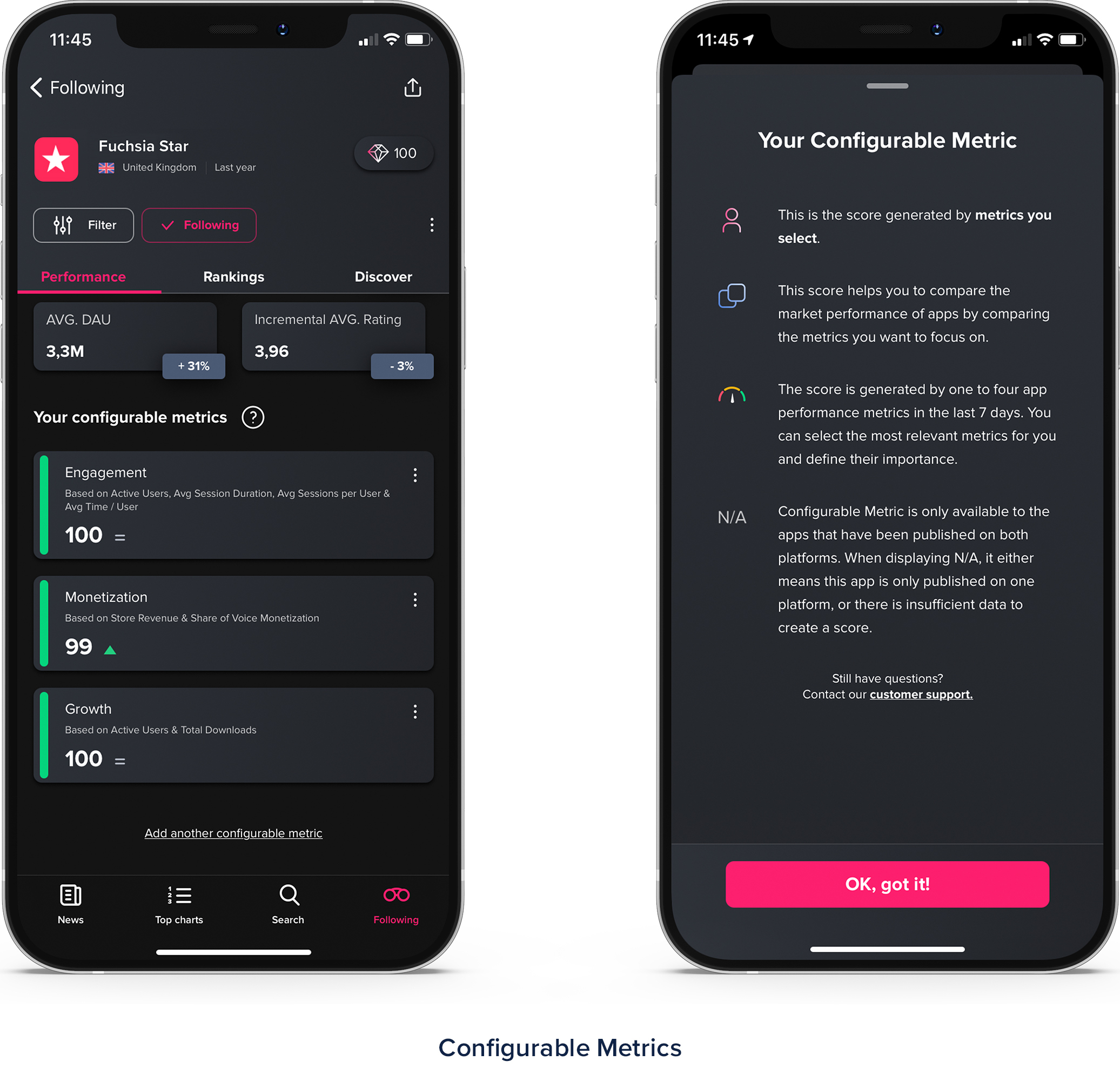 How do I get a stellar Performance Score, or improve my current one? 
Natalie: Here are some examples of apps that had high Performance Scores in late 2020, taken from our interactive State of Mobile Report!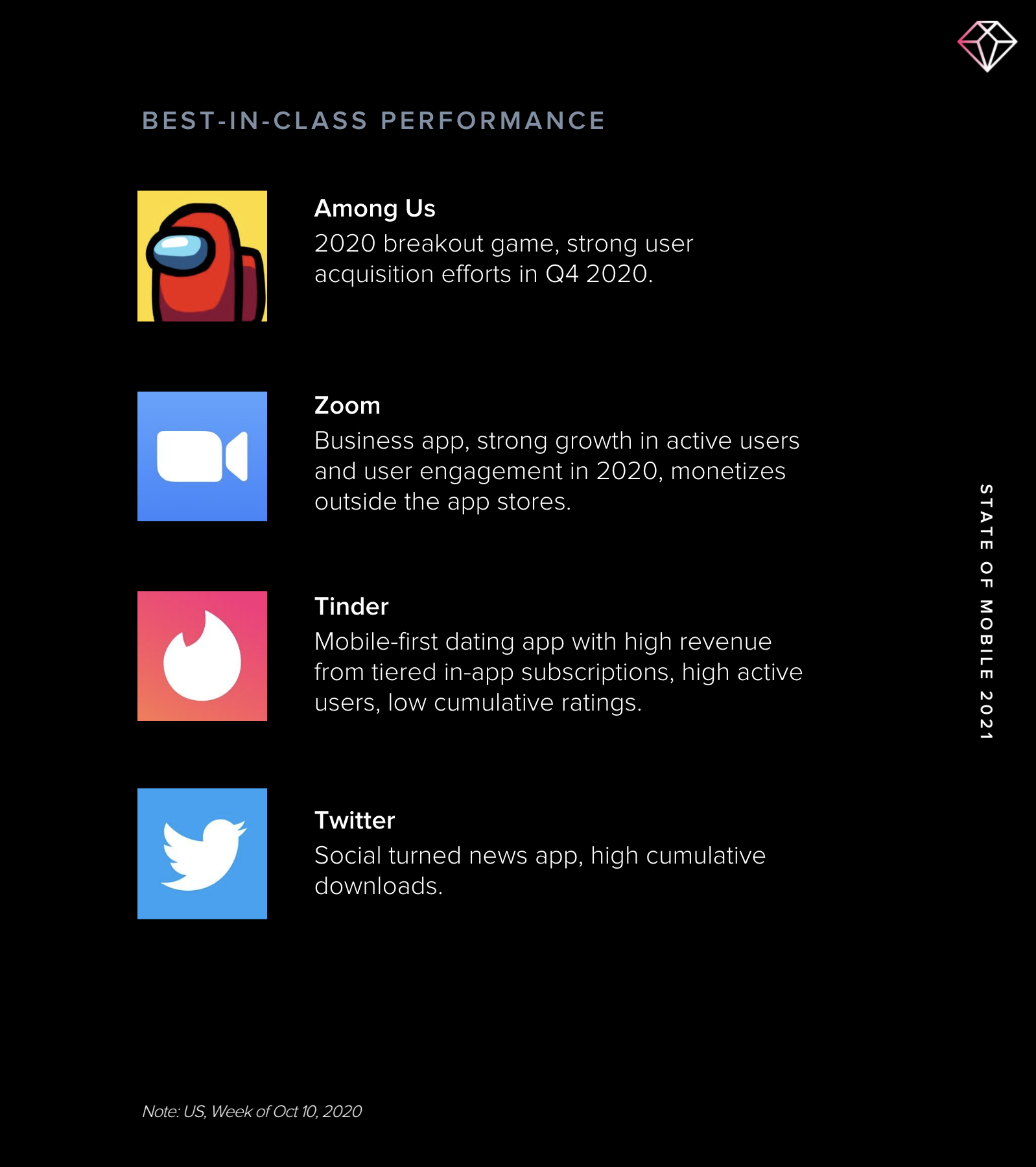 One of the aspects of Performance Score I'm most proud of is that it is robust to a variety of business models. For each app above, you can see how they achieved a great score. For example, with Among Us, they had strong user acquisition efforts and high numbers of active users, giving them a top score even though they weren't a peak performer over their lifetime. We estimate that Tinder has very high usage and revenue, lifting the score high in spite of low ratings. These are just a few of the many ways that you can increase your Performance Score.
How is Performance Score different from previous goals of the data science team?
Natalie: App Annie's Data Science team has been traditionally focused on world-class estimate quality through robust and sustainable methods. With the Performance Score, and also with Insights, we're helping our customers not only see estimates, but follow cause and effect over time. This is a crucial step in empowering our customers to predict future outcomes, and drive their own performance.
What is your favorite or most inspiring part of being a data scientist?
Natalie: I used to teach! I've always loved teaching, especially understanding how people with different perspectives approach information. Making products that help customers navigate a complex landscape like the mobile app marketplace is really satisfying for me. 
What is the best part of working on the App Annie Data Science team?
Natalie: The team itself! We're a very collaborative bunch, and I feel empowered to explore and brainstorm. We have a strong foundation for our data practices, so it's easy to be proud of the products we create.
Want to check out your own score, and how you rank among your competitors? 
Download App Annie Pulse on iOS today.  
Performance Score is also coming soon to the App Annie Intelligence web platform, as well as to a forthcoming Android version of App Annie Pulse. Stay tuned!
DISCLAIMER
App Annie is a mobile market estimate service provider. App Annie is not registered in any investment advisory capacity in any jurisdiction globally, and does not offer any legal, financial, investment or business advice. Nothing contained in this communication, or in any App Annie products, services, communications, or other offerings, should be construed as an offer, recommendation, or solicitation to buy or sell any security or investment, or to make any investment decisions. Any reference to past or potential performance is not, and should not, be construed as a recommendation or as a guarantee of any specific outcome. You should always consult your own professional legal, financial, investment and business advisors.
Additionally, by providing the information herein, App Annie does not make any representations or warranties and does not undertake any legal or contractual obligations whatsoever. No liability may accrue to App Annie as a result of providing this information to you.