App Annie Insights surfaces the potential causes for metric changes in apps you care about and follow.
We spoke with Natalie Korn and Jess Kerlin, the App Annie Data Scientists leading the development of Insights, one of two industry-first features that recently debuted in the App Annie Pulse app on February 10, 2021.
In a mobile market that has become overloaded with metrics and data, Insights helps answer the question "what could have caused this shift in performance?"
For mobile leaders looking to reduce time and resources otherwise spent combing through metrics across the apps they care about, Insights surfaces these potential causes directly to you as you scroll through the App Annie Pulse News Feed.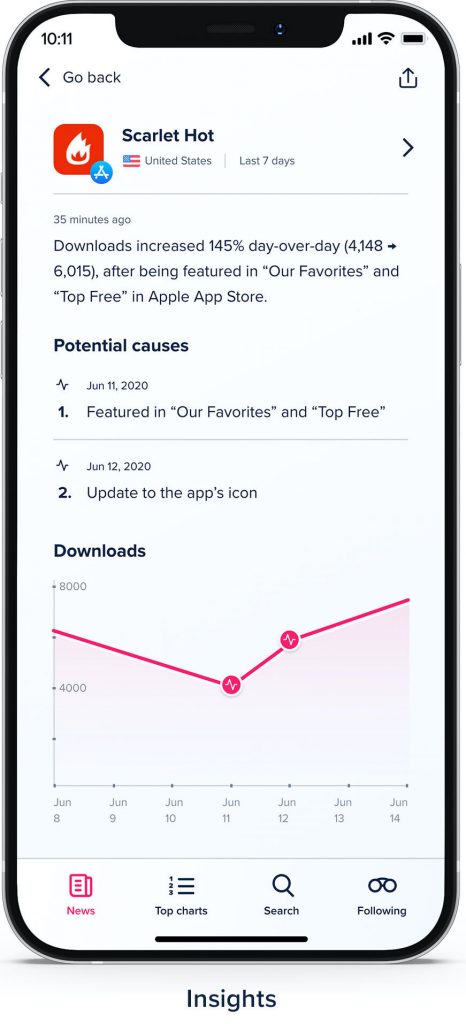 Q: What prompted the App Annie team to build Insights and the News Feed? 
Jess: The idea for Insights started when we were tasked with automating alert thresholds for our customers. The aim was to minimize the amount of manual work they would need to do to account for different variations among metrics. While working on automation solutions, we realized that nearly all of the set-up process and requirements could be addressed cohesively by data science.
Q: What gave you the idea of pushing these automated alerts to users?
Jess: While setting up new, automated personalized news, we heard clients asking "why did a key competitor metric go up or down?" Navigating the product and finding answers would take a long time, and the level of correlation was up for debate. So again, we challenged ourselves with the question: "Is there a better way to help our clients get to the important events and answers faster?" We came up with Insights.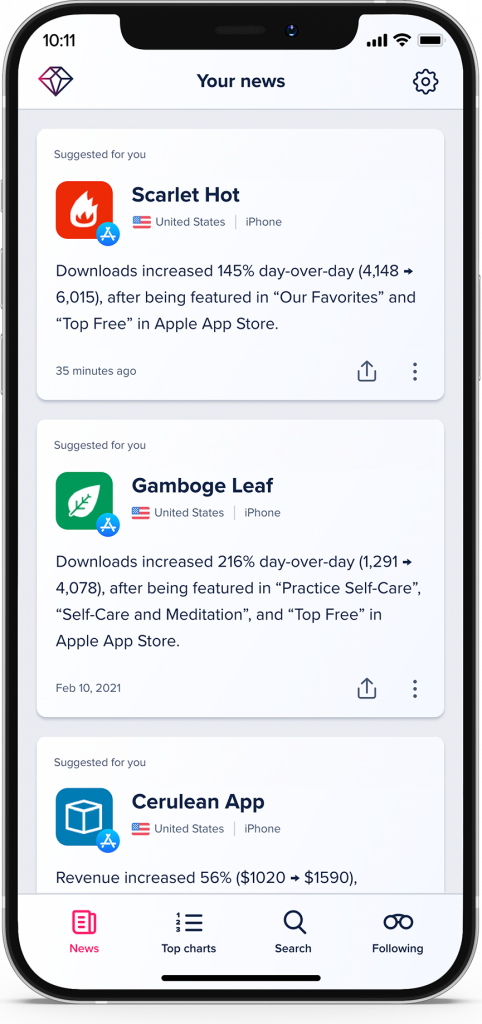 Q: What data science techniques do you use with Insights? 
Natalie: Insights uses regression models that take into account specific app details as signals. Our models map app upgrades or events that correspond with big swings in download and revenue metrics. Our models get plenty of quality signals thanks to the variety of metrics App Annie tracks and estimates.
Q: What are some of the potential causes for changes in downloads and revenue?
Natalie: We let our models respond to the market over time to understand which events are most likely to shift downloads or revenue. Some of the key potential changes we highlighted as most impactful include:
Updates to app details - including name, description and artwork

Version updates

Being featured in local app stores or categories

In-app purchase changes

Search visibility adjustments

Changes in app purchase price
Q: What makes Insights a unique or innovative product in the app analytics space?
Natalie: The app analytics space has focused on gathering information and increasing the depth and breadth of that information for a long time. The industry is seeing a shift from sharing raw estimates to surfacing insights for more actionable analysis. As part of our data science vision to constantly innovate, we wanted to build something that is actionable for our customers. Insights is an example of taking the leap from surfacing raw estimates for analysis to actually surfacing the analysis our customers are looking for. 
Q: Is there a plan to add Insights to the web platform?
Natalie: We are looking at having both Performance Score and Insights as part of the entire App Annie experience - including the web interface next. Insights works best as part of a news feed, and we will include a version for the web once we build a new user experience for alerts and news.
Q: What does the future of Insights look like?
Natalie: Insights fans can look forward to various improvements, including the tracking of Insights related to Active Users and more potential attribution sources for Downloads and Revenue estimates!
Want to check out Insights, and see potential causes for changes? 
Download App Annie Pulse on iOS today.  
Stay tuned for additional exciting developments as we explore more Insights use cases!
DISCLAIMER
App Annie is a mobile market estimate service provider. App Annie is not registered in any investment advisory capacity in any jurisdiction globally, and does not offer any legal, financial, investment or business advice. Nothing contained in this communication, or in any App Annie products, services, communications, or other offerings, should be construed as an offer, recommendation, or solicitation to buy or sell any security or investment, or to make any investment decisions. Any reference to past or potential performance is not, and should not, be construed as a recommendation or as a guarantee of any specific outcome. You should always consult your own professional legal, financial, investment and business advisors.
Additionally, by providing the information herein, App Annie does not make any representations or warranties and does not undertake any legal or contractual obligations whatsoever. No liability may accrue to App Annie as a result of providing this information to you.