Apple made a host of announcements this year including new hardware products, platform improvements. iOS platform updates were clearly the most significant for developers, particularly those related to the app store and ARKit.
Following Google's AI-focused event in May, Apple kicked off its Worldwide Developer Conference (WWDC) with an action packed keynote. Apple broke precedent this year by announcing a multitude of hardware products, including new Macs, iPads and even an Amazon Echo competitor dubbed HomePod. However, given the size of the iOS installed base, improvements to the iOS platform were arguably the most significant. Let's dive into these, starting with an update on the world's most lucrative app store.
The State of the iOS App Store
Apple announced that the iOS app store now receives 500 million weekly customer visits and, to date, more than 180 billion apps have been downloaded across all of Apple's platforms. However, this scale has also created challenges around app discovery. With iOS 11, Apple is attempting to tackle this issue with a completely redesigned app store experience focused on curation and editorial content from Apple layered on top.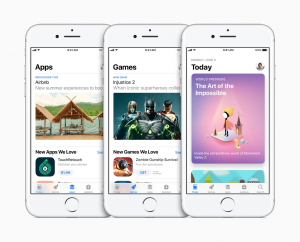 The App Store has been redesigned in iOS 11 to highlight curation
While these changes will certainly enhance the impact of being featured on the app store, this is likely to vary by type of app. This is easier to understand once we grasp Apple's business goals.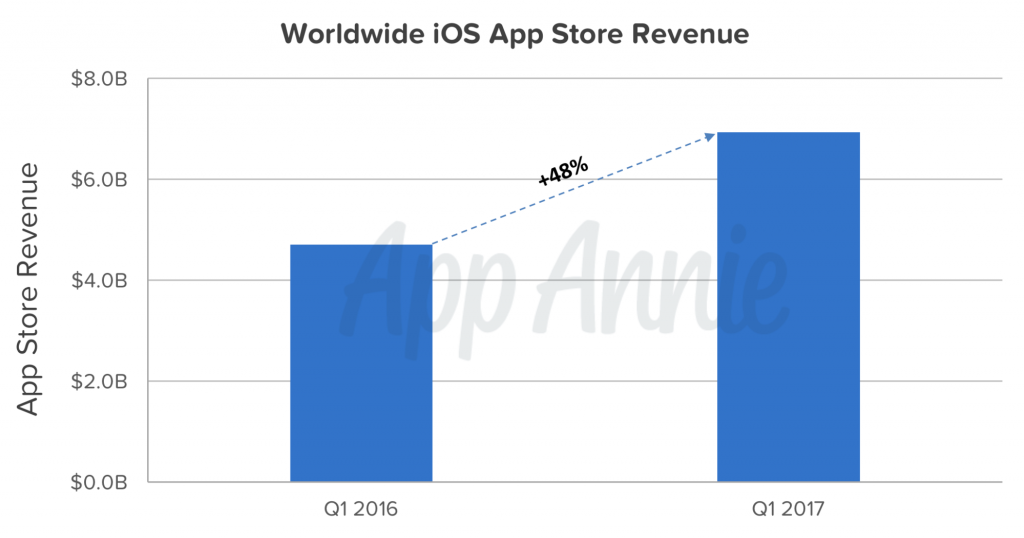 iOS app store revenue grew 48% year over year in Q1 2017, thanks to Games and in-app subscriptions
Services have become a very important revenue stream for Apple, of which the app store is a key component. In addition, the vast majority of iOS app store revenue is driven by in-app purchases made in Games and in-app subscriptions from Dating, Entertainment and Media apps. It is no coincidence that editorial content is likely to have a larger impact on these types of apps, i.e. those that focus on "killing time." Users are much more likely to browse an app store in search of new and engaging apps that fit this description.
However, "need-based" apps (e.g. ridesharing, banking, etc.) are far more likely to be downloaded or used when users encounter that particular need, usually following a recommendation. The solution here is more likely to be effective if it is based on contextual machine learning (along the lines of Siri Proactive), as opposed to curation.
iMessage Meets Apple Pay
Lately, Apple Pay has gained traction by making in-app payments seamless. Now, Apple is looking to accelerate transaction volume through a new P2P payment feature integrated into iMessage. This is clearly an elegant solution and Apple does have key advantages over competitors (e.g. the number of credit cards on file). That said, expanding iMessage to Android will be critical to built a cross-platform solution and expand appeal. But even with a hypothetical expansion, attaining scale in P2P payments will be challenging.
Communications apps in the West, including Facebook Messenger and Snapchat, have attempted to integrate P2P payments for years. Even Google recently extended P2P payments to the Gmail app. However, dedicated payments services like PayPal and Venmo (now acquired by Paypal) still hold dominant positions. This is because existing engagement and behavior patterns on social and communication apps are notoriously difficult to change.
In fact, the only communications apps that have been truly successful in this space are based in Asia, WeChat being the prime example. And much of WeChat's success in this space can be attributed to app store fragmentation in China (opening the door for a unified platform), and greater tolerance for UI/UX complexity among Asian consumers — factors that don't exist in the West.
Augmented Reality Everywhere
Finally, Apple also announced ARKit, a set of developer tools to bring high quality augmented reality experiences to iOS devices. Apple's approach here bears a resemblance to Facebook's recently announced Camera Effects platform, i.e. placing virtual objects in the real world. The key difference is that Apple clearly has access to a much larger developer base with a more immediate monetization opportunity — Games. In fact, this is likely to give Apple a multi-year head start over competition when it comes to augmented reality gaming (beyond Pokémon GO).
It is also interesting to contrast Apple's and Google's approaches here. Apple's approach is to help developers make virtual objects realistic and immersive with respect to the real world. On the other hand, Google's approach is to understand and make sense of real world objects (Google Lens). For augmented reality to become a truly transformative platform, virtual objects should be able to understand and seamlessly interact with the real world. In other words, these approaches will need to converge as augmented reality capabilities improve. As we saw in the first wave of mobile innovation, this will require leading companies to learn from each other to push the platform forward.
Other Announcements and Final Thoughts
Beyond these announcements, Apple is also making a concerted effort to improve the performance of the iPad as a productivity tool. With large screen smartphones soaking up content consumption, content creation has become the final frontier. iOS 11 brings new abilities to the iPad, like a file system, a customizable-dock similar to that on the Mac, a new app switching interface, drag and drop abilities and deeper integration with Apple Pencil. With this, Apple is attempting to incentivise publishers to create new productivity experiences to wean professionals away from PCs.
If there is one takeaway from WWDC 2017, it is that publishers continue to drive app innovation and that the market is poised for the next stage of growth. These are still early days, with much more innovation ahead.