Apple's 27th Worldwide Developers Conference framed its focus on upgrades to the company's four operating systems: watchOS, tvOS, iOS and the renamed macOS (formerly OS X). While Apple announced upgrades for all of these operating systems, deep integration into the company's own iOS apps stand to have the biggest impact on developer opportunity.
Latest Updates Streamline Access to Apps
The most dramatic changes in terms of user experience came to watchOS, where Apple has made a trio of improvements to the app experience, including dramatically faster load times and app selection that utilizes the entire screen instead of very small icons. Apple has also opened the door to input using a letter-by-letter system similar to what Google announced for Android Wear 2.0 last month. It's a far cry from even an iPhone keyboard in terms of productivity, but inches the watch toward greater independence as a connected device.
Apple TV's new ability to automatically add a tvOS app when its iOS version counterpart is downloaded on an iPhone or iPad should also streamline installing apps on the platform. Users of the current Apple TV, which has supported Siri from its release, will see the digital assistant become more sophisticated about offering content that meets multiple requested conditions, such as "comedies from the '80s."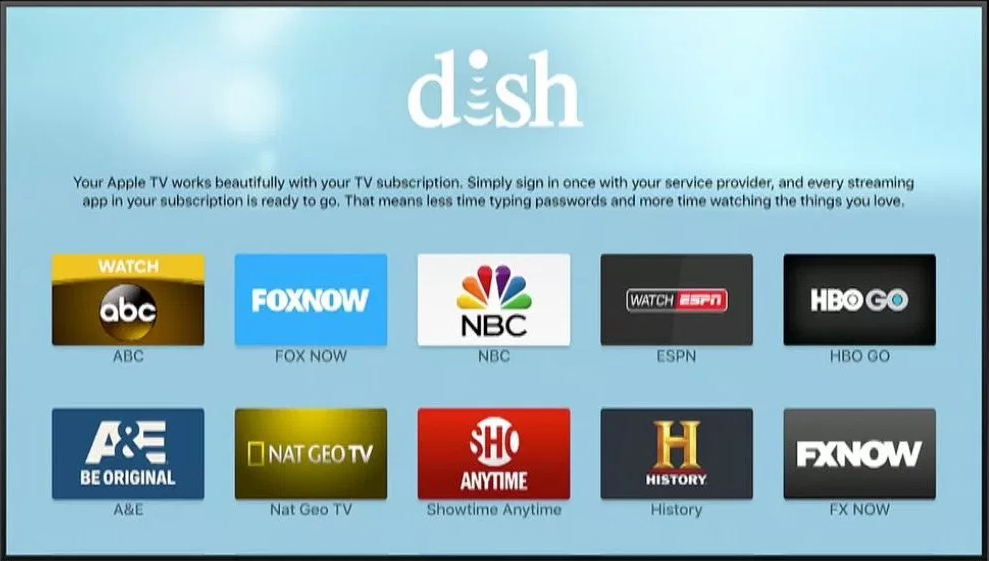 A single sign-on screen for Dish Network will allow easier access to authenticated channels.
Single sign-on with pay-TV providers may facilitate some of those networks grabbing more attention from download and revenue leaders such as Netflix, HBO NOW and Hulu. And while it will affect a smaller number of video providers compared to Siri's enhancements, Apple's Live Look-in feature will allow traversing of live-streaming apps without necessarily specifying content. Announced in conjunction with traditional pay-TV alternative Sling TV coming to the platform, it makes using Apple TV more like traditional "channel-surfing" with linear programming but offering broad choice on demand.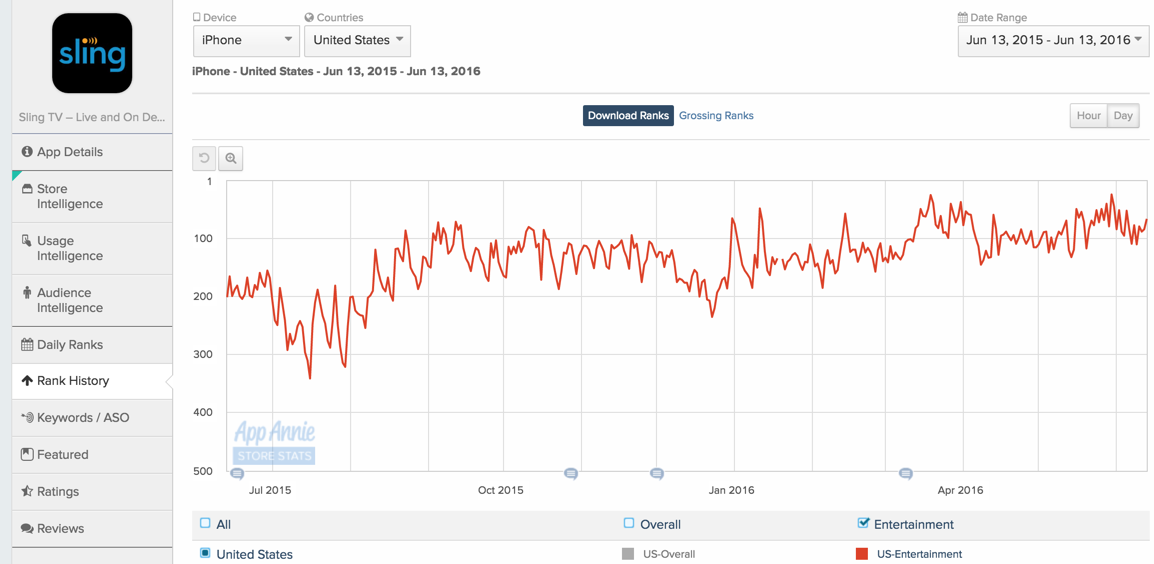 Sling TV has seen solid download rank growth among iPhone Entertainment apps.
Siri Integration Starts Focused, but Has Broad Potential
Apple opened the door to several of its foundational apps through app extensions. Some of these are aimed narrowly at particular functions or tasks. For example, opening up the iPhone's Phone app stands to enhance the value of communication apps that use VoIP such as Vonage or Skype — the latter of which which made our list of all-time most downloaded iOS apps last year.
The first iteration will work with only six kinds of apps: ride booking, messaging, photo search, payments, VoIP calling and workouts. However, the long-term value of opening up Siri — something developers have wanted since the debut of the intelligent agent — is hard to overstate for three reasons.
It provides a powerful new interface to tap into functionality when the user isn't engaged in the screen.
It taps into a capability that will soon be broadly available across all four Apple platforms.
It lets app developers integrate elements of their app experience within the conversational context on screen.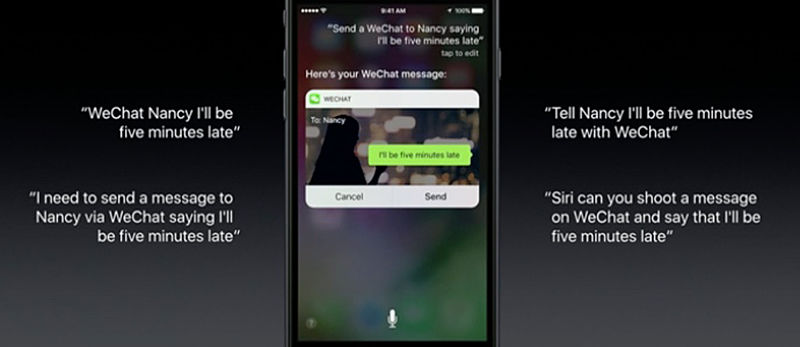 iOS messaging apps Slack, WhatsApp and WeChat (above) will feature Siri integration.
Siri integration shows that the choice is not between voice-controlled AI and apps — their combination is more powerful than either alone. And while the long-term discoverability of Siri-accessible functionality raises challenges, Apple is sure to feature apps that work in conjunction with the assistant in the short term, creating an excellent opportunity for discovery beyond paid app store search opportunities.
Learn How to Benefit From New Aggregation Points
Siri, Live Look-In, and the automatic downloading of tvOS counterparts of iOS apps are all examples of Apple taking steps to encourage app usage. However, with other announcements, the company forces certain app publishers to consider the right balance between enhancing their apps versus potential greater exposure and encouragement. In the case of Apple's Home app, third-party monetization is driven by sales of devices and services. In the case of Apple News, publisher apps primarily facilitate access to revenue-generating content. The proposition of discovery via Apple's aggregation apps is strengthened by Apple's more favorable subscription terms.
In any case, Apple affirmed its commitment to apps in closing the keynote by announcing the free distribution of Swift Playgrounds. An engaging kid-friendly coding tutorial that taps into modern hardware capabilities, Apple shows it remains committed not only to the global growth ahead for this generation of app developers, but the next one.
Build a Better App Business
Don't miss a single app-related update — subscribe to our blog to get more free app industry reports, conference updates and guides. Have something to add? Share with us on Twitter.
| | |
| --- | --- |
| | Ross Rubin is Senior Director of Industry Analysis at App Annie. |