We've outlined the top SDKs and apps since the introduction of iOS's new privacy measures.
The impact of iOS 14.5 will be undeniable — without access to user-level data companies will need mobile market data more than ever before. Market context will be the best way to know where your audience is and how you can target similar audiences, all while being compliant with new privacy measures. 
After April 26, 2021, any app launched or updated on the iOS App Store would need to comply with the new privacy measures included in iOS 14.5 — meaning they would need to include functionality to prompt any iOS 14.5 users for approval to collect information on them. We leveraged our market estimates to give a clear picture of the state of mobile adtech after iOS's privacy overhaul.  
What Were the Most Popular SDKs After the iOS 14.5 Release?
As many would expect, Apple SDKs top the charts for the most popular SDKs by unique iOS installs globally. The top 6 SDKs all hail from the tools & utilities categories — indicating that seamless functionality is a top priority for developers looking to create the best user experience for their audience.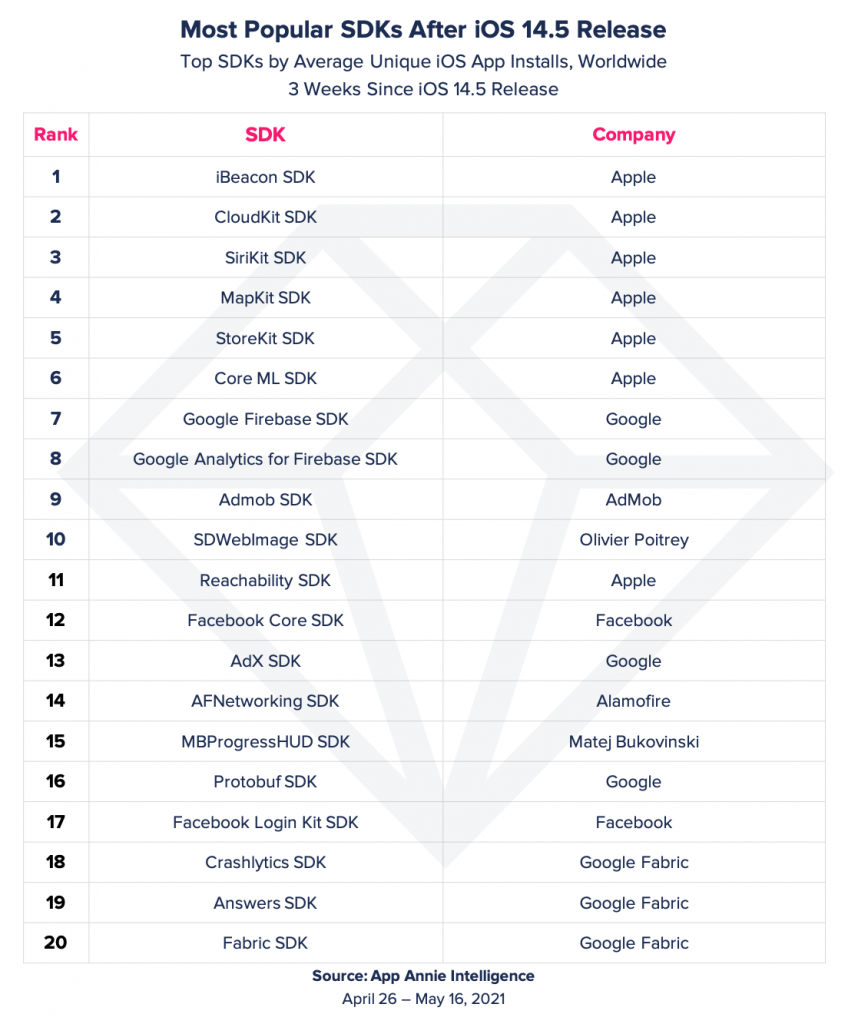 In the New Privacy-First Norm, What Were the Most Popular Advertising Platform SDKs and Ad Attribution SDKs?
Google's Admob and AdX claim the top 2 spots for Ad platform SDKs, followed by UnityAds, Facebook Audience Network, Flurry, Applovin and Chartboost. ironSource, ByteDance, MoPub, Tencent and Amazon all make appearances in the top 20 as well. A diverse group of ad platform SDKs are still being leveraged globally as in-app advertising remains a popular form of monetization on the app stores. In 2021, we expect mobile ad spend to surpass $290 billion —  a 2-year CAGR of 21% and bolster the advertising industry at large. Ad platforms will remain a vital part of the mobile ecosystem overall and we will continue to monitor any shifts in ad platform SDKs in the coming months.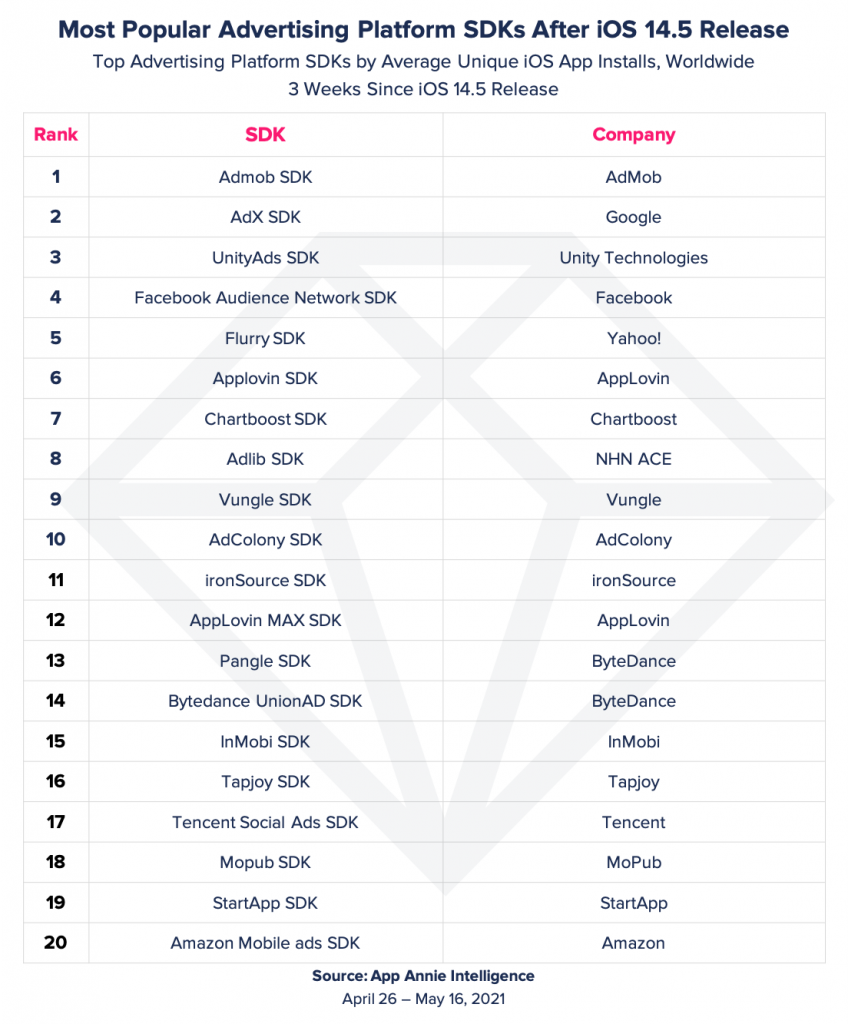 Beyond platforms, mobile advertisers leverage ad attribution SDKs to understand the efficacy of their ads, unearth the best performers and discern the best return on ad spend (ROAS). Google's Firebase SDK and Google Analytics SDK remain in top demand for this type of ad attribution. Other notable players include Appsflyer SDK, Branch SDK, GameAnalytics SDK and Adjust SDK. For iOS 14.5 users who enable tracking through the AppTrackingTransparency (ATT) framework, attribution services are still important for informing marketing measures. However, publishers will need more information to form a complete picture in the new privacy norm. That's where market-level audience data is needed: to fill the gap and inform publishers about their audience and where they should target.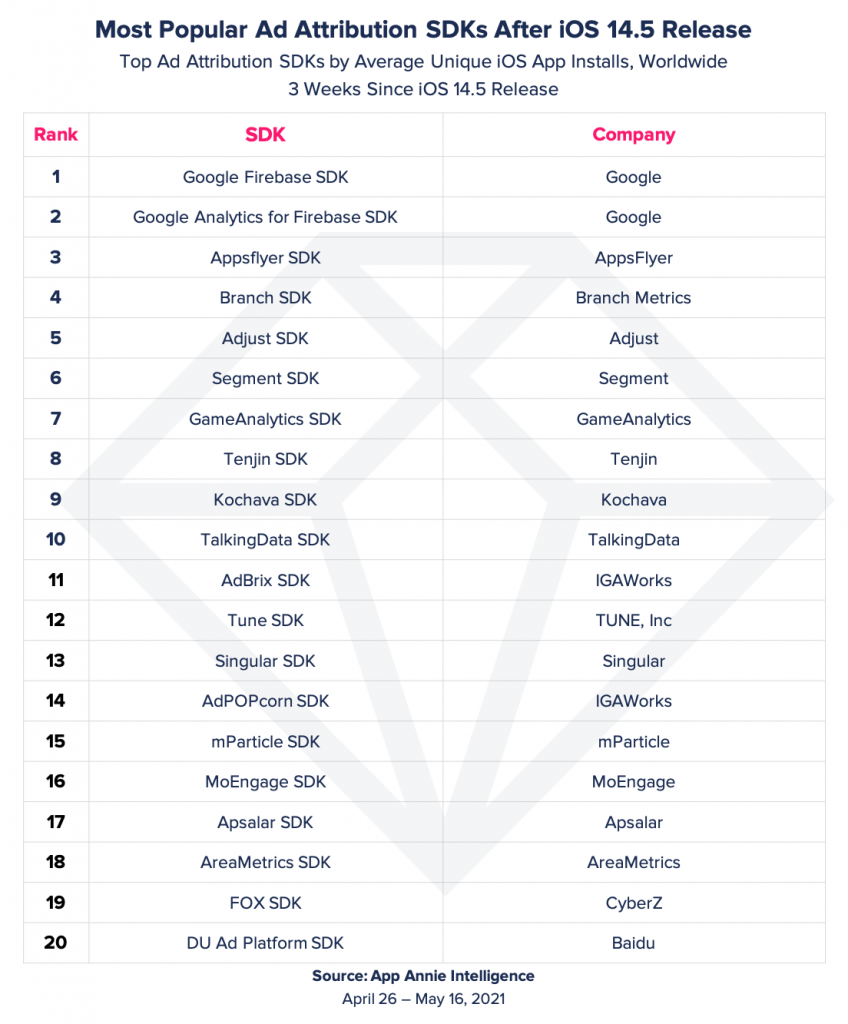 In-app advertising is a popular monetization method among games, specifically casual games. It offers users the benefit of playing the game while not directly having to pay for in-app purchases and is well-suited for shorter, more frequent sessions of gameplay. Instead, this cost is shifted from the user to the advertiser. We took a look at the most downloaded casual games since iOS 14.5 went into effect. These were Project Makeover, ROBLOX, Subway Surfers and Bridge Race.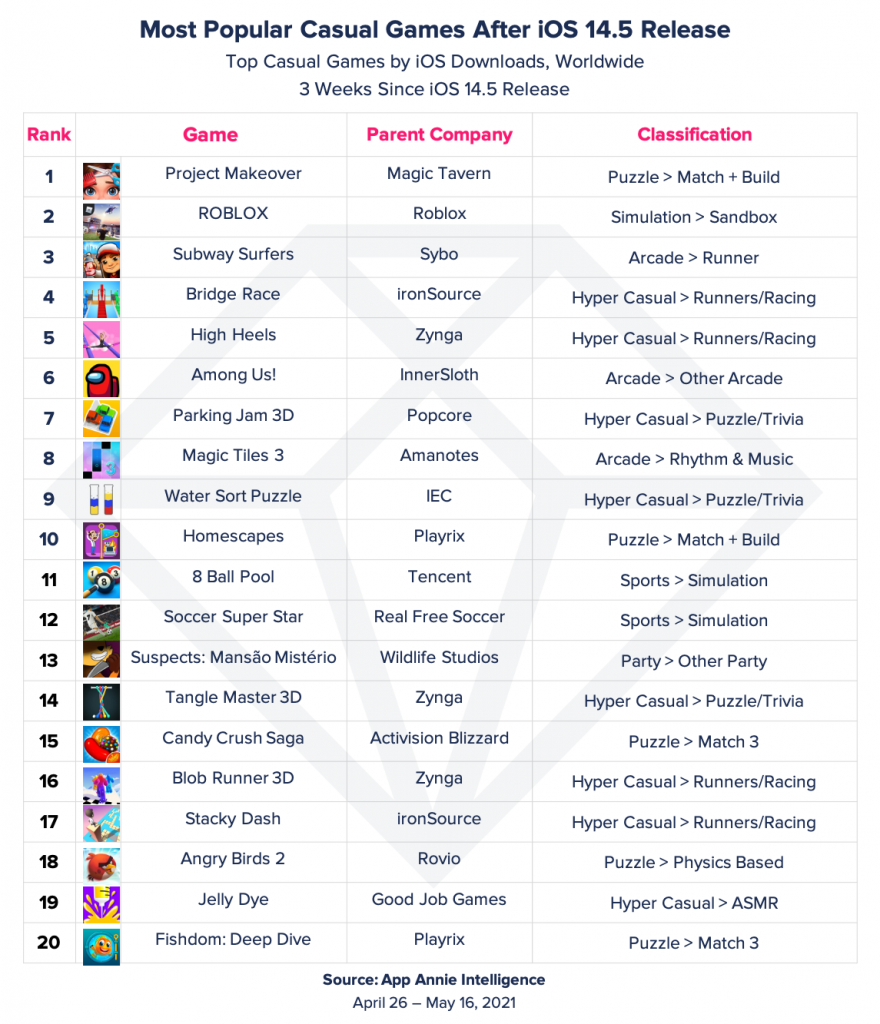 Beyond Advertising, What About General Analytics that Inform on the User Experience? What Are the Top Analytics SDKs Used Since iOS 14.5?
While app analytics SDKs often overlap with ad attribution SDKs, analytics SDKs are largely used to see how people are using your app and to inform feature development and marketing measures. Understanding user behavior is critical to effective roadmap planning and your overall app strategy. Market level engagement insights, such as average time spent per user and session duration, will be needed to complement existing analytics due to opt-outs under iOS 14.5. User-level data is still incredibly valuable and will need to be paired with market-level insights to paint a clear picture of the audience.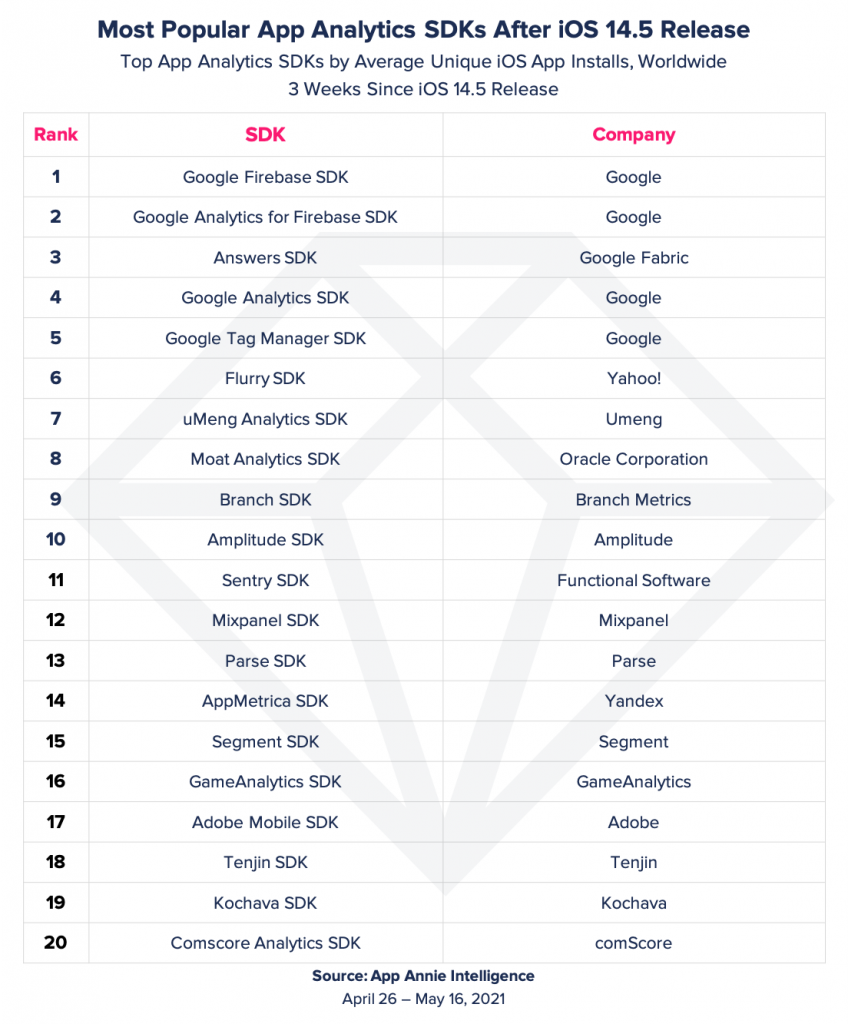 The Bottom Line: Market Insights Will Fill the Void Left by iOS 14.5
Understanding your audience is critical to retaining engaged users, cultivating positive sentiment and informing your product roadmap. With Apple's upending of the mobile attribution and analytics industry, market-level data is more important than ever to a successful marketer's strategy. Market insights provide signals on your app's health, a window into audience behavior and ultimately, bridge the gap left by user-level data. In the new privacy-first norm, market insights will help you win on mobile. 
Take your app strategy to the next level: Talk to an expert today.