South Korean retailers have incorporated omni-channel campaigns and innovative mobile app features to reduce friction for shoppers and increase app engagement.
Mobile apps have become a vital component of shopping for consumers — whether for accessing coupons and deals, as a companion to in-store shopping or as a purchase channel. However, many retailers are still unsure about what it takes to be successful on mobile. For retail apps, engagement is crucial. Time is money, and the more users engage with your app, the more likely they are to convert to a paying customer.
South Korean Retail Apps See Strong Engagement
South Korea is a great example of a market that has embraced retail apps. Bricks-and-clicks apps, in particular, are prime case studies in how brands can successfully engage shoppers. Global retailers would be smart to take notice.
We looked at six markets: the United States, United Kingdom, France, Germany, Japan and South Korea. Of the markets analyzed, South Korea saw the highest average monthly sessions per user in 2016 for both bricks-and-clicks and digital-first retailers at over 10 sessions and 30 sessions per month, respectively. Monthly sessions are an important engagement metric for retail apps because each session creates a new opportunity for consumers to purchase or otherwise signal intent.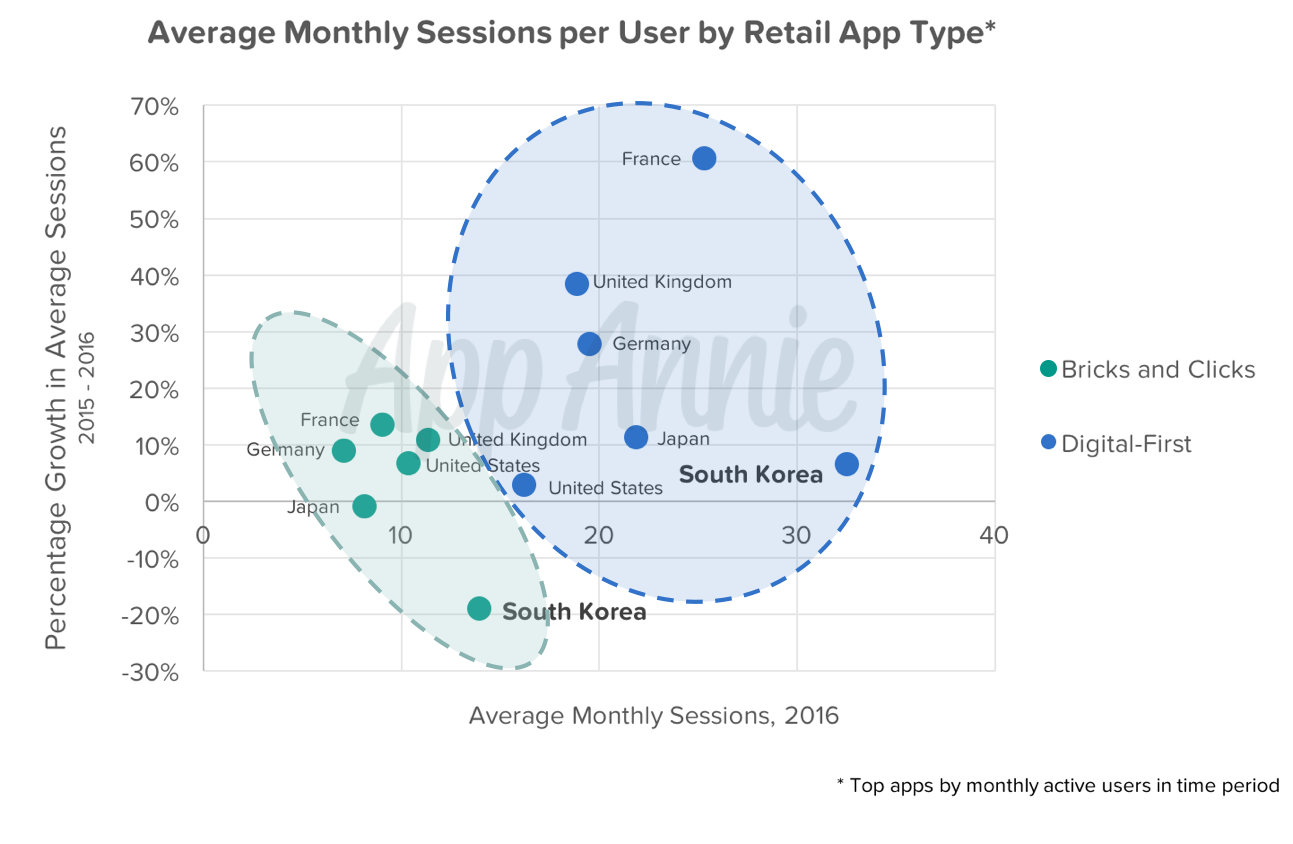 We dug deeper into two South Korean bricks-and-clicks apps that have experienced strong growth in monthly active users (MAU) over the past two years. These brands have elevated mobile to serve as a key component of their omni-channel strategy, aiming to offer shoppers an engaging and seamless experience.
Hi-Mart Uses Mobile Promotions to Increase Engagement
Hi-Mart is a bricks-and-clicks retailer operated by Lotte, which manages a diverse range of retailers. They have leveraged an in-app "check-in" event to cultivate a higher level of daily engagement. From April 3–30, users that opened Hi-Mart and checked in each day were rewarded "L points" which can be used in any of the Lotte group's stores — spanning electronics stores, supermarkets and cinemas —both offline and online. During the first two weeks of the campaign, Hi-Mart saw strong growth in average daily active users (DAU) during the first two weeks of the campaign compared to the previous three months. Not to mention, average DAU saw year-over-year growth of 530% due to this and similar promotions.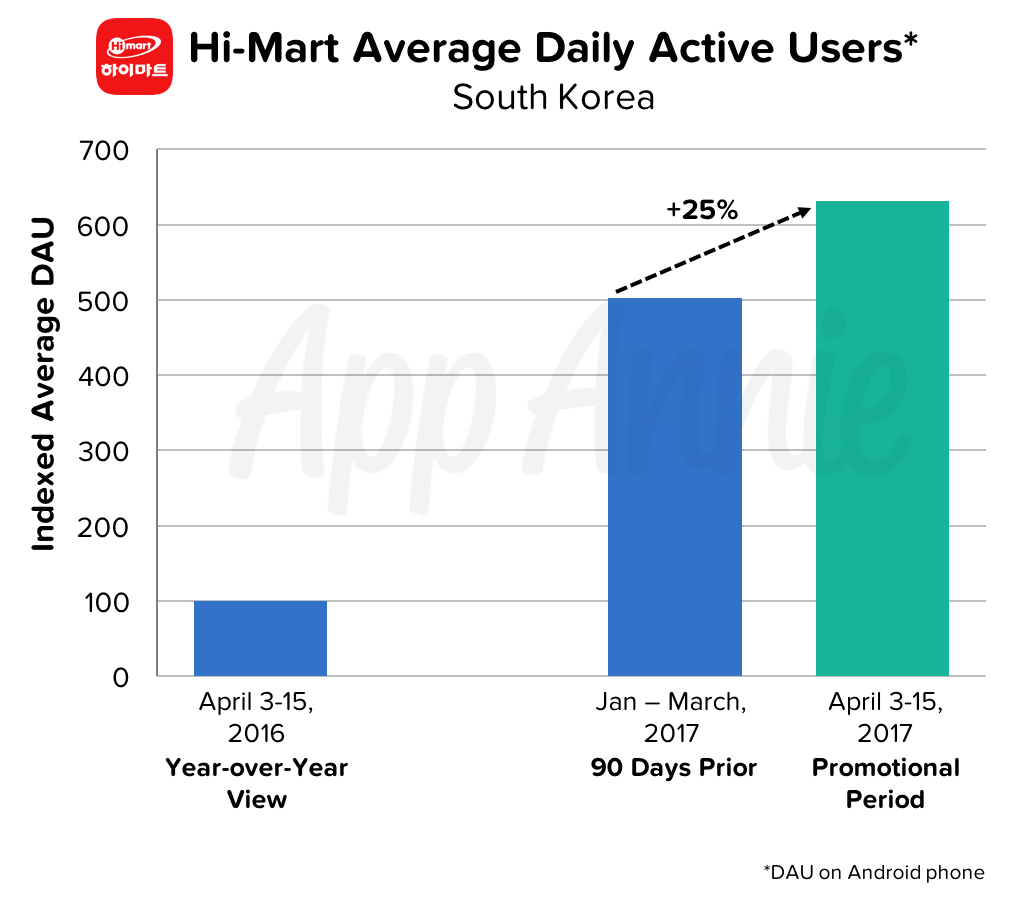 Hi-Mart has also run "Omni-zone" campaigns featuring in-store tablets to allow customers to order products not currently in stock. An employee would lead the customer to the tablet so they could make the purchase online, demonstrating how mobile can be an excellent in-store companion for consumers. This in-person onboarding has the potential to increase app usage and promote mobile purchases. Ultimately, it represents another innovative example of how Hi-Mart is using mobile to blend the in-store and digital experience for shoppers.
SSG.com Grows User Base Through Key Features
SSG.com, owned by bricks-and-clicks retailer Shinsegae, has seen its MAU increase by 85% since 2015.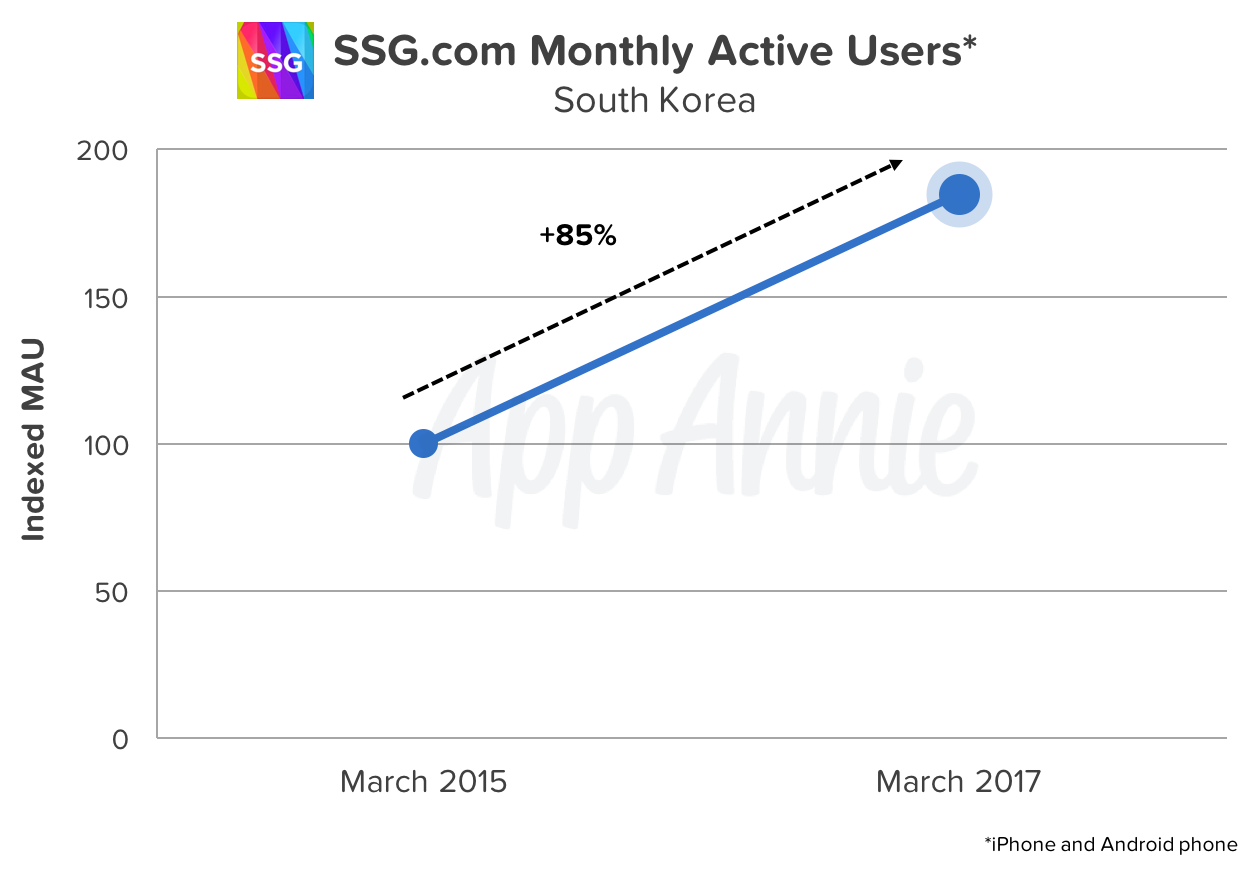 SSG.com incorporates all of Shinsegae's stores — Shinsegae Mall, Shinsegae department store, Emart Mall, Emart Traders and Boons.com — into one app as part of a larger brand strategy for apps in the Shinsegae portfolio. This feature is available across each of the respective store's apps to provide a cohesive brand experience as well as eliminate friction for shoppers looking to purchase from another Shinsegae store. Beyond presenting a seamless shopper experience, it's also likely to be financially prudent for its app development and maintenance budget across its portfolio of apps.
Another notable feature in SSG.com is SSG Talk, released in February 2017 on both iOS and Android. This allows users to message the store directly with questions about products. They can also message friends about products or even gift them through this feature. In early 2017, SSG.com also introduced a recommendation engine based on in-app user engagement with products. This engine notifies the user when items they "like" are on sale or when their credit card has special offers. Both of these features allow for end-users to customize their experience, which in turn makes the content highly relevant to each individual and increases the potential stickiness of the app. Personalization and relevancy are crucial for a user to see value in continued use of a retail app.
The Bottom Line for Bricks-and-Clicks Retailers
SSG.com and Hi-Mart have experienced growing success with users in South Korea. Both apps have deployed features and promotional campaigns to encourage growth and retention of active users. They're clearly prioritizing the mobile experience, helping it complement the in-store experience for some shoppers, and enhancing the in-app purchase experience for mobile shoppers. Traditional bricks-and-clicks retailers in South Korea and around the world would be wise to follow SSG.com and Hi-mart's example of focusing on the in-app experience. Usage is the new currency and for retail apps, creating and innovating on mobile touch points is instrumental to long-term success.