Snapchat users are unique. We take a look at cross-app usage between Snapchat and other top social apps.
Social media apps have proliferated over the past several years. While most started out with a distinct differentiator, the increasing pressure to bolster their user base and attract advertiser interest has led many to borrow key features or UI elements from the competition. After all, imitation is the sincerest form of flattery.
So it would be natural to assume that, by this point, the user bases of leading social and messaging apps are similar enough that you can market on one or two platforms and essentially hit your entire audience.
Right? Wrong.
Using App Annie Intelligence, we analyzed user overlap across some of the most popular social and messaging apps. What we found is that one app in particular, Snapchat, has a truly unique and exclusive audience. Let's dig into the data and discuss the implications for marketers.
Where Do Snapchat Users Spend Their Time?
We analyzed smartphone users in the United States and the United Kingdom during Q4 2016 to see how they divide their time between social apps, with a specific interest in audience overlap with Snapchat. Overall, the most overlap occurred with Facebook's main apps: Facebook, Instagram and Messenger.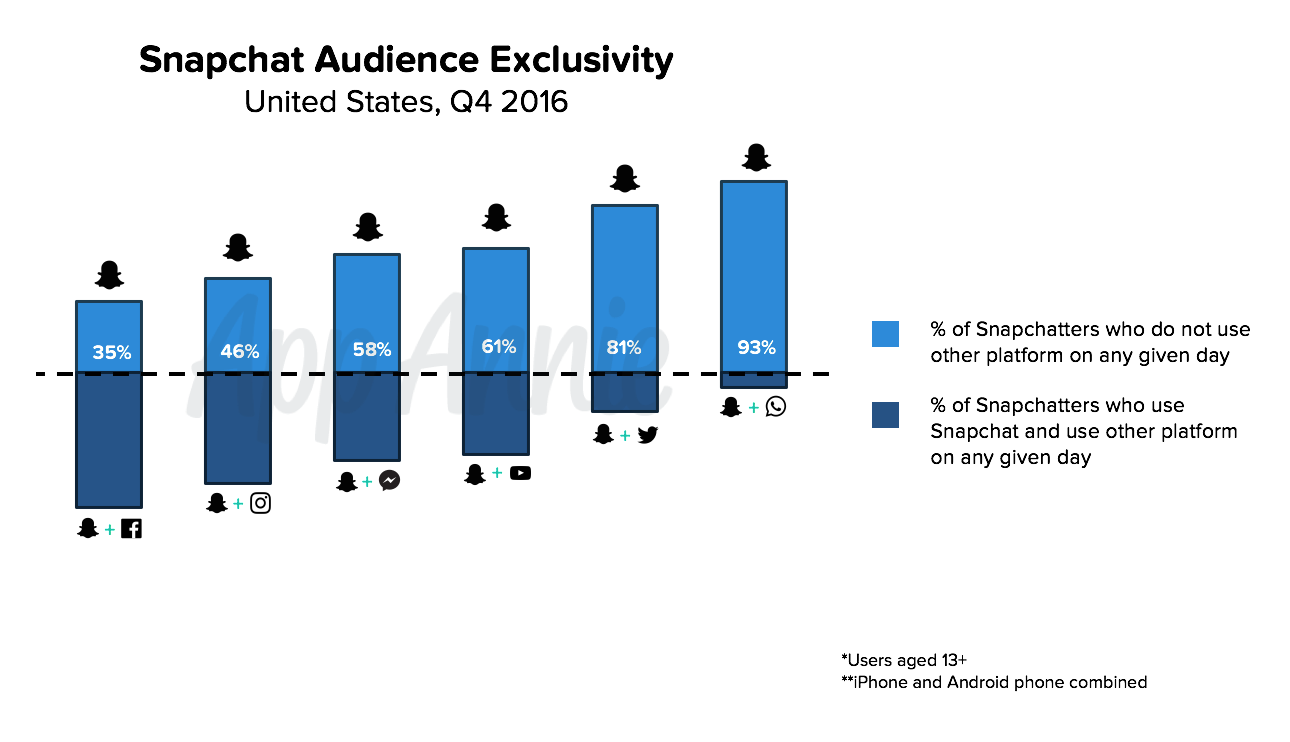 However, it's clear that there is a distinct audience that shows a preference for Snapchat. On any given day in the US, 35% of Snapchat's daily users cannot be reached by Facebook, 46% can't be reached by Instagram and 58% can't be reached by Messenger. Given Facebook's global reach, marketers should take notice that a significant number of Snapchat users are not using Facebook on a daily basis.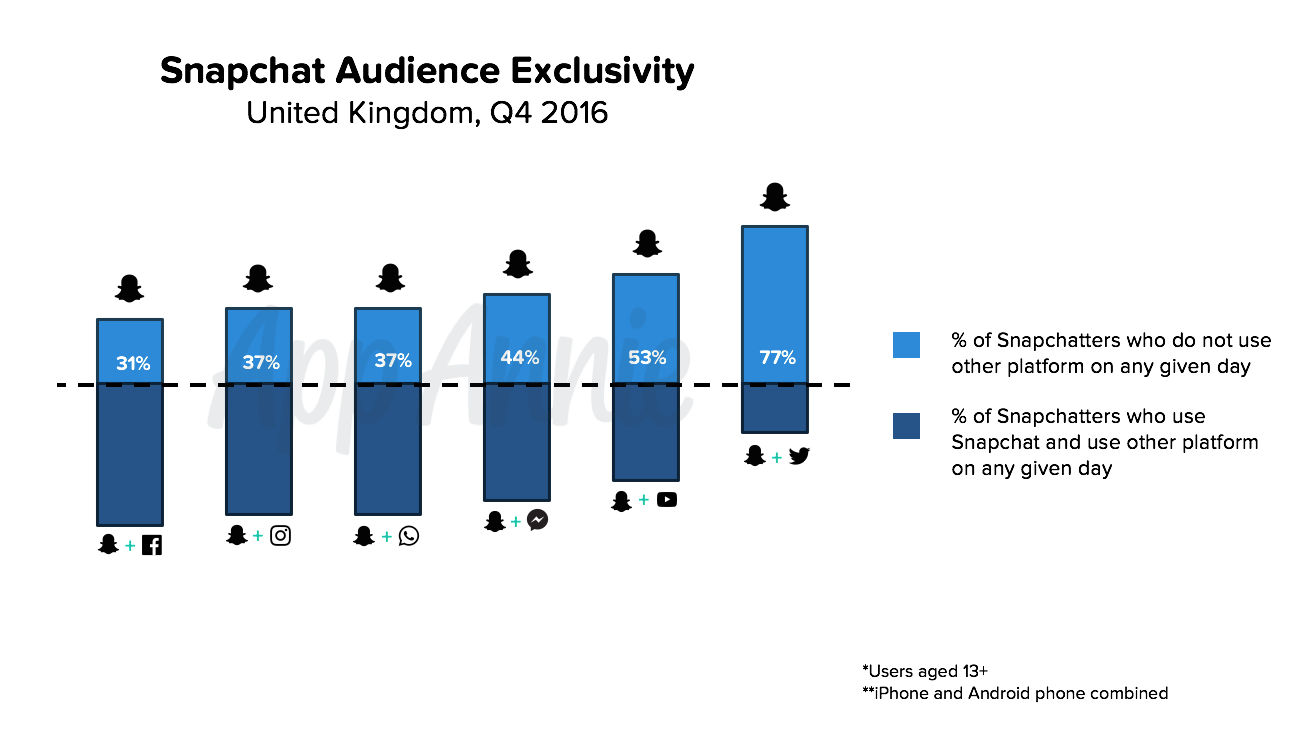 While there's more overlap in the UK — especially with WhatsApp — the findings are similar. Back in June 2016, Snap CSO Imran Khan shared that on any given day, the app reached 41% of US users aged 18–34. This demographic is coveted by advertisers for their disposable income and propensity to spend money. So in order to reach Snapchat's valuable audience, you should strongly consider developing a Snapchat-centric approach.
What Does This Mean for Marketers?
The data shows that social app users don't view these services as interchangeable — they're picking one or a few platforms and centralizing their time there. This means that marketers should make sure their audience profiles account for specific app preferences and behavior. Painting a picture of your audience with broad strokes could be a costly and time-consuming mistake. Instead, learn your users' app habits to learn more about their communication style, media preferences and, most importantly, where they're spending the majority of their time.
In the new digital economy, time is money. Put your money where users are spending their time.