Short-form and live video on apps like YouTube and Snapchat will accelerate cord-cutting and morph into a true market disruption.
We're anticipating big things for short-form and live video in 2017. In our recent post, 2017 Predictions for the App Economy, we outline 10 mobile and technology predictions that we forecast will make a huge impact next year.
For years, premium video streaming services like Netflix have been viewed as potential disruptors to the traditional pay-TV experience. However, their staggering investments in original content and declining reliance on licensed content paint a different picture. Rather than become a single resource for all premium video, these services increasingly house a selection of exclusive, high quality content. In other words, and by their own admission, they do not compete with cable bundles, but with individual TV networks like HBO and CBS. To drive this point home, TV networks have released their own streaming services — like HBO NOW — that compete directly with Netflix.
While this shift will have an impact on industry's cost structure — swapping out variable licensing costs for somewhat fixed content investments —  it will have no impact on growth potential as consumption continues to shift toward online and mobile. However, this growth alone does not necessarily create the conditions for cord-cutting at scale. Instead, it will be the growth of short-form and live video on platforms like YouTube, Facebook, Instagram and, soon, Snapchat that shifts the balance of power in the years ahead.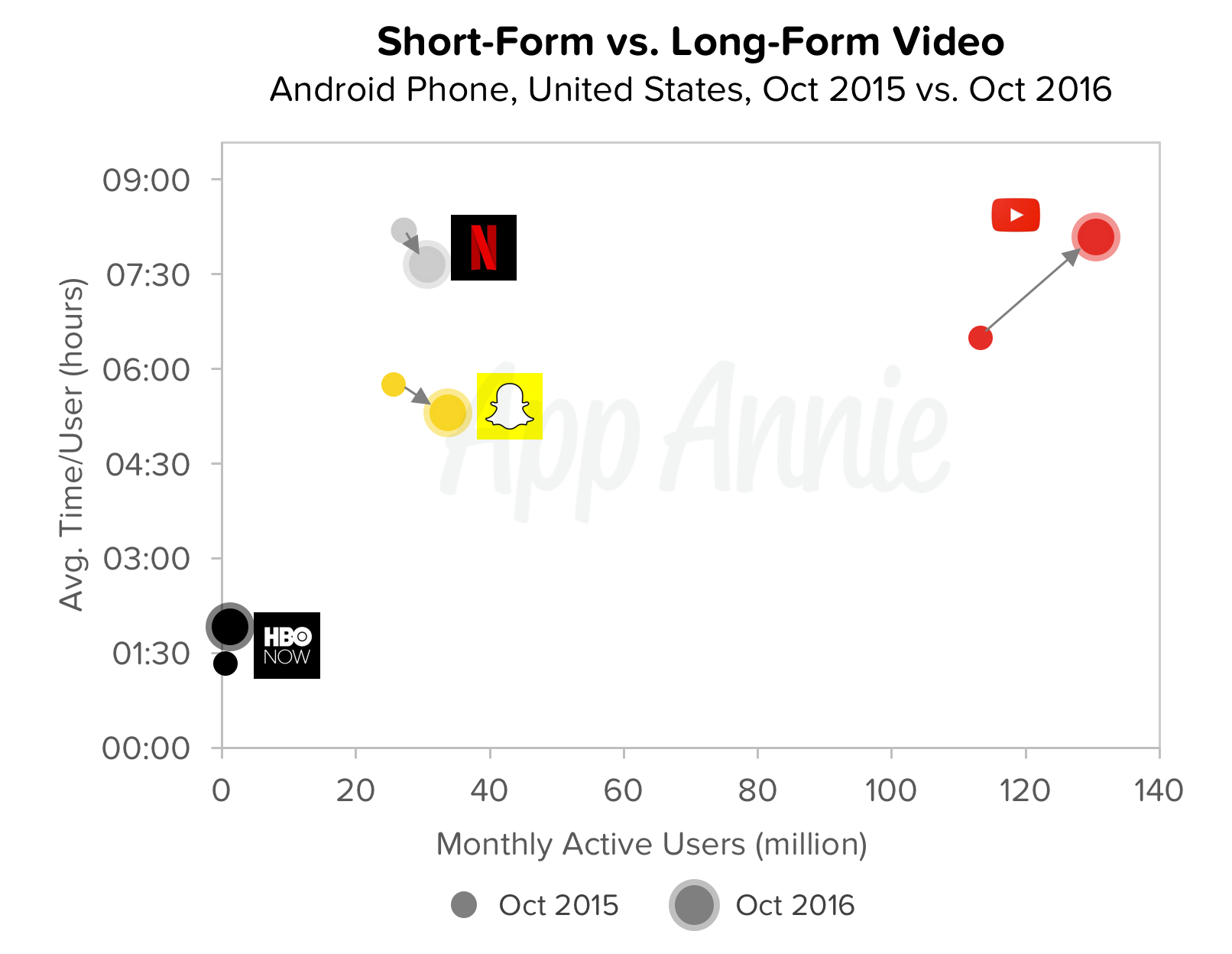 Engagement per user on YouTube is skyrocketing. While Snapchat's trajectory is roughly flat, video was not a meaningful mode of engagement in 2016. We expect this to change next year.
In October 2016, Android users in the United States spent over eight hours, on average, in the YouTube app, overtaking Netflix. In a majority of cases, we would expect significant user growth to be accompanied by a moderation in engagement per user. YouTube has clearly bucked this trend, not just in a mature market like the US, but also globally where its position is even stronger. YouTube's traction on smartphones can be explained by increasing screen sizes, and more importantly, because short-form video is a natural fit with bite-size consumption habits prevalent on mobile.
While short-form video is clearly a trend to watch, YouTube isn't the only beneficiary. A similar pattern is playing out in Asia with short-form and live streaming video apps like AfreecaTV. Beyond YouTube, Snap and Facebook are also doubling down on video to fulfill their quest to become full-fledged media platforms. We expect media companies to follow user attention and make dedicated investments – Turner's recent partnership to develop original shows for Snapchat is one example – to create high quality content for these platforms. This will accelerate the already rapid growth of short-form video platforms and, over time, will leave less time available for terrestrial TV, particularly among younger age groups. Consequently, we will see an increase in cord-cutting and the number of "cord nevers" in the coming years, setting up short-form video as a textbook case of market disruption.
Build a Better App Business
Subscribe to our weekly digest to see more app industry reports, conference updates and guides.
Want to take your app business to the next level? Track the performance of millions of apps across the world with download, revenue, demographic and usage estimates from App Annie Intelligence. Request a demo today.
Notes:
App Annie Intelligence is currently available for the iOS App Store and Google Play. It does not currently provide estimates for other app stores, such as the Amazon Appstore. While iOS and Google Play represent a significant portion of the app market in many countries, that is not the case for some countries. For example, China has a number of sizable third-party Android app stores.

App Annie Usage Intelligence data for smartphones and tablets were derived from mobile usage data collected from a large sample of real-world users, combined with additional proprietary data sets.

App Annie tracks usage at the device level using a privacy-protective hashed device ID. Data is only reported to third parties in aggregated format.

Certain trademarks and/or images used in this report may belong to third parties and are the property of their respective owners. App Annie claims no rights to such trademarks or images.