Food delivery apps are increasing in popularity in South Korea and Southeast Asia. See how they're prioritizing customer engagement to drive growth.
Food delivery options have exploded in the mobile age. As we highlighted in our recent report, quick-service restaurants (QSRs) have dominated foodservice app downloads and growth in the United States.
The surging demand for food delivery apps is also strong in parts of Asia, where we are seeing a rise in food delivery services that aggregate thousands of restaurants, which in some cases have outperformed QSR apps.

How do these intermediary apps keep foodies hooked? Their secret ingredient: innovative customer engagement. By taking cultural and technological factors into consideration, these apps are building a loyal user base and building sustainable businesses.
Deliver, and Do It Fast
During the first half of 2016, among the top Food and Drinks apps by monthly active users (MAU) on iPhone, delivery-as-a-service (DaaS) apps took three spots. Quick food delivery is nothing new to South Koreans — after all, "bbali bbali," meaning "quickly quickly," is a deeply embedded cultural mantra. This need for speed has bred the perfect environment for food delivery to flourish.

Residents in tech-savvy South Korea responded enthusiastically as these food delivery options went online and then mobile. Especially popular are aggregate services such as Baedal Minjok, Yogiyo and Baedaltong, which let users choose from several restaurants and cafes. Baedal Minjok's Android app has consistently ranked in the country's overall top 100 most-downloaded Google Play apps since 2014, while intermediary food delivery apps regularly top the Lifestyle category.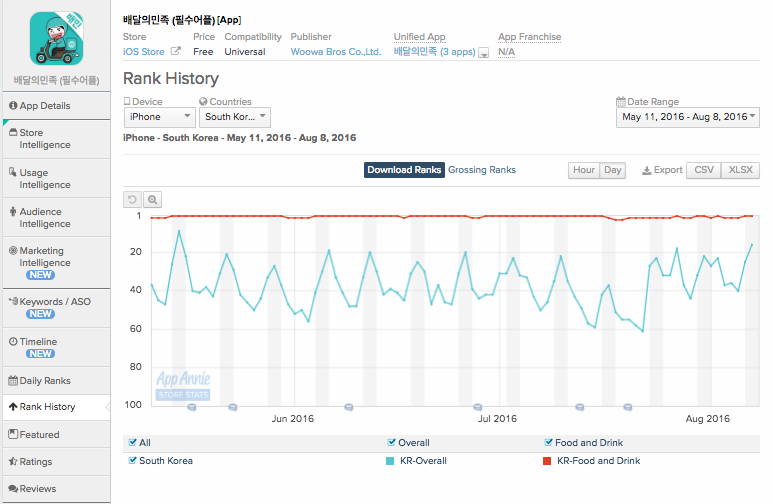 Baedal Minjok has topped South Korea's download ranks for iOS's Food and Drink category for the past three months.
For those aggregates or intermediary apps to reap such success was no easy feat. It required massive effort in establishing strong customer engagement. They leveraged mass TV marketing campaigns featuring celebrities to raise awareness, while also adopting unique features to retain user loyalty, such as coupons to big franchises and offering various payment options, including a pay-with-points system. Baedal Minjok's ads, characterized by spunky and over-the-top messages in the company's unique signature font, led to a spillover into offline merchandise, while its social media push engages the youth by following current trends.
In Korea, one unique feature that plays a critical role in these apps' success is the in-app customer review. The feature, which allows users to rate restaurants and leave reviews after they order, plays a key role in helping users discover new restaurants and choose what to order.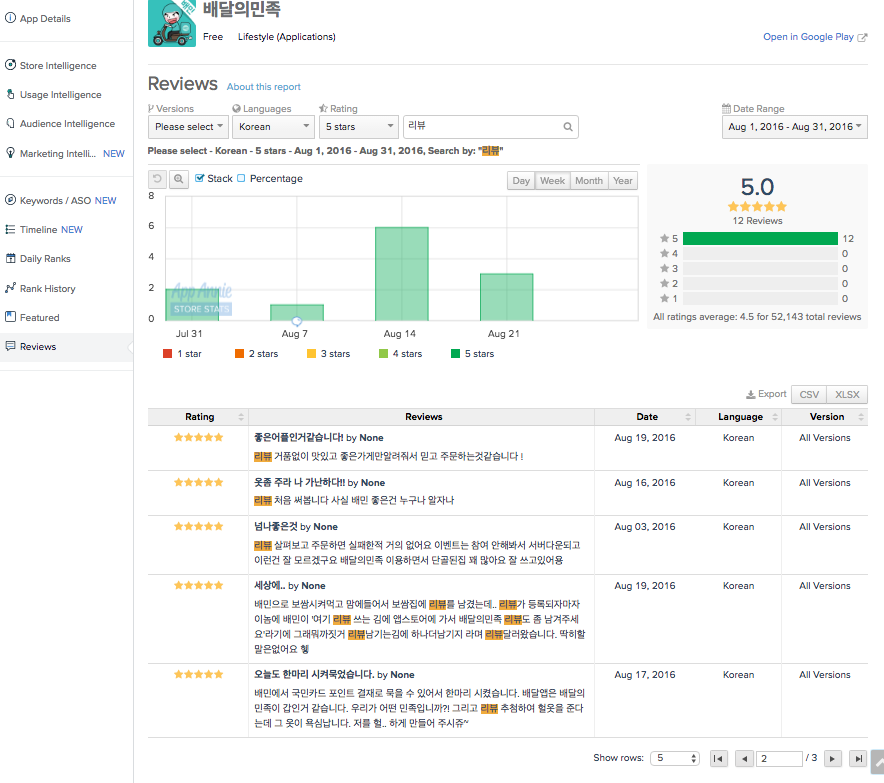 The reviews of Baedal Minjok show how much Korean users love the customer review feature of this app.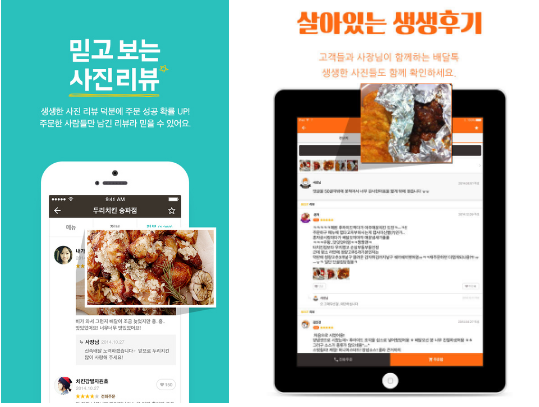 Baedal Minjok (Left) and Baedaltong (Right) let customers leave reviews after they order.
Global Players Use Real-time Tracking To Lure Eaters
While Korean players are holding strong on their home turf, competition is growing fierce in other parts of Asia as global food delivery apps expand their territory.
Aggregators such as foodpanda and UberEATS consolidate thousands of restaurants and cater delivery options based on the location of the user, instead of QSR apps that are limited to their own menus. This increases the number of options for a user and has the potential to enhance the overall customer experience. One example can be seen from the number of good reviews for foodpanda's services in Singapore.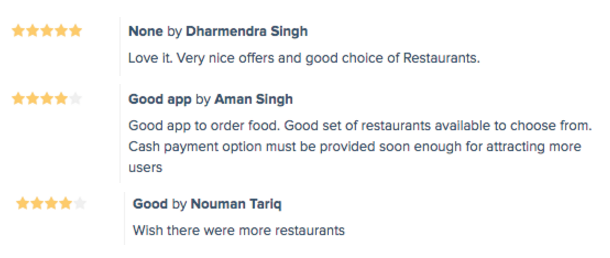 According to customer reviews of foodpanda, the users are hungry for more options and restaurants.
Consumer demand for more food options may tip the scales in favor of food delivery aggregators over QSR apps. As we can see in Singapore, in the second quarter of 2016, in terms of download rankings, food delivery aggregators were more prevalent than QSR apps.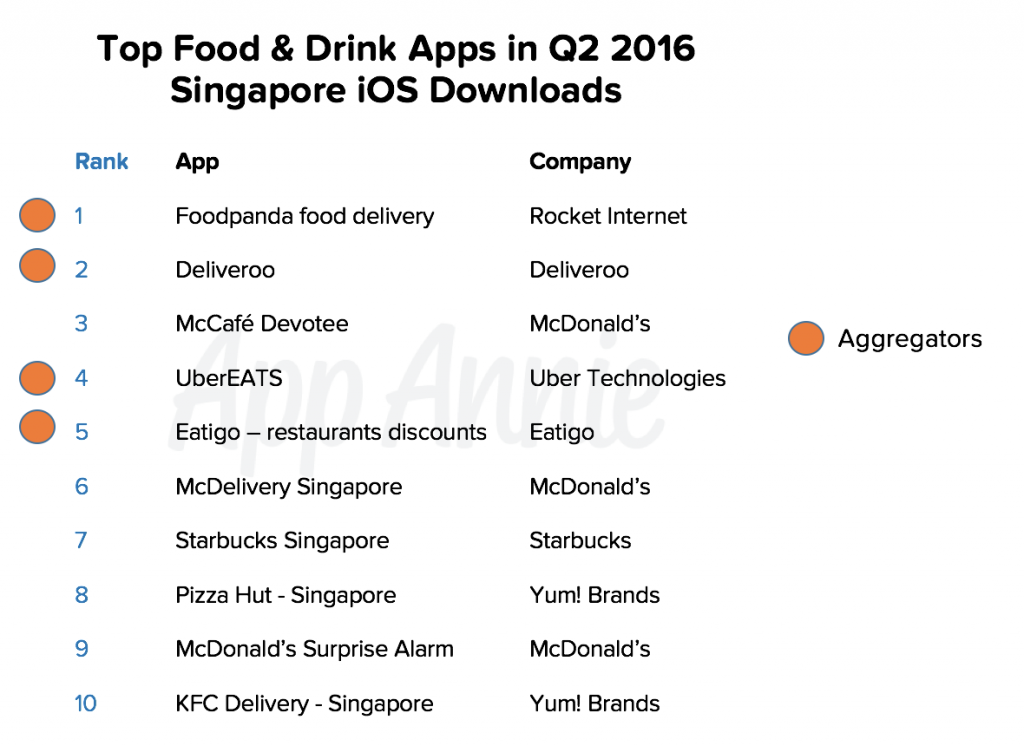 Food aggregators such as foodpanda and Deliveroo have taken top charts on iOS download rankings in Singapore during Q2 2016.
Just one month after its launch, UberEATS has springboarded off of Uber's existing user base to maintain dominance within the top two on Google Play's Travel and Local categories in Singapore. The new app carried over Uber's popular ride-tracking feature, so users can monitor their delivery in real-time and see when it will be delivered.
Uber isn't the only one using GPS technology. Tracking has become a common feature among successful intermediary apps in many parts of Asia. According to App Annie Intelligence, Since foodpanda's tracking option launched in June 2015, the app's MAU more than doubled in July compared to June among Android users in India.
Meanwhile, Deliveroo, which recently raised $275 million in follow-on funding round, is a new global player in the space — and it's right on foodpanda's tail in Singapore and gaining ground in Hong Kong. On top of the tracking feature, its other key weapon is push notifications, which rolled out in April. These innovations could have contributed to the increase in MAU the following month on iOS.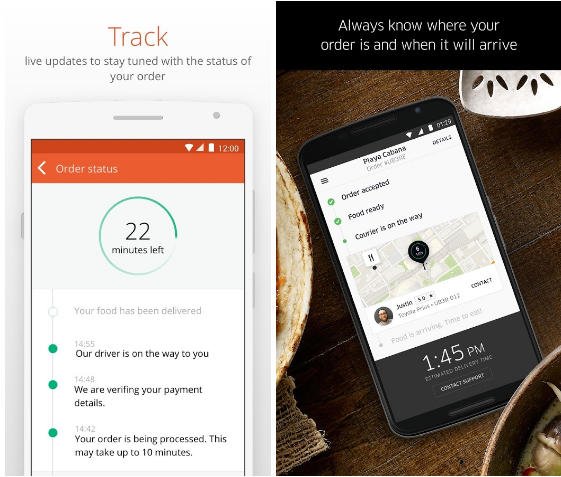 Foodpanda (Left) and UberEATS (Right) both offer a delivery tracking feature.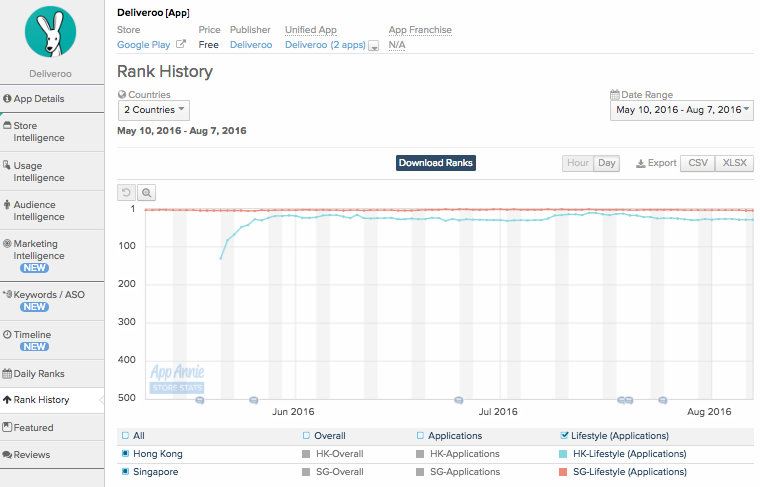 Deliveroo's popularity has surged not just in Singapore, but also in Hong Kong.
Competition Intensifies as Local Ride-sharing Companies Jump on the Bandwagon
Apart from UberEATS, other ride-sharing apps are using their resources and infrastructure to create additional food delivery services in different regions.
Grab is also setting up a food delivery service in Indonesia with GrabFood to target users in the central business district. With the launch of GrabFood, Grab experienced an influx of good reviews, showing that the people in Indonesia embraced its introduction.
Another key player in Indonesia is GO-FOOD by GO-JEK, a leading ride-sharing company in Indonesia which has also just recently amassed $550M in funding. With the new funding, we may see GO-JEK's expansion beyond Indonesia and into other markets in Southeast Asia.
What's Next for Food Apps?
The hunger for food delivery shows no signs of slowing down, as the apps' performance are boosted by growing smartphone user bases in emerging markets. And with no one or two dominant players ruling the intermediary app space, competition will only heat up.
Franchise giants' own QSR apps face a steep battle against the tech-savvy aggregate delivery apps that offer crowd favorites like real-time delivery tracking and customer reviews.
One thing's for sure — to stay ahead of the pack, food delivery apps will continue to bring technological innovation and a customer-first mindset to increase engagement and enhance the customer experience.
Build a Better App Business
Subscribe to see more app industry reports, conference updates and guides. Have something to add? Share your questions and comments on Twitter.
Want to take your app business to the next level? Create a free account to dive deeper into Store Stats or request an Intelligence demo.