Three ways retail apps are leveraging iOS Search Ads to attract new users.
The introduction of iOS Search ads is a huge shift to the app economy's landscape. Given 65% of iOS downloads come from search, having greater access to prime App Store real estate can have an immediate impact on an app's success.
Naturally, gaming and social apps have been quick to test out the new ad formats. But there are several first-movers in the retail space, too. We reviewed the early adopters weaving Search Ads into their user acquisition (UA) strategy. Three key findings emerged.
1. Even High-Ranking Apps Are Using Search Ads to Skip to the Front of the Line
While they may not have the #1 spot for an organic search keyword, many apps are claiming the coveted territory at the top of search results by paying for it. Jet ranked #5 organically for the search keyword "online shopping" and used iOS Search Ads to display on the top spot. Similarly, Amazon took advantage of iOS Search Ads to claim the prime real estate and be top of mind for users intending to download shopping apps. This is a strong tactic to use on high-traffic keywords that are difficult to rank in the top 5 for organically.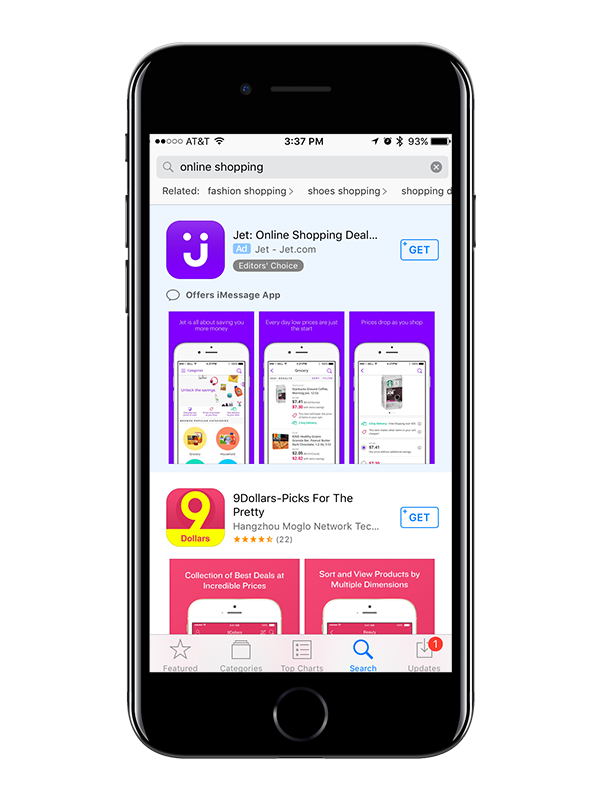 2. Smaller Apps Are Taking Advantage of the New iOS Search Ads
It's not just multinational retailers testing the waters — smaller apps are taking advantage of the platform to gain access to high-intent traffic. Women's retailer SHEIN appeared as an ad for the keyword "shopping" as did larger companies such as Amazon and Wish. This placement allowed them to gain visibility of users in the mindset to download a "shopping" app, potentially prompting users to download SHEIN over competitor Polyvore, which would otherwise have been in the #1 spot for organic results. In addition to gaining prime advertising real estate, smaller brands are able to position themselves as alternatives or even complementary services to bigger competitors.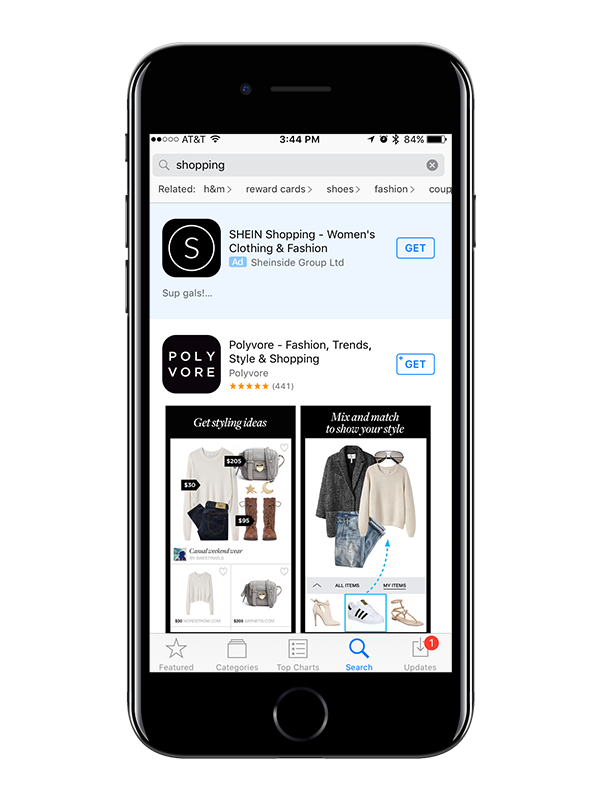 Furthermore, niche apps can use branded search to "piggyback" on user intent and position themselves as a complement to larger apps. We saw this take shape with Motif Fashion & Jewelry advertising for the keyword "Etsy" in an effort to capture part of the fashion-seekers that search for Etsy. In another instance, Ebates advertised on the keyword "Walmart" to position itself as a related companion app to the Walmart experience, increasing the likelihood of users downloading their app alongside Walmart.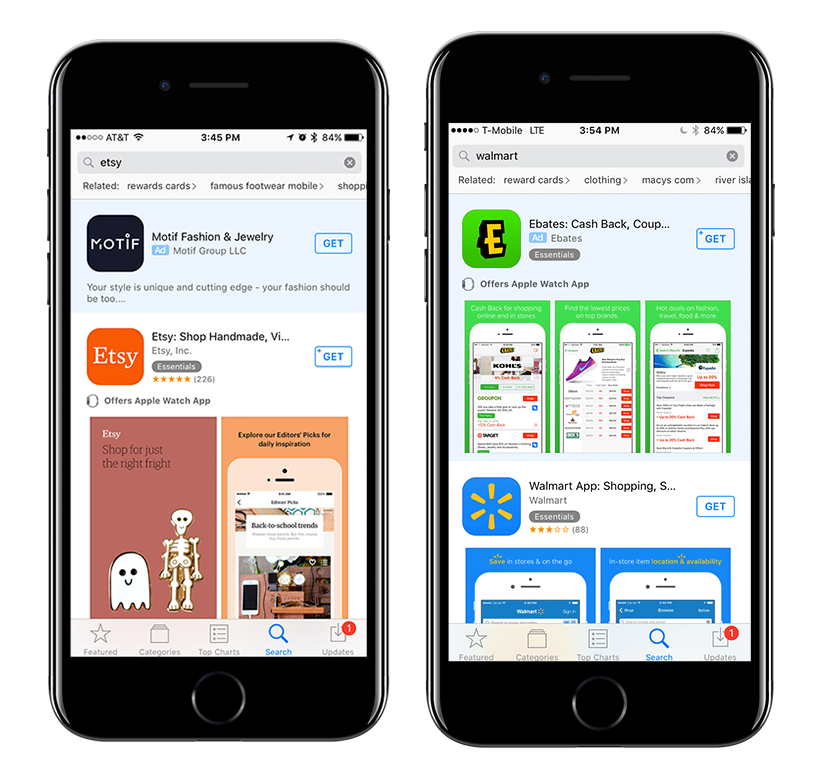 Currently, we haven't seen many retailers adopt this strategy for their direct competitors— for instance, Walmart could advertise on the keyword "Target" to capture audience share from the latter. We have seen this offensive strategy take shape for games and expect to see more of this technique in the months to come as retailers adopt iOS Search ads in their UA strategy.
3. Search Ads Are a Complement to ASO — Not a Replacement
iOS Search Ads are dual purpose. Publishers should consider them for:
Offense — i.e., for keywords your app is not ranking as highly for
Defense —i.e., to ward off competitors from highly searched queries
For example, Wish both organically ranked #1 for the keyword "shop" and also advertised for it to prevent competitors from occupying this real estate. This tactic could also work well to ward off competitors from claiming the top spot for an app's own branded keyword, such as "eBay" or "Amazon".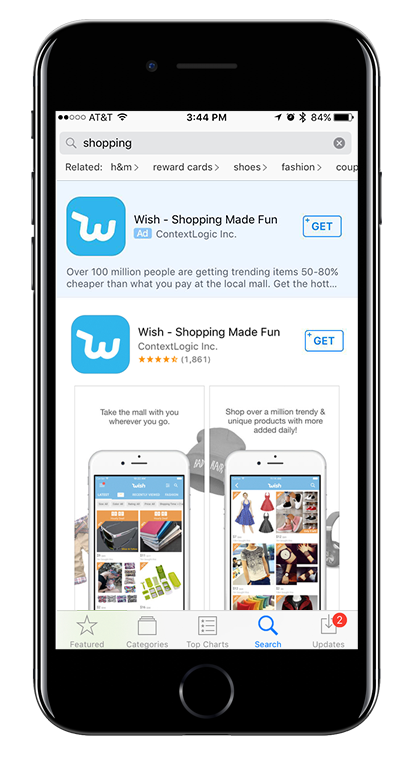 Incorporating iOS Search Ads into Your UA strategy
iOS Search Ads offer a compelling value proposition to UA managers. In terms of the purchase funnel, it is extremely close to where the user is ready to download. This is unlike in-app ads, where a user has to leave their current game or app and be taken to the App Store to download. Not to mention the ad has automatic credibility since it is in the App Store itself. The blue banner is eye-catching and the placement isn't one that users have been trained to ignore, as is often the case with banner ads. Of course, ad blindness is a real issue that could come to the App Store at one point, so smart publishers should take advantage of this real estate while it's still novel.
While iOS Search Ads can unlock access to high-quality, high-intent users (albeit at a price), it doesn't mean you shouldn't continue to iterate on your app store optimization (ASO) strategy. ASO is still incredibly important, especially since Apple limits the amount of ads users will see during App Store searches.
ASO allows apps to gain visibility without needing a significant budget. If you intend on using Search Ads, you'll need to mine your ASO data to help inform keyword selection. And since Search Ads use your existing App Store page assets, it'll be important for the teams managing UA and ASO to interact and ensure your assets (icons, screenshots, videos, ratings and reviews) are poised to help convert users.
The current landscape shows that smaller retail apps are taking advantage of this platform. It is prime time to test out strategies and capitalize on early success before large companies bring bigger budgets to the playing field and users potentially become trained to ignore ads. Search Ads can also be a great way to regain and retain that prime visibility if your app falls outside the top ranks for a keyword. We are interested to see these and other advertising patterns take shape in the coming months and the impact they have on an app's overall success.
New to UA and ASO? Sign up and get started today. Ready to take your program to the next level? Request a demo for Marketing Intelligence.