Coupons and Deals apps have cultivated strong engagement by seamlessly integrating into the customer journey. Retailers should look to these apps for the strategies they need to succeed.
For more on retail apps, join us on Tuesday, June 27, 2017 to learn how to prepare for the 2017 holiday shopping season on mobile in our partnered webinar with Pinterest:
2016 was a transformative year for the retail industry, and mobile was the key driver of that change. Many consumers are clearly embracing mobile during their shopping journey as evidenced by the 500 million downloads that the top 200 retail-related apps generated in 2016 alone on iOS and Google Play combined. Coupons and Deals apps carved out an impressive place in this ever important landscape.
Within the United States' highly competitive mobile retail landscape, Coupons and Deals apps outperformed both Digital-First and Bricks-and-Clicks retailers in 2016 on a downloads per app basis. On average, Coupons and Deals apps saw 30% more downloads than the top 200 retail-related apps by combined iOS and Google Play downloads. In fact, Coupons and Deals apps were second only to Peer-to-Peer Marketplaces for this metric.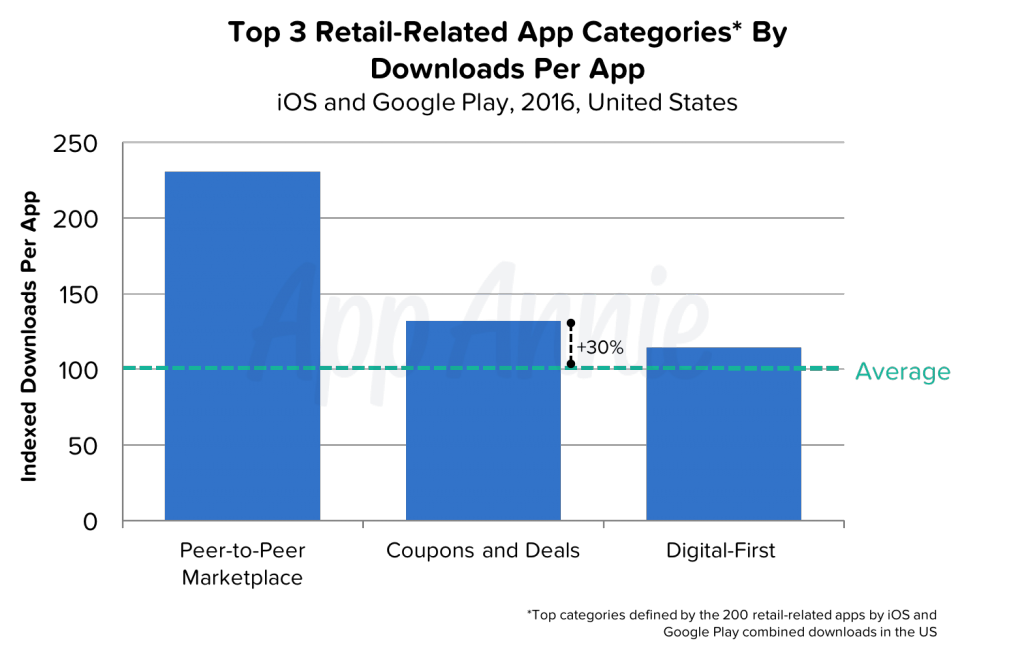 As a whole, Coupon and Deals apps demonstrate a large amount of versatility. They deliver benefits both in-app and in-store, as well as across the entire shopping journey from research to purchase to even post-purchase through loyalty and rewards programs. Retailers should look to these apps for strategic partnership opportunities and to identify best practices for a seamless omnichannel customer journey.
Top Coupons Apps Are Used Daily
Users are checking the top Coupons and Deals apps more than once per day on average. That makes them nearly as sticky as popular apps like Pinterest, Netflix and CNN News. Becoming part of users' daily app habits is a key factor for success in retail. Daily use indicates that the app's value proposition and features align with users' day-to-day needs and that the app has become an integral part of their shopping journey.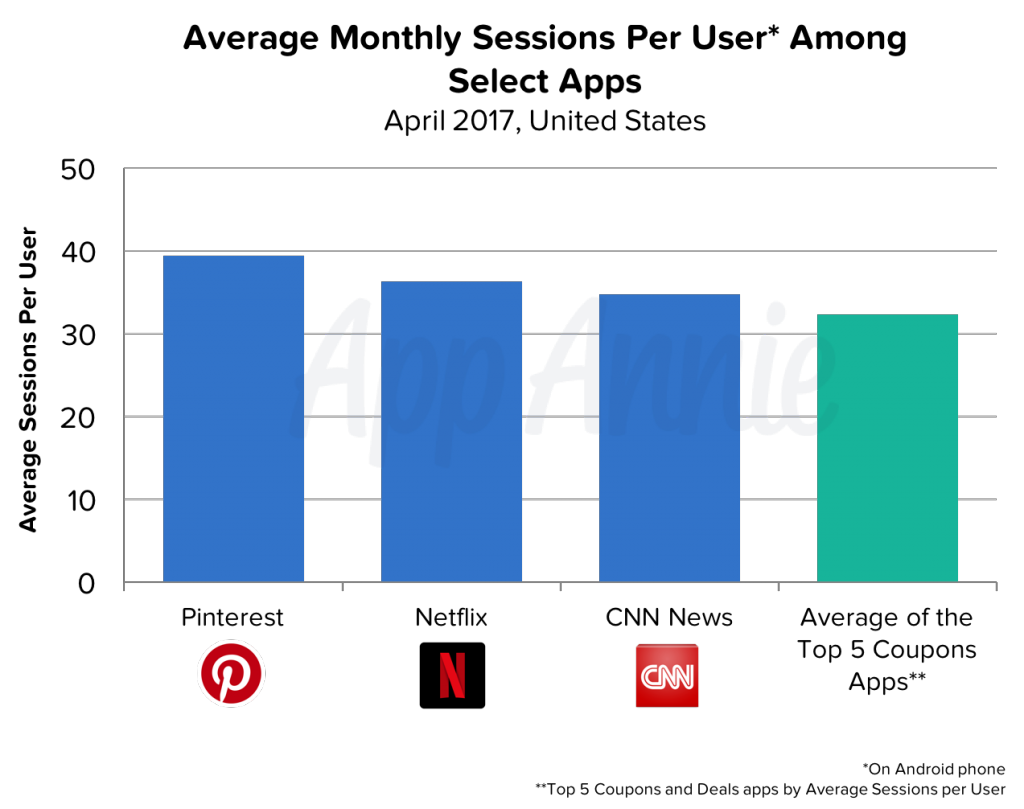 Not only are users frequently visiting Coupons and Deals apps, they are spending significant amounts of time in these apps. This indicates these apps are delivering a strong value proposition like helping users save money and time or experience less friction during the purchase process.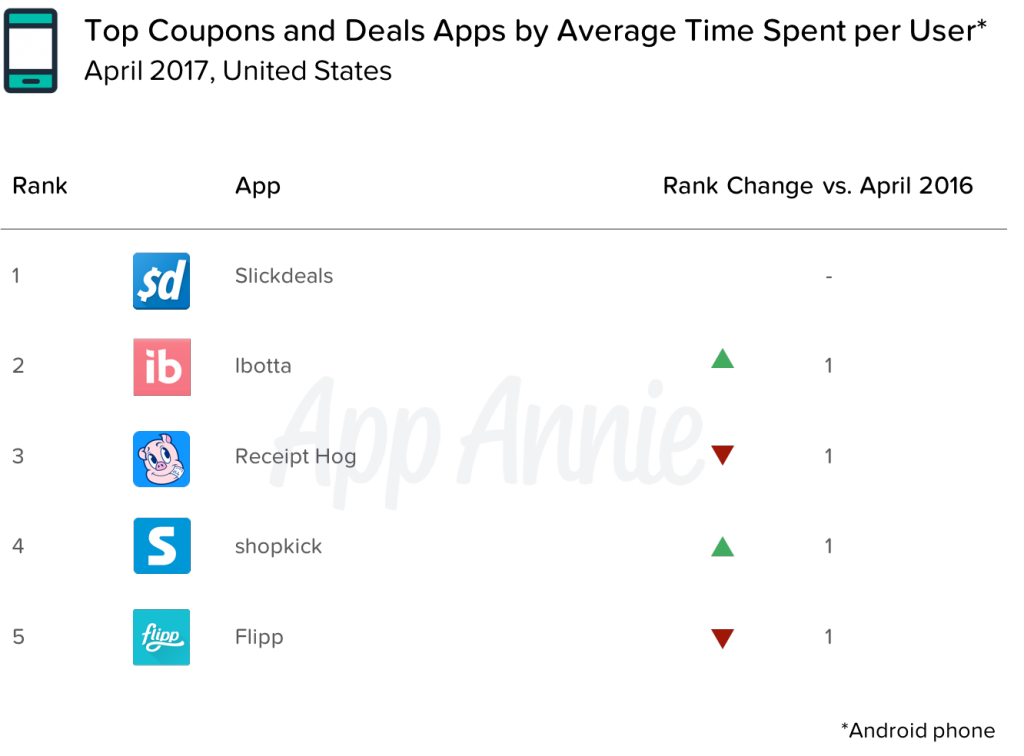 shopkick's time spent per user increased by 15% year over year in April 2017 on Android phone in the US, helping it move up the rankings for Coupons and Deals apps. Shopkick has continued to add new features and expand its scope of stores to increase time spent. One such feature is "Shopkick Grocery", which was added in April 2017. This feature extends shopkick's reach into the retail food industry. Shopping lists and recipes point users to grocery stores carrying those products and provide a seamless user flow for reward redemption.   
With the food retail industry in the US generating $770 billion per year, it is no wonder that couponing apps like shopkick, Ibotta, and Flipp are looking to play an integral part in the grocery shopping experience. These apps not only save users money and time but can even give them money back for using their app. Retailers should look to Coupon and Deals apps for tactics they can emulate to increase stickiness with users and ultimately drive more revenue from their own mobile efforts.
Ibotta Showcases Best Practices
Ibotta is a top-ranking app for engagement. It ranked #2 by Android phone time spent per user for Coupons and Deals apps in April 2017 in the US. In addition, Ibotta has doubled its monthly active users (MAU) in the US in only two years.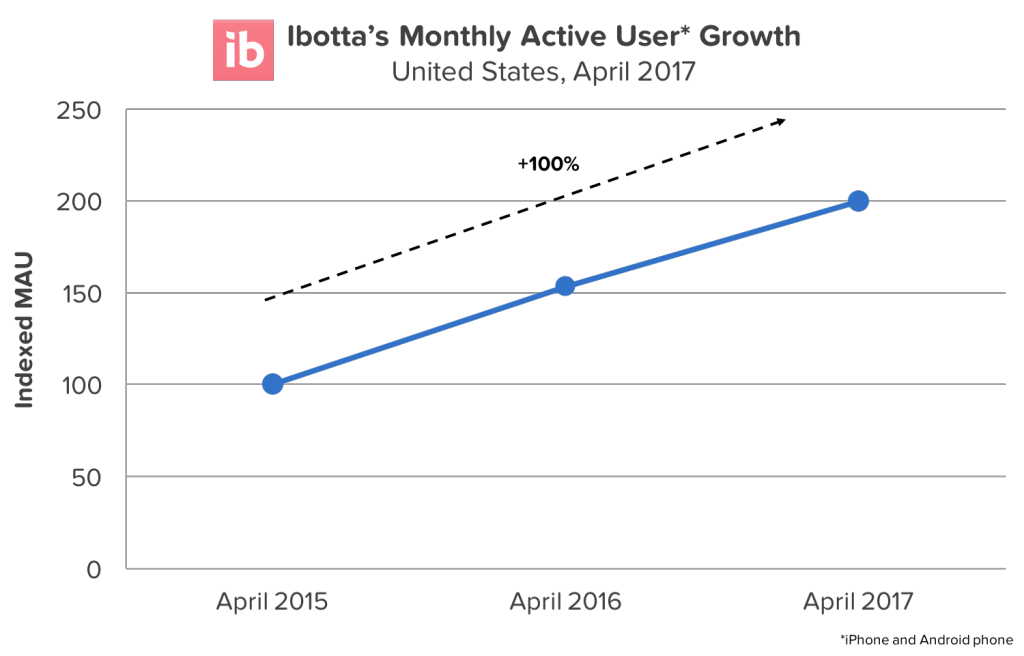 There are a number of factors that have fueled Ibotta's success over this time. The app appeals to a wide range of shoppers by supporting a breadth of retailers, both in-app or in-store purchases, and multiple redemption methods such as gift cards, Venmo or PayPal. With Venmo and PayPal each having well over 10 million MAU across iPhone and Android phone in the US – which is more than most retail banks – it is clear that Ibotta is seeking to drive its own engagement by catering to its users' existing app habits. It is this flexibility to fit into consumers' daily lives that has resulted in Ibotta seeing success in user engagement.
What Retailers Can Learn From Coupons and Deals Apps
Coupons and Deals apps have seen significant growth with consumers in the US. Retailers should consider leveraging them for partnerships, target their users in User Acquisition (UA) efforts and learn from their successful app features. In an environment where mobile success is tantamount to market success, it is time for retailers to take note or be left behind.  
Join us on Tuesday, June 27, 2017 to learn how to prepare for the 2017 holiday shopping season on mobile in our partnered webinar with Pinterest:
Our European audiences can also join us for an English-language replay at a more EMEA-friendly time, Wednesday, June 28, 2017: