Mobile retail banking is on the rise in Europe. In order to stay ahead, banks must prioritize features that enhance the customer experience.
The number of interactions for retail banking apps have more than doubled in Germany, France and the United Kingdom. The increase in usage has heightened consumer expectations and led to a new crop of competitors, including fintech companies and digital-only banks. Mobile banking is no longer an optional feature. In order to retain customers and attract new ones, retail banks must understand the mobile experiences customers want and successfully deliver them.
Our recent report, Retail Banking Apps in Europe, further examines the growth of this space and how top banks are attracting and engaging users.
Natwest UK's Touch ID for iPad
Natwest, a leading UK bank, has been in the mobile banking business on iOS since 2009 and seems to be doing extremely well given the app's impressive 4.5-star rating on iPhone.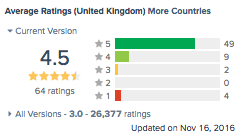 It's not just enough to rely on ratings, however. Customer reviews are often rife with valuable feedback, including feature requests. Using App Annie Intelligence, we can take a deeper look at reviews. Segmenting the reviews of NatWest from August 10–October 10 for the keyword "touch ID" shows that users are clamoring for Touch ID capabilities, specifically on iPad.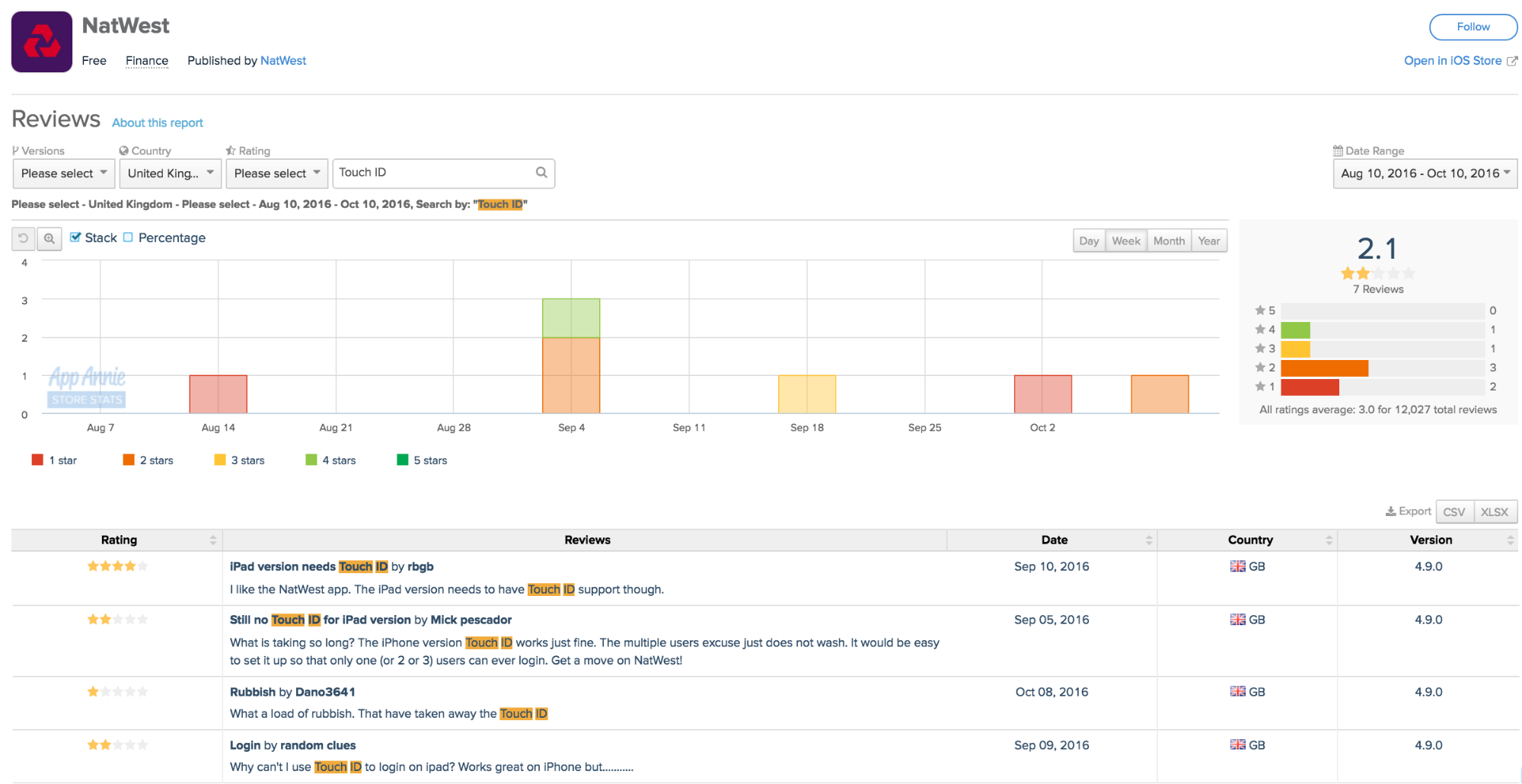 On October 17, NatWest listened to its users and updated its iPad app to include Touch ID. The impact was immediate, as users expressed their satisfaction in app store reviews.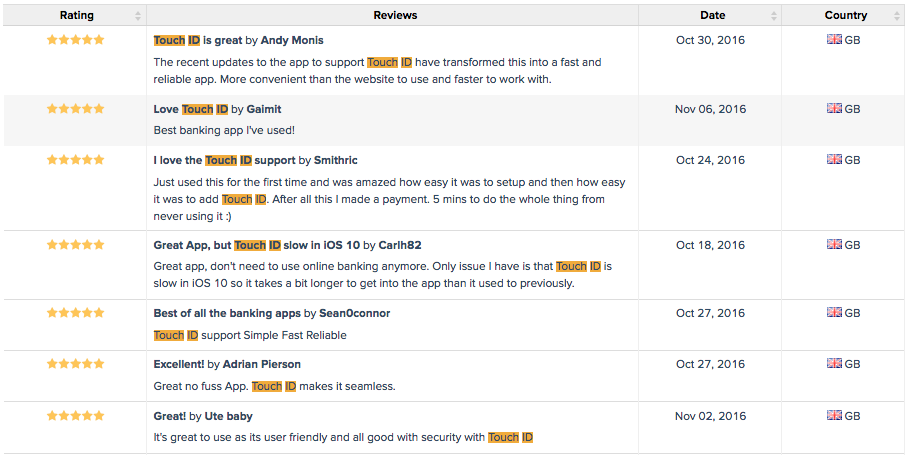 Thanks to prioritizing updates based on user feedback, Natwest managed to change its app store review narrative and encourage positive reviews.
German Banks Prioritize Security to Lock in Success
Germany tends to place more importance on security and private data protection — a focus that also plays a big part in the development of German banking apps. DKB-Card-Secure from Deutsche Kreditbank AG is an app that secures online payments for DKB credit card holders. The app's 3D-Secure feature ensures protection against fraudulent use of the card. Similarly, German banking app Sparkasse launched a new security feature in June called S-ID-Check, a security tool which enables users to use their credit card more securely online, using the same 3D-Secure procedure.
Since this launch, S-ID-Check climbed the charts and has remained in the top 10 most downloaded Finance apps in Germany on iOS. German banking apps have tapped into the real concerns of their users on a cultural level, and adapted their products accordingly.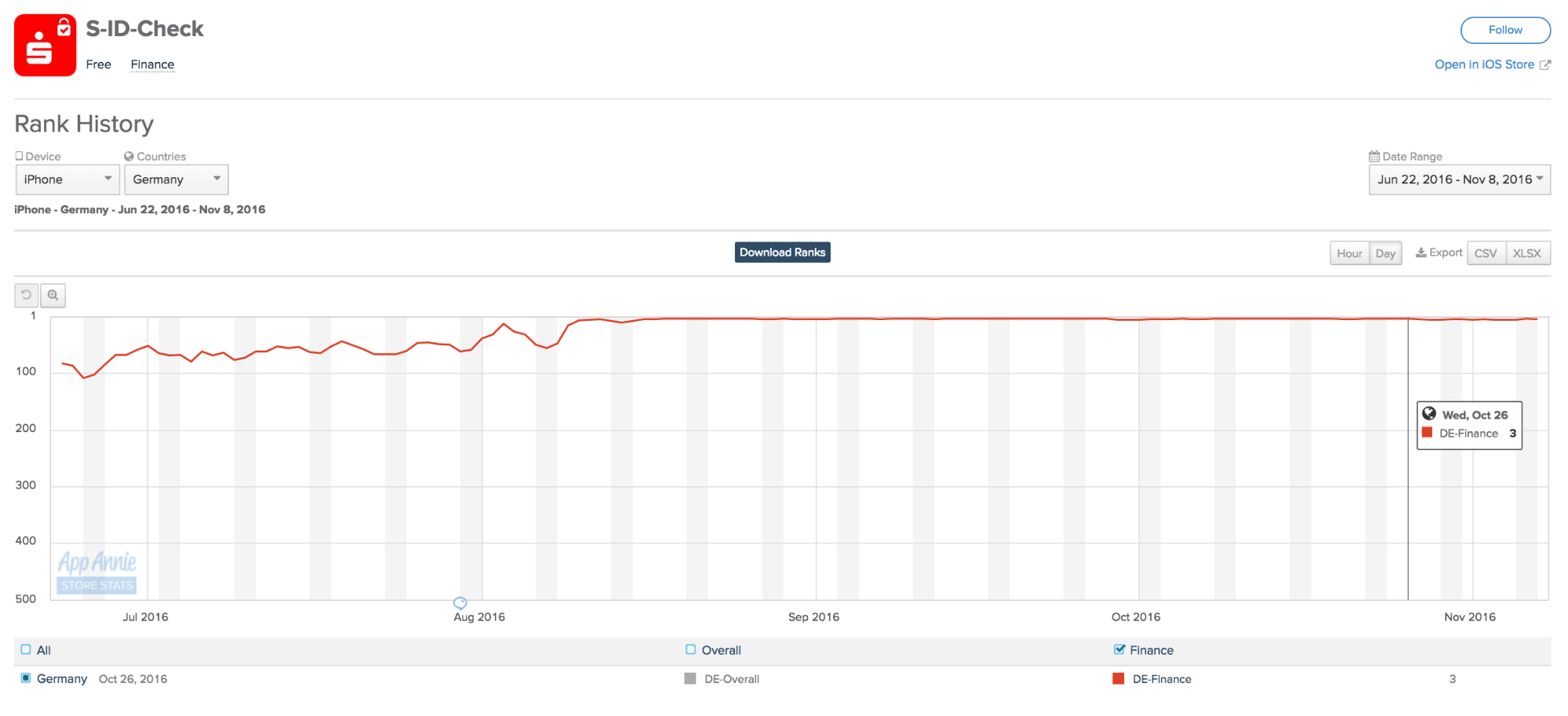 S-ID-Check launched on iPhone in June 2016 and reached rank #5 in the Finance category on August 11, staying in the top 10 most downloaded Finance app in Germany ever since.
France's Izly Connects with Students on Banking
In our European banking report, we highlighted the differences in mobile banking usage by age group. Seeing the opportunity, S-Money (a subsidiary of Groupe BPCE) launched Izly in 2015 to exclusively target French university students. The app enables users to pay almost everything on campus with either their student card, mobile phone or QR code. Students can also reload their Izly account directly from their phone as well as send and collect money between friends and family. In order to better cater to the unique consumer behavior of the French student community, Izly partnered with CROUS and proposed incentives such as loyalty points and discounts.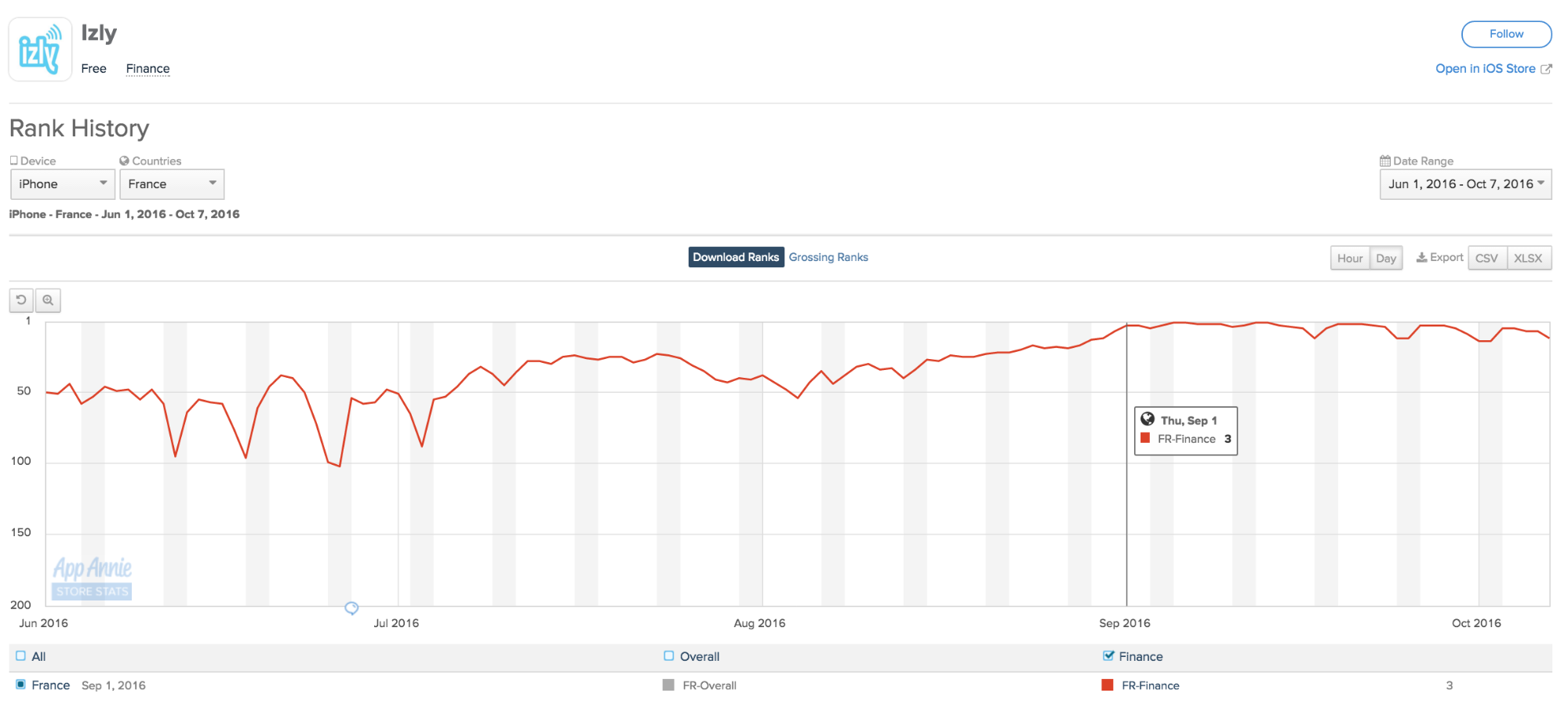 Over a three-month period, Izly went from #102 in downloads for iOS Finance apps in France all the way to #1.
In September — the start the academic year for most French students  —  the app gained a lot of traction in its native country, climbing from #38 to #3 in the Finance category within a month.
Izly managed to not only learn the unique consumer behavior of the French student community, but also translate and incorporate this it into its app.
Mobile Banking's Continued Innovation
Mobile banking will continue to evolve at a rapid pace. Banks from around the world are implementing new and innovative features in their mobile apps. Take for instance, Citi, which added the ability to dispute charges directly from the app at the beginning of November or Standard Banks in South Africa, which launched a kid's banking app to help parents and children manage pocket money.
Competition from mobile-only banks is growing, especially in the UK. For example, in November the digital-only Tandem bank launched, while Loot (deemed the bank for millennials,) raised another £2.5 million. Monzobank launched on iOS in February and is already using mobile advertising to expand its user base.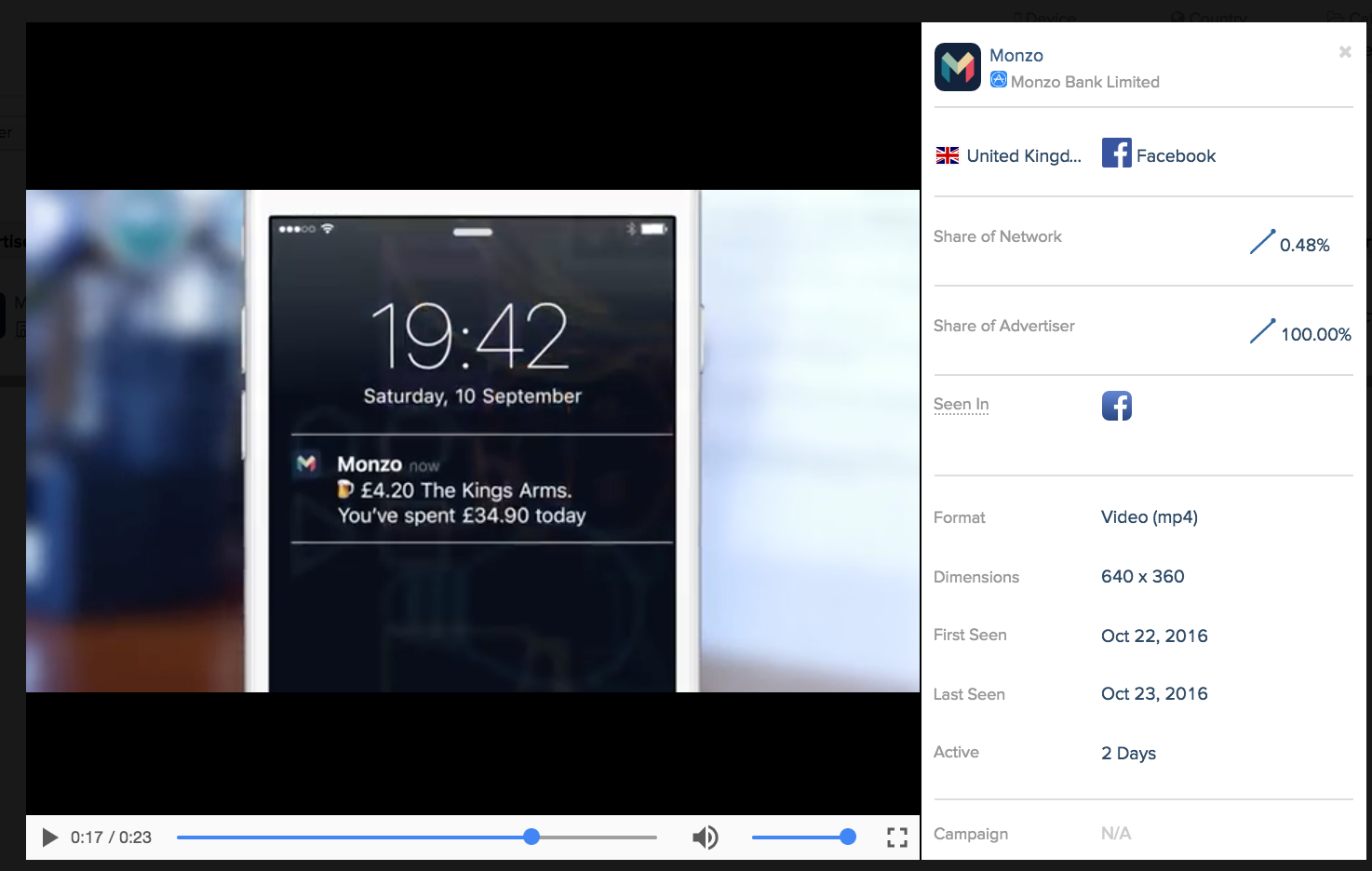 Monzobank's Facebook ad creative, collected through App Annie Marketing Intelligence.
It's clear that mobile banking is a priority for all banks. The competition in this space is fierce and growing, meaning banks can't rest on their laurels — they need to continue innovating or risk falling behind. Paying close attention to how users engage with their app and analyzing their product feedback is of critical importance.  The banking apps that rise above the rest will pay attention to and implement the features users crave.
Start Building a Better App Business
Are you a bank looking to pick up the pace with your mobile strategy? Create a free account to dive deeper into Store Stats or request an Intelligence demo.