The popular shopping holiday entered its eighth year. We look at innovative ways retailers cashed in on the craze.
Now in its eighth year, Singles' Day — China's largest online shopping phenomenon — is still shattering records.
The term "Singles' Day" was originally coined by Chinese college students in the '90s as a reason for uncoupled youths to celebrate. November 11 was chosen as the date, as it consists entirely of the number one. The event went on to be appropriated by retail giant Alibaba. Year over year, the event has reached new heights and is even starting to make its way out of mainland China.
Even though it's a newer shopping holiday, its scale has already surpassed that of Black Friday, with volume of sales skyrocketing from a modest RMB 52 million (USD $7.6 million) in 2009 to RMB 120.7 billion (USD $17.7 billion) seven years later.
This year, mobile took center stage way ahead of November 11, with retailers hyping up this one-day shopping event starting as early as October. According to App Annie Intelligence, more than five million iPhone users in China downloaded Taobao, and more than one million iPhone users in China downloaded Tmall between October 21 and November 11.
Singles' Day is as much about spectacle as it is about discounts. With consumer expectations increasing, retailers have been pushed to explore new and exciting mobile technologies and tactics in anticipation of this year's event.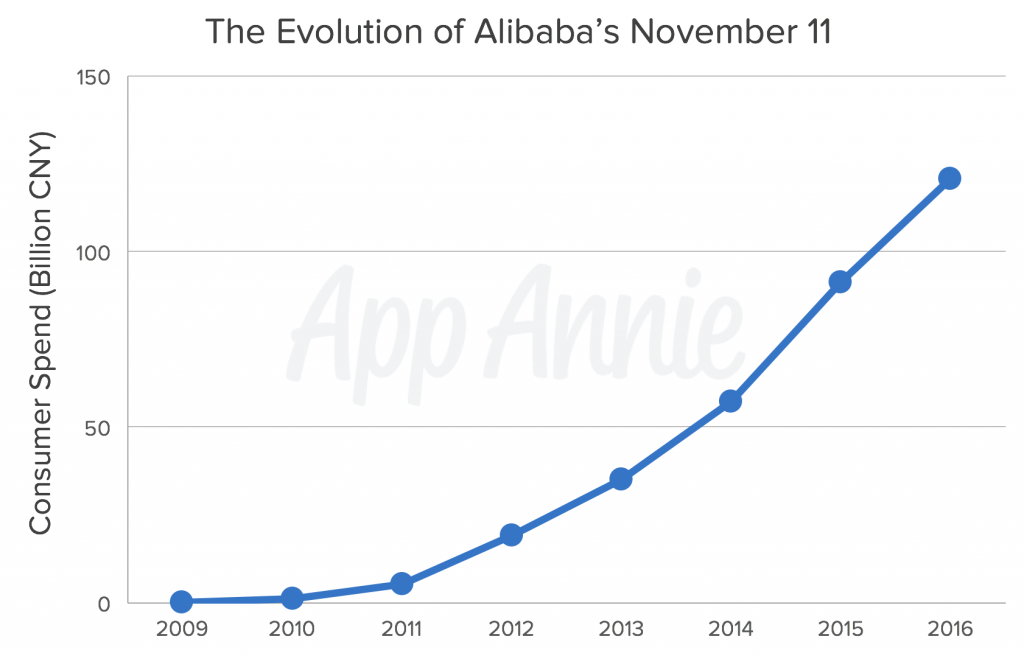 November 11 sales have seen tremendous increases since 2009. (Sources: 2016, 2015, 2014, 2013, 2012, 2011, 2010, 2009)
Retailers Dig Deeper Into Mobile Payments
Online payment services have always prospered alongside online retailers in China — this is most famously indicated by Alipay's soaring popularity along with Taobao. While not strictly a new phenomenon this year, 2016 saw retailers push deeper into mobile payments, working to extend their core functionality.
Ant Huabei (Ant Check Later), Alibaba's financial credit service, was highlighted this year by offering extra lines of credit to Alibaba consumers for their purchases on November 11. The campaign kicked off on October 18, offering RMB 10bn in credit through November 12. As the credit service is mostly enjoyed through Alipay, Ant Huabei saw a spike in downloads on iOS the week leading up to the event.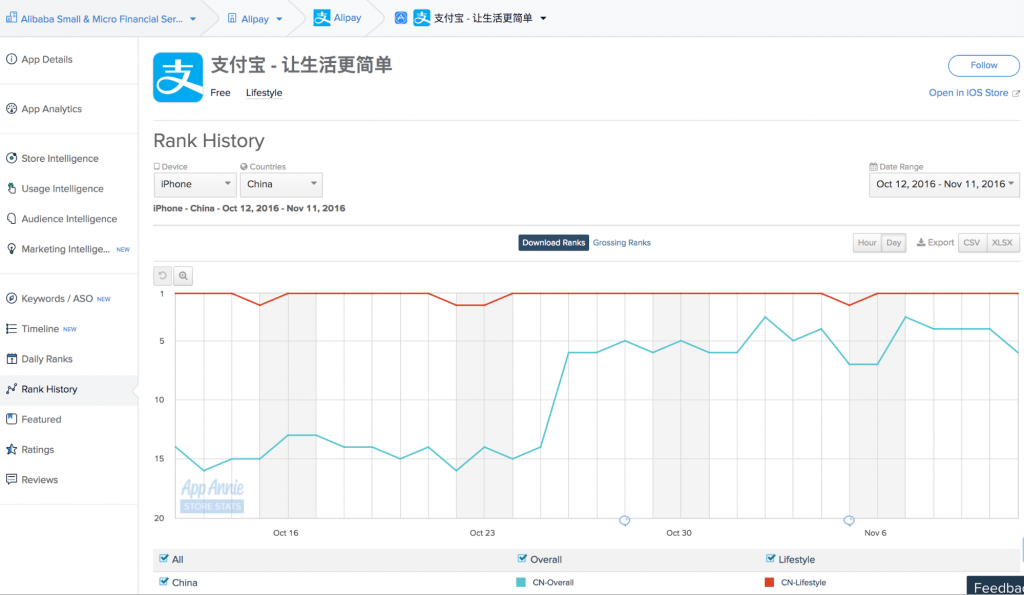 Alipay's download ranking was lifted by the offering of extra lines of credit through Ant Huabei.
Jingdong, arguably Alibaba's strongest competitor, immediately upped the ante by offering RMB 20bn through its own finance app, 京东金融 (Jingdong Finance). This counter move is another example of Chinese retailers tapping into the field of mobile finance through their own channels.
Discounts: Gotta Catch 'em All
This year in order to drive user engagement for its mobile app, Taobao borrowed from Niantic's playbook. In a game setup similar to Pokémon GO — with mapping data support from AutoNavi — Taobao app users are encouraged to catch the site's mascot in various branded costumes, with different costume combinations offering different discounts on November 11.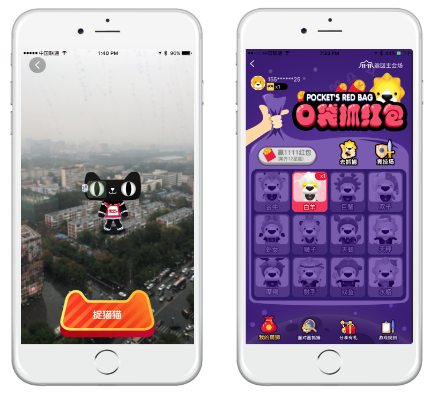 Taobao and Suning use AR to drive in-store traffic.
Suning, China's leading bricks-and-clicks retail app, worked to drive the online excitement offline. Using its own AR-based, in-app card-collecting game, players could enjoy online discounts, but were also encouraged to visit Suning's physical stores in search for rare in-game cards. As we highlighted in a recent report on retail apps, this is a clever way to harness mobile technology to drive foot traffic.
The International Expansion of Singles' Day Continues
This marks the first year Alibaba officially introduced November 11 to shoppers in Hong Kong and Taiwan, allowing consumers to purchase on Taobao and Tmall using local payment options. Participating vendors could ship directly to these two territories.
Aliexpress, the international wholesaler we covered last year, is another example of Alibaba going all out to promote this shopping holiday to its mobile customers overseas. The app featured the one-day festival heavily and introduced new technologies gaining popularity across China, such as video livestreaming.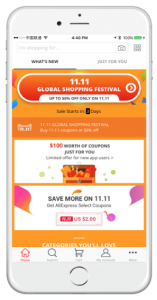 Other retailers around the world have hopped on the November 11 bandwagon as well. Most notably, l'Occitane, the French retailer of skincare products, launched an ad campaign heavily featuring Singles' Day within Snapchat, targeting customers in the United States.     
Mobile Innovation Is What Matters
Over the past few years, China's online retail landscape has fully embraced mobile. Bricks-and-clicks retailers have honed their skills in engaging consumers both online and offline, while online-first retailers have ventured into new territories, such as mobile finance and AR.
China's retail industry keeps growing, and as the market matures, experienced international players have introduced more sophisticated services to the market. Recently, it was announced that Amazon is introducing its Prime Service to Chinese consumers, allowing them unlimited free shipping for overseas orders among other privileges.
Developments like this call for innovation on all channels, including mobile, which is critical to retailers' continued success on November 11.
Tap Into Holiday Best Practices for Your Retail Strategy
Join us on Wednesday, January 11 at 10:00 a.m. PT to get key insights into the growth of retail apps and best practices to capitalize on holiday spending. Register for our webinar, Unwrapped: Holiday App Insights to Drive Retail Strategy.