We bring in push notification experts LeanPlum to explain how little messages can have a big impact on how many users make purchases and how much they spend
(By Stefan Bhagwandin, LeanPlum
Leanplum, an integrated mobile marketing platform, just released a new data science report on in-app purchases. We invited them to unveil some of its key findings and strategies you can implement in your own app. Read on to see what they have to say, and to track downloads and revenues for millions of apps, be sure to sign up for App Annie Intelligence for free.)
There's a reason mobile marketers love push notifications. These little messages have already been proven to help with app engagement and retention, which means less churn and more active users.
But for apps with in-app purchases — think retail, travel, music, gaming, etc. — push notifications need to do more than engage. They need to convert. The question remains: Can push notifications directly impact revenue?
In a first-of-its-kind report, In-App Purchases Now, Leanplum analyzed 56 million mobile activities to determine if messaging boosts in-app purchases.
First, a little context. To get the data, we analyzed push notifications containing words like "purchase," "shop," "discount," etc. — words that indicate a certain intent. Then, we looked at the subsequent user actions. Did the push drive the user to return to the app? Did they make a purchase within a certain period of time?
Taking a closer look at the data led us to some powerful discoveries.
Push notifications drive more shoppers to purchase
The numbers are in, and the pattern is clear. When an app sends a push notification, 9.6x as many users will make a purchase compared to those who didn't receive the message.
This finding is even more critical when you consider that 90% of mobile shopping carts are abandoned. Even when users have enough purchase intent to add an item to their cart, it sometimes still takes an extra push to convert. Sending a friendly reminder can help inch them towards purchase.
If you're not sending push notifications already, there's a definite incentive to start.

Push notifications increase in-app spend
Our findings don't stop at purchase rates. We also wanted to learn how much more money users spend when they're targeted by push notifications.
As it turns out, push notifications actually increase the average user spend by 16%. Push notifications aren't only good for improving conversion rates. They also help monetize existing shoppers through upsells and cross-sells.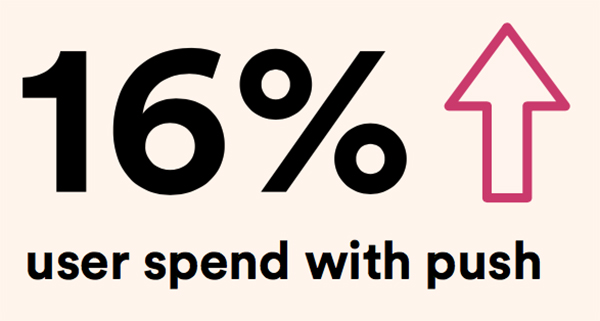 Mastering upsells and cross-sells
What are upsells and cross-sells? In the context of retail, they're basically the "would you like fries with that?" approach to increasing a purchase amount. Food delivery apps, for example, often invite users to add an appetizer to their entrée order at a discounted price. And think of travel apps: If a user books a flight in a travel app, asking them to add on a hotel or reserve a car for their trip makes sense for both parties. And if a shopper in a retail app adds a pair of rainboots to their cart, relevant items like umbrellas or products from the same brand can be just the thing. Another way to upsell is to offer free shipping if the user spends a certain amount.
Upsells add value for customers, making them more likely to purchase.
How Mixbook drives more in-app purchases with push
These findings have practical implications. Mixbook's Mosaic, an app that helps users customize beautiful photo books, saw success with one of its mobile messaging campaigns.
Like most mcommerce apps, shopping cart abandonment is a significant challenge. Mixbook created a push notification campaign to encourage users to complete their purchases. One hour after customers abandoned their carts, timed responses were delivered via push notifications with the following message: "We saved your Mosaic order. Check out now and get it in 4 days."
The results? The triggered message drove a 14% increase to overall purchase conversion — a significant boost in revenue for Mixbook.
Get more purchase data
We started this study with a simple question: Do push notifications impact in-app purchases? The answer was a resounding yes: Push notifications lift both the number of conversions and the value of each conversion.
But there's more to the story than the simple fact that push lifts purchases. You might wonder, for example, what the best time of day is to send promotional push notifications, or if there's a particular day that outperforms the rest.
To find the answer to these questions and more, download our mobile marketing trends report, In-App Purchases Now.