Pokémon GO's success has not come at the expense of other mobile games or apps. Instead, it has opened up new engagement and revenue opportunities for the entire app ecosystem.
The Pokémon GO phenomenon is showing little sign of losing steam. The app continues to earn daily revenue of over $10 million on iOS and Google Play combined, even though it has been over three weeks since its initial launch. Because of its unprecedented success, we have received numerous inquiries from our customers about its effect on revenue and user engagement of other leading apps and games.
Interestingly, it appears that Pokémon GO's impact has been largely additive to the app economy. More importantly, it has given app developers a blueprint for increasing engagement with their users and opening up new revenue opportunities.
Pokémon GO's Impact on Game Revenue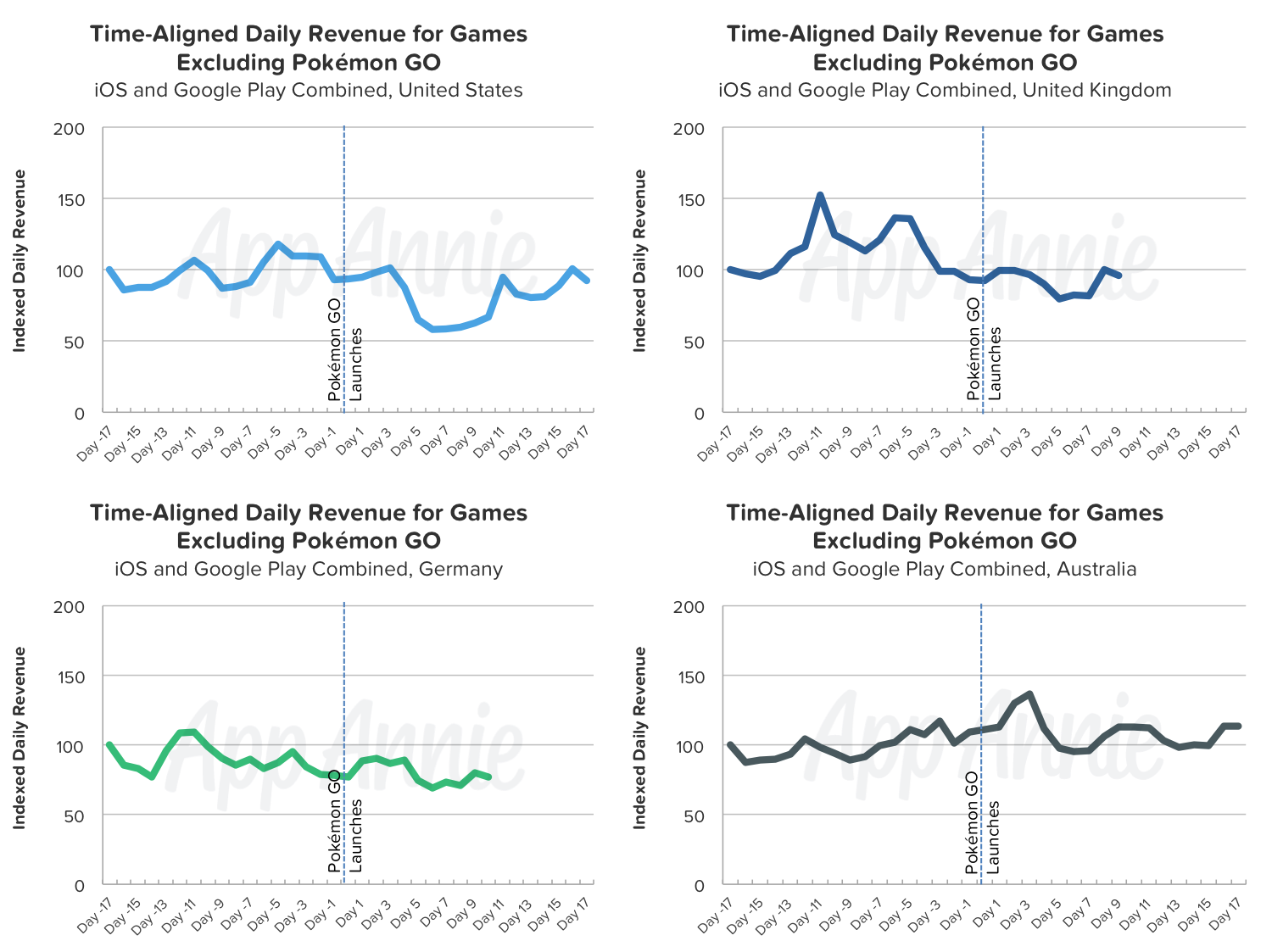 Pokémon GO's impact on revenue of other Games on iOS and Google Play has been mostly muted in countries where it's available. The United States did see a brief dip, but quickly regained prior levels.
According to data from App Annie Intelligence, Pokémon GO has not had a sustained and meaningful impact on the daily revenue of other games on iOS and Google Play. Daily revenue for Games other than Pokémon GO did see a brief dip in the US shortly after the game's launch, but quickly climbed back to previous levels in a few days. The trend of daily revenue did move downwards in Germany and the United Kingdom, but there was no discontinuity as compared to the pre-launch trend. Australia actually saw a slight uptick in daily revenue for other games after Pokémon GO's launch, but again it was largely in-line with the pre-launch trend. Even in Japan, where Pokémon is deeply intertwined with pop culture, this metric was within 5% of average level seen over the 10 days before the game's launch on July 22.
In addition, we have not noticed any meaningful declines in daily revenue for top-grossing games like Mobile Strike, Clash of Clans or Candy Crush Saga. On the whole, this isn't particularly surprising as the majority of game revenue comes from a small minority of users and these players are unlikely to be deeply engaged across a multitude of top-grossing games.
Pokémon GO's Impact on App Engagement

On Android phones, Pokémon GO has had minimal impact on the average time users spend in other apps and games.
As we can see, Pokémon GO has had a negligible impact on time spent in other games or apps on Android phones, including apps which attract an outsized share of time spent like Facebook or Tinder. As Pokémon GO's gameplay relies on users being out and about, consumers seem to have incorporated the game into their daily routines and commutes. Despite this pattern, the average time spent per user and open rate for Pokémon GO actually exceeded that for Facebook during the week following its release in the US on Android phones. This implies that Pokémon GO is successfully acquiring a sizeable chunk of previously "non-mobile time".
Augmented Reality (AR): A New Opportunity for App Developers
In addition to absorbing more of the time users spend away from apps, Pokémon GO has had two key second-order effects:
It has introduced and popularized the concept of AR — i.e., virtual objects visualized and geolocated in the real world — to millions of consumers.
It has helped businesses understand the value of AR as in-game Lure Modules (an in-app purchase to attract Pokémon to a particular location) and sponsored locations effectively increased foot traffic — and consumer spend.
These second-order effects give developers an obvious opportunity — engage users in the real-world during the time they do not typically engage with apps and create new revenue streams at the same time. This does not mean that we expect to see scores of Pokémon GO clones on app stores, along the lines of Flappy Bird in 2014. Niantic Labs, Pokémon GO's developer, built its in-game world at a global scale using not only Google's Maps and Places API, but also years of data and millions of user submissions from players of Ingress, its first AR game. Instead, developers should consider building simple AR modules or extensions which tie back to their app experience.
These opportunities exist across verticals. For example:
Game developers could make a limited amount of in-game items (or virtual currency) available at specific retail stores or local businesses who in turn would pay for the increased foot traffic. This could help mobile game publishers monetize a much larger percentage of their user base and create an entirely new revenue stream.
Media companies could make a virtual coupon for a month of free streaming available at movie theatres or music festivals to drive foot traffic. This could help media streaming companies create a new advertising revenue stream without compromising user experience within their app.
Retail businesses could host their own virtual treasure hunt in large stores — something Sears has already experimented with on its app.
The implementation of these AR modules could be basic, like a Google Maps overlay, or complex, such as something tailored to the app's user interface. In other words, cost is unlikely to be a major obstacle to simple AR implementations, but returns are likely to have significant upside.
By now, it should be clear that Pokémon GO's launch was a watershed moment for AR and its success has not come at the expense of other mobile games or apps. Instead, it has opened up new engagement and revenue opportunities for the entire app ecosystem by creating a model to close the online-to-offline (O2O) loop.
Build a Better App Business
Subscribe to our weekly digest to see more app industry reports, conference updates and guides.
Want to take your app business to the next level? Track the performance of millions of apps across the world with download, revenue, demographic and usage estimates from App Annie Intelligence. Request a demo today.
Notes:
App Annie Intelligence is currently available for the iOS App Store and Google Play. It does not currently provide estimates for other app stores, such as the Amazon Appstore. While iOS and Google Play represent a significant portion of the app market in many countries, that is not the case for some countries. For example, China has a number of sizable third-party Android app stores.

App Annie's revenue estimates are based on revenue that the iOS App Store and Google Play earned from paid downloads and in-app purchases. They do not include revenue earned from in-app advertising.
The Indexed Revenue metric provides an easy way of comparing different revenue numbers against each other. For example, if Day -17 has Indexed Revenue of 100 and Day 10 has Indexed Revenue of 200, then Day 10 revenue is 200/100 = 2 times as high as Day -17 downloads. If Day 10 has Indexed Revenue of 80, then Day 10 revenue is 80/100 = 80% of Day -17 revenue.
App Annie Usage Intelligence data for smartphones and tablets were derived from mobile usage data collected from a large sample of real-world users, combined with additional proprietary data sets.
App Annie tracks usage at the device level using a privacy-protective hashed device ID. Data is only reported to third parties in aggregated format.
Certain trademarks and/or images used in this report may belong to third parties and are the property of their respective owners. App Annie claims no rights to such trademarks or images.