Playrix's Chief Marketing Officer, Alexander Derkach, sat down with App Annie to share mobile game best practices he's learned throughout Playrix's rise to the top.
Consumers spend 1.5x more on mobile games than they do on games for PCs, consoles, and handheld consoles combined. With an ever-increasing focus on the industry, it's important to keep up to date on the best ways to set your company up for success.
Playrix's Chief Marketing Officer, Alexander Derkach, joined us to share his thoughts on the strategies and tools you need to set your business up for long-term success.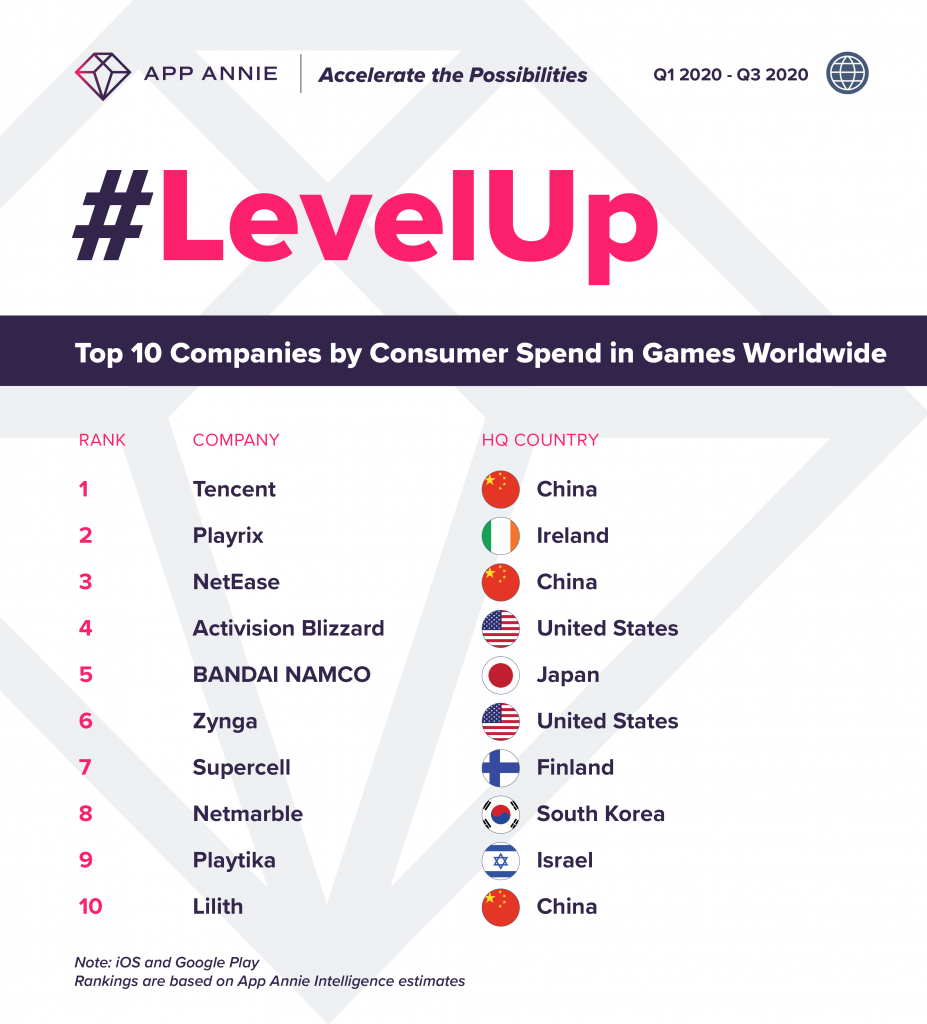 Playrix is the #2 parent company (up 5 ranks from 2019) by consumer spend in mobile games worldwide in 2020 — by generating nearly $2 billion — and this is the first time a European company has ranked in the top 2 since 2016. Their games have found success across multiple regions and are driven in part by Casual Match + Build Puzzle Games Gardenscapes and Homescapes.
Amir Ghodrati (AG): Gardenscapes (2016) and Homescapes (2017) are well-established games in the industry. What changes have led to Playrix's growth over the past few years? How has your gaming portfolio evolved?
Alexander Derkach (AD): 
If you want your games to continue to be successful over time, you can't just stop once the game is out of beta, you have to focus on live ops.
Both Gardenscapes and Homescapes disrupted the match-3 puzzle genre and introduced innovations when launched as the first decoration storyline-based games for mobile. Both of those titles have already earned over $1 billion. Two of our other games, Fishdom (2015) and Township (2013), have also been major contributors to our success over the years. Not only have downloads for Township (1.2x) and Fishdom (4.7x) increased since 2019, all four of these games continue to grow in revenue year by year.
Our games look and play totally differently from what they did at the time of the release. We keep improving the game visuals and strive for top quality UX. We add new mechanics as mini-games and strive to bring more diversity and innovation in every game. Not only does this make a game better, it makes so that its fans stay interested. We've developed an intense live ops schedule with regular, themed and special in-game events to keep our players engaged and make sure they can find something new and exciting going on in the game.
In terms of our overall portfolio, each game has several types of gameplay. We're not developing that are just a 'classic match-3' or 'classic city-builder'. We combine different mechanics and we will naturally expand this diversity in our games. And to do this we're looking at estimates for games across categories, so we're analyzing mid-core and hardcore games too. We can use that information to help us pick and choose features to add that might work for a casual audience. When you can build engaging hybrid-genre games it's also going to make your user acquisition that much more efficient.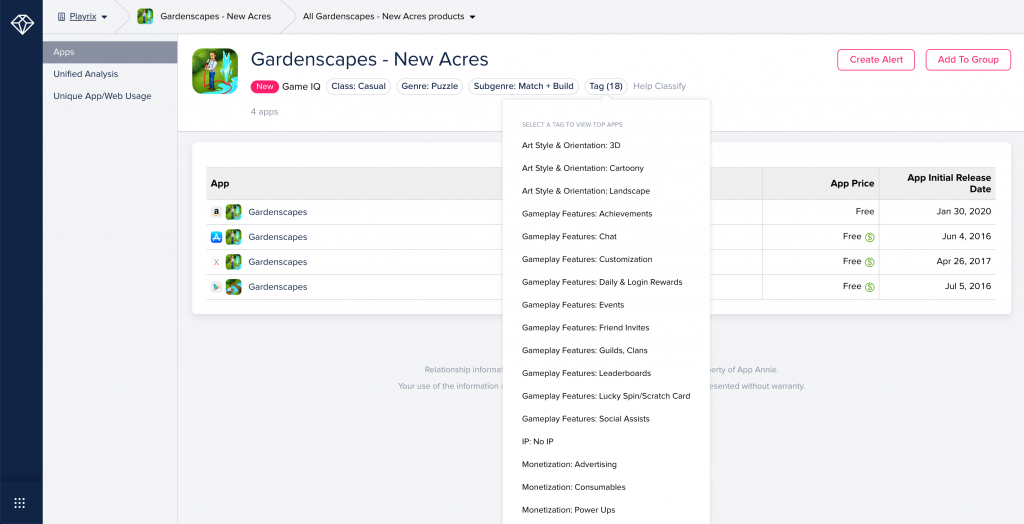 (AG): Considering how quickly mobile is always changing, how have you adjusted your UA strategy over the years? What stands out in terms of best practices to implement?
(AD): Over the past couple of years, we've brought the automation of our marketing processes to a new level. We focused on creating a work environment where our UA team spends their time on making smart decisions based on automated campaign performance reports which our in-house developed system generates, plus checking the competitive landscape using powerful App Annie tools like the User Acquisition Advertisers and Creatives reports.
When you're looking for inspiration, make sure to look outside of your own category or region. You can find interesting ideas for UA when you branch out. The Creative Gallery is a powerful tool we use to get in touch with the market. It helps understand what the main drivers from creative asserts are in the market, and that is the fuel for our UA — we can decide which concepts to add onto our current strategy. TikTok is an impressive example since they're flexible and aggressive in user acquisition. We might not directly implement something from them for our UA, but it's important to be in touch with what the market is doing. We definitely learned a lot from how they work with influencers in specific markets.
(AG) You're looking at all this market information to help with innovation, but what are you analyzing to see if you've made the right decisions? How do you measure success on mobile for both the app itself and the advertising strategy?
(AD) There's still no secret reсipe to predict success. As with many other developers, we look at a variety of retention and monetization metrics. And for games of similar genres, we look at a range of metrics for which we can compare them to our own games in the market.
But the key analysis revolves around the scale of UA that a game can afford. In other words, how many users we can attract to a new game while meeting our different goals, like retention, ROAS, and customer behavior. That's why we think it's important to test the potential UA scale for a game quite early. If we learn that the game is going to require a lot of campaign optimizations and this could reduce the potential audience, it's better to allocate more time to improving the game metrics first. If we can buy on a big scale while remaining ROAS positive, the game is a success. And 'the big scale' is a high bar set by our current games, taking opportunity cost into account. We spend a lot of time looking at D1 and D7 retention, as well as LTV and CPI across genres and goes.
Wildscapes is a good example for this. The metrics of Wildscapes are strong and a lot of companies would consider this game successful. But for us, the metrics are not yet high enough to massively scale this game. We want to take the time to tune the game to not just make it successful, but to enable it to skyrocket after the start of our massive UA campaign. This is the same strategy we implemented with Fishdom last year. We would need to keep improving the game metrics first and then continue on to UA. For two of our latest games, Manor Matters and Puzzle Breakers we worked to start testing UA as early in the production as possible and then our plans to scale depend on the results of what we see in the early stages.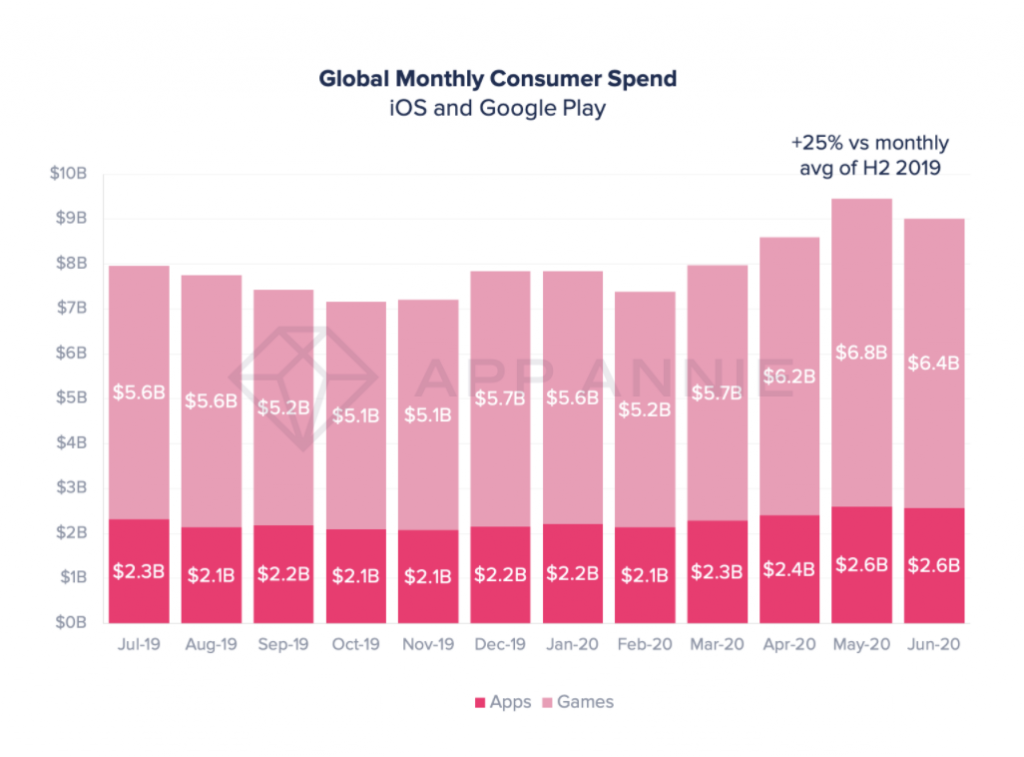 (AG): We've seen a spike in mobile usage across the board during COVID-19, what impact has this increase had on your games or your gaming strategy?
(AD): We also noticed from looking through the estimates. The gaming industry really started to grow rapidly in China in February and the rest of the world throughout March and April, and it was already growing before that. There were several growth stages, especially for gaming and video streaming as people were at home looking for more entertainment. We increased our marketing efforts accordingly and had over 80 million new installs in April. We're seeing a crazy volume of installs for casual games. It'll be interesting to see what happens this autumn throughout October and November with more countries locking down again, and how this carries into the new year.
(AG) What else do you do to stay ahead of the curve and find new opportunities? Any final tips for our readers?
(AD) We heavily rely on data on new game industry trends and new products on the market. This allows us to early identify promising subgenres, mechanics that are getting popular, and overall shape our product strategy. App Annie provides a great analytics tool that meets our needs.
(AG): Thank you for taking the time to share what you've learned in the industry.
For an in-depth analysis of the mobile gaming market, as well as insights into breakout game genres and subgenres by market share — check out our report: Game IQ: The New Standard in Game Classification. 
Looking to make more of the mobile opportunity? Talk to an expert today.
DISCLAIMER
App Annie is a mobile market estimate service provider. App Annie is not registered in any investment advisory capacity in any jurisdiction globally, and does not offer any legal, financial, investment or business advice. Nothing contained in this communication, or in any App Annie products, services or other offerings, should be construed as an offer, recommendation, or solicitation to buy or sell any security or investment, or to make any investment decisions. Any reference to past or potential performance is not, and should not, be construed as a recommendation or as a guarantee of any specific outcome. You should always consult your own professional legal, financial, investment and business advisors.