Here are some great examples of apps that are making timely pivots with strategies that all app publishers need to succeed on mobile during a pandemic.
With a large part of the world's population staying home due to the coronavirus, app publishers are getting creative as they try to succeed on mobile. To better understand how app publishers have navigated this uncharted territory, we picked out some examples of apps that were able to pivot to better serve users with changing needs and concerns. They illuminated three key strategies: modify app features to fit seamlessly within this new way of life, mine reviews to understand customer feedback, and look out for opportunities to show up in relevant searches on the app stores. 
How One Location-Based App Pivoted to Succeed on Mobile
Pokémon Go may be the first title that pops into your head when considering location-based games. When it first launched it had players walking miles each day to try to "catch 'em all." But in a time where many governments have social distancing ordinances in place to reduce the spread of coronavirus, the idea of convening even a small group of players in the same location was soon out of the question. 
To ensure that players can still enjoy Pokémon Go, while staying safe inside, Niantic quickly jumped to action. On the Niantic blog they told their readers, "We just launched a new form of gameplay in Pokémon GO called GO Battle League that you can play from anywhere in the world, including at home. We reduced the walking requirements for GO Battle League from 3 km to zero…" Altering the game requirement is a clear response designed to retain users and help them have fun safely. This was just one example of a game that Niantic revised in the face of coronavirus. It may serve as a blueprint for game developers because even the best laid plans before the pandemic broke out are being put to the test. Remaining flexible is key to being able to succeed on mobile. 
How App Publishers Can Decide on the Best App Modifications
While some app publishers are having to make hard product decisions to continue to serve their customers, others were built for a time of social distancing. Mobile has been a refuge for consumers around the world; our phones are helping us stay connected to family and friends, work, stay fit from indoors, and connect with health care professionals. Whether an app needs a quick refresh to maintain user retention or needs to make sure existing features continue to be aligned with user preferences, app reviews are a place where users provide exactly that feedback. 

With Advanced Reviews, you can gauge customer feedback from the iOS app store using a granular or macro lens to understand how to succeed on mobile. For example, Niantic might want to drill down to the particular app version in which they made the updates to enable at-home play. Looking into Relevant Terms helps the product team understand what users think of their new features by highlighting both the review terms that are having the biggest impact on ratings. If "poke stops" were a large part of their most recent update, then the team can tell users are enjoying the revised gameplay, since this phrase has a large positive impact score of 10.70. 
This is just one way that app publishers might use Advanced Reviews to better understand user feedback. Another way to derive insights from reviews is to use Topic Analysis to understand what reviewers are commenting on most often. Here we can see that "performance and bugs" has been a persistent issue. Honing in on fixing those can be a great way to boost ratings and succeed on mobile. And once the issue is fixed, a quick developer response to let reviewers know can easily change a two star rating to four or five star.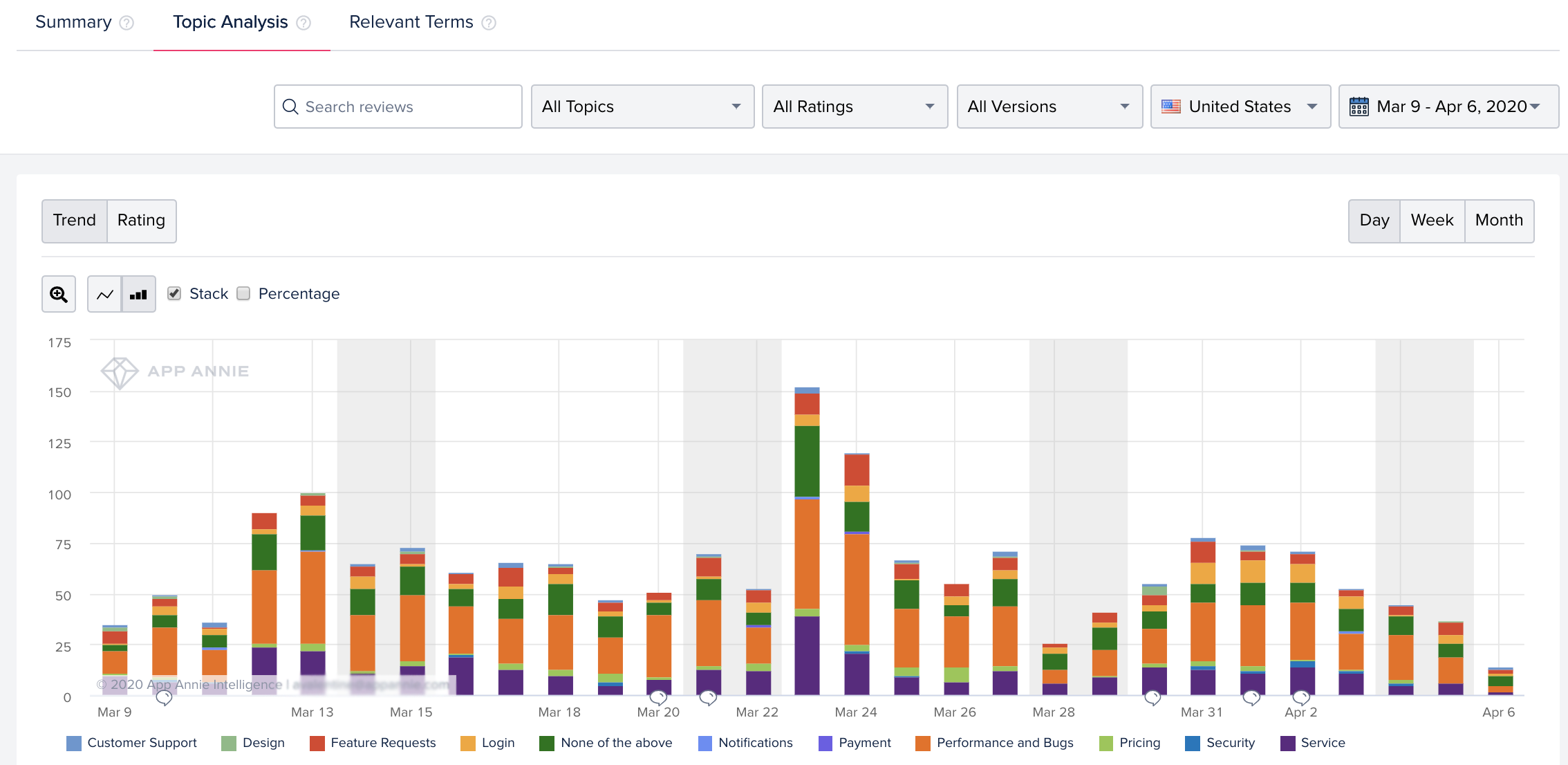 Leveraging ASO to Succeed on Mobile
It's not just location-based apps that are changing during coronavirus in order to succeed on mobile. Peloton also increased their free trial from 30 to 90 days to help potential customers get fit and get the endorphins going when they need them most. As a key way to highlight this, they updated the first sentence of their iOS app description to prominently feature their new extended trial. In addition, they updated their app name to further demonstrate that they are a great choice during this time where at-home fitness is the safest option.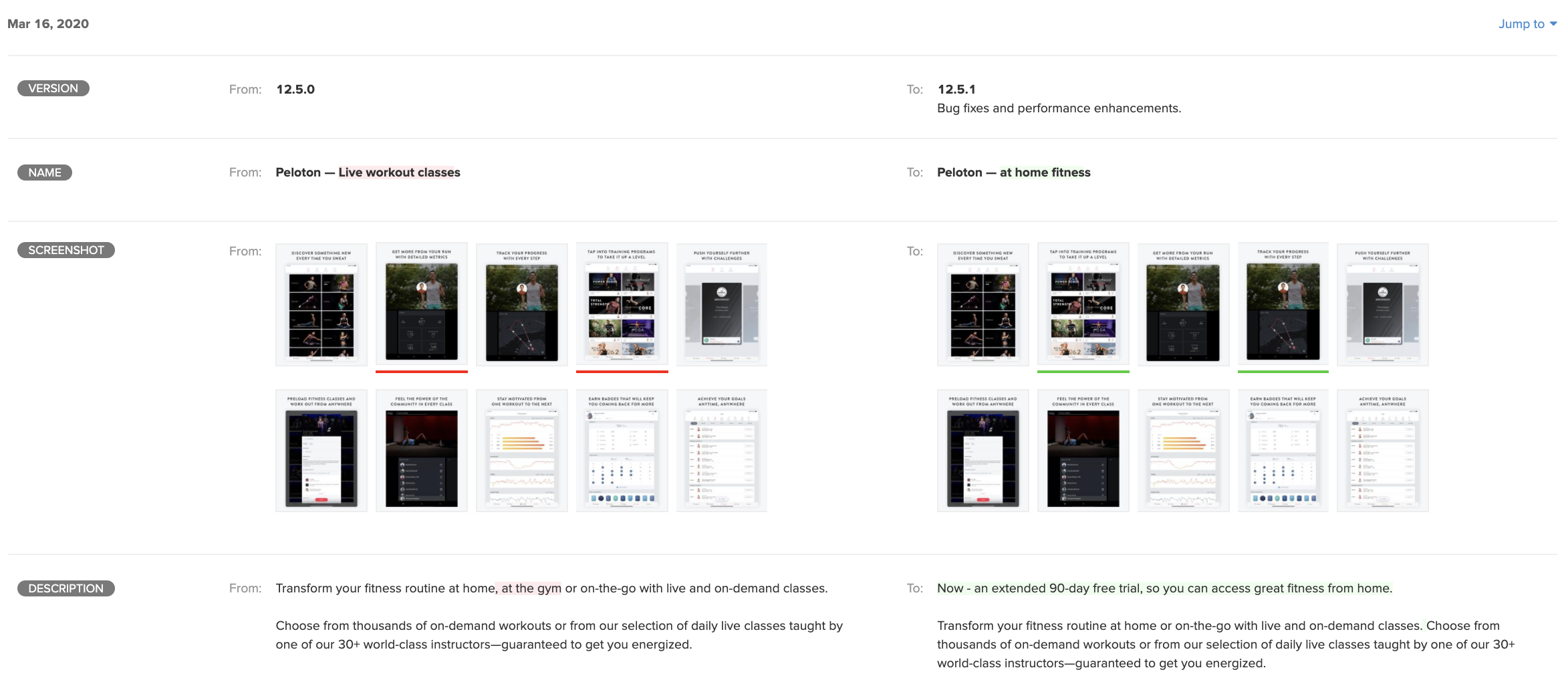 More consumers are relying on mobile than ever and the time is now to understand your competitive landscape in order to make more informed product and marketing decisions. 
For more information about the impact of coronavirus on mobile, register for on-demand webinar below. 
Want to gain all the mobile metrics you need in order to succeed on mobile during coronavirus and beyond? Register here for a free account today or reach out to the App Annie Sales Team today to get access to the Premium features mentioned above.