China's Online-to-Offline (O2O) industry is taking off, with apps addressing needs including food delivery, laundry and even on-demand foot massages.
China has experienced a boom in Online-to-Offline (O2O) service providers over the past few years. Hot contestants have come and gone, while a few players strongly established themselves in respective fields.
Certain categories, like food delivery and ride-sharing, have been widely adopted around the world. In China, the O2O space has grown to include niche services like personal chefs and on-demand manicurists.
In the below slideshow we look at the top O2O apps in China and how they've been able to drive and maintain user growth. We also look at the top features a strong O2O app must possess, including price incentives and integrations with top payment systems.
Food Delivery: Apps Rely on Innovation in the Quest for Users
Food delivery services have fought hard for smartphone users in China, with market new entrants and well-established players regularly providing users with incentives to keep coming back, often offering generous discounts.
饿了么 (Ele.me), the leading app in downloads under this category, has received ample investment from tech giants such as Alibaba. Beyond nailing the core experience of ordering food, the app has also developed various other functions to further differentiate itself from competitors. This includes a game center for waiting customers, a point-based loyalty program which customers can then redeem prizes with, and a recommendation system just in case users have trouble deciding.
Ele.me has consistently stayed on top of the Food and Drink category in the iOS App Store in China. To supercharge growth, the app partnered with NBA Superstar Kobe Bryant for a nation-wide marketing push that even included television ads, a not-so-traditional move for a non-gaming app.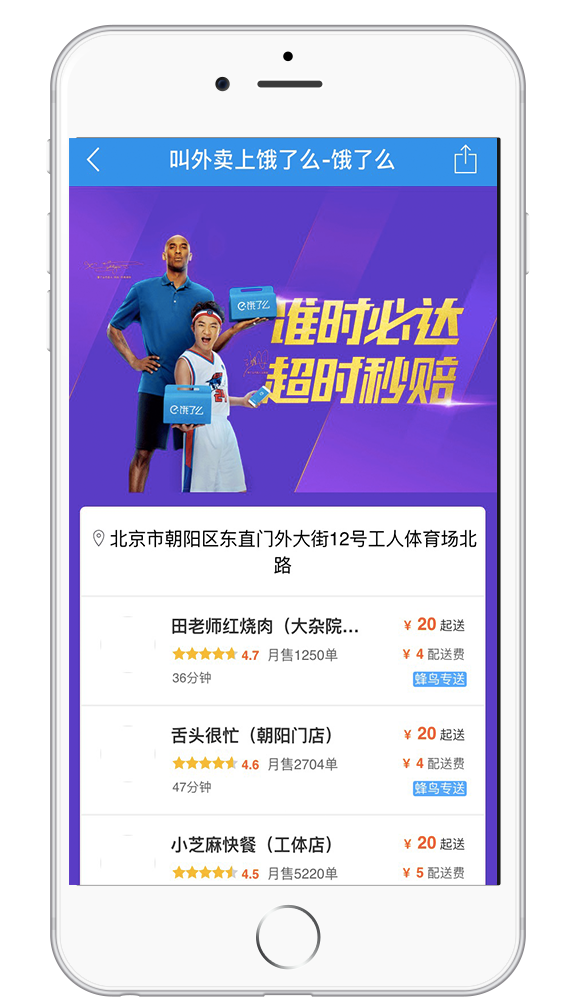 Kobe Bryant promises on-time delivery for Ele.me.
Ele.me, along with the other two key players in this field, Meituan Waimai and 百度外卖 (Baidu Waimai), are often referred to as the "three giants" in the food delivery business. It's likely that intense competition among these key players has directly led to feature innovation and pricing wars, with Chinese consumers coming out as the winners.
Food Delivery: Chinese Users Can Book Private Chefs From Their Phones
For those who want to take "on-demand" to a whole new level, professional chefs are just a tap away in China. While the concept isn't exclusive to Chinese smartphone users, its execution has adapted to fit local demands. 爱大厨 (Aidachu), one of the more popular apps in this field, allows users to either choose from the chef's collection of recipes, or simply have the chef use readily available ingredients at home.
The app lists out the types of cuisines each chef specializes in to help guide user selection. Each chef is rated by paying customers, and has the number of orders completed clearly highlighted on his/her page.
Apps like this have elevated Chinese smartphone users' expectations of what they can achieve with mobile apps.
Laundry and Cleaning: Specialized Apps Are Cleaning Up in China
Even dirty clothes are spawning the need for apps. e 袋洗 (Edaixi), which focuses on professional laundry services, offers on-demand laundry pick-up among other features. Since its initial launch in 2014, the app has successfully received $100 million in series B funding. According to App Annie's Keyword Explorer, it has long dominated the keyword "洗衣" (laundry) on China's iOS App Store, which may help bolster growth.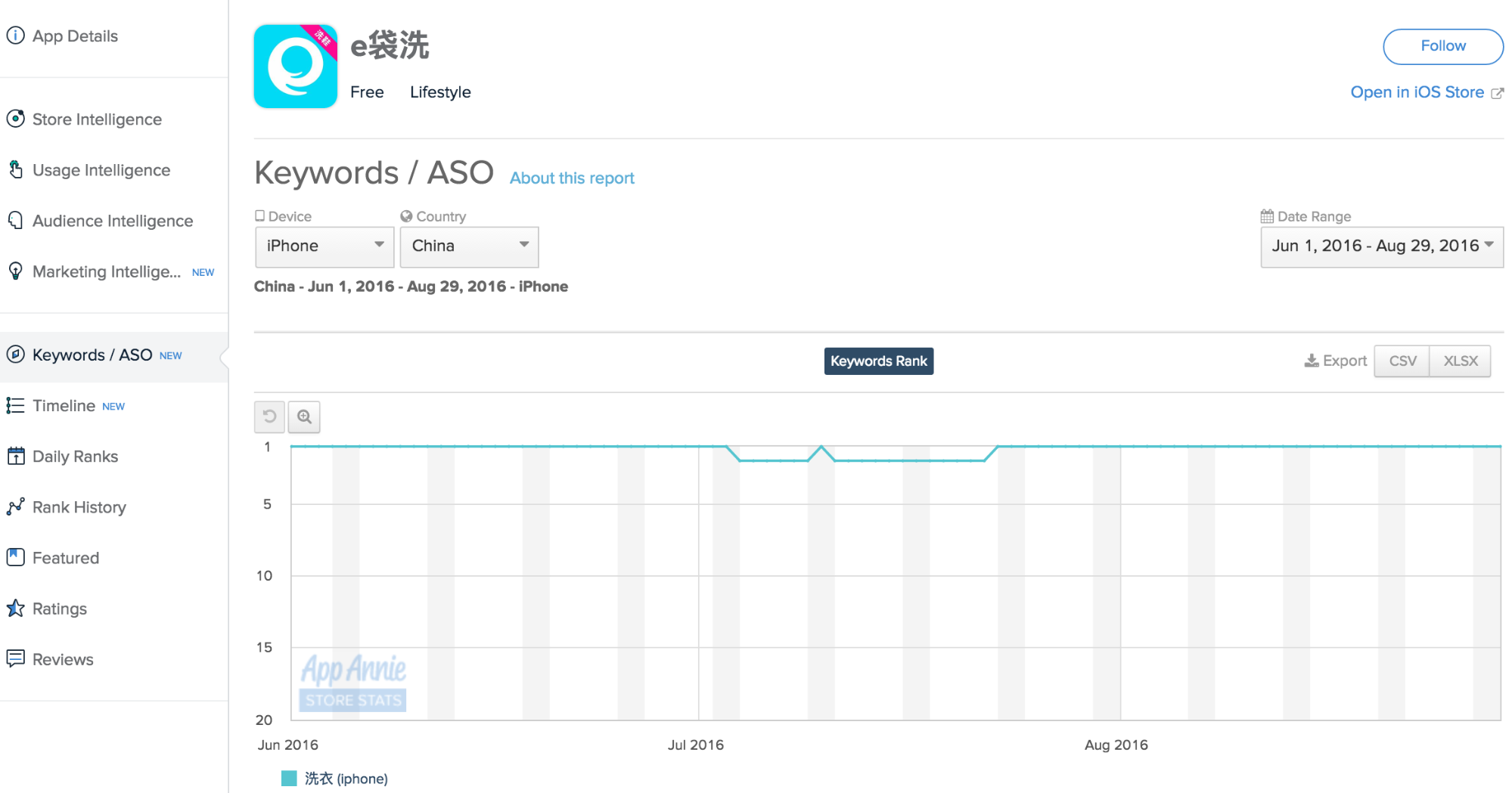 e 袋洗 (Edaixi) has long-held the top spot for the keyword "洗衣" (laundry) on the iOS App Store.
For those looking to take things a step further and clean their entire home, apps such as E 家洁 (Ejiajie) can put users in touch professional cleaners. Once requested, on-demand cleaners will show up at the door for a wide range of cleaning jobs, allowing for specific requests such as window and kitchen-cleaning.
What's Helped These Apps Succeed?
In China, most popular O2O apps offer first-time users generous discounts, trying to attract as many new customers as possible. Food delivery services, for example, often offer first orders for free. Meanwhile, after a user has completed key interactions in these apps (when completing a delivery order, for example), the app will almost definitely prompt them to share discounts with friends on popular social media platforms in order to unlock further discounts. This proven cycle then starts over again for the next new user.
In addition, supporting WeChat Pay and Alipay has almost become a prerequisite to entering the O2O arena.
Finally, popular food delivery apps have integrated with a wide range of services, including WeChat, Dianping — an online reviewing platform later merged with Meituan — and Baidu Map. These integrations maximize the apps' exposure to Chinese smartphone users.
Build a Better App Business
Don't miss a single app-related update — subscribe to our blog to get more free app industry reports, conference updates and guides. Have something to add? Share with us on Twitter.