Explore the nine best practices for creating and maintaining a successful and adoptable QSR app.
Businesses in nearly every industry are embracing mobile apps to enhance the customer journey. Quick-service restaurants (QSR), in particular, are leveraging mobile apps to extend their brand, engage customers and drive revenue. If you're building a new QSR app, or looking to improve an existing one, we've identified nine best practices that will help your app stand above the rest:
1. Don't Negatively Impact the Overall Device Experience
For many, mobile devices have become an essential tool for managing their daily lives, and no one can afford to have an app drain precious battery life. Be mindful of how your app implements location services, which tends to deplete battery quickly if it's constantly running in the background. Instead, set your app to only access a user's location when the app is in use; this will help preserve battery life (and the user experience). Additionally, thoughtfully utilize push notifications to engage with your customers. Bombarding people with notifications could alienate someone from your app and possibly your brand as a whole.
2. Establish and Reinforce Trust
Earning a user's trust is key to establishing and maintaining your brand's reputation, as well as making them feel comfortable with your app. Consumers are becoming increasingly vigilant about safeguarding their privacy. Aim to collect just the right amount of information needed to deliver the most value. To take this a step further, explain what will and won't be done with a user's information to provide transparency.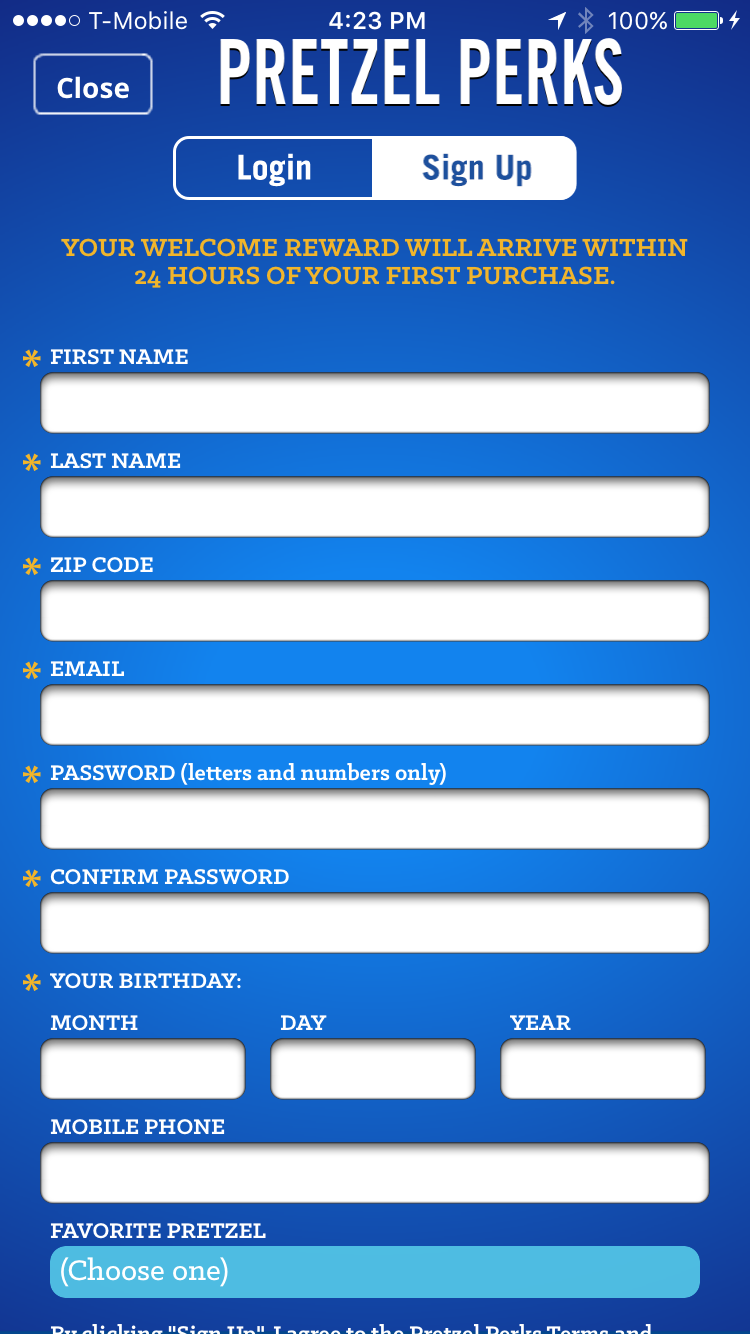 Auntie Anne's Pretzel Perks simplifies the signup process by only asking for important information.
3. Return the Favor
Show consumers the value in being an active user on a QSR app. Provide rewards points and other incentives through loyalty programs and special app-only offers and promotions.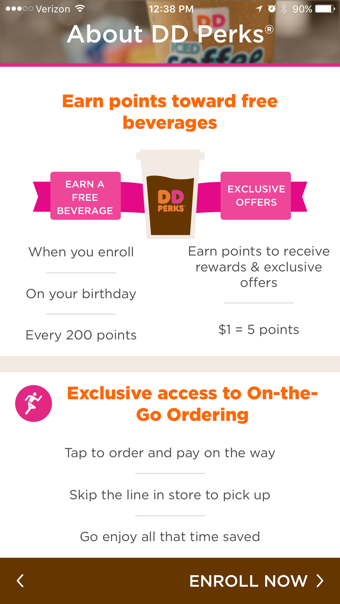 Dunkin' Donuts gives new users a free beverage when they sign up.
4. Nail the Basics
It's critical that QSR apps deliver an all-around solid user experience. They will be judged against all of the other apps that users have on their devices, many of which are sophisticated and polished. QSR apps should be well organized, intuitive to navigate, and look sharp, with on-brand aesthetics and language. Since QSRs appeal to a broad range of customers, their apps need to cater to a diverse user base, including those who are less tech savvy. Perform A/B testing on your app's features and processes to optimize the user experience.
5. Showcase Your Menu and Products
For any restaurant, food is at the heart of their business. Best-in-class QSR apps should include your full range of items and options in menus that are thoughtfully organized, easy to navigate and provide visual appeal while remaining on-brand. In addition, menus should highlight new and seasonal items, as well as special combo meals and deals. Within the menu, showcase every item with gorgeous photography, catchy product descriptions and strong branding.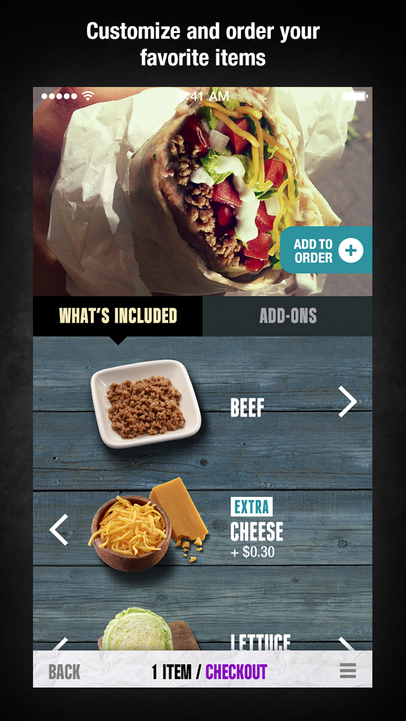 Taco Bell showcases the customizability of each menu item with illustrative images.
6. Seamlessly Manage the Interaction Between Digital to Physical
Although QSR apps can and should be a crucial component for much of the customer journey, it is not enough for them to function well on users' devices. They need to seamlessly work with all relevant touch points throughout its company's network in order to facilitate a complete customer experience. Ensure that your technology, processes and employees support a consistent end-to-end experience throughout your system.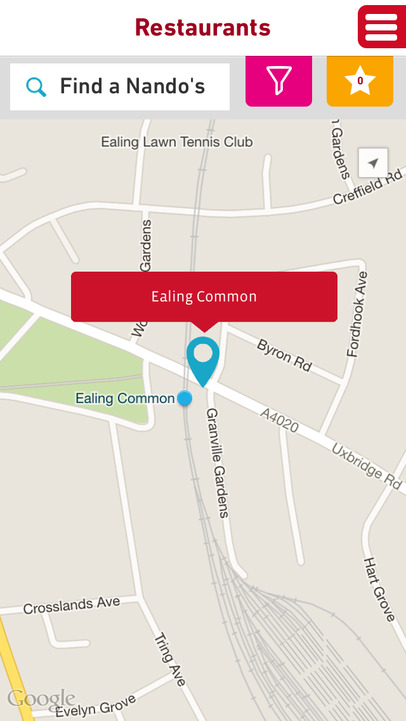 Nando's makes it easy for users to purchase items online or locate a nearby store.
7. Support Apple Pay and/or Android Pay
QSR apps that drive financial transactions should provide a broad range of payment options, especially Apple Pay and Android Pay. These platforms streamline the registration process by pre-populating key information, so users won't have to manually enter payment details. Also, these features make many users feel more secure, since they centralize critical information in one place.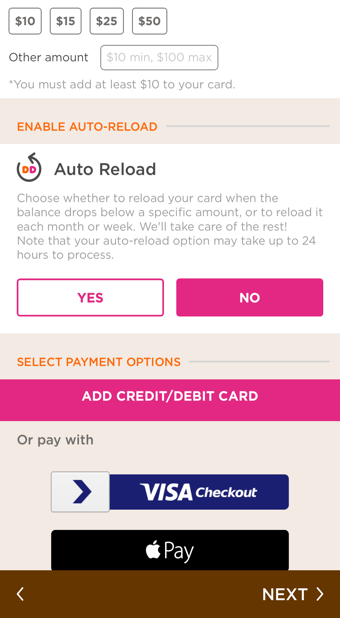 Dunkin Donuts provides users with multiple payment options.
8. Integrate With Apple Wallet
iOS users are increasingly using Apple Wallet to organize digital items such as boarding passes, tickets and coupons. QSR apps should support Apple Wallet as well, particularly for loyalty and payment cards. This makes purchasing an item in store or redeeming rewards more convenient for users and improves the overall UX.
9. Leverage Other Device Features
Explore unique ways to create a memorable experience by leveraging some of the hardware and software features built into our mobile devices. Keeping on trend with the latest feature enhancements can help your QSR app differentiate itself from competitors, and open up new possibilities to enhance the user experience.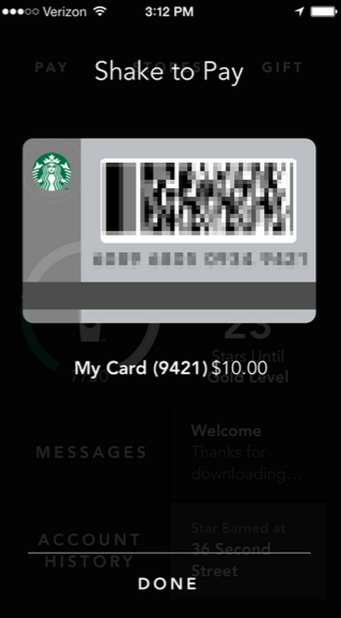 Starbucks helps users pay with a shake of the hand.
Considering new ways to engage with your customers, while keeping the in-app experience simple and accessible, should be at the core of how you approach building a QSR app. Learn more about the impact of QSR apps and key trends under the foodservice umbrella in our latest report, State of QSR Apps in the US.
To get the full report, click the download button below:
Looking for More?