Changes on the horizon should increase development and adoption of banking apps in the United Kingdom.
The retail banking industry is currently undergoing a sea change, as increased competition and rising consumer expectations are forcing companies to adapt or cede market share — and profits.
The United Kingdom's Competition and Markets Authority (CMA) has taken a large step toward addressing this by publishing a wide-reaching package of reforms. The report, Making banks work harder for you, is intended to ensure banks address the needs of customers and the benefits of new technologies are fully exploited. Central to these reforms is a focus on technology, including apps in particular, to ensure that customers are able to reap the full benefits of their banks' services.
This is the first time that apps have been a focus of retail banking regulation and these new reforms put technology at the forefront of the industry — offering more opportunities to both customers and new banks. Equally impactful is the pressure now on older banks to adopt new technology both quickly and efficiently.
In essence, technology is the difference between choice and no choice. It's clear from the CMA's retail banking investigation that banks are not making it as easy or as clear as it they should for customers to switch banks or see what options they have. Only 3% of personal and 4% of business customers switch to a different bank in a year despite, for example, personal customers in Great Britain being able to save £92 on average per year by switching providers. "We want customers to be able to access new and innovative apps which will tailor services, information and advice to their individual needs," claims Alasdair Smith, Chair of the retail banking investigation.
Why Open Banking Enables More Consumer Choice
In light of these reforms, it's clear there will be enormous opportunity for fintech startups. While older banks have held monopoly for years, these young mobile-first finance companies have a head start on "Open Banking". Open Banking, to be implemented by 2018, will enable customers and small businesses to share their data securely with other banks and with third parties, enabling them to manage their accounts with multiple providers through a single digital app to take more control of their funds. Not only do these app-only banks lead the way, but these reforms could be a big step towards boosting the retail banking economy in Britain. As Reuters reports, "the government wants to see fintech grow, but European Union countries like Germany would like to lure the sector from London after Britain voted to leave the bloc."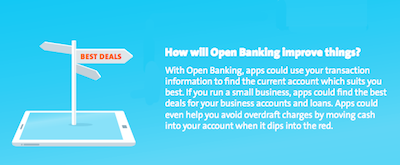 According to the CMA's report, with Open Banking, "apps could use your transaction information to find the current account which suits you best." This will enable consumers to receive tailored advice based on their needs and, in turn, make banking decisions that are in their best financial interest. One example of an app-only bank which will surely find advantage in the Open Banking regulations is Mondo, which only recently made a crucial step in becoming an official bank after being granted a restricted banking license by UK regulators. Currently at #39 in finance apps for iPhone in UK, the app is at the forefront of mobile-first banking.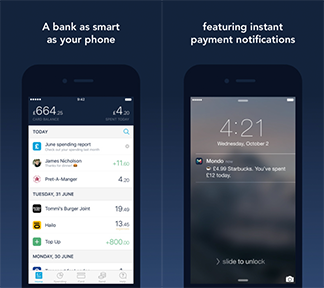 App-only bank Mondo stands to benefit from Open Banking regulations.
Will Banking Stalwarts Be Able to Adapt?
In parallel to innovations like app-only banking are banks which have fully embraced offering the latest technology to enhance the customer experience, like Barclays. Barclays allows a range of customization options — such as assigning images and nicknames to accounts and cards — to personalize the experience and aid navigation. The Barclays Video Call app allows customers to have one-to-one, confidential conversations with advisors online or via their mobile device.
In order to keep up with the competition by the deadline imposed for Open Banking, it's crucial that older banks are able to appropriately adopt and implement the latest technology. But this doesn't stop at having an app; it starts and ends with strategy and understanding of the market which is where reliable data becomes crucial.
Mobile-only, mobile-first and even "mobile-last" banks need to understand their competition in the marketplace and have a clear idea not just how to implement the rules laid out by the CMA, but how to genuinely embrace technology to improve their banking experience.
Build a Better App Business
Don't miss a single app-related update — subscribe to our blog to get more free app industry reports, conference updates and guides. Have something to add? Share with us on Twitter.