Japanese retailer Muji on how mobile is integral to its omnichannel strategy.
Today's world is increasingly mobile. As consumer expectations of mobile continue to increase, smart and adaptive retailers are bound to follow. There's a clear and growing trend of retailers serious about capitalizing on earning digital dollars by incorporating mobile apps, placing them in a prime position within their omnichannel strategies.
In the United States and the United Kingdom alone, mobile-first retailers already occupy around 20% of downloads of the top retail apps. While that figure is somewhat smaller in Japan, one of the most successful worldwide examples of a retailer incorporating mobile at various stages of the customer experience is Japan-based retailer Muji and its app, MUJI Passport.
Muji is well known as a brick-and-mortar retailer offering a minimalist aesthetic at a low price point. It has well over 400 retail locations in its home market of Japan and a further 340 abroad, with particular success in the US, the UK, France and China.
MUJI Passport has been gaining attention. The app works mostly like a points card — users are rewarded with redeemable points for checking in to stores, writing product reviews and making purchases — but it also has store and inventory search capabilities. By both iOS and Google Play rankings, MUJI Passport consistently sits among the top apps in the Shopping category in Japan. However, whenever Muji runs its "Muji Week" sale, which rewards users of the app with 10% in-store discounts, the app inevitably finds itself quickly climbing up the overall app store rankings.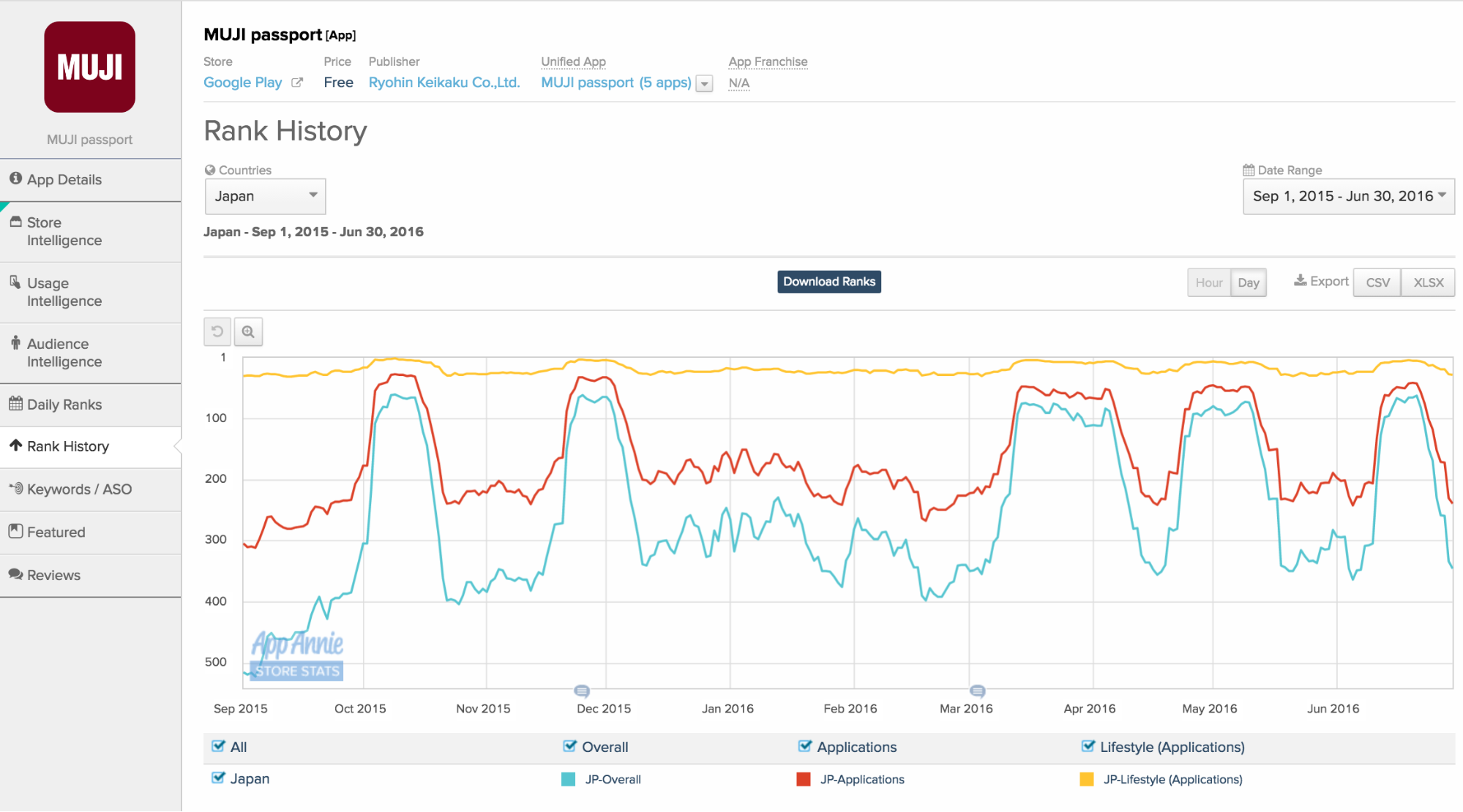 MUJI Passport's store rankings often peak during its in-store "Muji Week" sale.
Learnings From a Troubled Online-Store
But it wasn't always this way. According to Muji Chief Marketing Technology Officer Kosuke Hamano, who recently spoke at App Annie Decode in Tokyo, the company originally had less than 10% of total sales coming through its online store. Muji often ran online and social campaigns, but they largely struggled to improve online sales and failed to generate steady foot traffic to physical stores.
Hamano and his team explored ways to improve conversion. Upon further investigation into usage patterns of the online store, Hamano and his team had a breakthrough: They found that while they had a reasonably high volume of traffic to the website, visitors' primary goals were to browse for products they intended to buy in the physical store and check out upcoming offline sales. Hamano realized their role was not only to improve online conversion, but to promote brand communications and drive in-store traffic
How Muji's App Became a Key Component of its Marketing Strategy
In 2012, smartphone penetration in Japan was still less than 40%. Hamano told the Decode panel that Muji watched the explosive growth of the iPhone and committed to producing an app that solved the problems of their struggling online campaigns. In terms of installation cost and portability, an app seemed to meet their requirements.
The purpose of this new app was simple: Get more people into the physical stores. His team worked internally to position the app as an integral part of their overall marketing strategy, creating incentive plans and predicting the growth of user penetration so that its impact would eventually become a significant business driver. The app experience largely focuses on optimizing notifications as a way to reach potential customers with information intended to encourage foot traffic. Muji also made sure that using the app to redeem membership discounts at the in-store register a painless process.
In the first months following the app's launch in May 2013, Muji offered a 500-point ($5) reward for downloading the app. Of all these free points Muji dished out, 43% were redeemed in physical locations with purchases, demonstrating a clear connection between what Hamano's team created and the potential for it to drive physical store sales.
In response, Muji  tested  a push notification that notified users of a discount on curry products that would be redeemable the following weekend. The first Saturday of this campaign saw these discounted products sell out within a couple hours of the stores opening. Still, not everyone at Muji was convinced the app was good for the business.
A Stroke of Genius: Muji's Bonus Points and Their Supercharged Impact
The turning point, Hamano said, was their next play. They offered surprise bonus points to 7.7 million Muji members, including app users, credit card holders and MUJI card users. After sending out a push notification of the bonus points on the Saturday, foot traffic on Sunday far exceeded expectations. "All of a sudden we had this huge win," recalled Hamano.
The success continued. "Even amidst the countrywide consumption tax hike, comparable store transaction counts were up across the board," said Hamano. (Japan increased its consumption tax from 5% to 8% in 2013). According to the brand, MUJI Passport now has more than two million monthly active users (MAU) across the iOS App Store and Google Play. As a result, Muji ceased printing flyers, which saved the business millions of dollars and inadvertently decreased its environmental footprint in the process.
Why Muji's Future Success Lies in its Platform
Hamano maintained that the way forward for Muji is through focusing on the customer. To Muji, consistent and clear communication with customers through multiple channels is of the utmost importance, and that there is a need to "consider how we can best have the customer interact with the Muji platform." He continued, "As part of this, how we use our app as a tool for growth is key."
As Muji has shown, apps are becoming the first screen for many customers. Mobile is  proving a successful tool for communication with customers as well as generating an increase in foot traffic to stores. As Hamano and Muji have shown, even brands with a dedicated following stand to gain significantly by implementing and leveraging a successful app strategy.
Start Building a Better App Business
Don't miss a single app-related update — subscribe to our blog to get more free app industry reports, conference updates and guides. Have something to add? Share with us on Twitter.