Mobile web alone isn't enough, you need apps to drive deep engagement
As marketing professionals around the world grapple with building mobile into their strategies, often they're faced with getting their arms around the fundamental differences between mobile web and mobile apps. Are there contexts in which one is better than the other? Can a company leverage both and see both flourish? What factors should marketers take into consideration when weighing how to invest their limited resources? In response to questions like these, App Annie has released a new report, Why Your Mobile Strategy Needs an App, where we explore the unique role of apps in the mobile economy.
Here are a few top-level insights from the report on what exactly makes mobile apps so integral to many successful marketing strategies.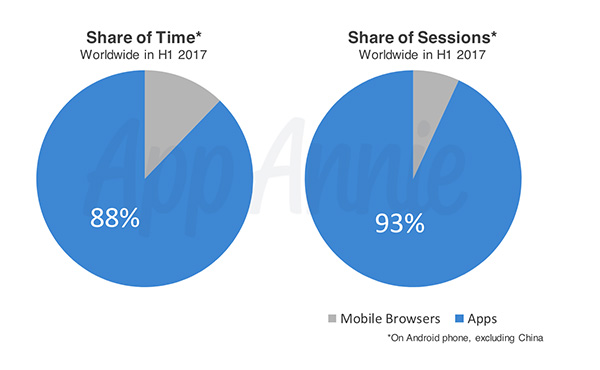 Mobile apps build loyalty among consumers
While there is a lot to be said for the wide reach of the mobile web (users don't have to have the app to access at least some of a brand's content), the simultaneous one-touch accessibility and hand-held, small-screen intimacy of mobile apps stimulate loyalty among users, particularly when capabilities like push notifications, geo-targeting and rich media are deployed effectively.
Mobile apps function as equalizers, no matter what the context
No matter where people are, how old they are, or what their motivations are, the data shows that once they have apps on their smartphones, they use them. In essence mobile apps even the playing field among users because behaviors among them are relatively similar upon adoption. It doesn't matter if you're talking about an emerging market like Russia or a mature market like South Korea, or if the user is 13 years old or 45 years old: once a user has a smartphone, they'll spend the majority of their time in apps. The data shows that of the total time they spend either on the mobile web or in apps, up to 92% of their time is spent engaged with the latter.
All-in-one hardware makes almost anything seem possible
There's something about the broad range of what's possible with apps versus the mobile web that makes it particularly powerful. With access just a phone, but GPS, a camera, and touch ID, mobile app developers can dream big to deliver user experiences that can both surprise and delight, and offer the convenience of a quick sequence of taps. It's reached the point where consumers expect apps they download to incorporate smartphone hardware; simply translating web content into an app isn't enough to meet the expectations of today's mobile-savvy consumers.
To download the full report fill out the form below. Customers who log-in will be able to download the report immediately below.