Mobile is a critical component of a Digital Product Manager's responsibilities. What mobile metrics are most important to monitor and how can they change the performance of your app?
The Fundamental Metrics to Mobile App Success
In the first post of this series, we illustrated why mobile apps are mission critical for Digital Product Managers and outlined the fundamental metrics Digital Product Managers should be tracking to ensure success. With the average user spending nearly 3 hours each day in mobile apps, we've identified that time spent in app is the fundamental currency of app success. This post will take the analysis deeper and consider additional fundamental metrics surrounding time spent in app. As the industry leader, our recommendations are based on the most robust and trusted app market data. App Annie is uniquely positioned to partner with you to build the most engaging app for your business to help you outperform the competition.
Our last post established that time spent is an important indicator of the degree to which your customers are engaged and receiving value from your app. It is a product of active users – potential customers – and average time spent per user. Part 1 of this series illustrated why it is critical to continuously monitor time spent in your app to see how it's trending and compares to your competitors. In this post, we'll take it a step further and look at market share of time spent over time and how your app performs relative to competitors. Given that the average consumer has over 80 apps on their smartphone and uses nearly 40 apps each month, it is clear that competition is steep. For that reason, it is important to monitor market share of time spent in app over time. This is a vital window into trends that could spell disaster for your app down the line if not monitored regularly and acted on early.
Market Share of Time Spent in App Is Critical to Continued Success
Let's take a look at a case study, from the perspective of Company E, which is analyzing its market share of total time spent in app among its competitors. In the chart below, it is clear that Company E has maintained market dominance for 13 months. However, in its most recent month you can see that Company E was losing market share of total time spent in app. Year over year, its market share has declined 14 percentage points from 69% to 55%. This is why it is critical to monitor market share over time – maintaining the #1 rank is not enough; you need to be aware of competitors who are significantly carving into your share of total time before they're too big to overcome. After all, total time is an indication of value and a leading indicator of revenue.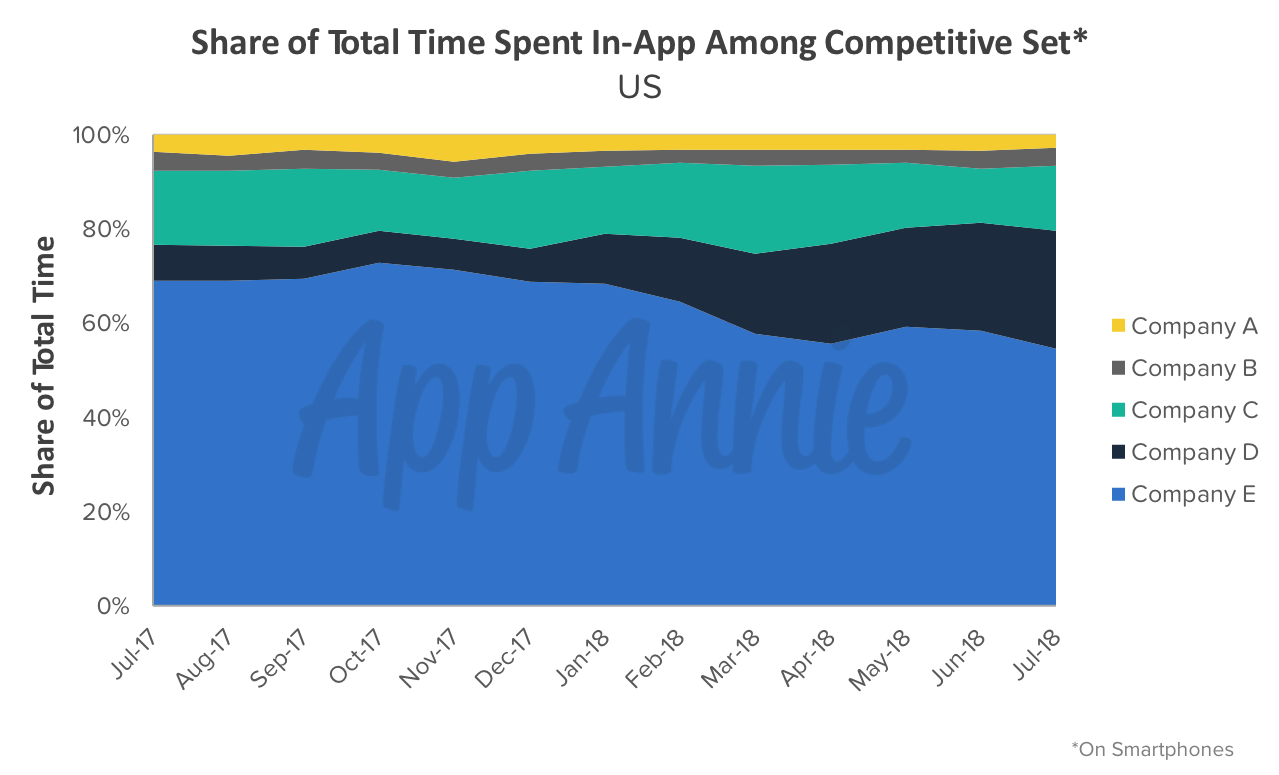 Conversely, Company D has seen its market share grow 17 percentage points from July 2017 to July 2018. This view over time also shows you that this is not an isolated event from a one-off marketing campaign for instance. Company D has, in fact, been growing its market share of total time over the past 6 months. This could signal a new product feature or a dramatic overhaul of UX/UI. It is critical for Company E to dig deeper to understand what has caused this dramatic shift before it's too late to stop its competitor's momentum.
How to Break Down the Components of Market Share of Total Time
Why is this market share shifting over time? If you repeat the analysis we introduced in the previous post for Company D and Company E you will take a look at the two main components of total time – active users and average time per user – and how they trend over time.

By looking at Company E's Monthly Active Users (MAU), you can see that its user base — and therefore potential customer base — has actually increased over time. We can therefore conclude that it is not a product of Company E's users completely migrating to competitors. When we look at Company D's average time spent per user, we can confirm our hypothesis that it wasn't a temporary boost from a heavy marketing campaign. The strategy Company D implemented was significant and had lasting effects. Company E should be very concerned about its future place in the market given this gradual and lasting change in average time per user from Company D.
Another important metric to consider is the cross-app usage among Company E and D's apps — meaning the amount of Company E's users, and therefore customers, that are also using Company D's app — and how that has shifted over time.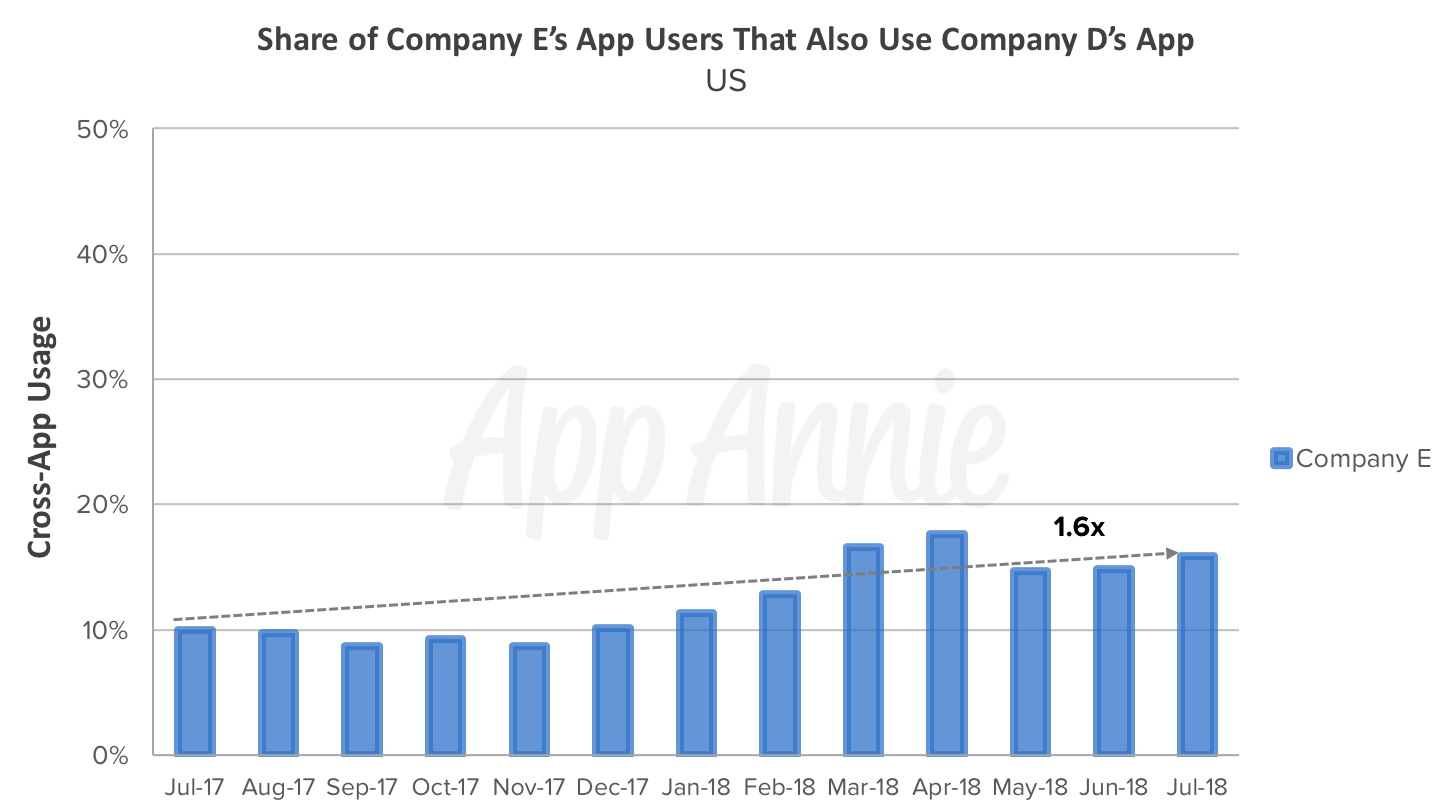 From the image above you can see there was an increase of 6 percentage points of Company E's users who are using Company D's app year over year. This indicates that Company D has offered something — competitive pricing, new feature, new products, geographic expansion or communication of value proposition and existing features — that has compelled users to migrate to Company D's app. This is significant, and market shifts like this could have lasting effects on your business's top line.
Let's take a look at some proactive actions Product Managers can take if they encounter issues with market share changes in time spent in their app.
What Actions Can You Take if Your App Is Losing Ground in Market Share of Time Spent?
Look Into Product Updates – 

Determine if a product update has increased engagement in your competitor's app and

evaluate if you should consider adding that feature:

Review app release notes — such as in our Timeline feature — for new features or products added to your competitors' apps. Look at retention rates, rating changes and mine reviews to see if this feature has had lasting effects with consumers.

Compare key metrics to your competitor, as we have done in the examples above. Evaluate time spent in app, MAU, average time per user and even dive further into session length and session frequency.

Continually monitor cross-app usage to see if your users continue to use your competitor's apps and vice-versa to identify changes among cross-app usage of your competitor set. This could be an indication your customers want the feature your competitor implemented.

Re-engage Core Users – Create meaningful incentives to get users to engage with your app frequently:

Leverage re-engagement campaigns — e.g. through push notifications — if you've noticed

a drop in your app's open rate

to incentivize core users to continue using your app.

Introduce referral campaigns to drive more usage with friends of core users.

Consider offering app-exclusive deals, offers or promotions to reward your users — e.g. rewards for logging in with some level of frequency — and encourage those consumers who are using both yours and your competitor's apps to prioritize yours.

Partner with your UA Manager to Investigate Marketing Campaigns – Evaluate the impact your competitor's marketing campaigns had on their overall app engagement:

Investigate recent advertising campaigns used to prompt downloads of your competitor's app. See what the

key value proposition, creatives, ASO strategies

and relative share of ad platforms they are prioritizing are to drive strong downloads. This will help determine if your competitor's gains are from a temporary burst in marketing spend or if they are lasting from a greater shift in strategy.

Look at paid and organic downloads split to determine the effectiveness of these marketing campaigns.
Why App Annie Is Your Trusted App Economy Partner
Over 1 million users rely on App Annie for the industry's most accurate, trusted and comprehensive mobile app market data to power their app strategy. Our data offers unique advantages:
Holistic Picture: When assessing an app's performance, it's about the holistic picture – not one metric in isolation. One metric invariably leads to another as a variety of different factors such as marketing, features and customer sentiment can all influence your app's success. App Annie offers the most comprehensive data set in the industry with unique metrics and complete category and country coverage. Use our extensive set of KPIs — including downloads, revenue, retention, cross-app usage, sessions, open rate, active users, ASO keywords, paid and organic attribution and ad creatives — to get a complete picture.
Robust Data: The breadth, depth and accuracy of app engagement metrics are crucial to making informed decisions that impact your bottom line. App Annie has robust engagement data across 150+ countries and our platform supports 7 languages. Our data sources include: anonymized and aggregated data from million of apps, sizable consumer panels, top ad platforms and more. With the highest volume of data points, a wide range of data sources, over 200+ people in R&D, and continuous refinement of our data science, we empower you to make the right decisions with unmatched data accuracy.
Automated and Accessible: As a Product Manager, you are busy and strapped for resources and App Annie is here to help. We have customizable Alerts — delivered via email or Slack — so you can be the first to know if there is a key change in how apps and markets are performing. Download our mobile app from iOS or Google Play to get the power of App Annie on-the-go — so you can build, strategize and market the best apps for your business wherever you are. We also deliver app data and insights via web, mobile app, CSV export and API at scale. However you work, we have you covered.
Stay tuned for the next post in this series on the fundamental Metrics that Matter for Product Managers.