Push notifications featuring emojis can lift app opens by 85%.
This week, Leanplum and App Annie released a new Mobile Marketing Trends report, Winning App ❤️  (& 💸 ) With Emojis, examining everybody's favorite messaging trend: emojis. 😍
In the report, we set out to discover how deep the world's obsession with emojis runs. We love sending them in texts 💬  to friends, using them in work 🏢  Slacks, adding a little pizazz 🎉  to our social media posts, and on and on.
But can adding some emoji flair to your mobile push notifications make a difference in user engagement?
To find out, we analyzed over 2.6 billion push notifications sent throughout 2016. That's a lot.
Here are the five biggest findings from the report.
1. Emoji Usage Increased 🚀 163% in 2016
We tracked the year-over-year increase of emoji usage in push notifications. From 2015 to 2016, usage rose 163%. On top of that, the library of emojis that marketers tapped into increased by 10%.
This makes sense, considering hundreds of new emojis were added last year. The list of new emojis includes some of our all-time favorites, like the rainbow flag 🏳️‍🌈, a David Bowie tribute 👨🏼‍🎤, and new options for genders, races and diverse family representation 👩🏿 👩.
2. Emojis Lift Push Notification 💍 Engagement 💍 by 85%
When we analyzed the open rates of push notifications that contained emojis, versus push notifications that did not contain emojis, there was a definite increase.
Push notifications without emojis saw a 2.44% open rate. Push notifications with emojis saw a 4.51% open rate.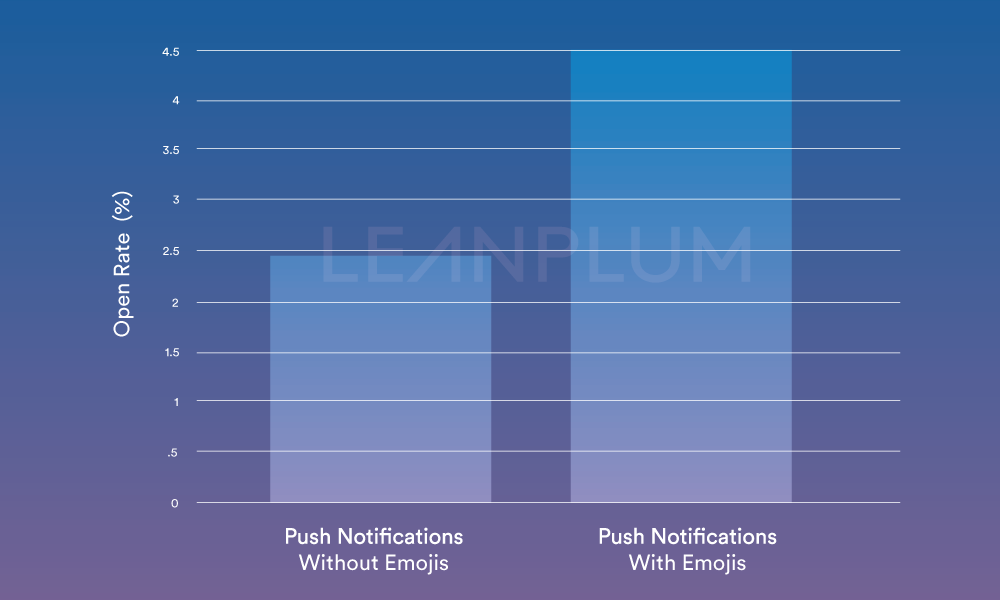 That's an 85% increase in open rates, indicating that emojis are a powerful tool for app engagement.
3. When It Comes to Emoji Push Notifications, Android Is More Effective Than iOS 🙃
To understand the differences between platforms, we analyzed the open rates of push notifications that contained emojis on both iOS and Android. iOS push notifications with emojis are opened at a rate 50% higher than those without. Android push notifications with emojis are opened at a rate 135% higher. ⚡️📈 ✨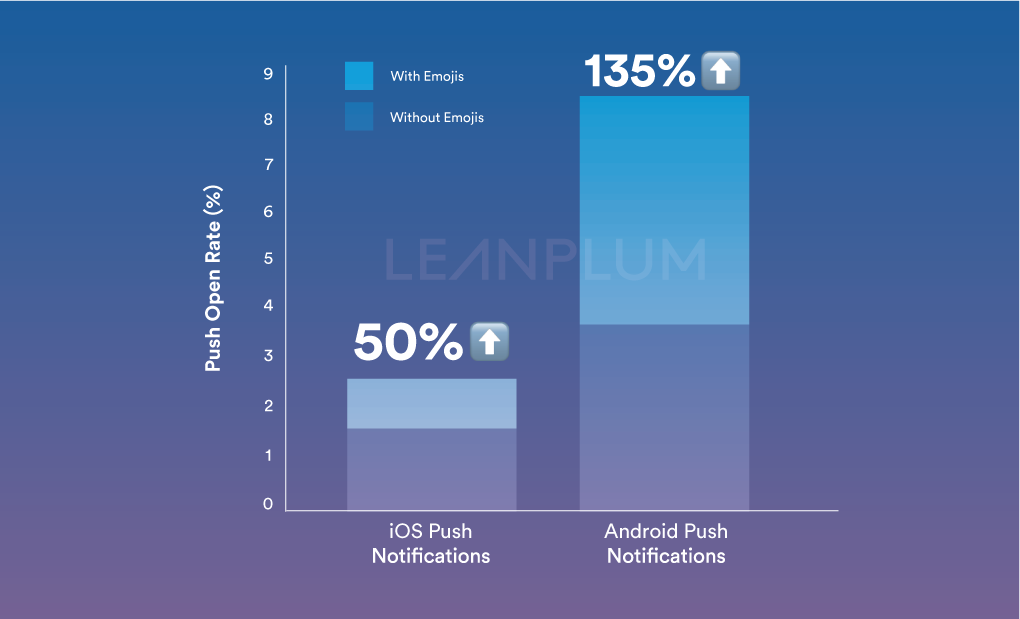 Both platforms see an increase in engagement due to emojis. But Android — which generally has a higher open rate than iOS regardless — benefits even more.
Our theory: Because Android push notifications stick around in the notification tray longer, users have more time to see the emoji and open.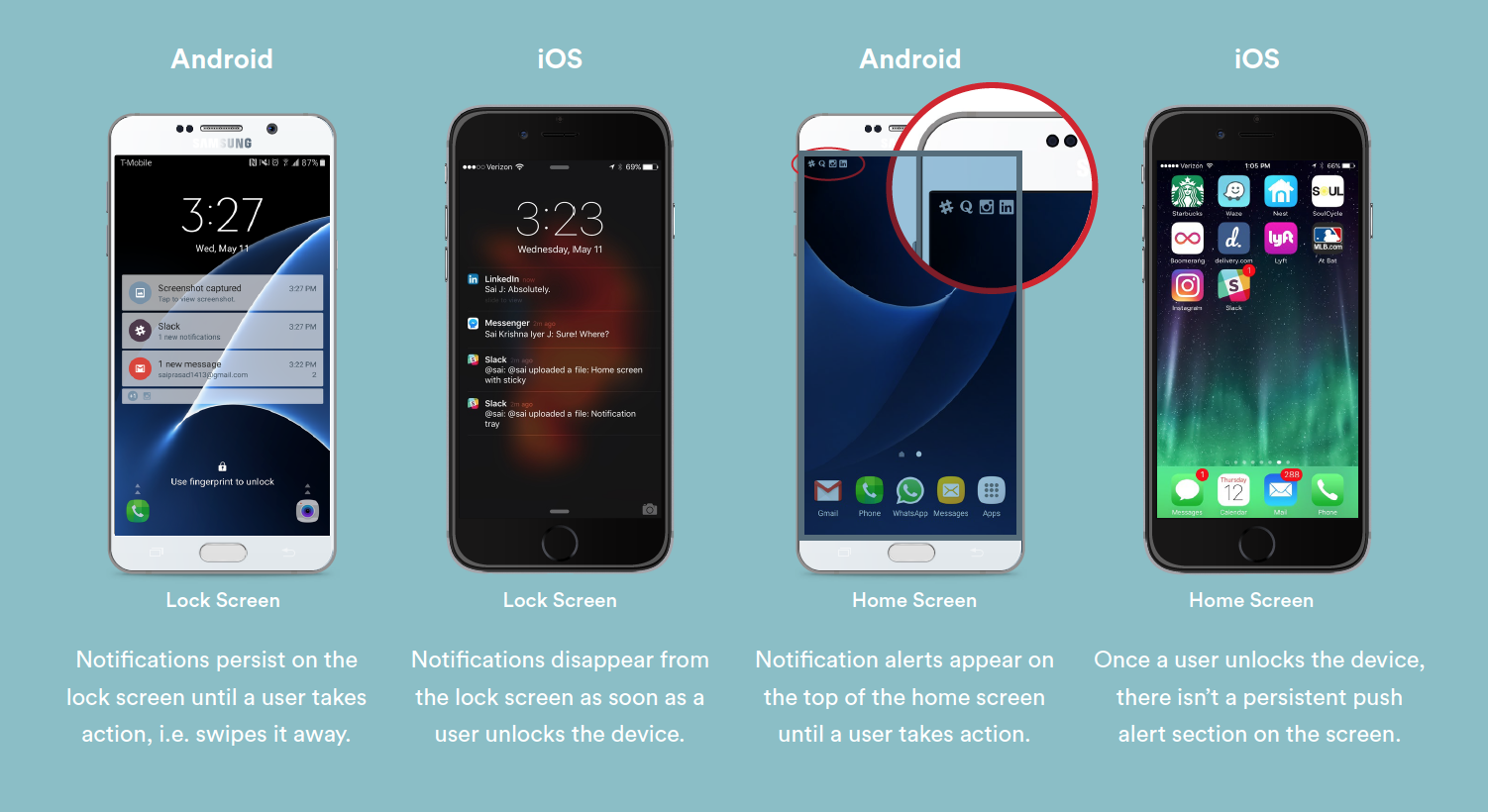 A breakdown of push notifications on Android vs. iOS.
4. Millennials 💁🏻 Are More Interested in Emoji Push Notifications
Now that we understand the effect of emojis on engagement, we set out to examine who is impacted the most. As it turns out — and perhaps unsurprisingly — millennials engage more often with emojis.
The average 13–24-year-old spent 20% more time in apps than the average 25–44-year-old, and 70% more time in apps than the average user over 45. If your target 🎯 customer is a millennial, adding emojis to your push notifications may help bring them back to your app.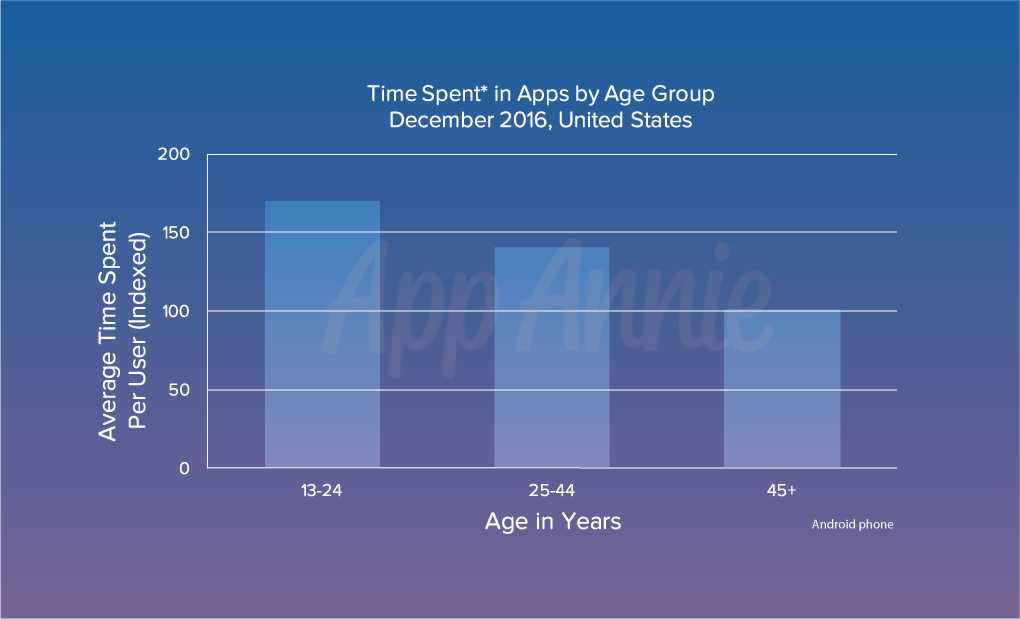 5. App Store Engagement Is Rising 🌅, Creating More Opportunity to Get in Front of Users With Emojis
As global app store revenue has increased over the years, and there's more at stake, mobile marketers are becoming smarter about sending messages that respond to user preferences. From personalization to emojis, sending content that resonates on an emotional level can help you drive more ROI in your apps.
In the past two years:
App store revenue has increased 80%.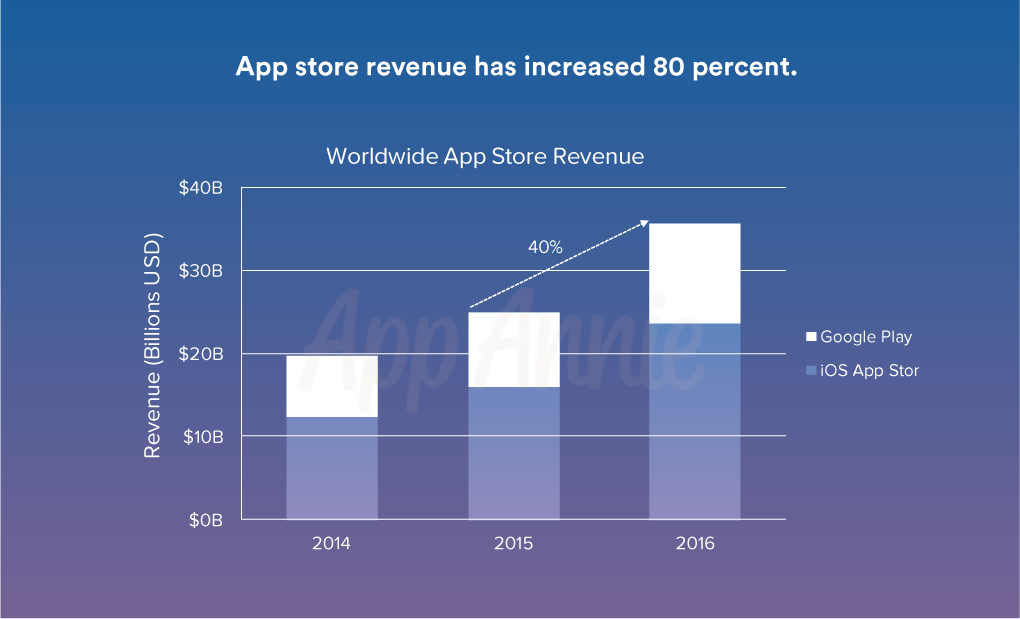 And time spent in apps has increased 95%.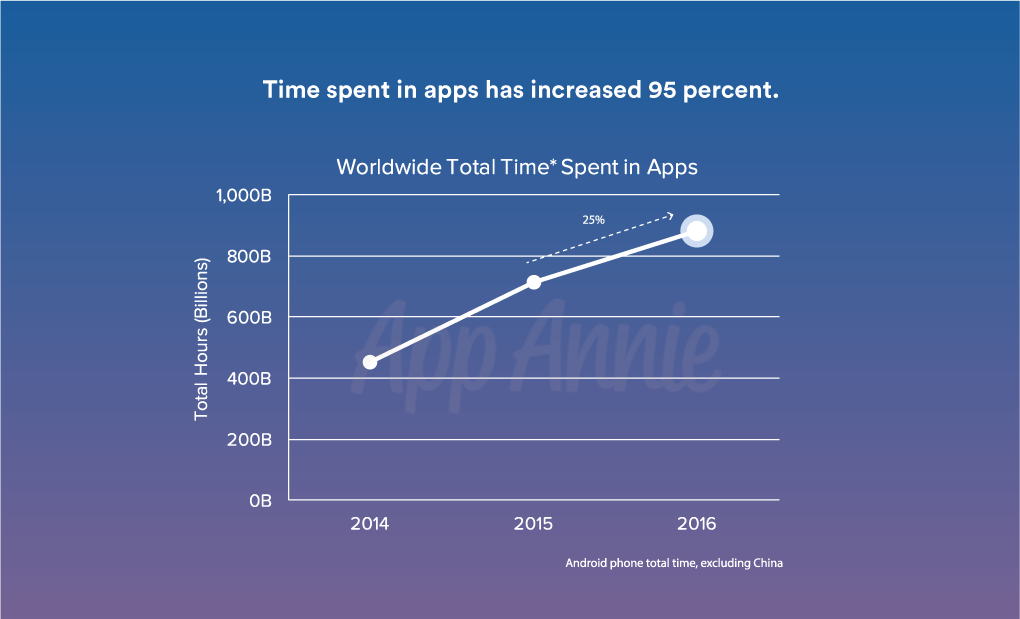 Mobile users are becoming more invested in apps. In turn, when apps deliver personalized and creative content, users respond by giving the app a little engagement (and revenue) love.
Get the Exclusive Emoji Report Today 👋
If we've learned anything today, it's that emojis are a mobile marketer's best friend. Our latest report has tons more juicy emoji details — including the most popular emojis used by each vertical, and the 25 emojis most likely to increase your push notification opens.
Don't miss out. Download the full report on emoji push notifications, Winning App ❤️ (& 💸 ) With Emojis.
Download our guide to emoji push notifications today.
Brittany Fleit is a Content Marketer at Leanplum. When she's not writing about mobile, you can find her hiking, obsessing over politics, or curled up on the couch with a glass of wine and her ornery cat.

Leanplum is the most complete mobile marketing platform, designed for intelligent action. Its integrated solution delivers meaningful engagement across messaging and the in-app experience. Leanplum offers Messaging, Automation, App Editing, Personalization, A/B Testing, and Analytics.