A new look and increased emphasis on discoverability means you should up your game when it comes to your app's creative assets
Back when Apple announced that it was going to make big changes to the App Store with iOS 11, we pointed out that Apple's upcoming focus on curation and editorial were largely a response to the sheer scale: There are over 2 million apps in the App Store, it sees 500 million weekly customer visits and there have been more than 180 billion apps downloaded across all platforms. When you're dealing with that kind of volume, you need strategies to surface quality content that might otherwise be drowned out by sheer quantity.
For Apple, this was a particular challenge given that 65% of downloads come directly from a search in the App Store. Apple was keenly aware of how that dynamic affects users looking for something new, and publishers who are struggling to get noticed when the established players tend to dominate the rankings. Features in the App Store originated as a way to supplement the rankings — a way for Apple to immediately surface quality apps through curation. With the new iOS 11 design, Apple is clearly even more focused on featuring still more apps, in more efficient ways that highlight an apps' value to consumers before they download.
This is a substantial adjustment which will change the current dynamic between discovery/browsing (scrolling through features, for example) and search (inputting a keyword or the name of an app or functionality in order to find it). While it will take time for us to see if the 65% figure increases or decreases now that discovery is getting more play, it's fair to say that more downloads will originate with browsing.
What does this mean for mobile marketers? First and foremost, ASO fundamentals still apply, like keyword research and testing as search will undoubtedly still drive significant downloads, if not the continued majority of downloads.
But it also means that there's now an increased premium on making a great app that will attract the attention of an editorial team that now has more power to push apps instantly into the spotlight. Moreover, App Store assets (screenshots, descriptions, icon, etc.) are going to play an even greater role in user acquisition because they're going to be more visually prominent, and because the editors are going to be more inclined to feature apps with compelling assets.
Finally, it means going after features in imaginative ways. Editors are looking for apps with appealing stories behind them that they can highlight in a feature, so it's worth learning more about what they're looking for and how to reach them in the App Store developer pages.
As for particular changes, here are a few that mobile marketers should pay very close attention to:
Tabs Give More Screen Space to Apps
Before the redesign, there were large banners for featured apps at the top, but most of the page was dedicated to small icons with no context. Now, within the tabs (which we'll talk more about below), there's essentially one full image for an app that takes up most of the screen. It's far more visually appealing and gives the user more context so they understand why they should download the app.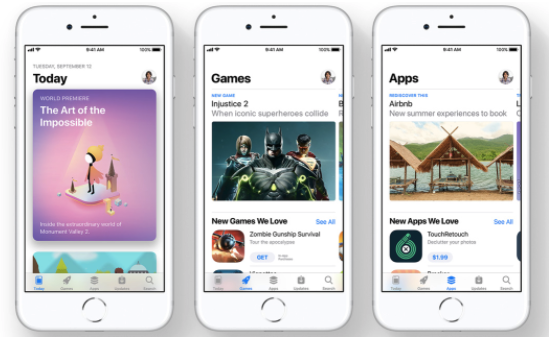 The Great Games Divide
As you can see above, games and non-games ("Apps") are now shown separately in what Apple calls "dedicated experiences." On the one hand, this move demonstrates that Games are now very much their own empire. Games will continue to be the dominant driver of app store revenue and downloads over the next five years (by 2021, Games will represent 34% of downloads but 76% of spend in the stores), and the Games tab will, if anything, offer still more opportunities for publishers to get their games in front of users. On the other, it's looking like a win for non-gaming apps because it dramatically reduces the clutter generated by non-relevant apps when users are browsing. No matter what sort of app you publish, the introduction of these tabs means more visibility. The trick then is to be fully prepared for this new level of visibility.
The "Today" Tab
The "Today" tab is the new hot real estate — that's where users can find editorial content on Games and Apps as well as a daily cards promoting particular apps. "Today" functions like a news site now, with diverse stories produced by the editorial team. When the user taps on "Today," they'll find things like like engaging explorations of particular apps, behind-the-scenes insights, interviews with indie developers, instructional material, and round-ups. We'll have to watch how this approach winds up affecting downloads, but there are a few ways it might go: it might become even more challenging to get a feature from Apple, it might make users more likely to download, making features even more of a boon, or, as we speculated earlier, it might actually change users' app habits to the point where browsing in the App Store becomes more of habit among users. No matter what, and as we indicated earlier, you should work on creative pitches to the editorial team that will catch their attention and might land you a feature on 'Today.'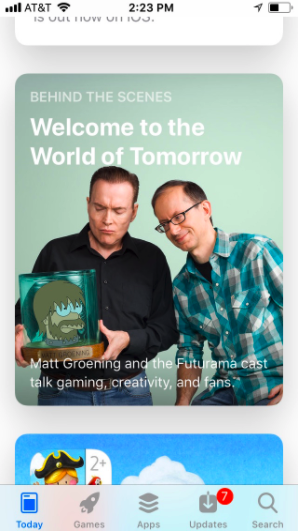 Preview Videos
More video previews are allowed on the app page, and those videos can show up prominently in features.
In the new iOS Store, preview videos are even more important as editors exert ever more influence over what gets seen. With iOS 11, you can include up to three videos on your page, and the first autoplays. This gives you a chance to show more features of your app or even create a variety of previews to appeal to different audiences. If your app gets featured, then your first video (the one that autoplays) will show up very prominently on the user's screen.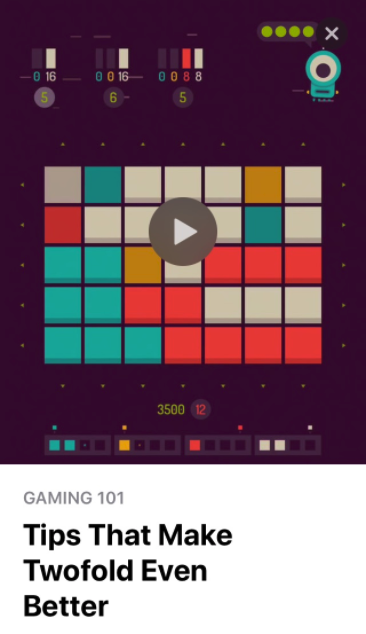 Subtitle Field
Another significant change that reflects the new emphasis on browsing is in the debut of a subtitle field. A subtitle gives users who are browsing just a tiny bit more information about an app that can determine whether or not they keep scrolling or go to your product page (where the subtitle also lives). The subtitles can be up to 30 characters long; with just the right copy, subtitles will help drive downloads, and as Apple indicates, you can A/B test different subtitles to arrive at the one that works best. You might want to experiment with the length of your subtitle and with placing keywords in it, for example.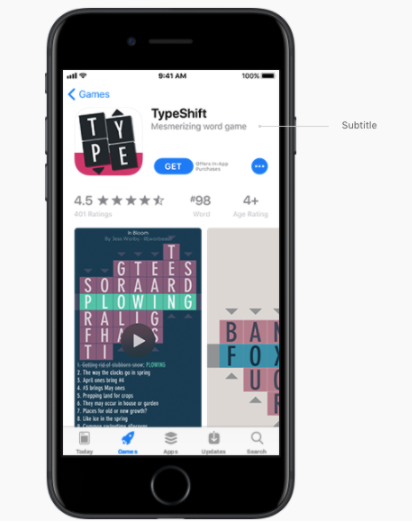 Promotional Text
Also new with the iOS 11 App Store is 'promotional text' which pulls the first 170 characters (including spaces) from the top of the description; when the user taps 'more' the full description loads, so it functions as teaser copy. Apple recommends using the promotional text to share news with users, like sales, features, or events. Whatever it is, be aware that that bit of copy is going to be more prominent now and you should put your best foot forward.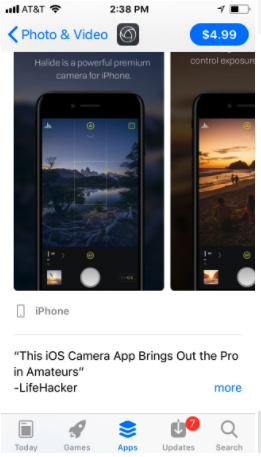 The iOS 11 App Store has made browsing and discovery easier and more appealing for users. The mobile app marketer's job now is to keep up with that change: Continue applying the ASO fundamentals, know that engaging and compelling assets are more important than ever, and approach getting a feature with imagination.
As the days go by we'll be watching our data closely to glean deeper insights on the impact of the iOS 11 App Store redesign with a deep focus on how it affects downloads, retention, browsing patterns, localization efforts, in-app purchases and more. Stay tuned.