Google's goal for Instant Apps is to completely reshape the app store value chain and the app navigation stack.
Instant Apps, originally unveiled during Google I/O 2016, is finally being tested in the wild. Teased as Google's attempt at making app interaction frictionless, it enables access to supported Android apps without requiring a download. It achieves this by breaking up an app into multiple modules, which are hosted by Google Play and can be accessed through deep links from another app, browser or near-field communications (NFC). Since this requires major updates to existing apps, the SDK is expected to roll out gradually to developers in the coming months. However, most Android users will be able to access supported Instant Apps immediately. Unlike new Android versions, Instant Apps is actually built on Google Play Services and will be available to a massive installed base of users running Android 4.1 Jelly Bean or higher.
Instant Apps' Value Proposition
Instant Apps is clearly aligned with Google's implicit goal of making apps behave more like the web. But does it address pain points for users and developers? To answer this question, we need to understand the recent critiques directed toward the app ecosystem. Many have observed that the top-ranking apps, in particular social networking apps, attract a disproportionate share of each user's time. Of course, this is less pronounced across all users in aggregate, but still valid. This is a natural outcome of market maturity. That said, it does not imply that time spent is a valid performance metric for all apps. This can be easily understood with the visual below: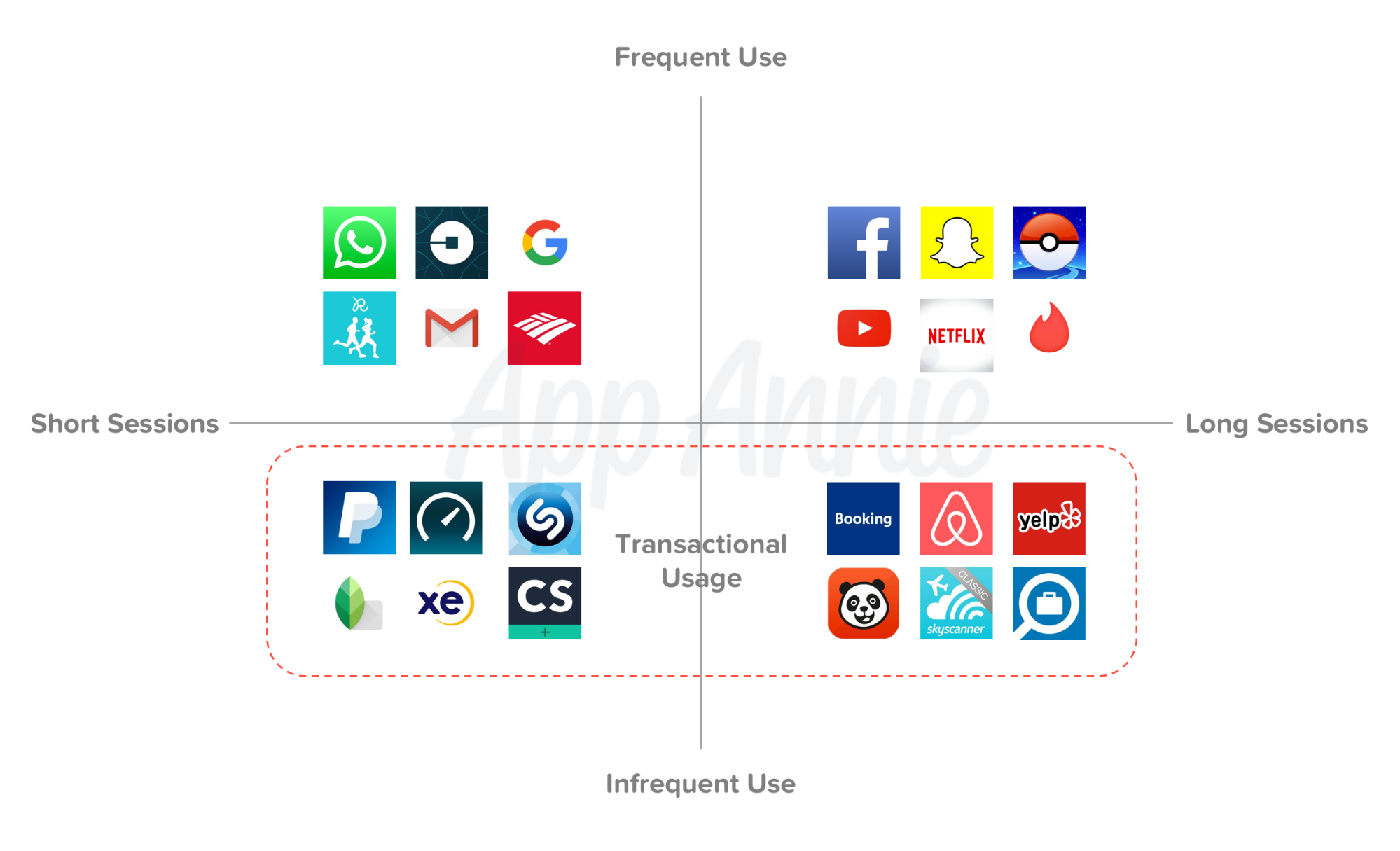 Source: App Annie Intelligence, based on worldwide Android phone data for December 2016 (excluding China)
Time spent is a key performance indicator (KPI) for apps that rely on deep user engagement (top right quadrant) — e.g., Games, Social, Video and Dating apps. However, KPIs for apps in all other quadrants are heavily dependent on the job to be done. For example, frequency of engagement is much more important than time spent for apps like Uber. On the other hand, apps like Airbnb are expected to be used less frequently on a relative basis. These transactional apps are currently restricted to the same usage pattern as those that rely on deep engagement — i.e., an app needs to be installed locally on a device before these services can be used. This can lead to user friction and consequently higher user acquisition costs for developers (many of these apps see 30-day retention rates around 5%). On the other hand, the mobile web, with an inferior user experience is not an appealing alternative.
This dynamic creates an opening for Instant Apps to ease pain points for both consumers and developers by pioneering a more efficient app usage model. Users can instantly access the apps they need without a compromised experience. In addition, skipping the app download page should improve conversion rates. And over time, improved conversion rates should lower user acquisition costs for developers. This is likely to be a key factor driving initial uptake and adoption.
Instant Apps and the App Store Value Chain
Beyond short-term adoption, Instant Apps is part of Google's vision for a more evolved and modular app store value chain. Today, app stores like Google Play are integrated across Distribution, Discovery and Monetization (at least for digital payments). But as we can see in the visual below, Google has been making concerted efforts to create a parallel structure that supersedes or augments many of the functions of Google Play at each layer of the value chain.

In many ways, each of these attempts becomes much more effective when problems are solved at all three layers. Distribution through Instant Apps can only go so far if users still need to go to the app store to learn about new apps. Instead, Google has been attempting to pioneer what we described as "distributed discovery" in our 2017 predictions report; i.e., to suggest and deep-link to apps across Google properties like Google Assistant, Google Search, Google Maps and Google Nearby. This becomes much more powerful when those suggested apps are not restricted to those on-device and can also be accessed with a single tap. Unsurprisingly, this also aligns with and strengthens Google's advertising-based revenue model. That said, app discovery is still a wide open field and leaves open the possibility of a company like Facebook becoming the dominant player to strengthen its own advertising business. This is likely to become a key battlefield and one that will have major implications for the app interaction model in the years ahead.
Build a Better App Business
Subscribe to our weekly digest to see more app industry reports, conference updates and guides.
Want to take your app business to the next level? Track the performance of millions of apps across the world with download, revenue, demographic and usage estimates from App Annie Intelligence. Request a demo today.
Notes:
App Annie Intelligence is currently available for the iOS App Store and Google Play. It does not currently provide estimates for other app stores, such as the Amazon Appstore. While iOS and Google Play represent a significant portion of the app market in many countries, that is not the case for some countries. For example, China has a number of sizable third-party Android app stores.
App Annie Usage Intelligence data for smartphones and tablets were derived from mobile usage data collected from a large sample of real-world users, combined with additional proprietary data sets.
App Annie tracks usage at the device level using a privacy-protective hashed device ID. Data is only reported to third parties in aggregated format.
Certain trademarks and/or images used in this report may belong to third parties and are the property of their respective owners. App Annie claims no rights to such trademarks or images.