Taiwan is an attractive market for app publishers looking to enter Asia. Here are some actionable items to consider when developing your strategy:
Taiwan presents an attractive mobile market for app publishers looking to enter the Asian market with less of the associated risk. Recently we covered the opportunity presented by Taiwan's booming app market for local and foreign publishers alike. Now we're going to focus on actionable items for app publishers to consider before entering this market.
Unlike some larger Asian markets, Taiwan has proven receptive to both local and foreign-based publishers. Publishers interested in making waves in the Asian app economy should take this into consideration prior to launch in Taiwan.
Ensuring a Good Product-Market Fit
Mobile games are a hit in Asian app markets, with specific genres outperforming the rest. Massively multiplayer online role-playing games (MMORPG) and real-time strategy role-playing games (RTS RPG) like Crash Fever, Loong Craft and Clash of Kings offer an ultra competitive environment for players to battle other users and can all be found in Taiwan's top charts. Casual games also have a home in Taiwan, with LINE's Brown Farm in the top three for downloads on both the Google Play and iOS App Store.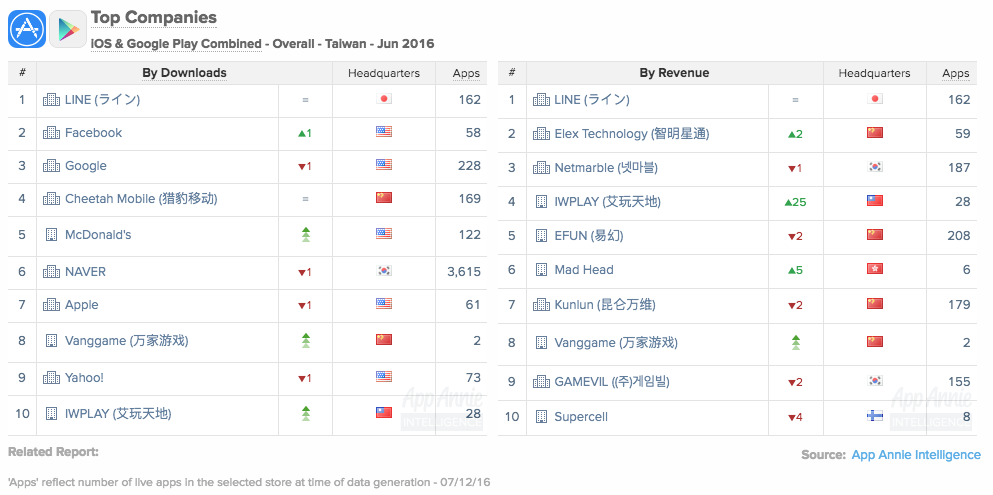 MMORPG dominates the Games category for Taiwan in June.
MMORPG and Strategy games control majority of the current top downloads and revenue for Taiwan, with this preference of mobile gaming echoed throughout larger Asian markets like China as well. Asian markets do require strong player versus player (PvP) elements including live events for any game that intend to be a smash hit in the top grossing charts. Assess the return on investment prior to formulating an app strategy for a Taiwanese launch, especially for mobile games that would require hefty localization efforts. Following suit with what's on trend in the app stores will provide a greater likelihood for an app to fare well in the gaming marketplace.
Localization: The Potential For Payoff
It's critical that Western publishers take into account cultural and linguistic differences when considering market expansion. While Taiwan is more receptive to foreign app publishers, it's no exception when it comes to their users expecting apps to be tailored to their interests and preferences. Taking time to get to know the Taiwanese (and overarching Asian) culture, and observing nuances that are preferred when playing a mobile game are small but impactful subtleties an app publisher can modify that can pay huge dividends. Even small details such as changing the name of a user on a screenshot in the app stores or utilizing Traditional Chinese — which is more commonly understood than Simplified Chinese — can alter the perception of an app. Conducting this type of research in-house isn't always realistic or scalable. Publishers should consider using a local agency that can provide insight into how the app economy is shaped differently not only in Asia, but specifically in Taiwan.
Candy Crush Saga implemented localization strategies and held steady at #21 for revenue amassed on both the iOS App Store and Google Play Store this past year in Taiwan. By republishing its app in Chinese, King was able to reach and retain a larger majority of users who understand the native language. In addition to this language shift, Candy Crush's UK-based King partnered with popular Asian publisher Tencent to distribute the app. King wanted to open up more opportunities to boost downloads with a publisher switch, as Asia can be less welcoming to foreign publishers.
| | |
| --- | --- |
| | |
Candy Crush Saga localized gameplay shots to appeal to more users in Asia.
Clash of Clans remained in the top 10 for revenue generated in the past 12 months in Taiwan due to localization efforts as well as a local marketing push. Publisher Supercell made sure to tailor its efforts to each new app market it entered while keeping the core of the game intact. To gain local market insights, Supercell hired an agency on the ground level which they held accountable for any localization changes that were implemented. Offline marketing holds just as much power as performance marketing, with physical ads on public transit, television commercials, and even spokespeople showcasing the app driving downloads. Overall, incorporating localization into your product expansion strategy will help bolster the adoptability of your app in a new market.
Distribution: Developing a Plan of Attack
Once you've analyzed and localized, determining the best means to release an app is essential. App Annie Intelligence data highlights that Google Play revenue as 1.3x higher than iOS App Store revenue in Taiwan for the 12-month period ending May 2016. Prioritizing an app for Android first should see more users, especially considering the fact that additional third-party app stores are very popular in Asian countries.
When considering a messaging platform for marketing, be sure to prioritize LINE which can boost downloads with incentivized installs. Supercell saw the monetization potential with LINE's sticker packs and released a special sticker set in Taiwan promoting Clash of Clans. Taiwanese maintain a sense of brand loyalty toward LINE and claims about 16 million users (almost 70% of the population in Taiwan). Harnessing the most popular forms of distribution in Taiwan will set you up for a greater likelihood of success.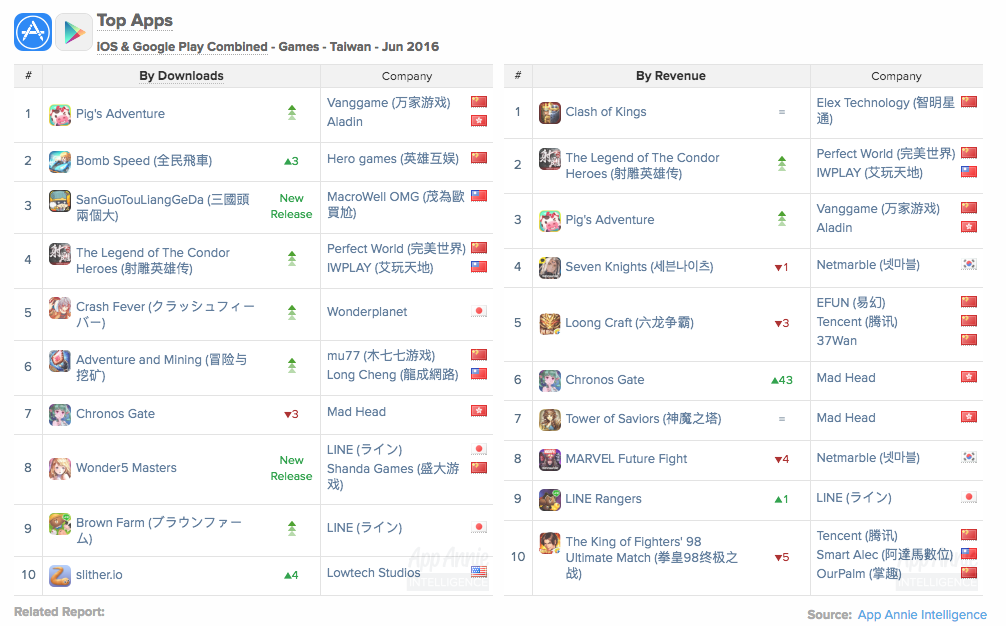 LINE claims the #1 spot for downloads and revenue, while WeChat isn't represented.
An App Publisher's Checklist for Launching in Taiwan:
Considering entering the Asian market? Here are a few tips for targeting Taiwan:
See how your mobile game could fit into what's popular in Taiwan's mobile game market prior to pursuing a launch.
Defining a strategy to localize is key to ensuring your app feels familiar and accessible for users.
The biggest revenue opportunity in Taiwan lies in Android, so consider prioritizing Google Play over the iOS App Store for your initial launch.
Taiwan offers a potential new means of success for app publishers looking to explore a launch in Asia. While there are multiple factors that influence the success of an app in any new market, the ones we've shared should help prime the pump for a fruitful launch. Smaller app markets provide the opportunity for a great entry point into larger, more defined app economies. Piloting launches (and also finding success) in app economies like Taiwan can help app publishers further define long-term marketing goals and business strategies.
Build a Better App Business
Subscribe to see more app industry reports, conference updates and guides. Have something to add? Share your questions and comments on Twitter.
Want to take your app business to the next level? Learn more about how App Annie Intelligence products can help you succeed in new markets. Request a free demo today.