Many entertainment industry leaders are implementing gamification -- the tried-and-true concept of applying game mechanics in other settings -- in their apps. For example, NBCUniversal and ABC, use gamification in their apps to deepen engagement with their respective fan bases, which leads to increased intellectual property (IP) mindshare. The two entertainment industry heavyweights are injecting simple -- yet specific -- game mechanics with defined outcomes into their apps, such as voting and unlocking, to engender increased stickiness and engagement.
In an effort to shed light on how forward-thinking entertainment companies are infusing gamification mechanics into their apps, we analyzed NBCUniversal's app Fifty Shades and ABC's app Rising Star ABC.
Need an Internship? Apply at Grey Enterprises Holdings
NBCUniversal recently released their Fifty Shades app on the iOS App Store, Google Play and the Amazon Appstore, which promotes the theatrical release of Fifty Shades of Grey -- hitting the silver screen on Valentine's Day (February 13, 2015). In the app, users register to become an intern for Grey Enterprises Holdings, the fictional company helmed by the romance novel's male protagonist Christian Grey. Fans are tasked with completing weekly assignments to earn badges and unlock exclusive official content related to the film adaptation of Fifty Shades of Grey.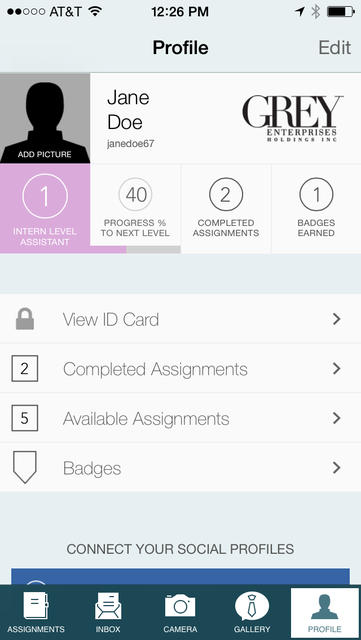 Complete assignments to earn badges, unlock content and increase your "Intern Level."
The Fifty Shades app employs the gamification mechanic of unlocking. The simple action and outcome loop involves completing an assignment to unlock the next assignment. Users are rewarded with badges and content related to the blockbuster film. Fans are also incentivized to complete more assignments to make their "Intern Level" go up. The app's unlocking mechanic is designed to drive high user retention and increased engagement, which strengthens Fifty Shades of Grey's IP.
Raise the Wall on the Next Music Star
The new ABC singing competition show Rising Star gamifies the process of discovering the next music star by putting voting power in the hands of viewers. In Rising Star, each contestant begins singing behind a giant wall, with three celebrity judges -- Brad Paisley, Kesha and Ludacris -- and a live studio audience on the other side. The wall is raised if a contestant reaches the 70% threshold of "yes" votes, with votes coming from viewers using the Rising Star ABC app and the judges -- who each have a 7% vote. Contestants who achieve 70% "yes" votes move on to the next round of the competition.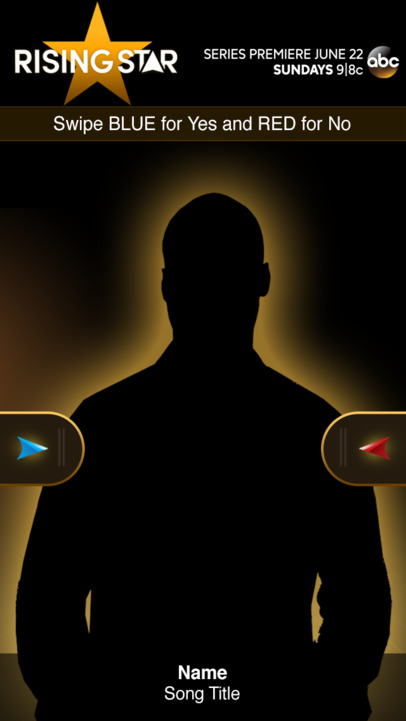 Viewers can effortlessly vote for contestants via Rising Star ABC by either swiping right for a "yes" vote and left for a "no" vote.
Rising Star ABC's voting mechanic is one of the most traditional gamification mechanics. The loop is simple -- viewers use Rising Star ABC to submit a "yes" or "no" vote, which makes the total voting percentage go up or down. Although the show is inherently gamified, ABC is leveraging the app to increase viewer participation, which in turn boosts Rising Star's IP.
Other apps have utilized voting to gamify their app like WWE. On WWE's flagship show RAW, viewers can use the WWE app to vote for which WWE superstars they want to see in a match.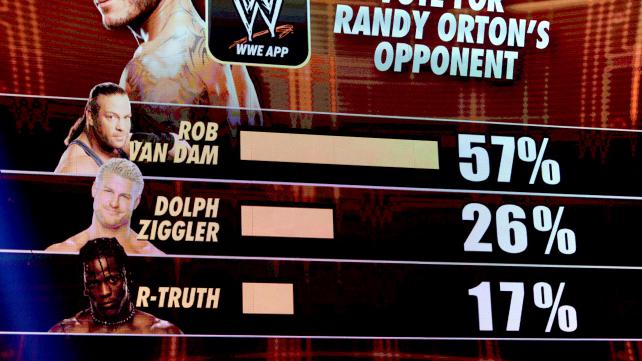 WWE fans vote for Randy Orton's opponent with the WWE app.
Along with using gamification tactics, entertainment industry innovators are also leveraging apps by licensing their IPs. Doing so allows studios to engage with their fans at multiple touch points -- addressing them in a more direct way than ever before. For example, computer animation studio Blue Sky and Rovio formed a match made in heaven, combining computer-animated film Rio and Angry Birds to create the hit mobile game Angry Birds Rio. To learn more about how you can benefit from licensing your IP, and make the most of the licensing deal, check out our white paper: The Opportunity in the 4th Screen for Entertainment IP.
You can always count on the App Annie Blog for more in-depth reports and news on the global app economy, so subscribe to our blog below. Don't forget to share your questions or comments below or on Twitter.