App Annie's Chief Data Scientist Paul Stolorz looks at the importance of data-driven insights.
The Opportunity
With consumers spending 4.2 hours a day and $143 billion on their mobile devices. Globally in 2021, there is an overwhelming amount of data to understand - and with it, an enormous opportunity. Businesses today are in desperate need of smart data that will help them to anticipate macro and micro-economic trends to make proactive decisions based on market activity and competitive insights. 
However, data-based decisions are only as good as the data that drives them. Businesses that lean on incomplete or imperfect data are navigating without a compass - too many companies are unknowingly in this position, and their business outcomes reflect their lack of reliable direction.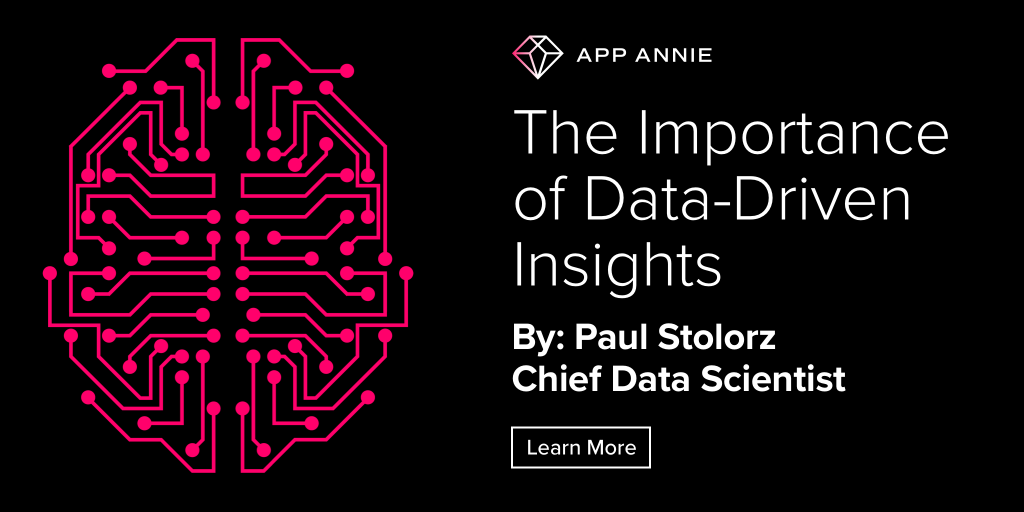 Driving Better Business
At App Annie, we have been collecting real-world data for the last decade. We have more data than anyone else in the business - and the largest volume of data translates to the greatest levels of accuracy when combined with the best algorithms to convert data into insights and estimates. We believe better business depends crucially on equipping your business with high-quality estimates. Our charter has always been to use data science to help our customers make informed decisions today that will lead to a more successful business tomorrow. What sets us apart is what users don't see — the data science and world-class end-to-end AI algorithms that guide our estimates and insights.
When you enter a search in Google, it feeds you easy-to-digest results and recommendations lined up on a page. What you don't see is the very complex, advanced AI algorithms that are involved in creating that output. We run in the same way - AI underpins everything we do, but the end result is a simple product that brings actionable, data-driven insights to our customers. 
Accuracy, Explained
If you were collecting information to build a self-driving car that could navigate the roads of a city seamlessly, would you want to build it based on data from a car that had been driving around that city for the past 10 years, or a simulation of the roads created in a lab? It's an easy choice - simulations may get you part of the way there, but the real-world data will pick up on nuances and patterns that a simulation couldn't anticipate. The same is true for the metrics we provide to our customers. With over a decade of real-world data we can offer the best representation of mobile usage by providing extremely accurate estimates on app downloads, revenues, engagement and more, coupled with powerful insights to inform business decisions. 
The Full Picture
 We offer customers the most complete picture by using our mobile market data, along with customers' first-party data and data science. The combination of these three elements allow decision-makers to immediately and easily understand and execute against the critical metrics that drive their business. For example, our solutions can detect anomalies in first-party data and then add in further layers of AI augmented by mobile market data to provide attribution and root causes of these anomalies - this is the key to data-enabled decision making.
Consider the specific example of an app publisher displaying digital ads. If a series of advertisements suddenly sees a spike in conversion rates, it's critical to catch that anomaly and isolate the incident to determine what may have driven the spike. This enables the publisher to recognize when those conditions occur again in the future and to then boost impressions to generate higher increased conversion rate.
Security and Privacy
App Annie takes data protection and privacy very seriously. The underlying data used by App Annie to produce our estimates which customers are basing their decisions on are supported by robust privacy policies.  None of the estimates made available by App Annie contain personal data.
Breadth, Depth and Automation
In addition to our stellar data assets, we have built a Data Science platform from the ground up to support fully automated AI solutions. Our vision is to help our customers replace today's laborious and expensive manual processes for extracting insights from data with a seamless workflow that is actionable, helps measure success, and closes the loop on execution. 
We have developed a wide range of groundbreaking AI technologies deployed on top of this platform to build products that delight our customers. This begins with our industry-leading estimates through App Annie Intelligence for downloads, revenues, user engagement, advertiser share of voice, paid search metrics and more. These estimates are produced by the most advanced and accurate algorithms in the industry.
We've also gone much further than this, developing a powerful new offering based on NLP technology, Advanced Reviews, to understand and classify app reviews. This lets our customers see at a glance that an app has many reviews, for example, that are discussing the topic of bugs found in the app, or on the other hand, are singing its praises - both good cues for follow-up.
We have also applied AI to support our recent release of GameIQ. GameIQ is built specifically to address the needs of gamers by helping to track key metrics and provide multiple insights in the context of game taxonomy. It's our AI that enables us to tag apps with game genres and subgenres for this taxonomy automatically and accurately.
And finally (for now!), AI powers Data Stories, which lets our customers understand the factors driving important changes in key metrics such as revenues and downloads. These are personalized so that stories they care about the most are seen first, a unique offering that shows the true power of AI.

Pushing the Limits of Data Science
We are pushing the boundaries of a core shift in the way data is processed: instead of building software based on rule-oriented programming, we are moving to a world where software is built based on systematic training from data. When software can learn from the data you feed it, it can scale and adapt in ways that transform our ability to generate predictive analytics. 
Data science at scale is no longer about simply coping with the volume of data - it is about seizing the opportunity to predict patterns in data and define actions from them. Data aggregation and contextualization at scale are the new bar for what business leaders need to make smart, data-based decisions. At App Annie, we are proud to help our customers plan their own path by taking cues from our estimates created by the most intelligent data available.
DISCLAIMER: 
App Annie is a mobile market estimate service provider. App Annie is not registered in any investment advisory capacity in any jurisdiction globally, and does not offer any legal, financial, investment or business advice. Nothing contained in this communication, or in any App Annie products, services, communications, or other offerings, should be construed as an offer, recommendation, or solicitation to buy or sell any security or investment, or to make any investment decisions. Any reference to past or potential performance is not, and should not, be construed as a recommendation or as a guarantee of any specific outcome. You should always consult your own professional legal, financial, investment and business advisors. Additionally, by providing the information herein, App Annie does not make any representations or warranties and does not undertake any legal or contractual obligations whatsoever. No liability may accrue to App Annie as a result of providing this information to you.