Learn why data should be at the center of each decision you make in your mobile strategy.
Developing an app strategy can seem overwhelming. Fortunately, there is one place you can start that will help inform all facets of your strategy: data. Whether you already have an app or are looking to create one, data should be at the foundation of all decisions you make. Here are three ways that you can leverage data to create a winning app strategy.
Get Familiar With the App Ecosystem
In order to determine the core focus of your app strategy, it's important to start out with understanding the foundation of the app economy — including the leaders,movers and shakers in your category. Take time to familiarize yourself with top apps to get a sense of existing and emerging trends. Exploring the top charts on App Annie is a good place to start. Next, drill down to the top performers across relevant categories. Armed with this information, you can set performance benchmarks and determine the core set of features to consider adding to your product roadmap for launch. Comparing these market leaders can also give you a sense of user expectations and help you define what features are table stakes for your app.
Define Your Purpose
New to the App Economy
There are many ways to approach creating an app. Are you interested in creating another sales channel for your business? Or do you want to drive customer loyalty? Spend time defining how an app will support your business, so you can map out the features and monetization plan that will help achieve your goals. After goals have been defined, pinpoint your mobile key performance indicators (KPIs). Are you interested in seeing how long people are in your app? Are in-app purchases important? The metrics you're measuring should ladder up to your overall business goals. Utilize industry or competitor benchmarks to ensure your KPIs are realistic.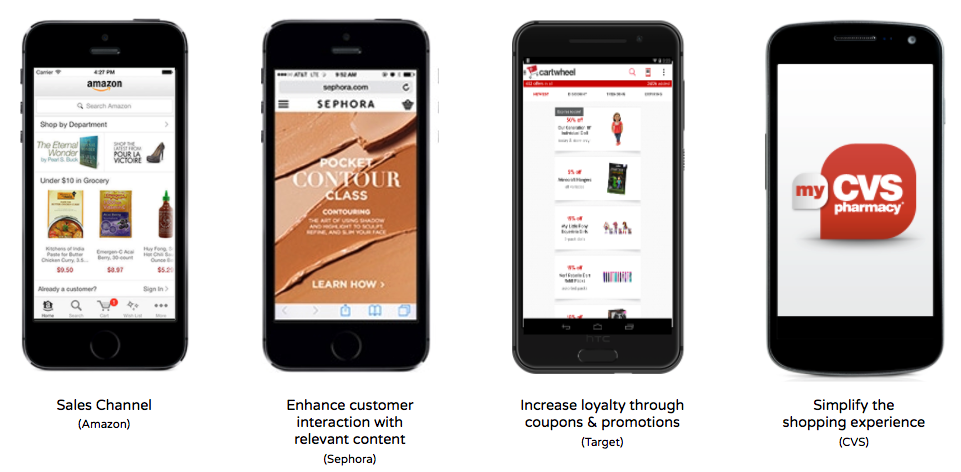 Optimize Your Existing App
If you already have an app, do all you can to understand your users so you can optimize performance. Delve into your demographics and cross-app usage metrics to get a more complete understanding of your user. See when your app seems to get the most traction — maybe it's the holidays if you're a retail app or at dinner time if you're a quick-service restaurant. Poring over your app's usage data will give you a better understanding of what features are performing best and what areas may need some fine tuning.
Size Up the Competition
Identify your competitive set and keep a close eye on them over time. If you're an offline business that's going mobile, you probably have a good idea of who you'll be competing against. If you're creating an entirely new business, identify would-be competitors to discover best practices as well as metrics to benchmark your own success against. Also note competitors' features and functionality: What do existing users like or dislike about these apps? Are there any you should consider including in your app, or are there functionality gaps your app can fill to attract their users? You can look through ratings and reviews with App Annie to see where there may be room for improvement. This can help to influence your product roadmap moving forward and show which features might need to be prioritized.
It's important to also keep tabs on rank changes for your competitors and the reasons behind them. Dig into the data to see why there may have been a spike: Was a new feature rolled out? Have they implemented a user acquisition (UA) campaign? See how their users are responding and adjust accordingly.
You'll also want to keep tabs on the greater app ecosystem — you never know when an app could shift gears and become competition. For example, YouTube recently announced a new service that directly competes with other video streaming services like Hulu and Netflix. By monitoring emerging trends at the market level,  you can continuously iterate on your app strategy and be on the lookout for growth opportunities or partnership possibilities with an app that may share the same user base — before the competition does.
The Leader in Mobile Market Data
App Annie is there every step of the way to bring you important and relevant data to help you make informed and educated decisions about your app business. Sign up for a free Store Stats account to explore the top charts or request a demo to learn more about our market intelligence offerings.