Learn how to utilize competitive data to inform your strategic app marketing decisions.
Developing, creating and launching an app are huge milestones to overcome. But now that you've got an app out there, you need to find and engage your users. A good way to get started is by taking a look at how your competition is faring and what methods might be adaptable to your own strategies. App publishers should treat discovery and conversion as a harmonious, two-step process — and the competition can help inform how your strategies should take shape.
We've compiled three key points on how to leverage your competitor's dataset to assist you in convincing users to download and start using your app.
Fine-Tune Your App Store Optimization (ASO)
Get started by optimizing your app store page with ASO strategies. (For an overview of the basics, download our playbook on mobile app marketing.) Take a look at the screenshots and icons your competition is using and compare your creatives to see if you stand out in the crowded app stores. If these elements blend in with the masses, consider A/B testing some new images to see what is most appealing to your audience.
You'll also want to keep an eye on the updates your competitors are making. With App Annie Intelligence, you can easily track changes to icons, screenshots, descriptions and app names over time. Using this data you can get a sense of what changes are having the greatest impact in attracting downloads, and consider which tactics you may want to apply to your own app.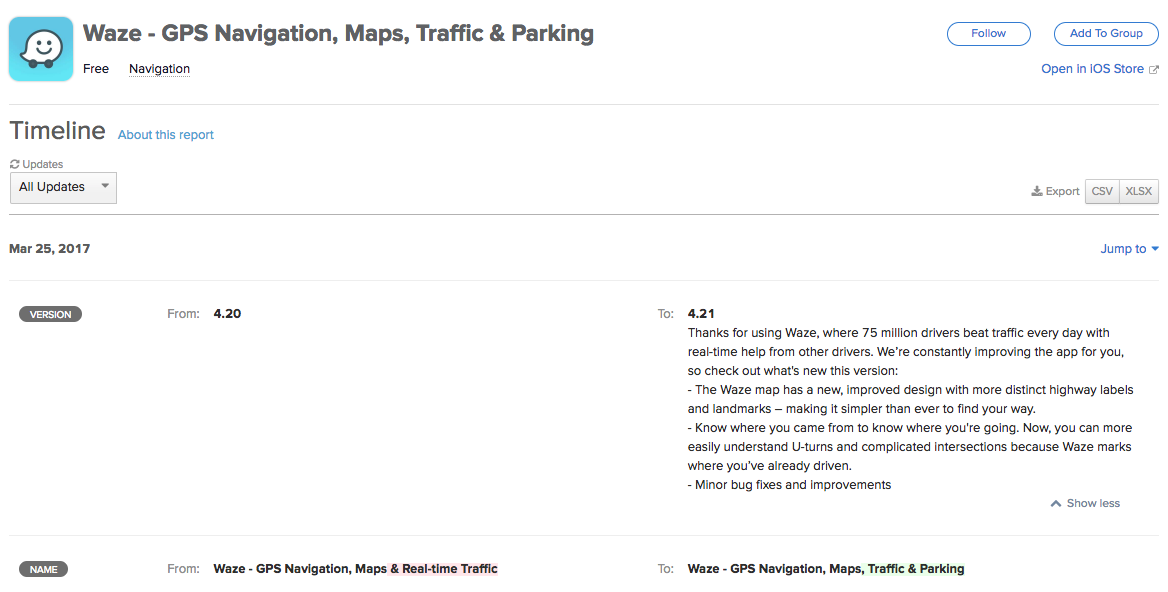 Waze recently updated its description and name — hinting that the company might be testing its ASO strategy.
Look at what keywords your competition is using — is that word saturated? Is there another aspect of your offering that could align better with a keyword they aren't using? Unique keywords can be a great way to boost visibility on the app store. Be sure to choose a keyword that is relevant to your app's key functions but not saturated in the market, and include it in your summary to best drive engagement.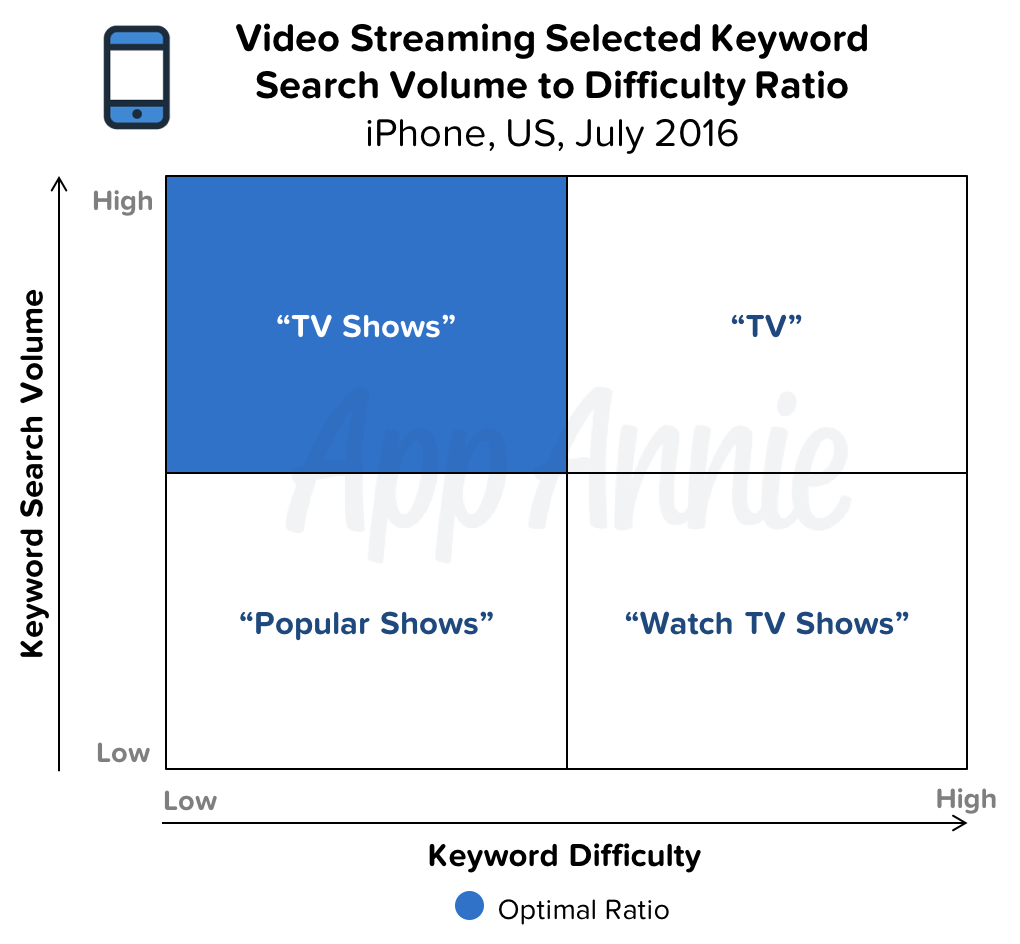 For example, "TV Shows" is the optimal keyword for video streaming apps.
The ratings and reviews on your app store page can also be improved with competitive data. See what words are used frequently by reviewers — these might not be included in a competitor's keyword strategy and could be leveraged for your own. You can also get an idea of what features users like or don't like to help inform your feature roadmap.
Zero in on an Ad Network
If you're not sure how to find an ad network that will reach your target audience, take a look at the networks favored by your competitors. You'll be able to see which networks are working with leaders in your category, and determine an ad's reach through App Annie's ad platform report.
Leveraging App Annie, you'll gain insights into where your competition is putting their ad spend and how it's performing in comparison to yours. You'll be able to dig into the metrics behind how many new users the competition is earning, and see examples of the ad creatives that are helping attract these new users. Different messages and visuals could have a big impact on pulling in high-value users.
Be sure to find a network that not only works with popular apps, but also apps similar to yours. You can find out if the competition is working with a relevant ad network, or if its reach might be over-saturated. For example, multiple shopping apps partnered with advertiser AdMob in December to expand their reach for the heavy shopping season.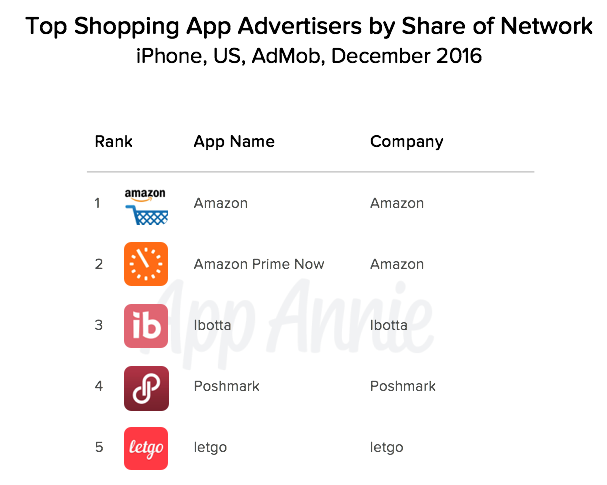 With App Annie, shopping apps can take a look at AdMob to see if the competition's creatives were performing well, or if there might be another platform that would extend the reach of their advertising efforts.
Dig Into Your Audience
One of the first steps of app development is creating a detailed audience profile — and the competition can be a big help. Take a look at cross-app usage to get a more complete picture of your users, and see what other apps they frequent. Uncovering common apps can also inform where you might want to place ads.
In order to take a quick pulse on your competition, you can save a competitor's app on App Annie's Compare Apps feature. This will give you an idea of the overall health of their apps as well as show when an app spiked or dropped on the charts. You'll also be able to discover possible causes of these changes, and use that knowledge to your advantage. If you're looking to expand into new regions, get an idea of the market's demographics and find out who your regional competitors might be.
Competitive insights should remain at the core of all facets of the app development cycle. Interested in seeing how competitive data can shape your app strategy? Request a demo of App Annie Intelligence.