Brands are promoting an earlier start to the holiday shopping season. With that in mind, how does this year's Black Friday compare to previous years?
It's official: Black Friday has gone mobile.
According to Adobe, mobile purchases in the United States increased by 33%, making this past Friday the first billion-dollar shopping day in US history.
The shift toward mobile and online shopping has also resulted in a shift away from Black Friday itself. Instead, retailers are promoting ongoing deals throughout the holiday months. With the National Retail Federation anticipating November and December sales to increase by 3.6% and reach $655.8 billion, smart retailers should work to optimize their online and mobile experience to capture greater share of wallet. 
This year, established retail brands like Amazon, Walmart and eBay were most prevalent across the top charts for the US on iOS and Google Play. However, there were a few newcomers to the top charts: Cartwheel by Target and Flipp, a couponing app.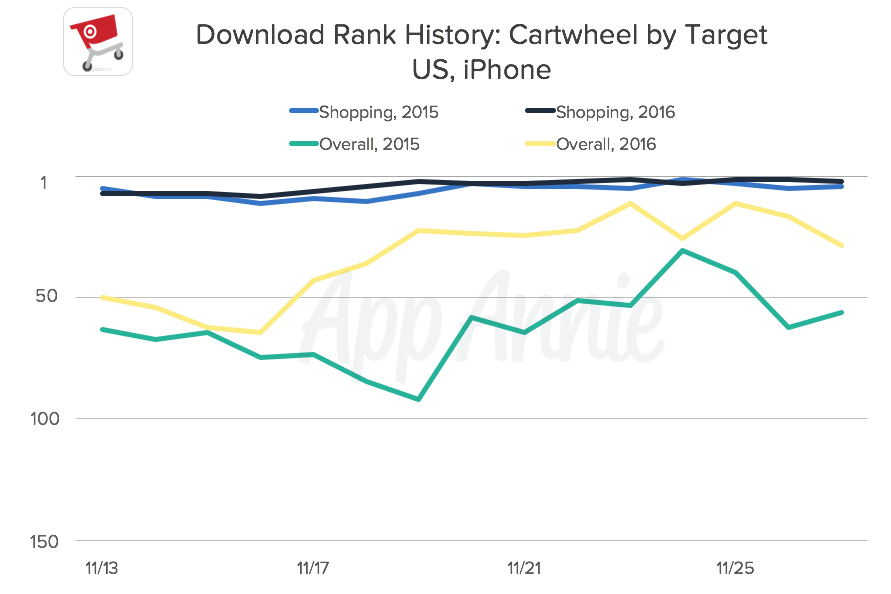 Cartwheel by Target struggled to top the charts last November. This year it remained in the top 10 within the Shopping category for the majority of the month.
Cyber Monday Becomes Cyber Week
Thanks to the rise in mobile and online shopping, Black Friday deals no longer need to be restricted to just one day. Additional one-day shopping holidays like Cyber Monday — which the NRF coined in 2005 — are also becoming outdated as customers have grown to expect anytime savings.
Retailers are starting to see the opportunity in extending sales promotions, as Cyber Monday has started to morph into Cyber Week, which takes place during the full week following Thanksgiving. Major retailers like Walmart, Amazon and Target have gone even further, starting their holiday promotions extra early in order to attract price-conscious customers. It's no wonder these apps were able to claim the top spots in the download ranks.
Amazon Makes Holiday Deals a Multi-Month Affair
This year Amazon flipped the script and kicked off its holiday deals on November 1. It also released upgrades to its mobile app to support in-store browsing: an enhanced visual search feature that allows users to snap pictures in store and quickly run a price comparison against Amazon's inventory.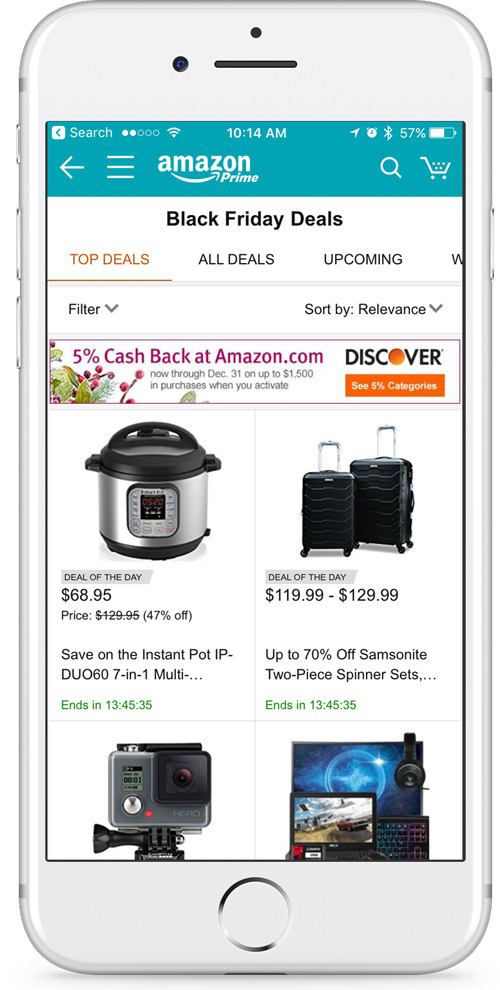 We're seeing more retailers move away from limiting deals to Black Friday and Cyber Monday in favor of longer-lasting pricing specials. We expect more to adopt this trend for future holidays, as retailers focus less on bringing customers to brick-and-mortar locations and more on connecting with them wherever they are.
Get Best Practices for 2017
Learn more about how top retail publishers rocked the holidays. Join us on Wednesday, January 11 at 10:00 a.m. PT to get key insights into the growth of retail apps and best practices to capitalize on holiday spending. Register for our webinar, Unwrapped: Holiday App Insights to Drive Retail Strategy.