A great app experience, aggressiveness and creativity are what it takes to make a retail app a worldwide sensation
If you're a mobile retailer, one of the most important decisions you might face is whether or not to go global. There are plenty of reasons to consider it seriously, such as the fact that mobile retail is looking at its biggest year ever and in regions around the world, time spent in mobile shopping apps is distinctly on the upswing.
For example, as we reported in Retailers: Why Data Should Drive Your Mobile Strategy, users in South Korea spend an average of nearly a hundred minutes a month in shopping apps and in markets such as the UK and the US users spend about 50 minutes per month doing the same. This represents enormous opportunity as users increasingly turn to the small screen to get their shopping done.
The mobile ingredient to successful international expansion
No matter what your ambitions are or how successful you've been thus far, you need to recognize that digital retail's giants, namely Alibaba and Amazon, have pulled off becoming the first stop for many of the world's shoppers because of their incredibly aggressive mobile strategies. They saw early on that particularly for users whose first access to the internet was their smartphones, an app was the way to reach and convert them. Right now Alibaba and Amazon are battling it out for global dominance. And they didn't just go mobile — they made sure they offered the best mobile shopping experiences, leaving competitors in the dust. Alibaba's localized apps are in the Top 5 digital-first apps by average MAU in five out of nine top countries, and Amazon's are in the Top 5 in seven of nine markets. At this point, the only major markets that remain untouched by either is South Korea, which remains loyal to homegrown apps like Coupang and 11st.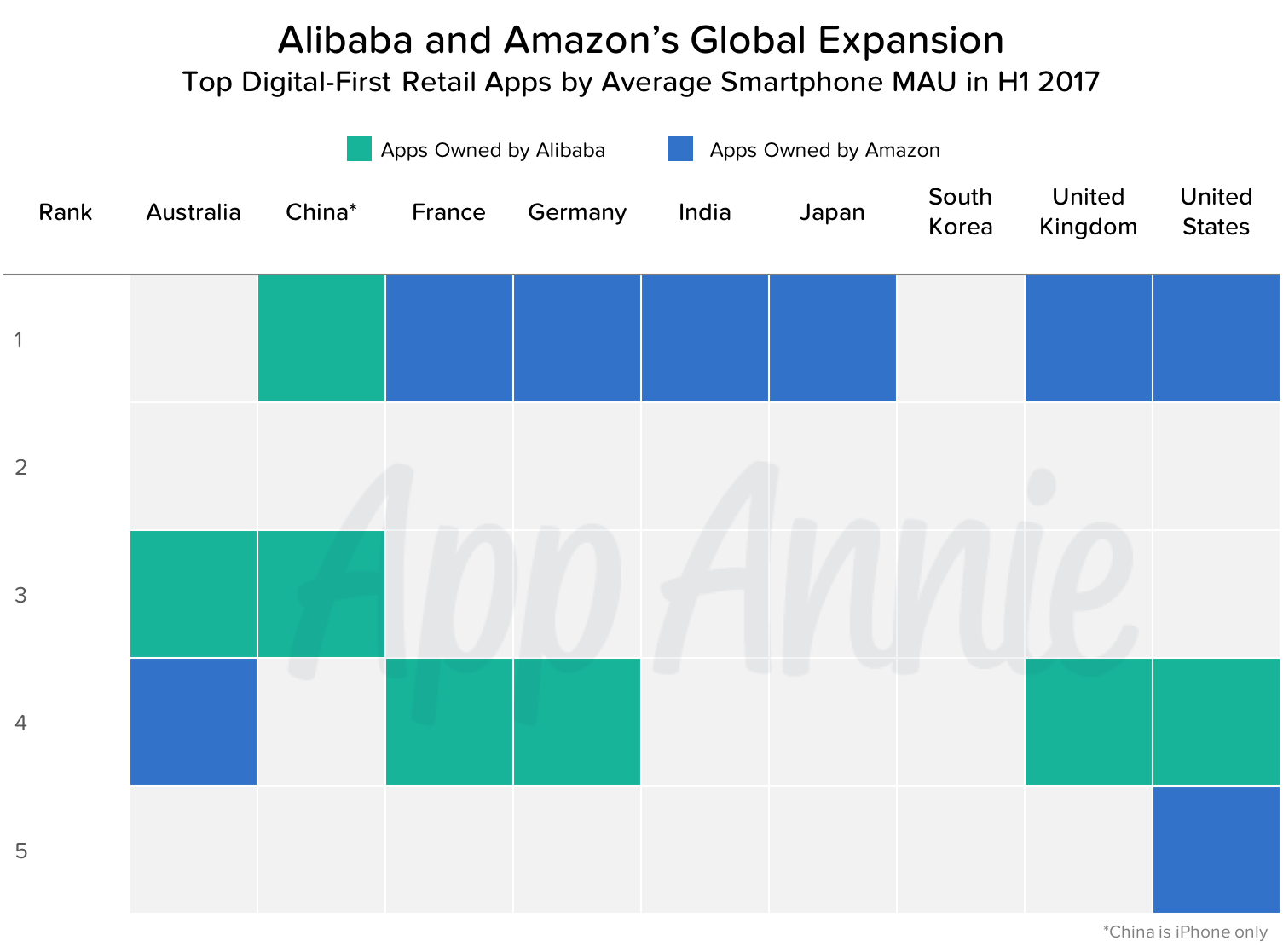 Alibaba and Amazon: Bold, successful moves into new regions
For years now, casual observers have expected Amazon and Alibaba to keep to their respective hemispheres, at least for the most part: Amazon would focus on the US and European markets, and Alibaba, a Chinese company, would focus on Asia. But of course that's not how it has unfolded.
Alibaba's western-facing app, AliExpress, is going gangbusters, to the tune of 80% growth in H1 2017 alone, to top 50 million iOS and GooglePlay downloads worldwide. As of now, AliExpress has a comfortable perch in the Top 5 apps by smartphone MAU in Australia, France, Germany, the UK and the US. Notably, the app gained so much traction in the US in H1 2017 that it now sits above Amazon Prime Now. Given that last year, Black Friday was the first $1 billion mobile shopping day ever in the US, you can bet AliExpress is going for a significant portion of the 2017 Black Friday mobile action.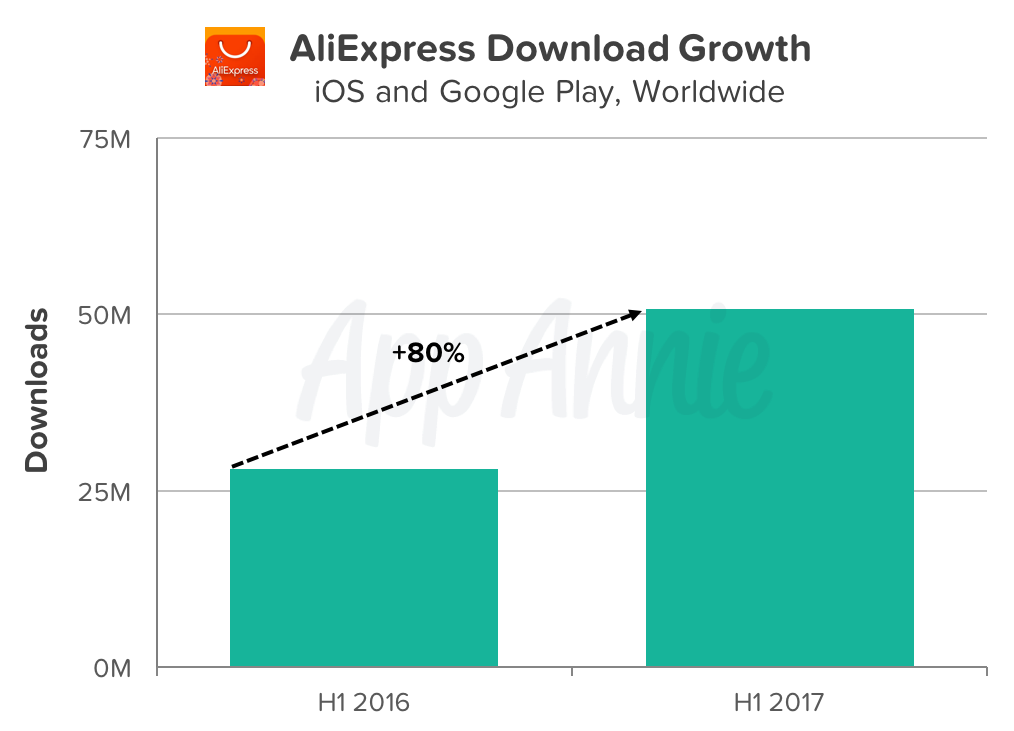 Meanwhile, Amazon wants its merchants (many of whom only sell in the US) to use Amazon to expand into international markets and offers services to make doing so easier, and it's making a huge play in Southeast Asia via Singapore. Prime Day had a record year in the US this year, with US consumers spending nearly 6.5 million hours in the Amazon Android app on Prime Day 2017, an impressive 60% growth in time spent year-over-year. Meanwhile, Prime Day is heating up elsewhere: in the UK, it shattered expectations, growing 70% year-over-year in total time spent in the Amazon Android app on Prime Day; UK consumers spent well over 400,000 hours in the app on that day alone, a 320% lift compared to the average daily time spent in-app 30 days prior.
Similarly, in Japan, with a 65% surge year-over-year in total time spent in the Amazon app on Android on Prime Day. Between Prime Day and the day preceding it, Japanese consumers spent a staggering 2 million hours total in shopping in the app on Android phones.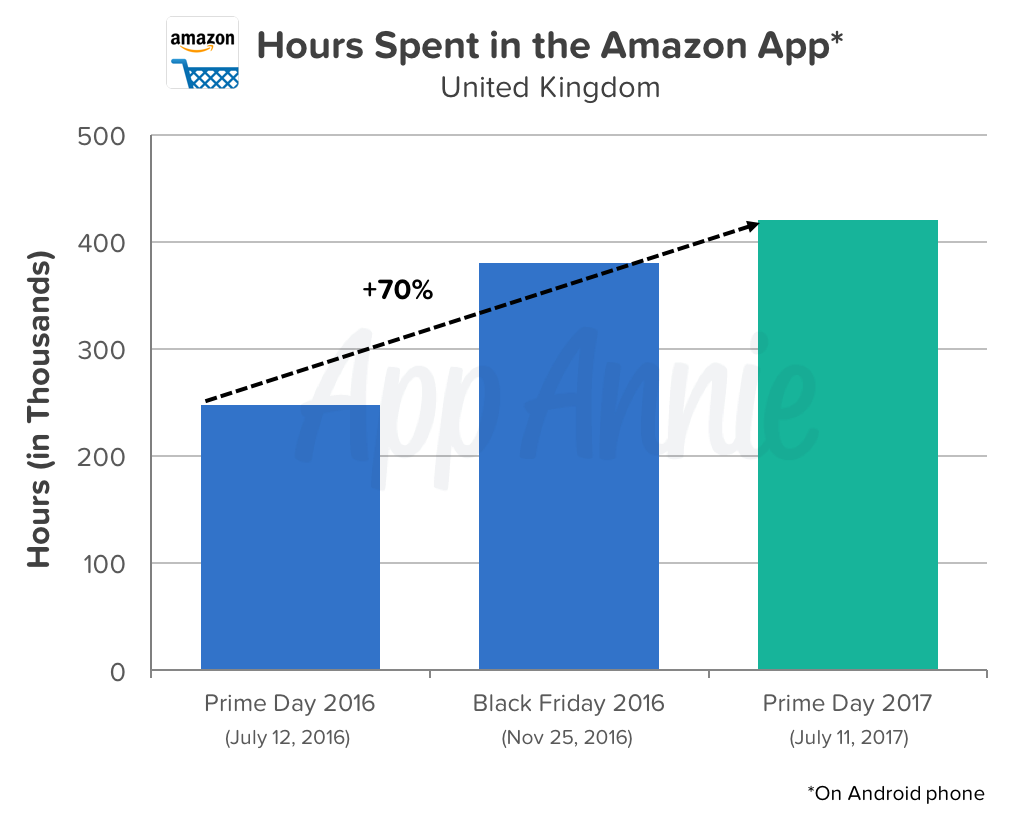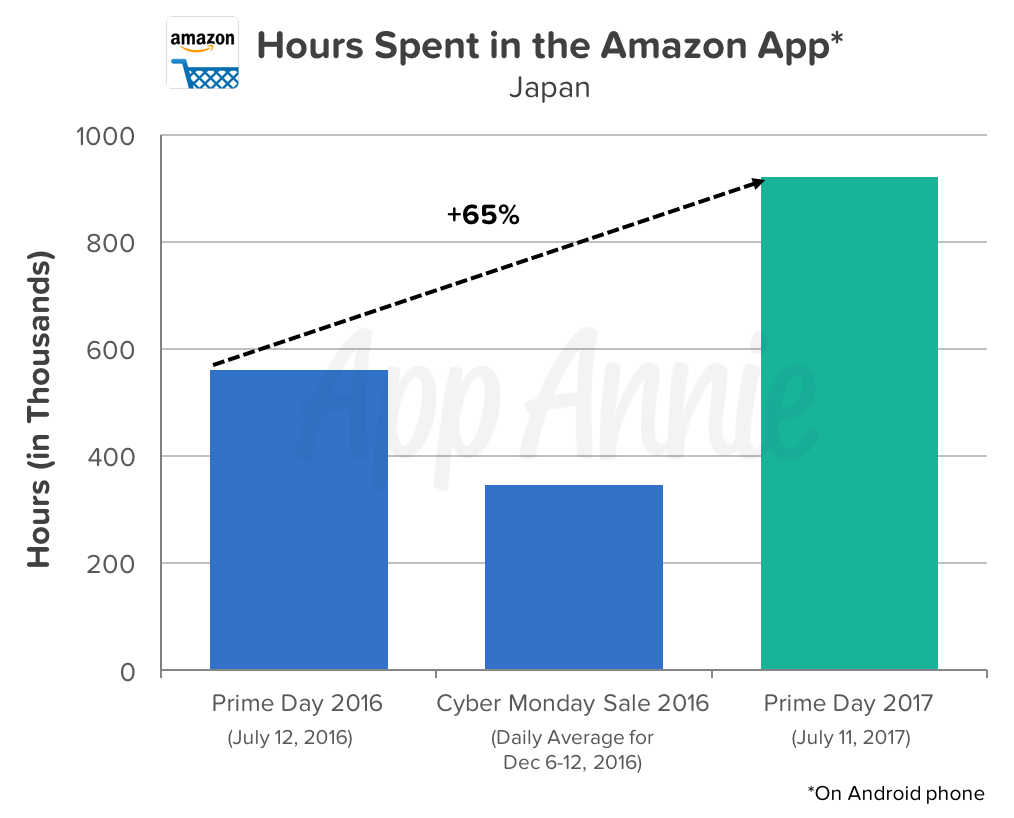 While it is the case regional retailers (particularly brick-and-mortar) face stiff competition from the global leaders in digital-first retail when it comes to mobile, that doesn't mean that they should give up and go home. There is a lot to be learned from them — namely that taking a retail app global can be done, doing so can be incredibly profitable, and, if you're in brick-and-mortar, you can just skip the storefront aspect of your business and focus on digital only when you expand overseas.
But it's not just biggest players who have figured it out
It's easy to say, but that's Amazon and Alibaba — of course they can successfully go global with mobile. Yet there are plenty of other retailers, both bricks-and-mortar and digital-first, who have made it big going international. Consider Wish, a six-year-old digital-only US retailer that stayed under the radar but whose average MAU on Android in the US surged 45% year-over-year from H1 2016 to H1 2017, and whose sessions per user grew 15% in the same time period. Year-over-year, Wish has risen in the ranks in Australia, France, Germany and the UK by time spent; in Australia in H1 2017 it was in fact #1 in terms of digital-first apps by MAU.
It's not just that Wish is pulling out all the stops when it comes to going global with its app, it's that it's showing remarkable creativity about how to get brand recognition in emerging markets. It's by no means random that the company recently made a commitment to spend $12-14 million/year for three years to have its logo on the official LA Laker's jersey. That move likely isn't just about imprinting the brand with US consumers — it's about imprinting it with Chinese consumers. The NBA is huge in China, to the point where Tencent has made it possible for Chinese sports fans to watch NBA games on, you guessed it, mobile.
It's understandable that many retailers feel some trepidation when it comes to taking their company global via their app. Localizing is a major challenge for just about any app publisher. But it's not impossible, and the rewards can be nothing short of transformative. When it comes to preparing your app, it's a matter of doing many of the things you do already, like assessing the market, establishing your target audience, keeping tabs on your competitors, and optimizing your app store presence. Follow these steps and add in some boldness and extra creativity, and you just might be good to go.
Did you enjoy learning about how retail apps are going global? Learn more about trends and best practices to ensure success overseas in Retailers: Why Data Should Drive Your Mobile Strategy, our report on global retail.
Download it by filling out the form below. Customers who log-in will be able to download the report immediately.