Dive into the data to find user behavior you can optimize for and get closer to your business goals.
Average session length. Weekly active users. Number of ads seen. Games played. Money spent. With apps, the data you can measure is as endless as it is essential. When it comes to acquiring new users or driving deeper engagement, however, defining a clear set of metrics and what actions you'll take with them is necessary for success.
We've already looked at the ways competitive intelligence is critical for user acquisition, and those learnings will also help here. Just as important are the the actions you want users to take — and they will look different for every app. We go through the process step by step in our playbook, Mobile App Marketing — Your Guide to the Basics. To get started, here are three questions you'll need to answer.
What User Action Most Impacts Your Business?
The first step is to figure out what user behavior you're trying to encourage, and how that drives your business goals. What user engagement is important to Airbnb, for example, is completely different than what is important to Snapchat. Airbnb measures how many rooms are booked each day, because that's what brings in revenue. It doesn't really matter if one user visits the app multiple times a day, or even if they visit once a week. But for Snapchat, daily visits are vital to its business model. Their goal is to capture attention, which impacts how much revenue they can earn through in-app ads. Snapchat's business relies on keeping users engaged multiple times a day for long sessions.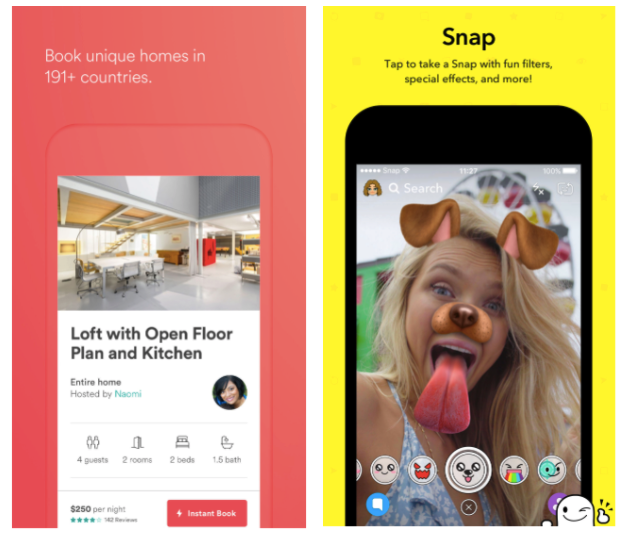 Different apps focus on different metrics: Airbnb measures how many rooms are booked each day while Snapchat tracks daily visits.
In most cases, you'll want to choose just one primary action to measure. However, for a retail app like Starbucks, one of the critical actions is ordering a drink through the app, but another could be finding the nearest location so they can make a purchase in-store.
What Event or Behavior Can You Optimize For?
Defining the action you want users to take or the behavior you want to see will make it easier to optimize for that throughout your campaign. In general, the strongest set of success metrics will be about more than the number of installs. Sophisticated marketers often set goals specific to their app's purpose — and they also examine users based on cohorts.
Cohorts, which are groups of users that share the same trait (such as spend, region, device or referring channel), give you a way to zero in on the user that's most likely to perform a desired action. That way you won't have to spend time or money on a group of users that's unlikely to meet your goal.
Here are a few metrics you may want to use in cohort analysis:
Cost per acquisition (CPA): Measure the cost for a desired action to occur, whether it's user registration, an in-app purchase, newsletter signup or something else.
Customer acquisition cost (CAC): All marketing costs divided by the total number of users required over a defined period.
Average revenue per user (ARPU): Total revenue generated since app launch divided by total users.
Lifetime value (LTV): Total value each user brings in from the moment of install until inactive.
This is just a sample of the different metrics you could examine, and you'll find other good examples in our playbook. You'll likely need to monitor multiple metrics before finding the ones that best match your business goals.
Another way to optimize for a certain behavior is with incentives. If your critical event is a food delivery, for example, you could offer free delivery or instant savings for first-time users.
This is a tried-and-true method — app publishers frequently offer a significant discount or trial period to spur usage. Of course, it may take experimentation to land on an offer or discount that drives behavior but doesn't sap revenue.
For best results, the event or behavior you want to optimize should be the focus of your messaging at every point in your campaign. Consistency will improve the chances that users will remember, and use, your app.
Did You Test — and Retest — That Metric Yet?
Success looks different for every app, and it also could look different than your original hypothesis. That's why asking questions about your users and what they want out of your app, and testing your assumptions, can push you to find success in new (and potentially more profitable) ways.
When it comes to marketing to prospective users, you'll need a clear idea of the behavior you're trying to encourage — and that will only come after you monitor your users and make changes to better serve their needs.
Ready to start building out your app marketing strategy? Download our playbook, Mobile App Marketing: Your Guide to the Basics, to discover best practices you can apply to your program.