We surveyed over 800 app marketers to get an on-the-ground look at where the app economy is, and where it's headed
There's lots of room for optimism these days in the mobile app industry. Signs of growth are all around us, and App Annie forecasts that the global app economy will reach an astounding $6.3 trillion by 2021. Network infrastructure is continuously improving, device prices are coming down and businesses from virtually every industry keep pushing the envelope with app features that engage and delight users. It makes sense then that companies are steadily devoting more money and attention into their mobile apps.
But one of the best indicators of the app economy's health comes from the very people who live and breathe it every day, namely app marketers. To that end, we surveyed more than 800 app marketers, ranging from product managers to executives, across more than a dozen industries from around the globe.
The result is the App Economy Survey: App Marketers on the Trends and Metrics that Matter, and here are a few key takeaways when it comes to the future of mobile.
App marketing budgets are expected to grow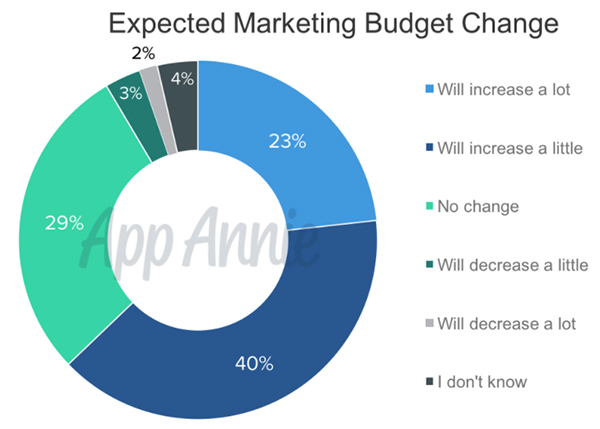 The majority of marketers we surveyed expected their companies' app marketing budgets to increase. While 63% anticipated an increase in general, 23% expected budgets to increase "by a lot." In comparison, only 5% of those we surveyed thought that a decrease in their app marketing budgets was on the horizon.
This level of optimism was apparent across categories, with publishers of video, shopping and retail, and communication and messaging apps registering the most confidence: within these categories, over 70% of respondents expected their budgets to increase.
Active users highlighted as the single most important benchmark
When we asked which mobile KPIs or benchmarks were considered the most important for optimizing a company's app marketing strategy, active users was the clear favorite, with nearly a third of respondents selecting it. That said, there was variation among respondents, which was partly driven by differences between types of companies. For example, in Gaming, user retention and lifetime value (LTV) was selected more than active users.
Organic search declared best driver of quality installs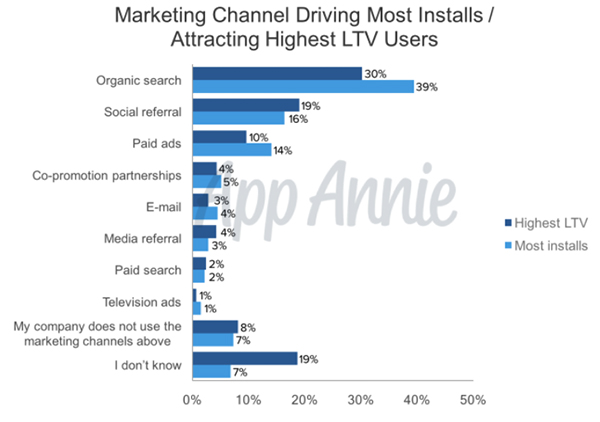 Compared with other marketing channels such as paid ads and email, organic search was the favorite among those surveyed, and not just for driving the most app installs but also for attracting users with the highest LTV. This finding highlights the importance of strategic app store optimization (ASO), the process of making an app more discoverable and enticing in the app stores.
This is just part of what we learned from the app marketers that we surveyed. We also got their feedback on marketing goals, user engagement and retention. Read the complete survey for more on what app marketers think are the most important trends and metrics.
To download the full report fill out the form below. Customers who log-in will be able to download the report immediately below.