Apps offer a highly targeted channel for businesses to build customer loyalty
No matter what business you're in, it's far more profitable to keep existing customers than to continually acquire new ones. The ideal customer not only buys from you repeatedly, but also refers their friends and family, organically and powerfully extending your brand's reach.
As more and more of these customers make use of their smartphones (the most active users in top countries spend as much as 3-5 hours per day in apps), the question increasingly becomes, How does mobile affect customer loyalty? As it turns out, mobile can be a powerful driver of customer loyalty, particularly if you're talking about mobile apps.
We recently published a report covering just some of the differences between mobile apps and mobile websites. Noting of course that there is a time and place for both mobile web and mobile apps — and that the two approaches in fact complement each other — here are a few things to keep in mind about the relationship between mobile apps specifically and customer loyalty.
An app is a highly targeted channel that offers ongoing opportunity for marketing optimization
Especially considering the unique opportunity apps offer to create compelling experiences using hardware like the camera and GPS, any app effectively operates as a custom channel, makes it particularly valuable for marketers. For example, with a mobile app, you can send push notifications that contain images and videos that are tailored to user behavior; triggered push notifications in particular deliver remarkably high ROI. When users see that a business is going the extra mile to respond to them personally, it can make all the difference in terms of their loyalty. Then, armed with data on what works, you can continually optimize to make your targeting and messages more and more effective.
App usage data reflects that loyalty
When you compare the amount of time smartphone users spend in apps with the time they spent on the mobile web, the differences are stark: our analysis indicates that smartphone users spend 7x more time in native apps than in browsers. Drilling down into that a little bit more, global figures for H1 2017 show that on Android, 88% of the time users spend on their smartphones is in apps, and 93% of sessions is spent in apps. Consumers are now primed to go to apps, not a browser, when they turn to their smartphones, and as any marketer knows, you have to meet your prospective audience where they are and give them what they want in order to gain their attention. It's clear that consumers are loyal to apps in general. Your job is to make them loyal to your app (and your brand) specifically.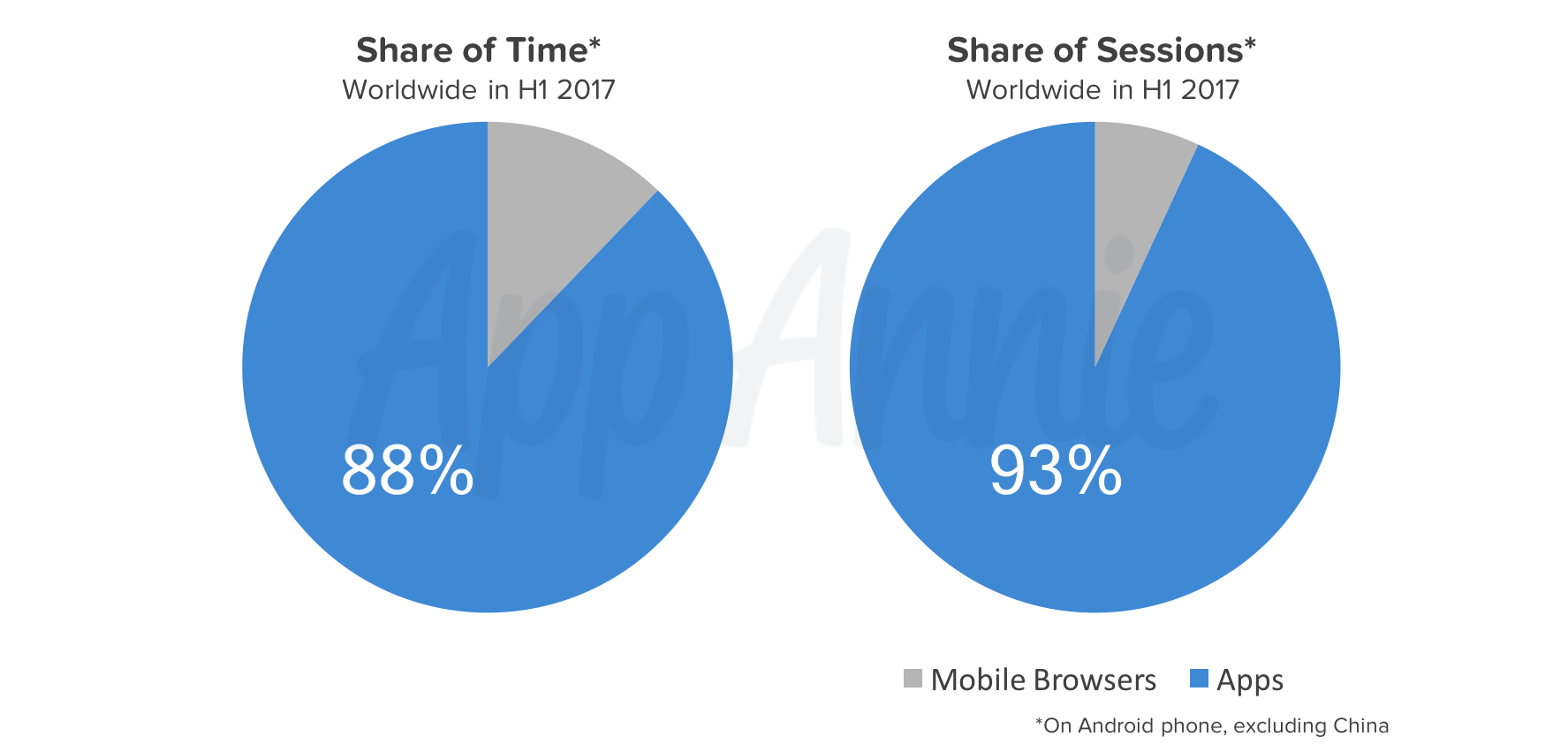 Consumers show their loyalty by converting in apps
So we've established that users spend dramatically more time in apps than they do on the mobile web, and that most of their sessions on smartphones are in-app. We also know that they're spending significant amounts of time in apps: many of us use them for over two hours each day, and the top 20% of users spend more than four hours per day in apps. But what's especially interesting is that sometimes when customers move from web to an app, they can spend more frequently, as was the case with the food delivery app Just Eat. And in the case of retail, well-designed apps can drive foot traffic to brick & mortar locations, as MUJI Passport, a Japanese retail app does, where often consumers spend more than they would online.
Today apps are of paramount importance in gaining customer loyalty. Consumers spend the majority of their time on their smartphones in apps, and they expect brands they purchase from to have at least one app. Every time a business reaches out to a customer with a well-timed, relevant message, it increases the chances of gaining that customer's loyalty. These days, one of the best ways to do that is via an app that has a well-defined audience, speaks to that audience in a tailored fashion, delivers a stylish user experience that makes purchases easy, and continually optimizes its marketing based on data.
To download the full report, Why Your Mobile Strategy Needs an App, fill out the form below. Customers who log-in will be able to access the report immediately and won't see any form.