Building a QSR app? Prioritize these features to create a compelling experience that drives revenue.
Apps in the foodservice space have experienced tremendous growth over the past two years, with quick-service restaurants (QSR) leading the charge. We took a look at seven core features that enable QSR apps to deliver a best-in-class experience at every touchpoint along the customer journey:
First Use/Onboarding:
You never get a second chance to make a first impression. QSRs should make a user's initial experience with their app simple and inviting (especially when it comes to the registration process) while reinforcing the value that the app will provide. Best-in-class apps have a streamlined registration process and provide tutorials that showcase key features of the app.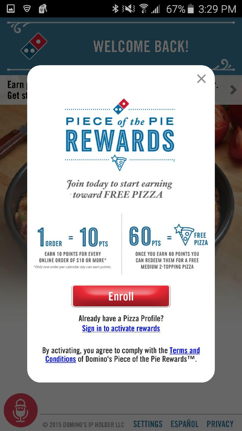 To help new users, Domino's Pizza clearly communicates loyalty and reward benefits delivered by the app, and issues a clear call to action to enroll.
Navigation:
All interactions with an app should be intuitive, efficient and optimized for mobile devices. Having a fluid navigation interface to discover any information and key features of the app that a user may need is critical. Apps should take care to highlight each important action first, with the opportunity to explore other aspects second. To help users acclimate to your app, consider adopting common app conventions that your user engages with on other apps, like swiping. You might also consider leveraging hardware features of popular devices. Taco Bell, for instance, uses the accelerometer for a feature that allows users to tilt their phones to re-order past purchases.

Menu:
Buying food and beverages is the key reason that users are engaging with restaurants This is what your restaurant app needs to nail. Less is not more here — include the full range of products, while highlighting new and / or seasonal items, as well as combo meals. Organize the menu logically, like by meals in the day or by food group (e.g., sandwiches, sides, etc.). Provide expandable descriptions with high-resolution imagery so a user can familiarize themselves with the menu item they're considering.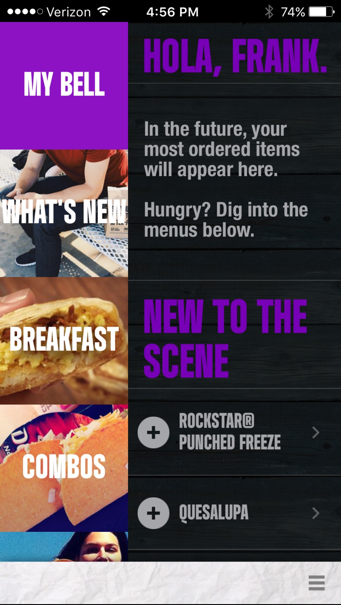 Taco Bell showcases new menu offerings as well as combos, varying food and lifestyle imagery to grab user attention.
Product Display:
Harness interesting visuals and vivid and inventive descriptions to persuade users to purchase, either via mobile ordering or later, in store. Within your product descriptions, associate main items with regularly ordered sides and beverages to facilitate upsell and increase check size. Invest in high-resolution food photography to best position menu items — unappealing images and bland descriptions can kill your user's appetite and steer them away from ordering.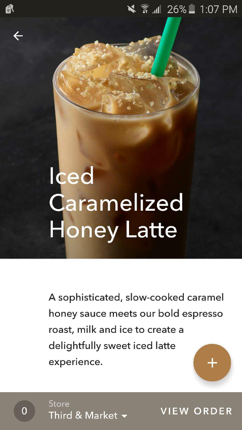 Starbucks includes a high-resolution photos along with appealing descriptions of their beverages.
Loyalty:
Apps can provide an effective way for restaurants to initiate, maintain and strengthen their loyalty programs by keeping users actively engaged. These programs can help with user retention and increase purchases both in-app and in person. Offer relevant incentives and special offers based on seasonality and user behavior — using push messaging to pique user interest. If you're going to incorporate loyalty programs into your QSR app, be sure to reward customers for all purchases. It should be easy for them to accrue and redeem awards which, in turn, creates additional incentive for them to stay engaged with your app.
Mobile Payment:
Streamline the purchase process for both mobile ordering and in-store transactions by providing users with multiple payment options, including Apple Pay and Google Wallet. Making the payment process easier to setup and allowing users to choose their preferred form of payment should make them feel secure in transacting online, and reduce the friction of on-the-go ordering.
Mobile Ordering:
Mobile ordering should be efficient, simple and convenient. Streamline the ordering process, facilitate upsell, promote the option to order a complete meal (versus a-la-carte) and allow users to customize their selections. If a user feels the process takes too long, is too clunky, or confusing then the value of a being able order to order via mobile is essentially voided.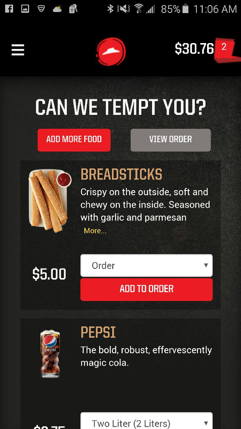 After your order has been selected, Pizza Hut prompts users to add additional items before purchasing.
QSR apps should optimize how each function and feature of the app is accessed and interacted with on the customer side. Making the customer's interaction simple, fun, and efficient will earn brand loyalty and gain returning customers. Take a look at the growth opportunity for QSR apps in our latest report, State of QSR Apps in the US, and see the top brands creating compelling mobile experiences for consumers.
To get the full report, click the download button below:
Looking for More?