From entertainment to retail and beyond, consumers will increasingly demand the convenience that apps offer
As we noted in a recent post covering predictions for the app economy in 2018, worldwide consumer spend in the app stores will grow approximately 30% year over year to blow well past the $100 billion milestone to exceed $110 billion (iOS App Store, Google Play and third-party Android stores combined).
But while the spend app stores is certainly enormous and will continue to generate headlines, many of the most interesting advancements to watch will come as the broader app economy matures and companies of all types increasingly deliver value to their customers through apps. Apps currently play a key role in almost every industry today - including retail, banking, travel, quick service restaurants (QSR), consumer packaged goods (CPG) and media and entertainment - and we expect that role to only deepen as consumers increasingly demand the convenience that apps provide.
Let's dive deeper into those predictions, each of which touch on convenience for the user:
App store curation and editorial content will boost revenues
This past year, Apple completely redesigned the iOS App Store and Google enhanced the Google Play Store. This marks a new emphasis on editorial content and curation that will go a long way towards surfacing lesser-known apps, including those by indie developers, that might otherwise be more difficult for users to discover. After all, by the end of October 2017, the iOS App Store and Google play had more than 2 million and more than 3.5 million apps available, respectively, which presents a real challenge for a user searching for the app that will best meet their needs.
Ultimately, this new approach will most benefit "leisure time" apps because when people are exploring an app store, they often have down time and are looking for something to do. Since these types of apps often monetize via in-app purchases (IAP), we project that app store curation and editorial content will fuel an increase in IAP revenue.
Video streaming will continue on a tear, but with a flip side
We've seen an incredible surge in just the past year in worldwide consumer spend generated by video streaming apps on both iOS and Google Play. Not only are established entertainment players (Netflix and Disney) making moves to expand their reach, but tech giants (think Apple, Google, Facebook and Snap) are also making forays into original video content. However, a banquet of choices for users will mean that the video streaming space will become more competitive, more complex and more diverse. We're already seeing the effects of this among iPhone video streaming users in the US: The share that had four or more of the top video streaming apps installed on their phones surged from 25% to over 30% from late 2016 to late 2017.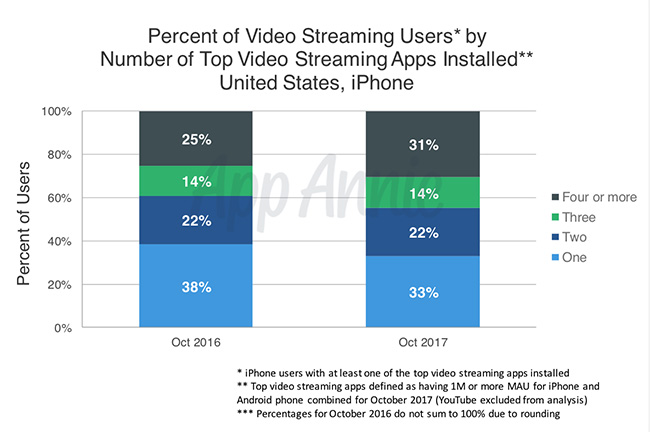 While it will not happen as soon as 2018, we predict that the video streaming space will become increasingly fragmented, and the inconvenience this will be for consumers will ultimately result in consolidation.
Mobile will become increasingly central to the retail experience
2017 was a great year for mobile retail: Cyber Monday was the first $2 billion mobile shopping day ever in the US (doubling Black Friday 2016 figures) and in China, during Alibaba's record-breaking Singles Day, mobile users accounted for 90% of its $25.3 billion in sales. Meanwhile, users are spending an impressive amount of time per month in Shopping apps, as in South Korea, where Android phone users spend close to an hour and a half per month in Shopping apps, and in the UK and the US, where the figure is nearly an hour.
So what's coming in 2018? We expect that the lines between bricks-and-clicks and digital will become less pronounced, for example following the lead of China, where increasingly users purchase items on mobile and then pick them up in physical stores (users can already do this with certain items with Target in the US).
Beyond 2018, we expect that a new retail paradigm will emerge as innovations from retailers, combined with increasing expectations from shoppers, raise the bar even higher. In the end, for many consumers, mobile will serve as the core habit with respect to shopping, no matter the channel.
For even more insight into what's in store for 2018, read our entire Predictions report now.