Ad revenue and time spent prove YouTube's continued domination in mobile streaming
What's Happening: 
For the first time, Alphabet released ad revenue for YouTube, over a decade after Google acquired the company in 2006. The number was a whopping $15 billion in 2019 — accounting for nearly 10% of Google's overall $161 billion revenue. While a staggering number, it's not a real surprise; as short-form content like this has long captivated users' attention. Among the top 5 video streaming apps in 2019, 7 out of every 10 minutes were spent on YouTube worldwide on Android phones. Time spent in YouTube is particularly impressive given it does not include time spent in China, as YouTube is not active in the market, and the remaining 4 of the top 5 apps were predominantly fueled by time spent in China. 
Why It Matters: 
With YouTube dominating 70% of time spent in the top 5 streaming apps, the platform proves that it is still holding its weight among the acceleration of new video streaming platforms — particularly as it was an early pioneer in the market.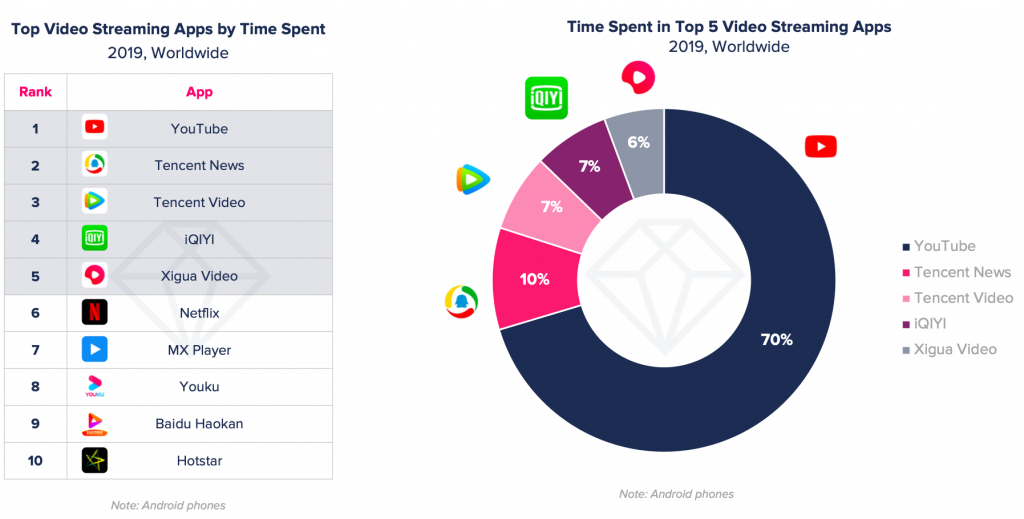 Additionally, YouTube has a hybrid offering of long and short form content, as opposed to a service like TikTok (one-minute maximum) or Netflix (30 to 60-minute episodes and 60+ minute movies). This wider breadth of content helps better suit consumers' viewing habits: there's something for you regardless of how much time and attention you have available. Leveraging advertising allows YouTube to keep its content free and available to all types of users and offer paid tiers to remove ads for users willing to pay. 
Go Deeper:
YouTube offers a plethora of free content across a wide range of topics, cooking how-to's, official music videos, and music tutorials to name a few — spanning both user-generated content and videos from traditional media companies and giving them a unique value proposition in the midst of a competitive video streaming landscape. As the streaming wars continue throughout 2020 with the launch of NBC's Peacock and HBO MAX and consumers continue to migrate more of their lives to mobile, our smartphones are set to be battleground for consumer mindshare and ad dollars. In 2020, advertisers are set to spend $240 billion on mobile ads, an increase of 26% year over year, and given its stronghold on consumer attention, YouTube is primed to be a top choice for mobile ad spend. 
To uncover more video streaming insights, download our annual industry-leading 2020 State of Mobile Report:
This post is the latest in a Mobile Minute series that features App Annie's perspective on how mobile is impacting current events and consumer trends. Check in weekly for our take on the latest news cycles and how mobile transformation is shaping industries around the world.