Consumer spend through the app stores grew 20% year over year to a record $23 billion in Q3 2019.
What's Happening: 
The annual Web Summit kicks off in Lisbon, Portugal on November 4th, 2019, with over 1,200 speakers focusing on the future of the global tech industry. App Annie's CEO, Ted Krantz, will be speaking on mobile market maturity, how companies convert free users to paid subscribers and measuring your return on investment in mobile marketing. Mobile is central to our lives as consumers and should be at the heart of every business's customer, product and marketing strategy. In his speaking sessions, Ted will address critical monetization and marketing questions for companies looking to succeed on mobile. 
Why It Matters: 
Businesses on mobile can largely monetize their app in three ways, through: 
The app stores

as paid downloads, in-app purchases or in-app subscriptions

In-app advertising

where ads are displayed in the app or game
Looking specifically at monetizing through the app stores, in Q3 2019 alone, consumers spent a record $23 billion across iOS and Google Play app stores. Mobile games represented 70% of that spend, largely through freemium games: games that are free to download but contain in-app purchases. For non-gaming apps, while freemium was also the dominant monetization model, in-app subscriptions were the driver of growth. We took a look at the distribution of monetization models among free, freemium, paid and paidmium for active apps on the iOS App Store and Google Play in August 2019.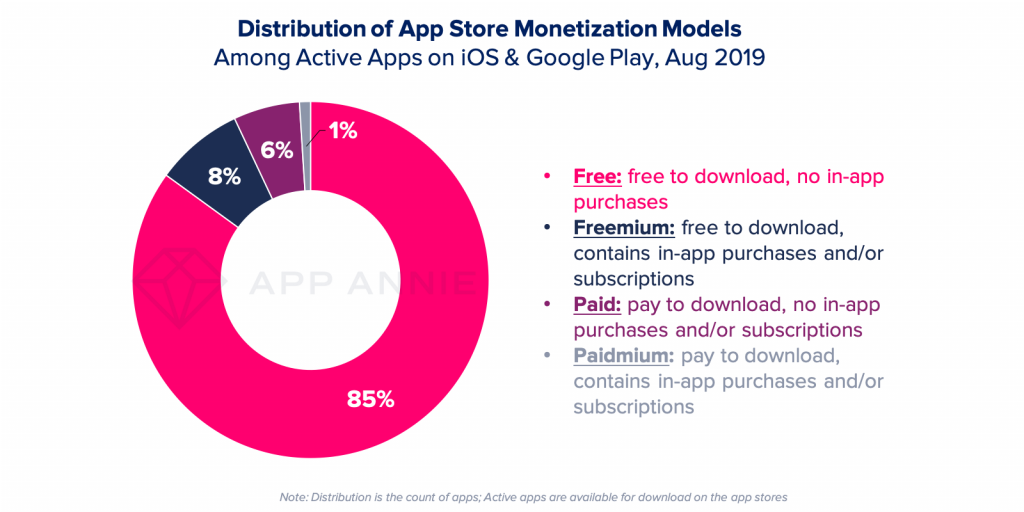 85% of apps available to download worldwide across iOS and Google Play in August 2019 were free with no further in-app purchases or subscriptions. It is likely that many of these apps instead monetize through m-commerce or in-app advertising. During this time, 8% of all active apps were freemium (free to download with in-app purchases and/or subscriptions), 6% were paid (pay to download and no in-app purchases or subscriptions) and 1% were paidmium (pay to download and contained in-app purchases and/or subscriptions. 
Go Deeper:
Regardless of monetization model — whether through the app stores, in-app advertising or m-commerce — virtually every business can benefit from mobile marketing and advertising. With the average user spending nearly 3 hours per day on mobile, it is clear mobile is where the eyes are. Savvy marketers should take note, and we are here to help. Our ASO, Mobile Marketing and Mobile Strategy Playbooks can give you the guidance and tools you need to succeed on mobile, or to meet with App Annie in person on how to improve your mobile strategy, schedule an appointment at Web Summit during November 4 - 7, 2019:
This post is the latest in a Mobile Minute series that features App Annie's perspective on how mobile is impacting current events and consumer trends. Check in weekly for our take on the latest news cycles and how mobile transformation is shaping industries around the world.