Streaming app usage increased 15% year over year in Q3 2020 in the US.
What's Happening: 
With COVID-19 showing no sign of slowing down, consumers stuck at home continue to turn to video streaming apps to stay entertained and pass the time. While March saw a 30% increase in global time spent in video streaming apps compared to January 2020, colder weather and fall premiers have prompted usage, seeing a 15% increase in time spent year over year in Q3 2020.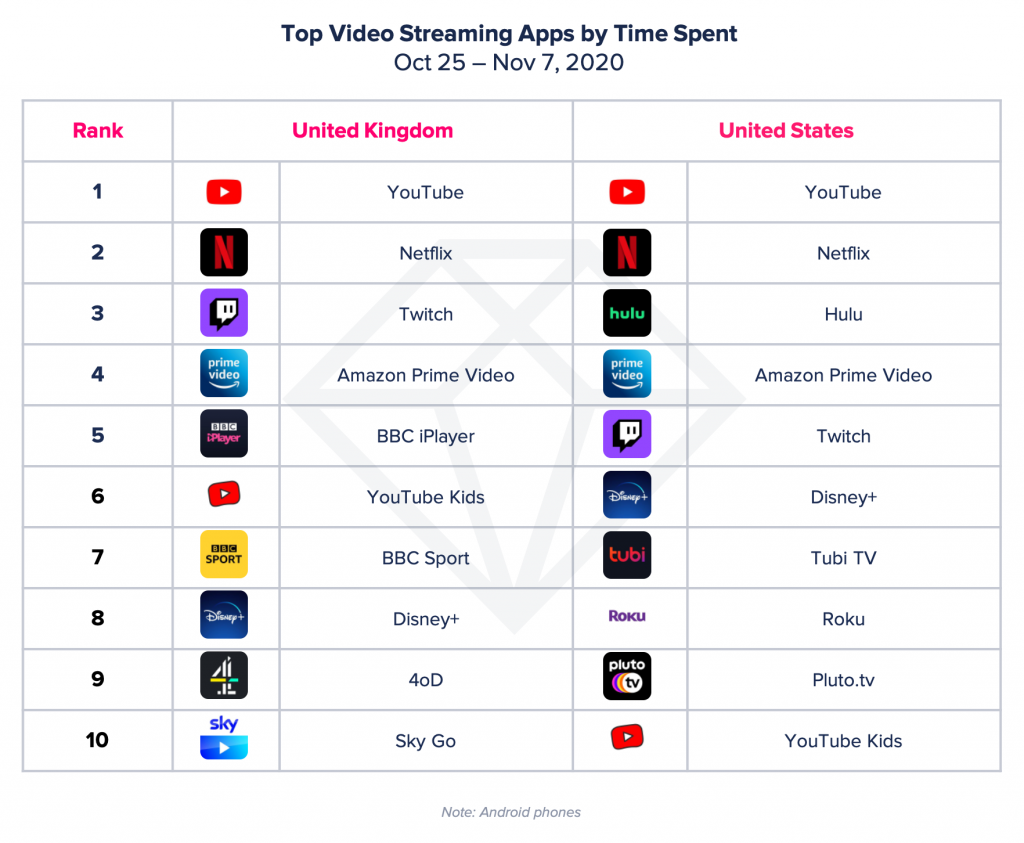 Why It Matters: 
This fall we've seen dozens of new and returning shows and movies to keep consumers entertained while social distancing in lockdown. With more time on their hands, premieres such as The Bachelorette and Grey's Anatomy on ABC, Schitt's Creek and The Crown on Netflix, and Saved by the Bell on Peacock TV have helped drive significant year-over-year growth in the category. Year over year usage of video streaming apps has increased in aggregate and we also expect to see consumers continuing to download new video streaming apps as they expand their streaming repertoire amidst a fragmented streaming market. In 2021, we expect the average number of video streaming apps installed to approach 10 in the US.
We also see popular shows and the cultural zeitgeist they influence, drive interest in other apps. The popularity of The Queen's Gambit, released on Oct 23, 2020 on Netflix has driven demand for Chess apps. Chess by Chess.com has shot up the iPhone downloads charts, ranking #2 and #3 among Strategy Games in the UK and US, respectively on Nov 16, 2020. Among all Games on Nov 16, 2020, Chess ranked #36 in the UK, up 162 ranks, and #62 in the US, up 256 ranks from the day before the series' release.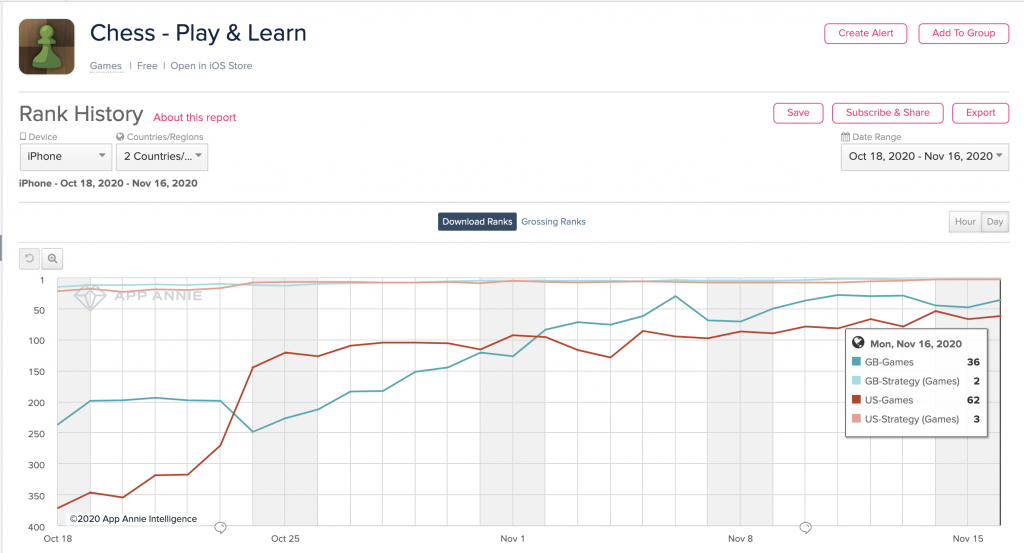 Over the course of 30 days, Chess rose 310 ranks by daily iPhone downloads in the US due to demand for Chess mobile games, spurred by the release and popularity of The Queen's Gambit on Netflix. To follow the latest changes in consumer demand, sign up for a free App Annie account.
Downloads of Disney+ in the US jumped 55% the weekend of October 30th amidst the release of Season 2 of The Mandalorian. Halloween also contributed to this spike, as Americans likely turned to familiar classics, such as "Hocus Pocus." Similarly, Prime Video also saw a huge surge in downloads in October with the launch of "Borat Subsequent Moviefilm." The app saw 845,000 downloads worldwide on October 25th — the most downloads we've seen for the app in a single day — and 2.2 million from October 22nd to October 25th.
As sports agencies continue to adhere to social distancing standards, mobile apps are also putting viewing and engagement at fans' fingertips. The NFL season has prompted month-over-month growth of 95% in time spent in the NFL Sunday Ticket app in October. Additionally, as the English Premier League continued to air games on NBC Sports and the UEFA Champions League on CBS Sports, we saw a quarter-over-quarter growth in average monthly active user base in Q3 2020 of 90% and 20% respectively for each app. 
Go Deeper:
As the variety of streaming service options grows, along with consumers' appetite in using mobile for entertainment, growth in sessions in Entertainment apps continues to rise. We expect to see more consumers turn to mobile for entertainment than ever before. In fact, video streaming on mobile is poised to have its biggest year yet in 2021, topping 1 trillion hours on Android phones alone.
For more on how to navigate the new normal, join us for a live webinar on Dec 9, 2020 featuring a wrap up of the year and how to prepare your business for mobile success in 2021.
Looking to make more of the mobile opportunity? Talk to an expert today.
This post is the latest in a Mobile Minute series that features App Annie's perspective on how mobile is impacting current events and consumer trends. Check in weekly for our take on the latest news cycles and how mobile transformation is shaping industries around the world.
DISCLAIMER
App Annie is a mobile market estimate service provider. App Annie is not registered in any investment advisory capacity in any jurisdiction globally, and does not offer any legal, financial, investment or business advice. Nothing contained in this communication, or in any App Annie products, services or other offerings, should be construed as an offer, recommendation, or solicitation to buy or sell any security or investment, or to make any investment decisions. Any reference to past or potential performance is not, and should not, be construed as a recommendation or as a guarantee of any specific outcome. You should always consult your own professional legal, financial, investment and business advisors.