Popular travel and navigation apps make a comeback amid consumer excitement for summer travel.
What's Happening: 
Memorial Day weekend set the precedent for a bounceback in the travel industry. TSA reported 7.1 million people were screened at U.S. airport checkpoints from May 27 through May 30, and May 28 was the highest single travel day since March 2020. Further, a recent YouGov-Morning Brew survey found that half of Americans plan to take 1-2 trips this summer, 60% saying that their summer travel plans align with pre-pandemic levels. With an uptick in vaccinations, the travel industry is making a comeback — but not just for airlines. We're already seeing an indication of a recovering travel market with total time spent in travel apps up 86% year over year in April 2021 worldwide. However, we still have room for growth as we haven't quite rebounded to April 2019 levels.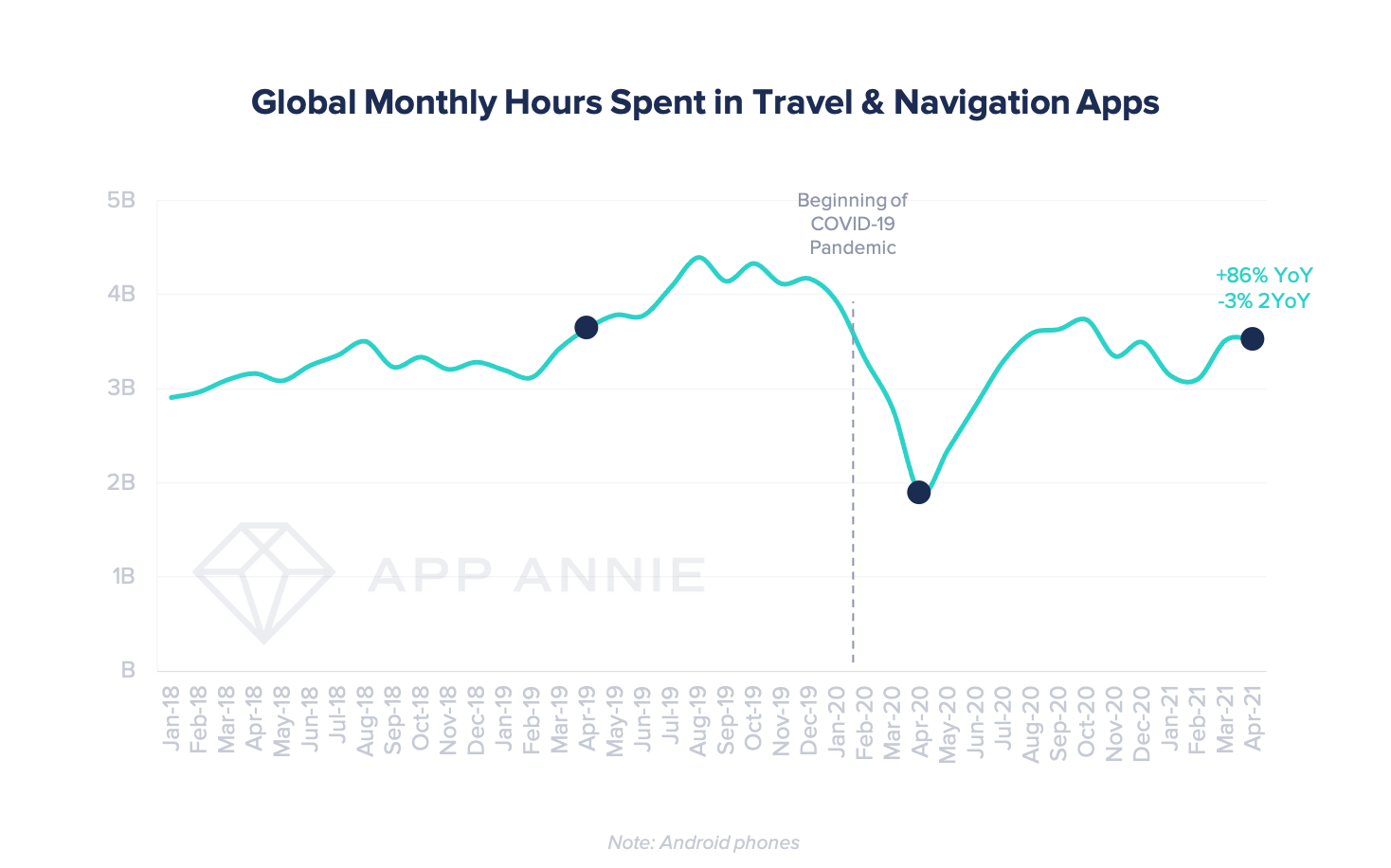 Why It Matters:
As consumers begin testing the waters with local trips and destinations within driving distance, Google Maps was the most downloaded travel and navigation app in Q1. Uber was the second most downloaded app and #4 travel and navigation app worldwide time spent on Android phones.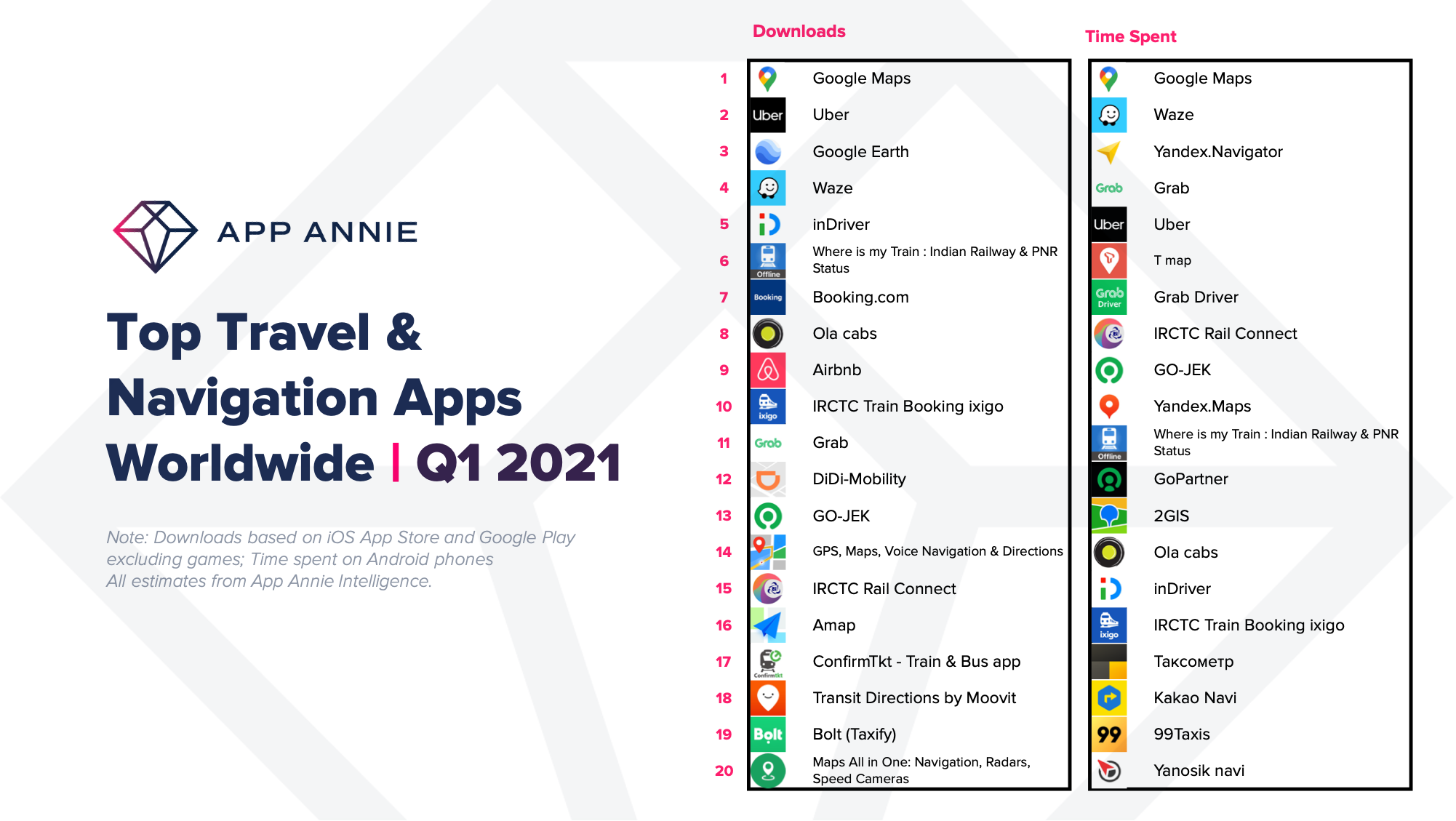 Travel planning also made a comeback in Q1. Booking.com ranked #7 worldwide for downloads among the travel and navigation category. Additionally, Airbnb ranked #9 for worldwide downloads. 
In certain countries, like the US, where travel restrictions loosened quickly as vaccinations rose, apps like American Airlines, Fly Delta and Southwest Airlines ranked in the top 20 for downloads among the travel and navigation category.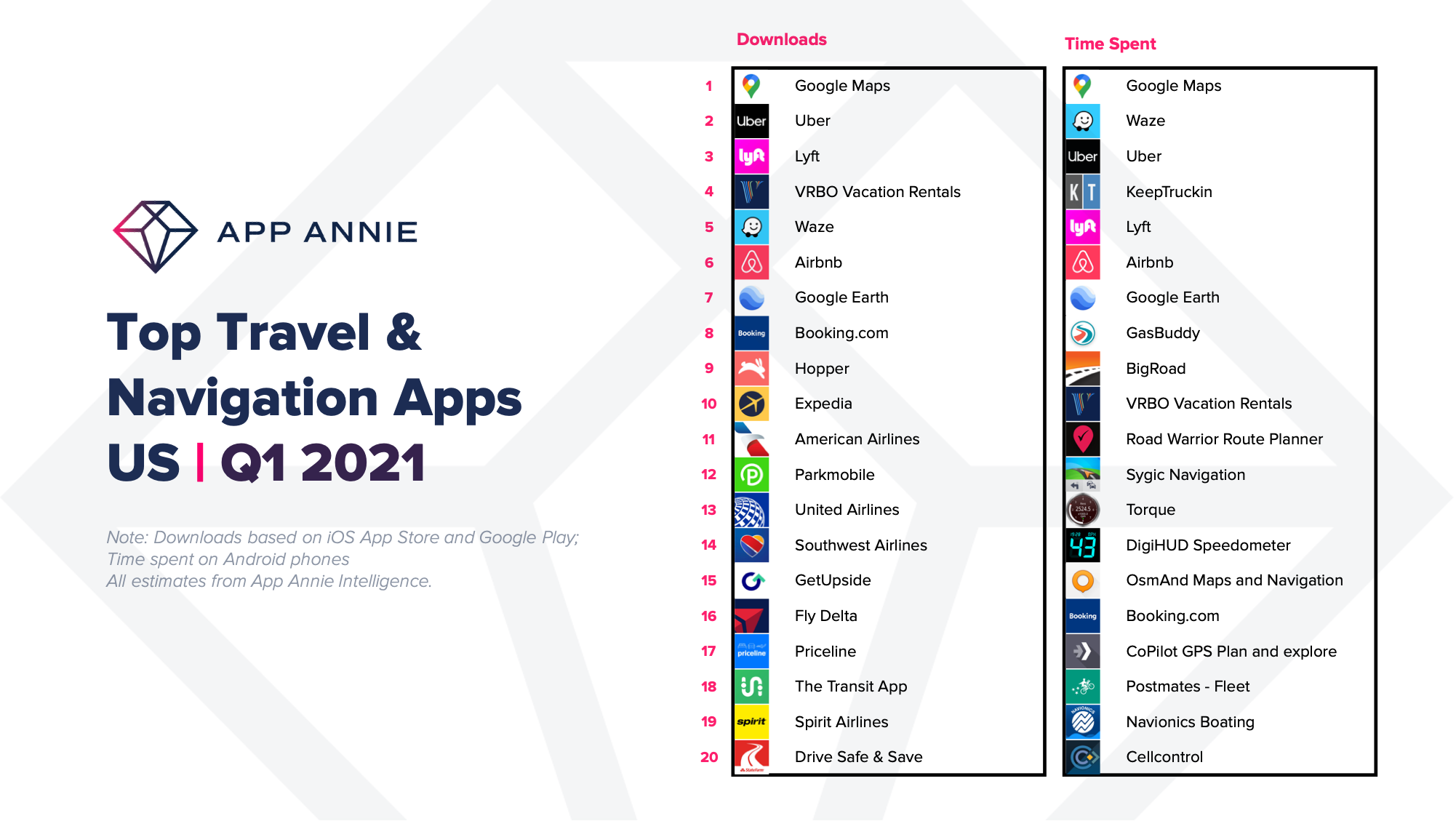 Vaccinations made the resurgence of travel possible and our data shows the direct correlation between vaccine appointments and making summer travel plans. In fact, users of popular vaccine scheduling apps and mobile websites like VaccineFinder and ZocDoc were more likely than the average user to use popular travel and booking sites.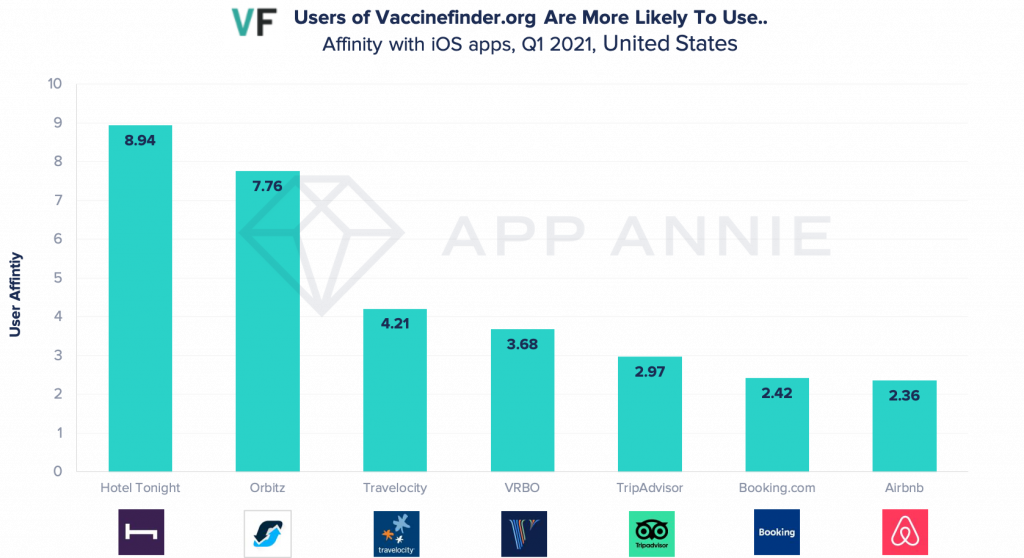 VaccineFinder.org saw nearly 4 million active users in March 2021 on its mobile website. Users of VaccineFinder.org were 9x more likely to use Hotel Tonight than the general population, on average during Q1 2021 on iOS devices in the US. High affinity with other apps like Orbitz and Travelocity are further indications that users seeking vaccine scheduling apps may be more likely to use travel apps. Travel & Navigation apps like Uber and Lyft are offering free rides to vaccination sites in many locations. In the UK, the government has partnered with dating apps to offer perks to users who get a vaccine.
Other vaccine scheduling apps like Healthy Together and ArmorVax, an app available to residents of Ohio, saw spikes in US downloads during key events.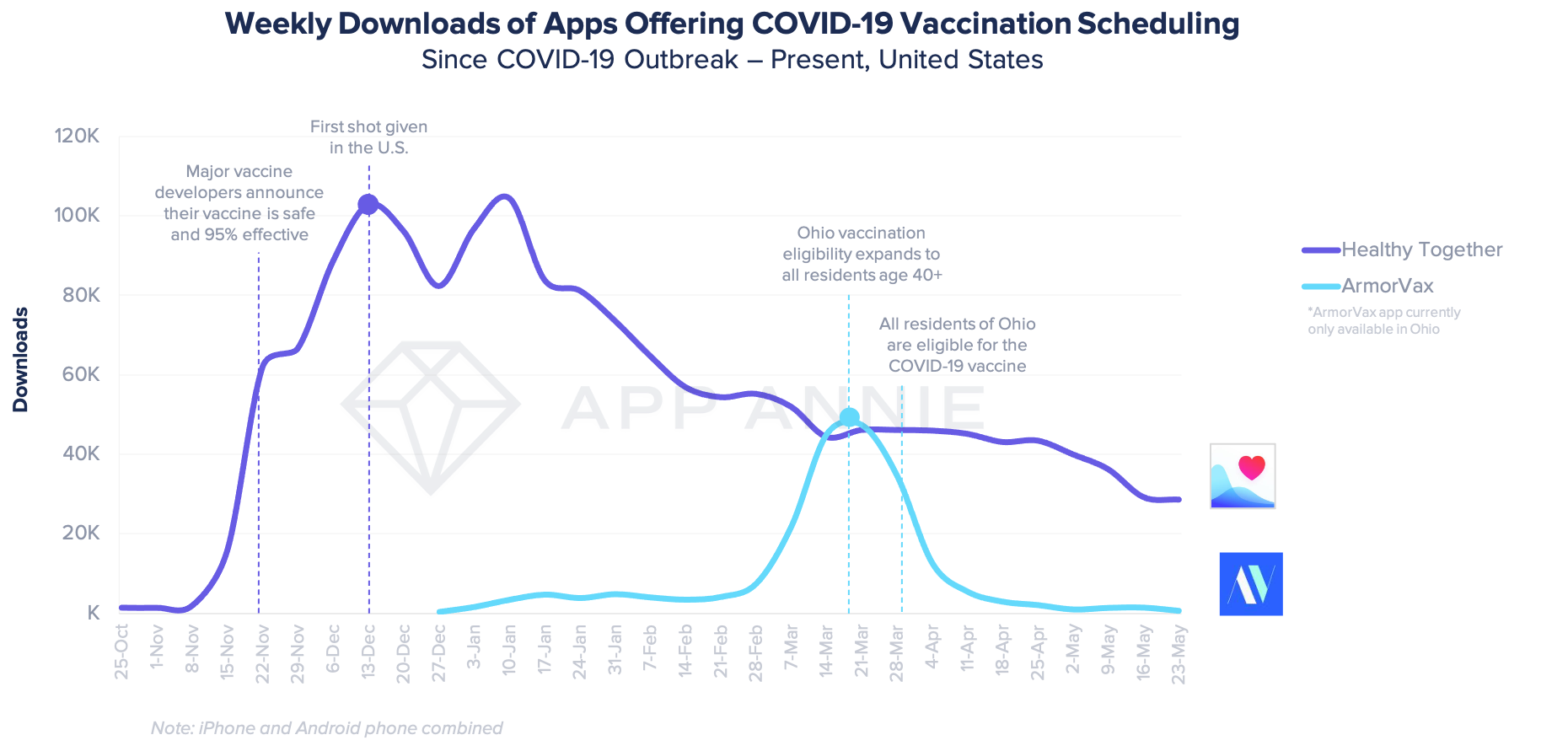 Globally, time spent in travel and navigation apps is up 86% YoY, leveling out to pre-pandemic levels. Australia has largely avoided the COVID-19 spikes seen across the rest of the world and time spent in travel and navigation apps is up in Australia since pre-pandemic levels, seeing a 162% increase YoY.
Go Deeper:
While travel and navigation apps have seen significant growth this past quarter, consumers will expect unique offerings and deals going into the summer. As many have likely taken a break from certain apps since the beginning of the pandemic, now is the time to re-engage them and show the value of what your brand has to offer, creating long-lasting loyalty with certain customers eager to fill their travel itineraries.
Looking for more mobile insights? Download App Annie's industry-leading State of Mobile report, covering everything you need to know about how to win on mobile in 2021.
Looking to make more of the mobile opportunity? Talk to an expert today.
This post is the latest in a Mobile Minute series that features App Annie's perspective on how mobile is impacting current events and consumer trends. Check in weekly for our take on the latest news cycles and how mobile transformation is shaping industries around the world.
DISCLAIMER: 
App Annie is a mobile market estimate service provider. App Annie is not registered in any investment advisory capacity in any jurisdiction globally, and does not offer any legal, financial, investment or business advice. Nothing contained in this communication, or in any App Annie products, services, communications, or other offerings, should be construed as an offer, recommendation, or solicitation to buy or sell any security or investment, or to make any investment decisions. Any reference to past or potential performance is not, and should not, be construed as a recommendation or as a guarantee of any specific outcome. You should always consult your own professional legal, financial, investment and business advisors. Additionally, by providing the information herein, App Annie does not make any representations or warranties and does not undertake any legal or contractual obligations whatsoever. No liability may accrue to App Annie as a result of providing this information to you.