As consumers seek pandemic-safe travel experiences, summer 2021 sees acceleration in road trips and domestic travel.
What's Happening:
Labor Day marks the unofficial end to the summer travel season in the US, and 60% of Americans reported travel plans according to Cars.com, up 17% year over year.  9.2 million consumers hit the skies during the Labor Day holiday weekend, while cars.com reported more than 20% canceled flights and chose to drive amidst concerns over the delta variant. While global regions still face varying levels of pandemic safety regulations and Delta variant precautions, data shows travel and navigation apps surpassed 1.1 billion downloads from May to Aug 2021, an increase of 20% from the 4 months prior as well as year over year globally this summer.  The top 3 Online Travel Agency (OTA) apps by global downloads from May - July 2021 were Booking.com (#1), Hopper (#2) and Expedia (#3). Hopper saw the greatest growth in average sessions per user on Android phones among the three apps, while Booking.com saw the highest average sessions per user. This increased engagement shows that consumers are hungry to travel and points to consumer patterns of local travel and road trips.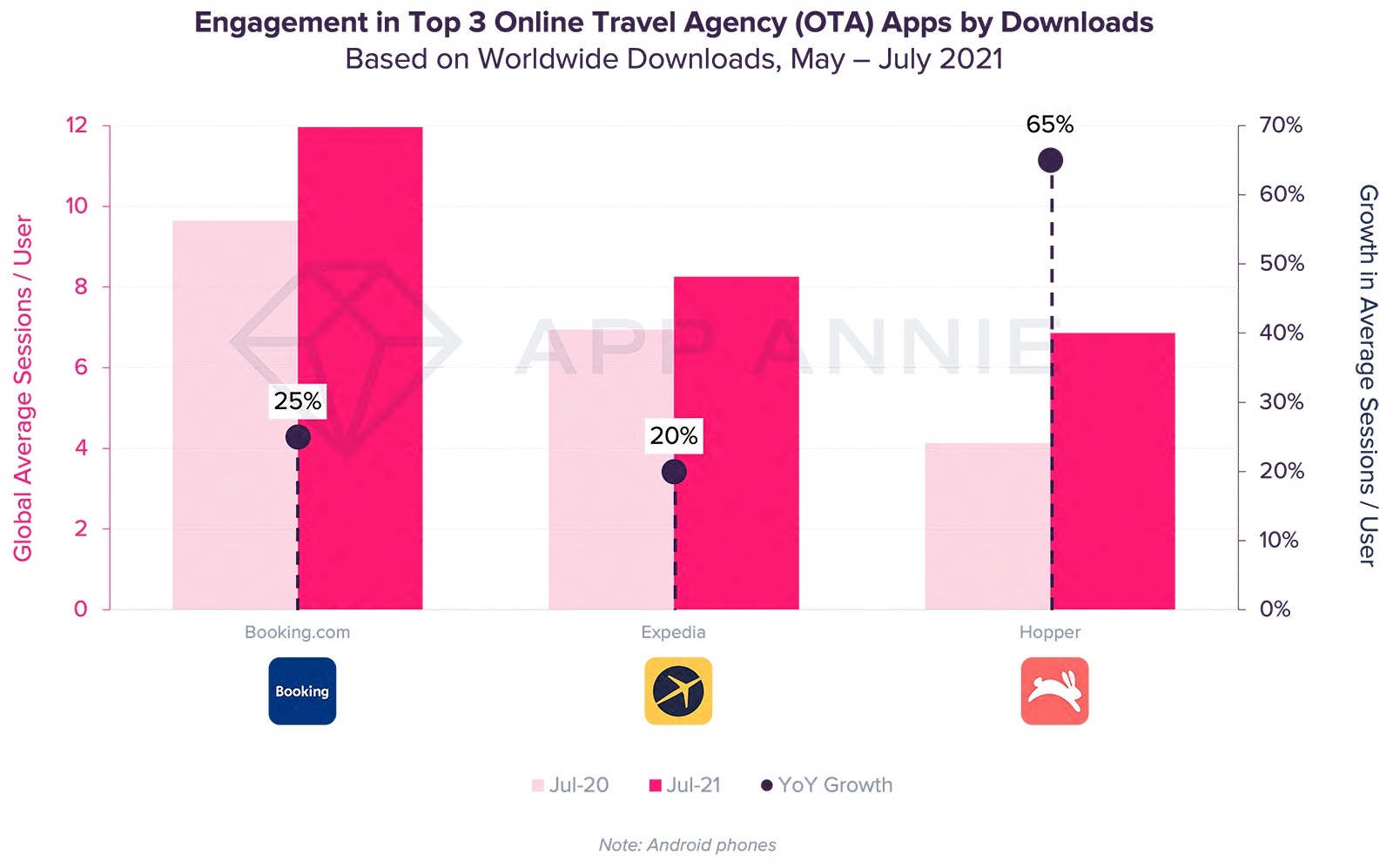 Why It Matters:
As vaccination rates continued to accelerate in regions including the US, Europe and China, global travelers still showed added caution when travelling. Globally, consumers showed preference toward local trips and travelling by vehicle as Google Maps was the most downloaded travel and navigation app (based on the 3 months ending July 31, 2021). In the same time period and category, Uber was the second most downloaded app and #1 in monthly active users worldwide. 
However, this summer also showed an acceleration in travel bookings and extended stays with Booking.com ranking #4 and Airbnb #7 in worldwide downloads among the travel and navigation category. Based on time spent in travel and navigation apps, time spent globally reached a peak in August 2021 reaching an increase of 20% year over year, whereas time spent in travel apps in the US peaked in July 2021, up 45% year over year. In the UK, another market with a high vaccination rate, saw time spent grow 47% year over year to peak in August 2021.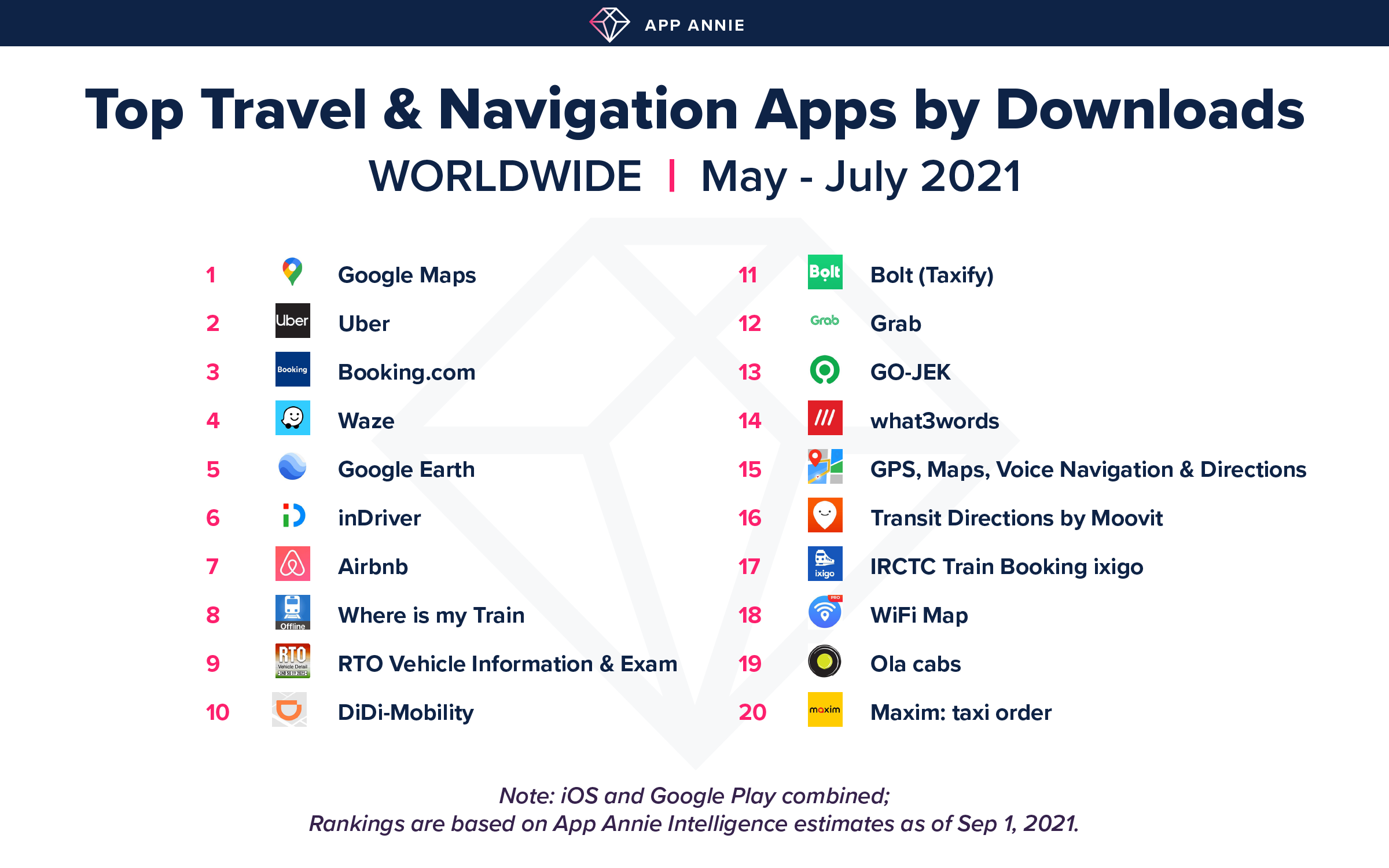 Airline travel also saw an acceleration in growth this summer, especially in regions such as the US Airlines made up 5 of the top 20 travel apps by downloads in the United States, including American Airlines, Fly Delta, United Airlines, Southwest Airlines and Spirit Airlines. Air travel showed signs of rebound during the early summer months, however US airline passengers numbers declined in September 2021 due to public concerns around the Delta variant — an indication of the evolving market and consumer shifts in response to updates in the pandemic.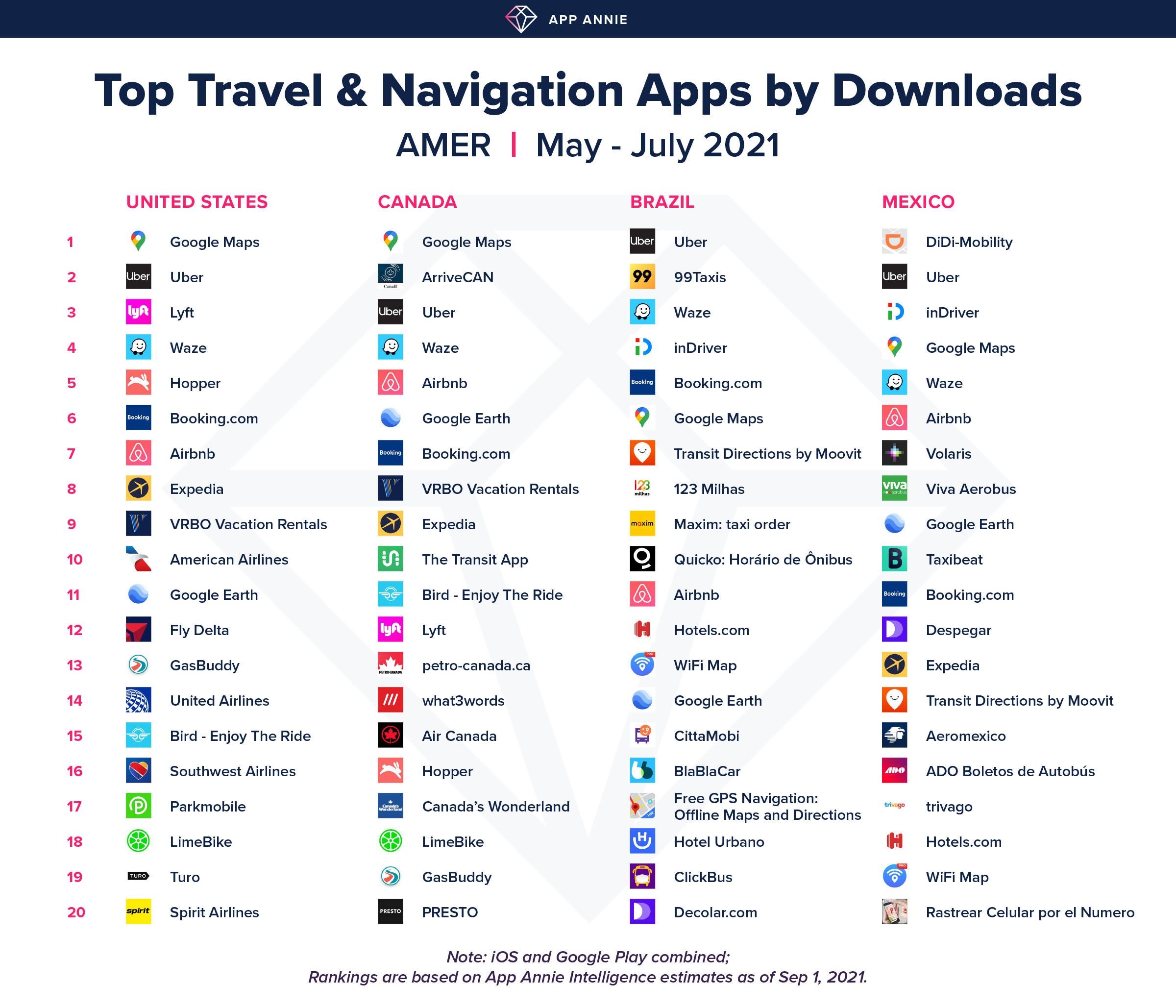 Go Deeper:
While travel and navigation apps saw significant growth this summer, the travel industry may see ongoing shifts stemming from challenges related to the spread of the Delta variant and potential need for vaccine boosters. To maintain customers, travel apps will need to prioritize consumer safety based on local guidance, maintain communication and provide valuable, relevant offers and a mobile-first strategy to stay top of mind.
Looking for more mobile insights? Download App Annie's industry-leading State of Mobile report, covering everything you need to know about how to win on mobile in 2021.
Looking to make more of the mobile opportunity? Talk to an expert today.
This post is the latest in a Mobile Minute series that features App Annie's perspective on how mobile is impacting current events and consumer trends. Check in weekly for our take on the latest news cycles and how mobile transformation is shaping industries around the world.
DISCLAIMER: 
App Annie is a mobile market estimate service provider. App Annie is not registered in any investment advisory capacity in any jurisdiction globally, and does not offer any legal, financial, investment or business advice. Nothing contained in this communication, or in any App Annie products, services, communications, or other offerings, should be construed as an offer, recommendation, or solicitation to buy or sell any security or investment, or to make any investment decisions. Any reference to past or potential performance is not, and should not, be construed as a recommendation or as a guarantee of any specific outcome. You should always consult your own professional legal, financial, investment and business advisors. Additionally, by providing the information herein, App Annie does not make any representations or warranties and does not undertake any legal or contractual obligations whatsoever. No liability may accrue to App Annie as a result of providing this information to you.