Global consumer spend in travel apps show 30% growth in summer months compared to 3 months prior — a bright spot for the industry's road to recovery.
What's Happening: 
While the travel industry has struggled amid pandemic restrictions, slow re-openings throughout the summer show positive signs of an industry comeback.  With consumers eager to book local getaways and plan future trips, consumer spend within travel apps increased year over year this summer, seeing apps such as accommodations, navigation and transportation impacted by the surge. 
Mobile data is critical to monitoring how this industry is rebounding from COVID-19, with mobile apps acting as leading indicators and reflections of consumer behavior. Increased demand within sectors of travel indicates which mobile features to prioritize, what areas of opportunities exist for product development, and when marketing, user acquisition and partnership strategies should launch to tap into this demand early. 
Why It Matters:
Between the months of June - August 2020, the United States and European regions in particular have seen an acceleration in both consumer downloads and spend within travel apps compared to the 3 months prior — indicating that the normal seasonality we would expect to see has surpassed tempering from COVID-19 containment tactics.  Consumer spend has also increased during this time period among the travel apps category — especially in the US (+30%), UK (+30%), Germany (+55%), France (+75%), Italy (+65%) and China (+25%).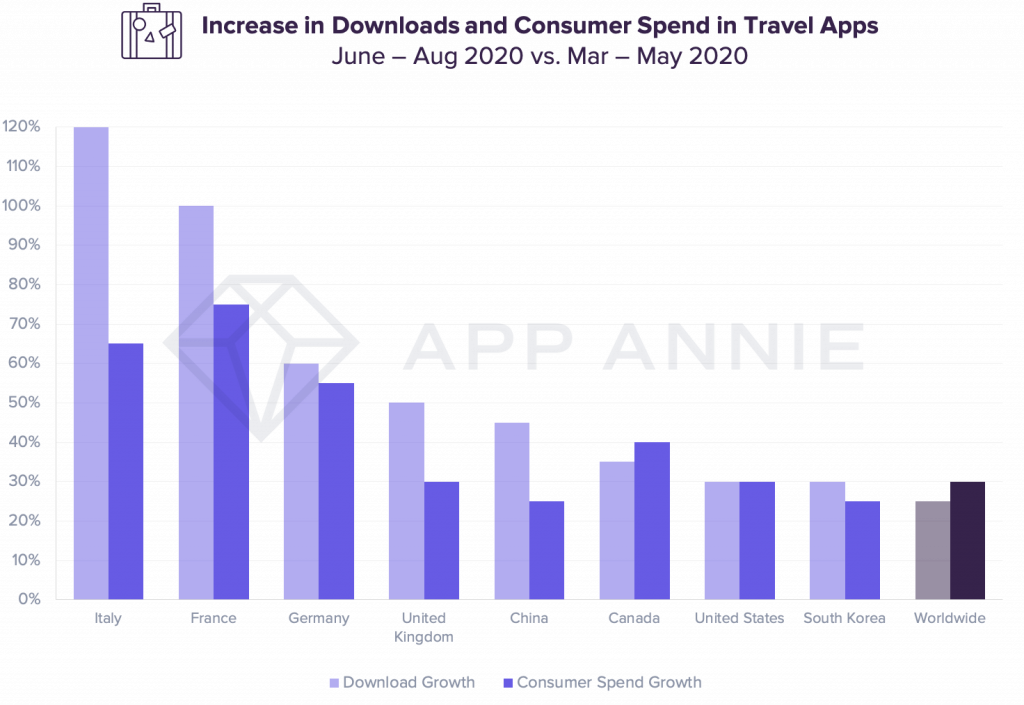 In the United States, private home rentals have grown in popularity. For example, VRBO has seen monumental growth in downloads this summer — marking a 120% growth between June — August, 2020 compared to the three months prior. Additionally, Trainline was among the breakout travel apps this summer in the UK — experiencing a 105% growth in downloads over the same time period.
Top apps show consumer interest in accommodation, travel planning and map/navigation features as COVID-19 travel bans begin to ease and consumers seek vacation opportunities. While popularity among driving companion apps (e.g. Speedbot in the US and park4night in Germany and France) may mean more people are driving, Ryanair was the only airline to peak in these rankings likely due to travel within the European bubble.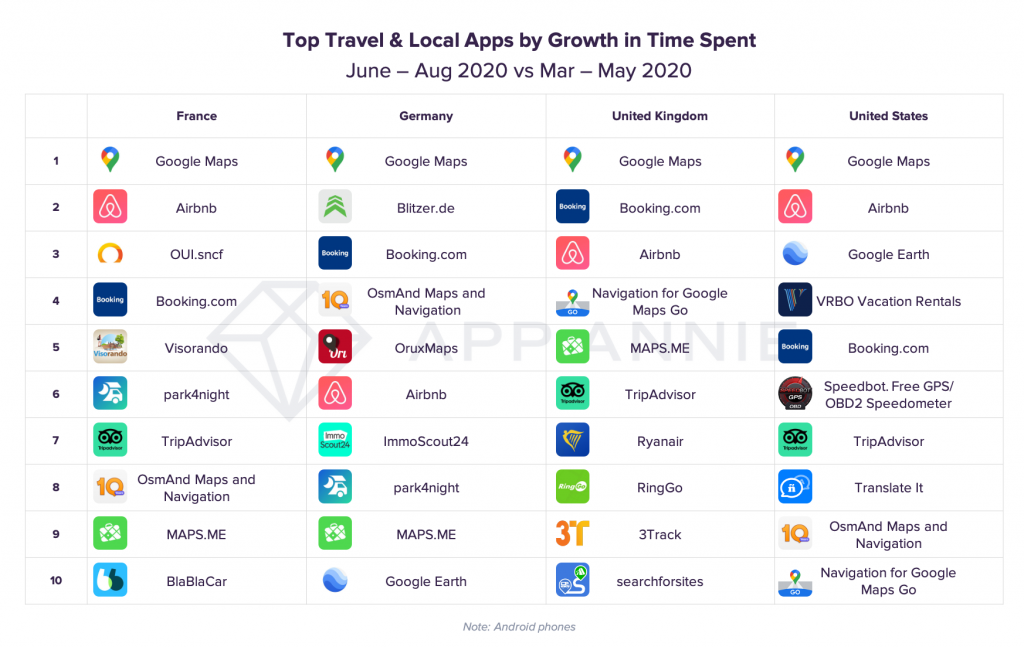 Go Deeper:
While the road to recovery may just be beginning for travel companies impacted by the pandemic, these trends show increasing interest among consumers and a willingness toward spending. As mobile usage increases and regional pandemic guidelines remain dynamic, apps will be an important channel for the travel industry to communicate with prospective customers and ensure the delivery of safe, reliable service. Travel companies should leverage this time to monitor movement in mobile data to tap into early consumer demand for travel apps, identify key mobile feature updates and put their best foot forward to beat the competition as the industry recovers. After all, mobile offers unparalleled reach, personalization and engagement with consumers — occupying 27% of waking hours each day for the average smartphone owner. 
For more information on the impact of the pandemic on the mobile economy, please read our latest report: How COVID-19 Has Changed Consumer Behavior on Mobile Forever. 
To hear more from our panel of mobile experts on the impact of coronavirus on the mobile economy, view our webinar on-demand. 
Looking to make more of the mobile opportunity? Talk to an expert today.
This post is the latest in a Mobile Minute series that features App Annie's perspective on how mobile is impacting current events and consumer trends. Check in weekly for our take on the latest news cycles and how mobile transformation is shaping industries around the world.
DISCLAIMER
App Annie is a mobile market estimate service provider. App Annie is not registered in any investment advisory capacity in any jurisdiction globally, and does not offer any legal, financial, investment or business advice. Nothing contained in this communication, or in any App Annie products, services or other offerings, should be construed as an offer, recommendation, or solicitation to buy or sell any security or investment, or to make any investment decisions. Any reference to past or potential performance is not, and should not, be construed as a recommendation or as a guarantee of any specific outcome. You should always consult your own professional legal, financial, investment and business advisors.