November 2019 is set to be the biggest month for m-commerce worldwide, fueled by mobile-first Singles Day shopping in Asia and mobile-driven Black Friday and Cyber Monday sales in western markets.
As the retail industry faces a shortened holiday shopping season and rapid digital disruption, mobile is set to play its biggest role yet. This year, the National Retail Federation predicts online sales will grow 11-14%, and a recent survey from Deloitte shows that 70% of smartphone users are planning to make purchases from their mobile devices this year. This season, mobile will prove to be an influential differentiator for helping retailers to streamline customer journeys and accelerate transactions. To help guide retailers' mobile strategies this holiday season, we've pulled together the 3 key trends you should know. 
1) Mobile Set to Drive Growth to Record $37B in Singles Day Sales 
Singles' Day 2019 — also referred to as 11.11— is set to be the biggest mobile shopping day ever. Singles' Day 2018 shattered records, surpassing $30.8 billion in sales, and this year we expect Alibaba's Singles Day to reach new heights, bringing in $37 billion in 24 hours — with the lion's share fueled by mobile commerce. Alibaba has successfully grown Singles' Day into a global shopping phenomenon across its suite of apps, including Tmall, TaoBao, AliExpress, Lazada, ele.me, Alibaba.com app and more.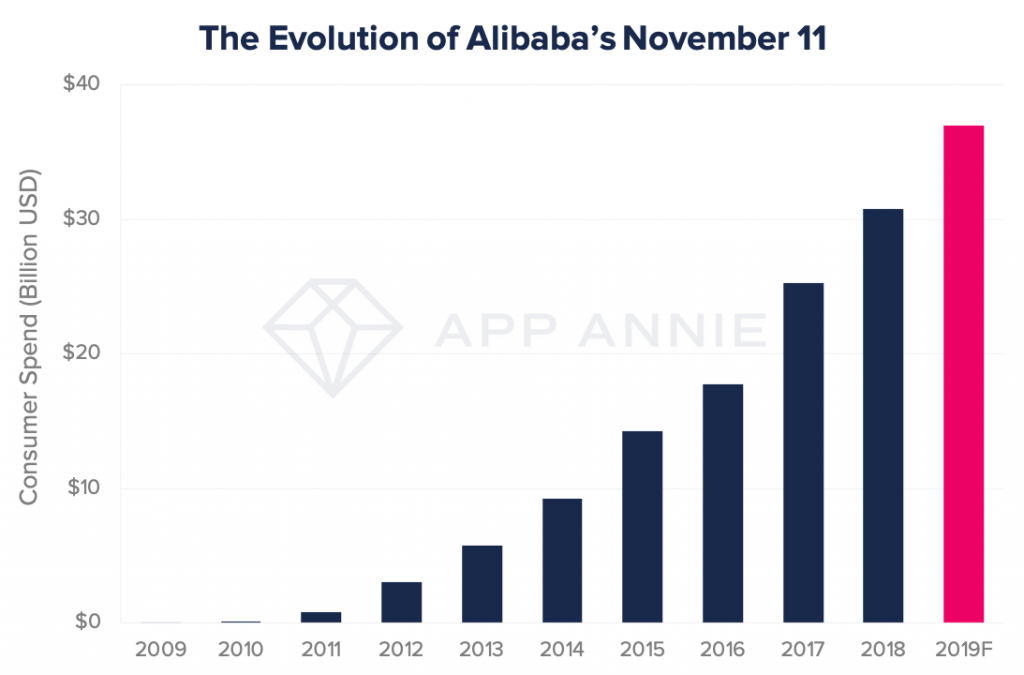 However, competition is heating up, especially in markets outside of China. In fact, many other players in the space — including Shopee, an e-commerce app with a large focus on Southeast Asia — have prioritized sales on 11/11. This year, Shopee has invested heavily in an advertising campaign during 9.9 shopping day featuring soccer star Cristiano Ronaldo as its spokesperson. We expect to see similar ads from the retailer this Singles Day in Southeast Asia, especially as competition ramps up in key markets like Indonesia. 
2) 2.2 Billion Hours to Be Spent in Shopping Apps Across Weeks of Black Friday, Cyber Monday and the Two Weeks After
2019 is set to be the biggest Black Friday to date, as consumers are spending more time than ever before in Shopping apps around the world. Outside of China, we are set to see a 25% increase in worldwide time spent during the weeks of Black Friday and Cyber Monday, with the week of Black Friday setting records as the biggest mobile shopping week ever. Following trends we've identified in past years, holiday shopping is set to extend beyond the days of Black Friday and Cyber Monday in isolation. The lead-up to Black Friday and the two weeks after Cyber Monday are set to see a sizable increase in time spent in shopping apps resulting in 2.2 billion hours spent in Shopping apps on Android phones worldwide outside of China during the week of Black Friday and the three weeks after. 
Looking specifically at the US, we expect to see 230 million hours spent in Shopping apps on Android devices during these four weeks. While the week of Black Friday is set to be the largest mobile shopping day to date, followed by the week of Cyber Monday, the two weeks after will see sizable growth in time shopping as consumers continue making purchases in the lead-up to Christmas. During these two weeks Americans are set to spend 25% more time in Shopping apps than the 4 weeks prior to the week of Black Friday 2019.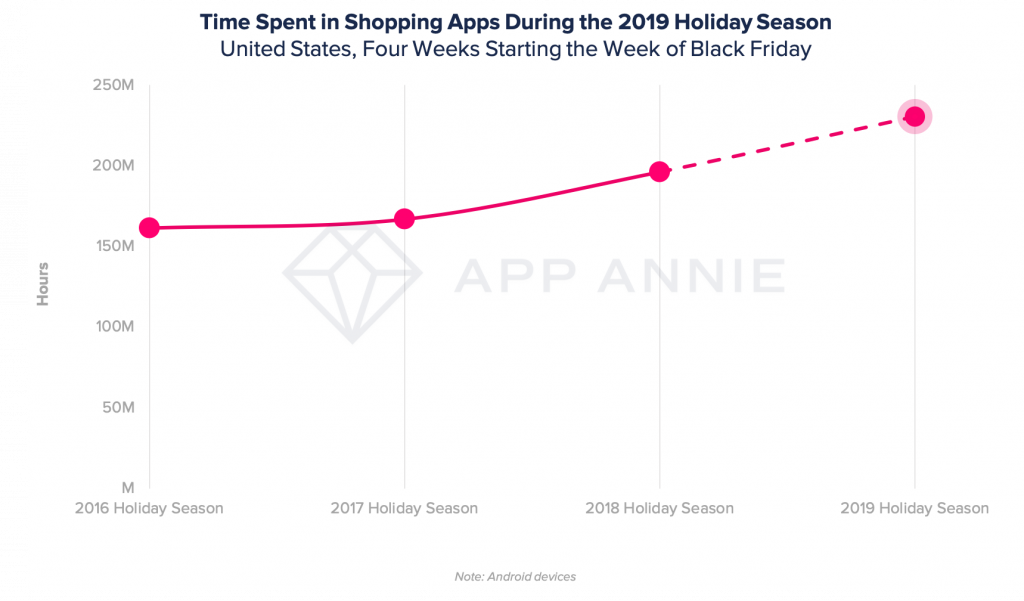 3) Digital-First Retailers Will Win With Gen Z This Holiday Season
As we head into the holidays, Gen Z should be a key focus for companies. In the US alone, 16-22 year olds spend $44 billion annually and influence an estimated $600 billion. Across the board, we see digital-first retailers like Amazon and Wish ranking highly among Gen Z. Wish in particular doubled down on its marketing, product portfolio, and price point to attract Gen Z, and these efforts have paid off in markets like the US, UK and Canada. Retailers should look to Wish's go-to-market strategy as a model for meeting Gen Z's retail demands through mobile.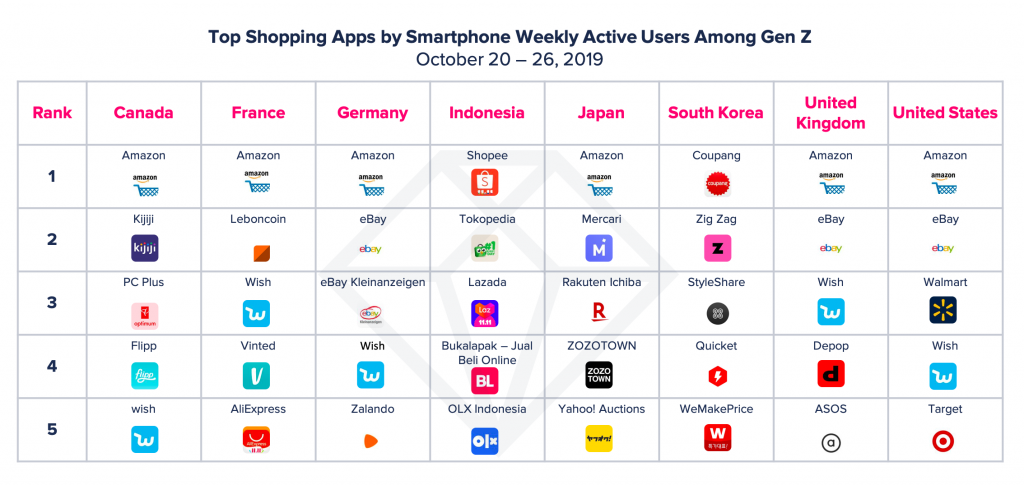 The average consumer spends three hours daily on their smartphone device  — making this a key consumer touchpoint. As we near the weeks leading into the biggest holiday shopping days of the year — Black Friday and Cyber Monday — it's important that retailers focus efforts on preparing their mobile channels for this influx in activity to ensure the most seamless and personalized experiences for their shoppers, especially for the mobile-native shoppers in Gen Z. 
To unlock How to Win Gen Z on Mobile, download our latest report:
This post is the latest in a Mobile Minute series that features App Annie's perspective on how mobile is impacting current events and consumer trends. Check in weekly for our take on the latest news cycles and how mobile transformation is shaping industries around the world.