As many schools return to the classroom in a remote capacity — leaning heavily on top education apps, educators and students play to Gen Z's strengths: their mobile-savviness
What's Happening: 
As summer draws to a close and school terms begin, many schools in markets still battling the spread of COVID-19 may reopen in a partial or fully remote capacity. Mobile has proven to play a bigger role than ever in keeping students on track and engaged in their studies. Starting in April, when many schools had to abruptly adopt a remote learning model, and extending through September, time spent in Education apps has seen phenomenal growth. 
Monitoring mobile movements in Education is critical for uncovering growing trends for Gen Z — the mobile-first generation — and for alternative learning models such as lifelong learning platforms like Udemy and Duolingo popular among both younger and older demos. With mobile taking over mindshare from consumers, monitoring mobile data is critical for uncovering potential mobile partnerships, social integrations and market opportunities.
Why It Matters:

The unprecedented increase in time spent on education apps worldwide during September 2020 has taken different forms — ranging from time spent in apps that connect students, parents and educators like ClassDojo and Remind: School Communication to ones that help them with math homework like PhotoMath or Qanda to creating study flash cards like Quizlet or Kahoot!. In the United States alone, time spent in Education apps on Android phones grew 30% year over year during the week commencing Sept 6, 2020 compared to one year earlier. Worldwide, this number broke 90%. These metrics peaked in April and May 2020 — correlating with COVID-19 school closures globally, and notably in Europe and the US — as schools sought mobile ways to continue teaching students remotely.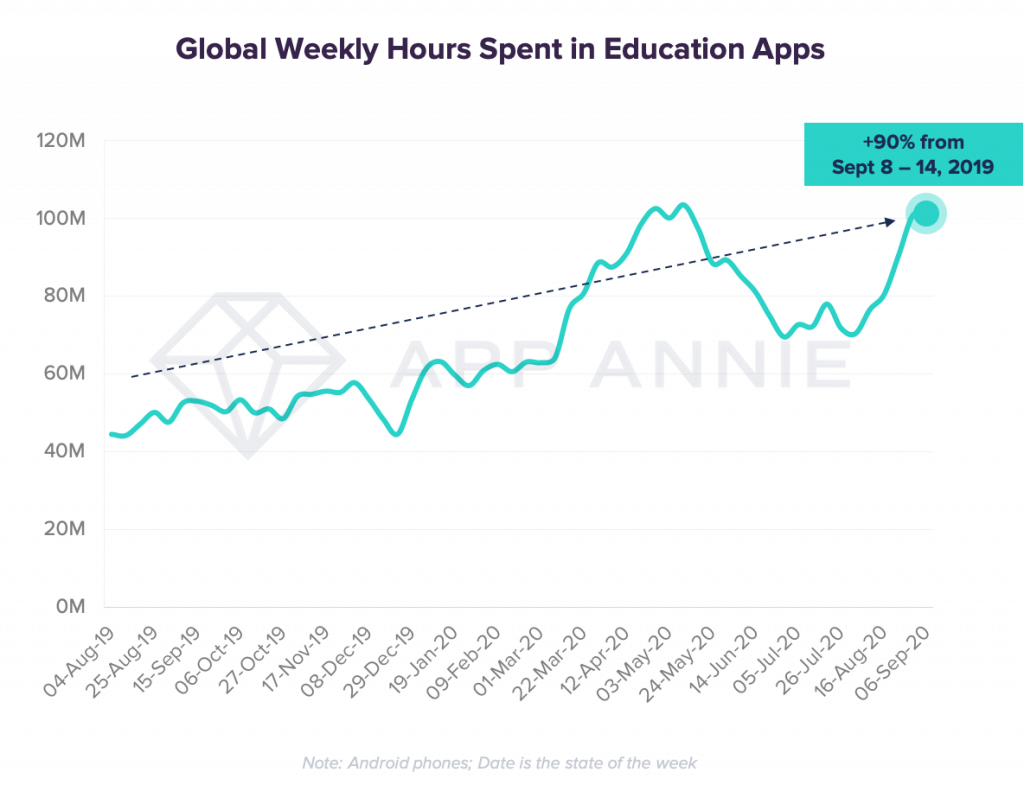 The new school year resulted in a sharp increase in time spent after a seasonal dip over summer, indicating that school systems and educators are appealing to Gen-Z with mobile apps. Globally, Gen Z uses mobile 60% more and spends 40% more time in non-gaming apps than older demos. Apps that mimicked a traditional classroom structure, such as Google Classroom, ranked in the top education apps for both Gen Z and older demos (aged 25 - 44) in Japan, UK and the US. While schools in the UK are having more in-person schooling than the US, time spent in Education apps is up 35% year over year in the first week of September indicating that mobile is an increasingly important part of an educational strategy with mobile-first Gen Z. As Europe braces for a possible second wave of COVID-19, we expect to see Education app engagement grow amidst a return to remote learning.  
While Education apps are important for younger students heading 'back to school' whether in-person or virtually, they are also important for older demos to facilitate classroom communication as well as lifelong learning. Looking at top Education apps by time spent on Android phones, we also see increased usage of apps geared towards self-education. For example, language app Duolingo ranked in the top 2 for both age groups (Gen Z and those aged 25 - 44) across the US, Japan and UK. In the UK, online learning app Udemy ranked #4 by time spent among those aged 25 - 44, up 10 from 4 weeks prior.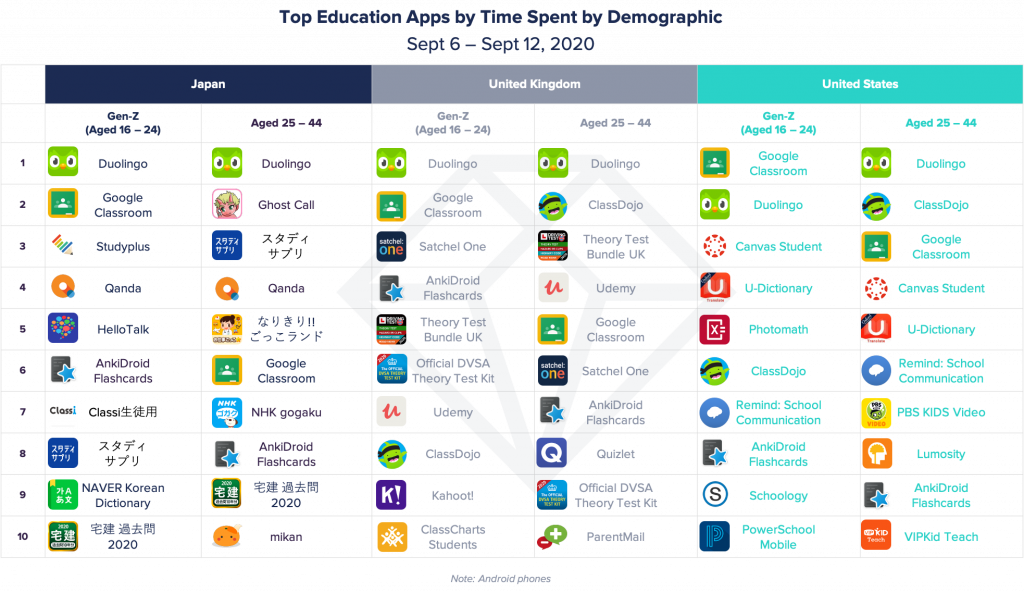 Go Deeper:
This new school year will require many students and educators to re-evaluate how to best utilize technology for their educational purposes. With the increase seen in time spent on Education apps, mobile has already proven to be a key avenue for keeping Gen Z connected and engaged this school year — slotting into their existing habits as a mobile-native generation. Companies should monitor mobile data to access untapped demand among this generation — already the largest generation globally, with an unprecedented 98% mobile adoption rate.  

For more information on the impact of the pandemic on the mobile economy, please read our latest report: How COVID-19 Has Changed Consumer Behavior on Mobile Forever. 
To hear more from our panel of mobile experts on the impact of coronavirus on the mobile economy, view our webinar on-demand. 
Looking to make more of the mobile opportunity? Talk to an expert today.
This post is the latest in a Mobile Minute series that features App Annie's perspective on how mobile is impacting current events and consumer trends. Check in weekly for our take on the latest news cycles and how mobile transformation is shaping industries around the world.
DISCLAIMER
App Annie is a mobile market estimate service provider. App Annie is not registered in any investment advisory capacity in any jurisdiction globally, and does not offer any legal, financial, investment or business advice. Nothing contained in this communication, or in any App Annie products, services or other offerings, should be construed as an offer, recommendation, or solicitation to buy or sell any security or investment, or to make any investment decisions. Any reference to past or potential performance is not, and should not, be construed as a recommendation or as a guarantee of any specific outcome. You should always consult your own professional legal, financial, investment and business advisors.