Telehealth and medical apps see 65% growth in demand during COVID-19 pandemic.
What's Happening:
While many facets of 'normal' life have been put on hold due to ongoing social distancing efforts, the health and safety of individuals and healthcare providers remains a top priority. Many consumers are turning to telehealth apps to support routine health activities such as scheduling virtual appointments, messaging with healthcare professionals, and evaluating test results.
Why It Matters:
An acceleration of 65% in downloads among global medical apps in April 2020 compared to Jan 2020 points to an increased reliance and escalation of consumer trust in these apps for handling tasks traditionally fulfilled in-person amidst continued social distancing precautions.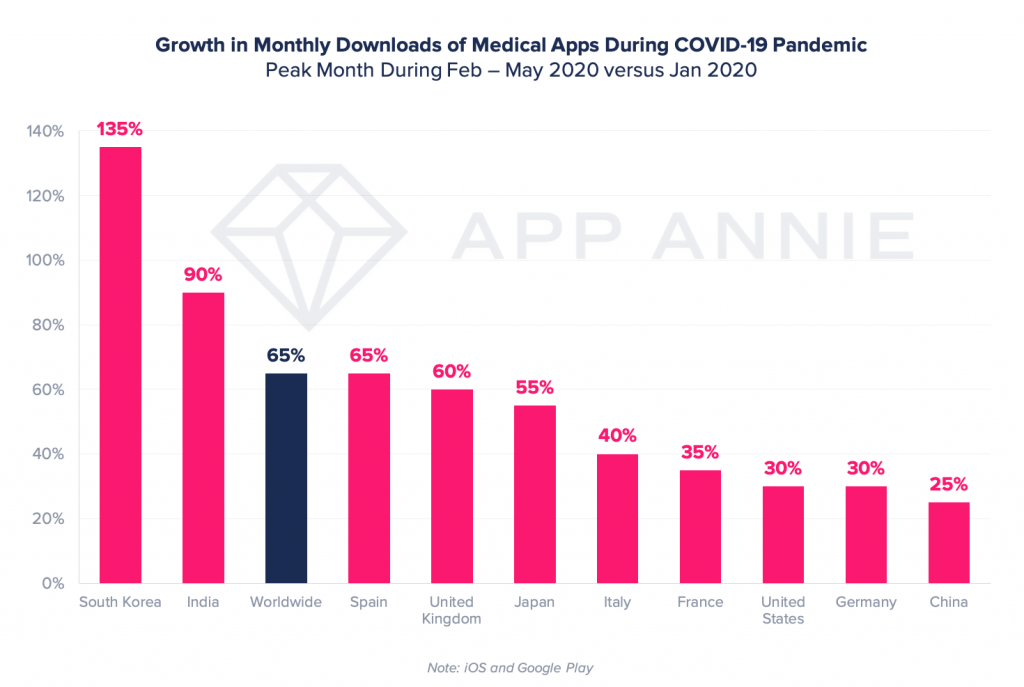 As healthcare providers make their services more accessible, we've seen significant growth in downloads for popular platforms including Telehealth by SimplePractice, Healow, Doctor on Demand and Doximity. Additionally, Teladoc reported a 50% increase in daily virtual medical visits in early March within the United States. Amwell told App Annie patient visit volume nationally in the US has been up anywhere from 100% to 300% compared to the expected number of visits based on historical patterns. Furthermore, they report that the growth in the use of telehealth has correlated with the movement and impact of the virus.
South Korea and India saw the highest growth in medical app downloads during the coronavirus pandemic at 135% in Feb 2020 (its peak month) from Jan 2020 and 90% growth in April 2020 from Jan 2020, respectively. In South Korea, the top two Medical apps that saw the largest growth in downloads were coronavirus tracking apps. In India, Medlife, Netmeds and Practo were the top 3 Medical apps by growth in downloads, respectively, during this time period. Medlife and Netmeds offer delivery of medical prescriptions and Practo facilitates telehealth consults with doctors. All three apps are examples of demand for socially-distanced offerings in the time of COVID-19.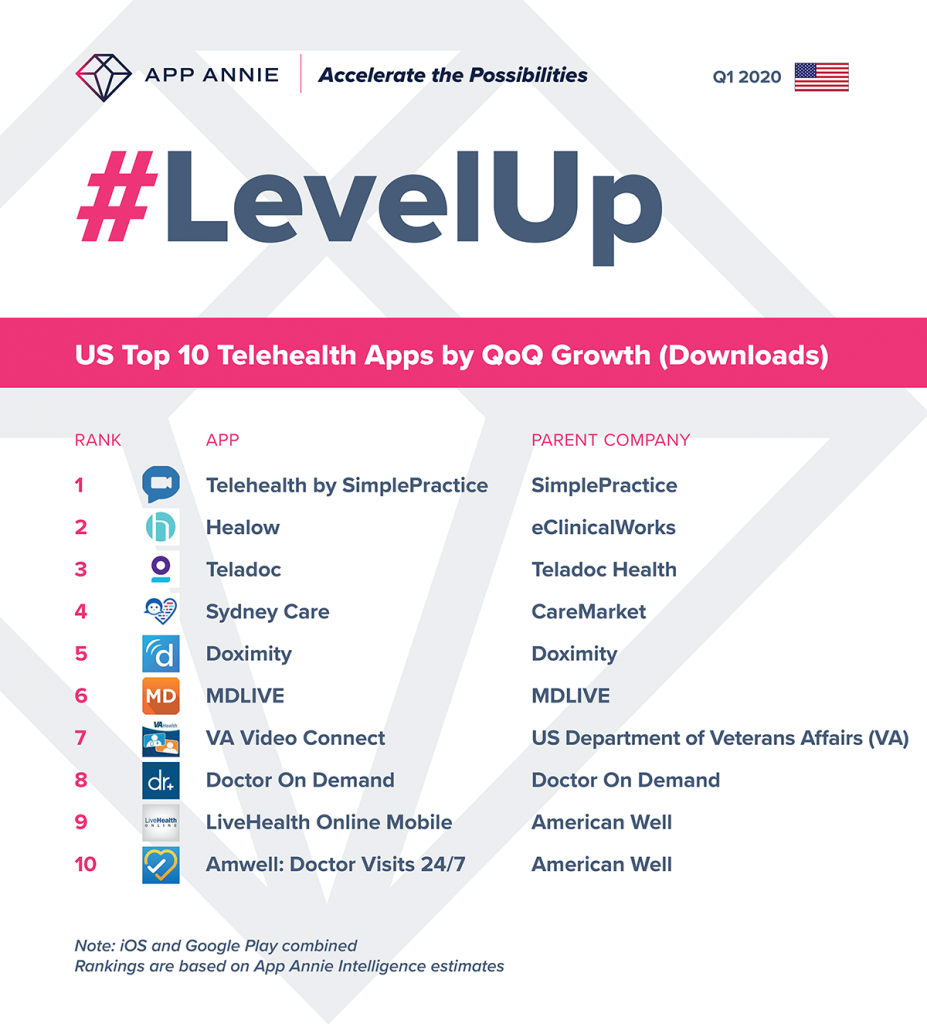 We've also seen strong increases in the usage of pharmacy apps. In April 2020, Rite Aid Pharmacy saw 140% growth in time spent on Android phones in the US compared to Jan 2020. Mobile apps can aid in contactless fulfillment of prescriptions — a feature likely in high demand amongst social distancing policies. 
Notably, Rite Aid Pharmacy has seen growth in cross-app usage with apps like Fitbit and MyChart — a medical app for managing your personal medical history and prescriptions, communicating with doctors and scheduling in-person and telehealth visits — an indication that consumers are seeking out apps to manage their overall health and wellness.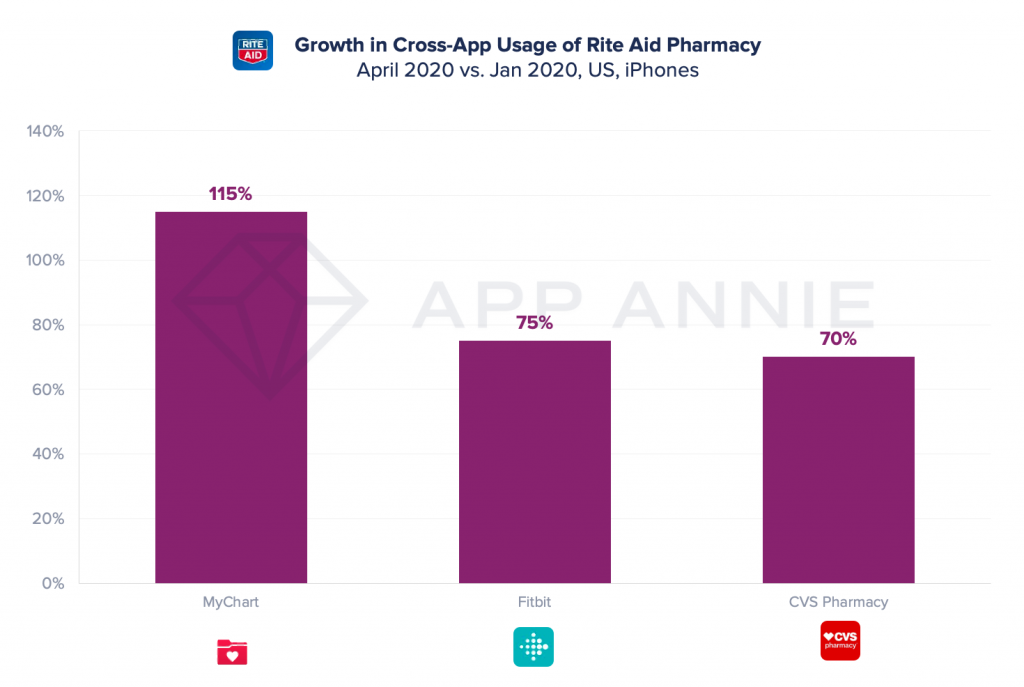 Rite Aid Pharmacy has also seen strong growth in cross-app usage with other pharmacy apps, such as CVS Pharmacy. In fact, among the three apps shown in the chart above, CVS Pharmacy has the highest cross-app usage with Rite Aid Pharmacy among iPhone users in the US in April 2020. More than ever, having a data-fueled mobile strategy will help brands differentiate and win with consumers. 
Go Deeper:
59% of consumers reported they are more likely to use telehealth services due to the ongoing pandemic, and almost half of physicians are leveraging telehealth services as COVID-19 has disrupted normal operations. While telehealth is playing an elevated role in the ongoing pandemic, its adoption by both patients and healthcare professionals is expected to continue to accelerate post COVID-19 and will influence continued innovation. 
For more information on the impact of the virus on the mobile economy, please see our blog post here: The Impact of Coronavirus on the Mobile Economy.
To hear more from our panel of mobile experts — including a special guest from Snap, Inc. — on the impact of coronavirus on the mobile economy, watch our webinar. 
Looking to make more of the mobile opportunity? Talk to an expert today. 
This post is the latest in a Mobile Minute series that features App Annie's perspective on how mobile is impacting current events and consumer trends. Check in weekly for our take on the latest news cycles and how mobile transformation is shaping industries around the world.
DISCLAIMER
App Annie is a mobile market estimate service provider. App Annie is not registered in any investment advisory capacity in any jurisdiction globally, and does not offer any legal, financial, investment or business advice. Nothing contained in this communication, or in any App Annie products, services or other offerings, should be construed as an offer, recommendation, or solicitation to buy or sell any security or investment, or to make any investment decisions. Any reference to past or potential performance is not, and should not, be construed as a recommendation or as a guarantee of any specific outcome. You should always consult your own professional legal, financial, investment and business advisors.