As developer conference season is in full swing, Facebook, Microsoft, Google and Apple see mobile as the conduit for growth.
Each year we witness a line of developer conferences by the largest tech conglomerates announcing their latest developments and products. On April 30, 2019, Facebook's F8 kicked off the season and Apple's WWDC will bring it to a close on June 3, 2019. To date, these conferences have placed an emphasis on mobile-related products and services — making it clear that mobile is a non-negotiable strategy for tech power players.
F8 - Facebook Continues to Dive into Dating:
During Facebook's F8 2019 conference, the social network company announced "Secret Crush" which will be available through Facebook on web and app. The feature expands on Facebook Dating and allows users to create a list of up to nine friends, express interest and then notify those users that they have an anonymous crush. Facebook then notifies both users when there is a match. This new capability shows Facebook's eagerness to gain traction in the lucrative dating app industry. In 2018, the top 10 dating apps by consumer spend accrued $1.3 billion, up 190% from 2016.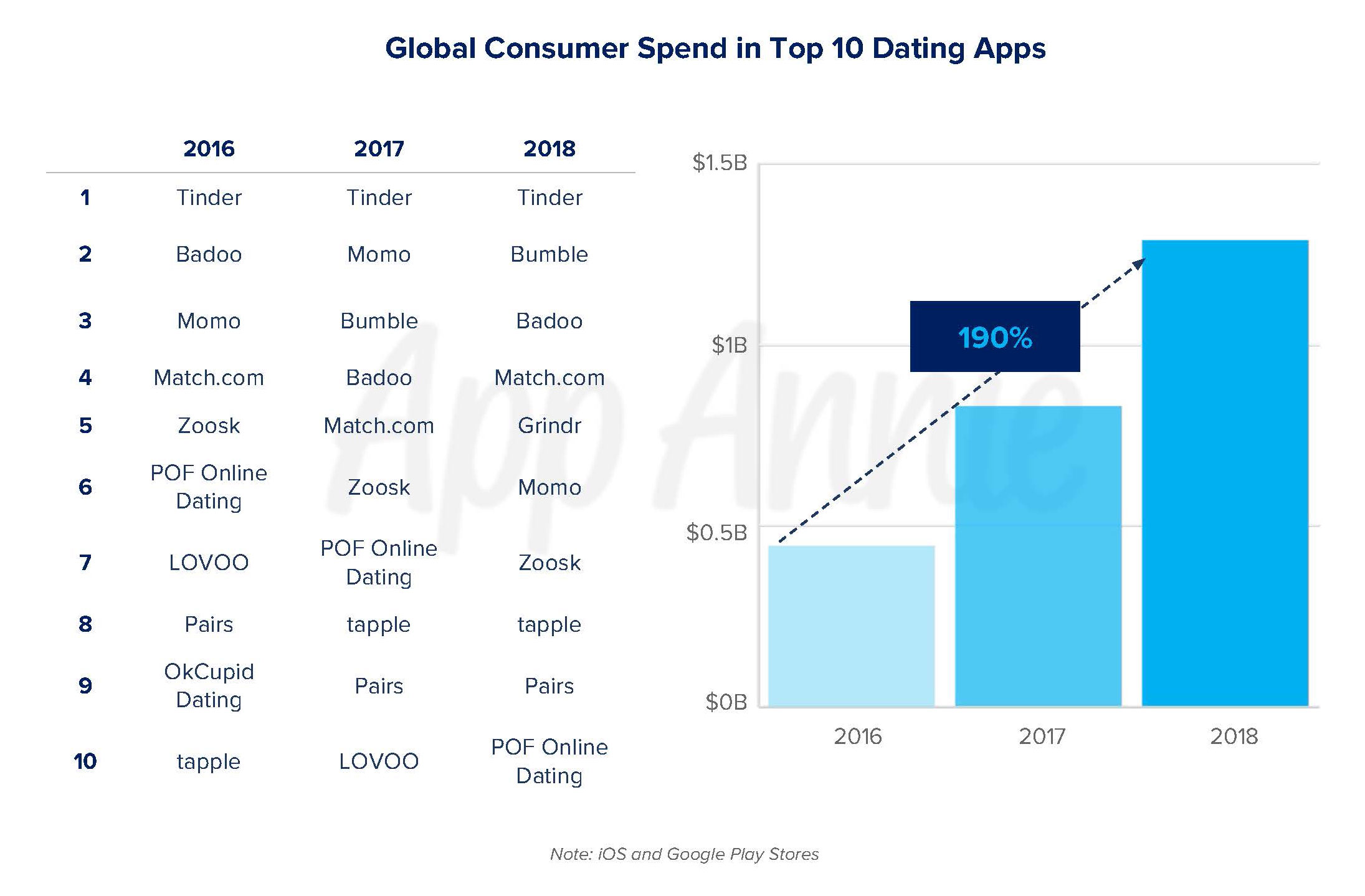 Facebook's move further into the dating app market is particularly interesting since existing players have started to enter Facebook's social networking territory through features such as Bumble BFF that focus more on social versus romantic connections. Facebook provides a unique advantage in the dating app space with its ability to leverage its vast existing user base and social circles, as well as providing a powerful suggestion engine for matchmaking. However, it remains to be seen if users are willing to adopt a new use case beyond social networking.
Microsoft Build - Minecraft AR Coming Soon:
During Microsoft Build 2019, the company began teasing a new mobile Minecraft Augmented Reality (AR) game and shared that more information will be coming on May 17, the 10-year anniversary of Minecraft. As of May 11, 2019 Minecraft ranked #1 by daily paid game downloads in 91 countries on Google Play and 51 countries on iPhone, indicating its vast reach and popular appeal among paid mobile games. It will be interesting to see how AR features could deepen engagement or enable access to new markets for Minecraft.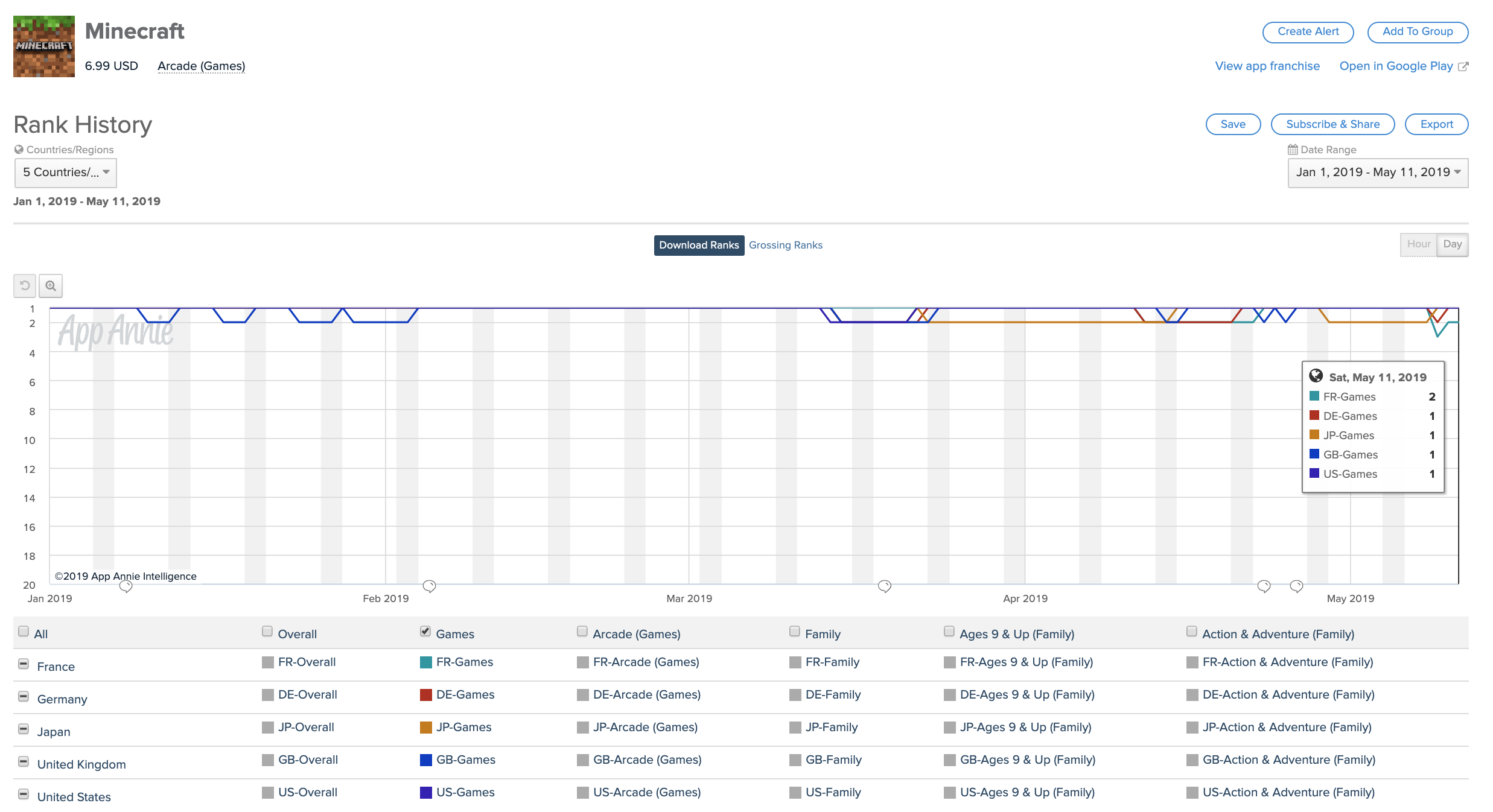 On Google Play, Minecraft was the #1 paid game — priced at $6.99 USD — by daily downloads in the US, UK, Germany, France and Japan for most of 2019 to date (May 11). Minecraft saw similar daily rankings on iPhone across these markets.
Google I/O — Play Store Modernizing App Rankings
:
Google rolled out a mobile-focused line of products and features at 2019's I/O. From the new — and notably less expensive — Pixel 3a smartphone at $399 to new AR modes for Maps and Search, it's clear Google is investing heavily in research and development when it comes to mobile and connected capabilities.
Google also announced a new calculation for Google Play app ratings. Like Apple, Google is weighting app ratings more heavily towards newer releases and less by overall, cumulative ratings. This will likely provide consumers with a better understanding of how the app is rated today. A once-great app can no longer coast on past reviews and an app with a poor start can lift its ratings by improving its performance, reflecting the improvements app developers have made to provide better experiences for their users.
Due to this new calculation, we expect Google Play ratings to fluctuate more over time. This update could also incentivize developers to prioritize addressing user pain points or risk losing out to newer entrants with better ratings. Any bugs introduced in updates would likely drop the ratings much quicker than they did before, which may put pressure on developers to make updates more quickly or be more cautious when releasing updates.  
Apple Worldwide Developers Conference — Keeping Close Tabs on the App Store's Monetization
:
With WWDC 2019 on the horizon, there are many speculations around what Apple will announce. According to a recent Bloomberg article, the tech giant is set to unleash a number of new apps, features and development tools to improve its devices, better connect with customers and attract third-party app developers to the App Store.
We expect Apple to focus on core iPhone apps like Maps and Messages. Moreover, we are particularly interested in how Apple will prioritize subscription revenue and tackle the news of high-profile brands like Netflix no longer allowing new customers on iOS to pay in-app for their services. Avoiding the App Store fees allows these brands to receive 100% of the revenue from their subscriptions. However, for the majority of publishers, the benefits of the App Store's simple, frictionless and secure payment channel outweighs the gains in revenue previously provided to Apple for using the App Store services. Moving outside of traditional app stores and going direct will likely only work for the biggest brands who have services people use enough that they are willing to take additional steps to pay for the service without a large drop-off in conversions. As a result, we expect the App Store to remain a centralized marketplace for app publishers to convert users. However, we do expect to see Apple factor these select cases into its future subscription revenue plans.
The Central Theme for 2019's Developer Conference Season
With the average user spending nearly 3 hours a day on mobile and over $101 billion spent annually through the app stores, it is clear that mobile is the engine for growth, and the largest tech conglomerates are not only taking note, they are doubling down on mobile.
If interested in learning more about the brands above and their moves in mobile, check out App Annie's industry-leading 2019 State of Mobile Report:.
This post is the latest in a Mobile Minute series that features App Annie's perspective on how mobile is impacting current events and consumer trends. Check in weekly for our take on the latest news cycles and how mobile transformation is shaping industries around the world.