Globally, downloads of the Pinterest app exceeded 193M in 2020
What's Happening: 
The retail industry during the pandemic has undergone a huge shift in its offerings, fulfillment and prominent shopping channels. E-commerce-focused brands, like Amazon, have done extremely well, given that many consumers are choosing to forgo entering physical stores. Some big-box retailers have adapted to the need for fast, free shipping, using their physical presence as an advantage for more same-day delivery options. Traditional retailers, e-commerce providers and mobile-first companies have one central thread: the mobile app is key to shopping and fulfillment in our new normal. Mobile shopping has also opened the door for other industry disruptors: including social commerce. Pinterest saw significant growth with 193 million global downloads in 2020, up 50% year over year — driven by an acceleration of consumers leveraging the platform for product discovery, design inspiration and shopping. 
Why It Matters:
Research estimates show that social commerce and live shopping could present a $2 trillion market globally by 2024. As consumers spent more time at home this year, Pinterest expanded its global footprint in 2020, ranking in the top 10 breakout social apps by average monthly active users in LATAM, North America, Asia-Pacific and EMEAR. Success of the app has also continued into 2021, seeing an additional 33 million downloads in January and February alone.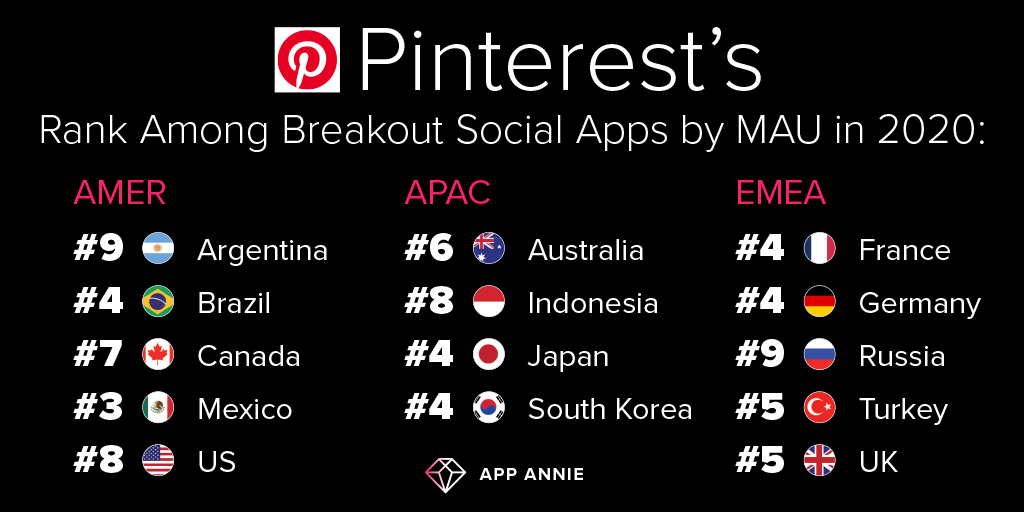 In an effort to capitalize on the growth of social commerce, Pinterest released a number of new features in 2020, including a new 'shop' tab in search and a number of merchant tools to help retailers reach customers, like a new storefront profile. Retailers have also taken to the app in recognition of its growing popularity. In October, Michael's brought three virtual holiday shopping experiences to Pinterest, which included do-it-yourself projects and shoppable products. 
We've seen cross-app usage of Pinterest and major retailers grow over the last year — a possible indication of Pinterest's expanded use case is resonating with consumers: as a shopping destination on top of a discovery tool and emphasizes the platform's influence on shopping decisions. As of Jan 2021, 64% of Pinterest's iPhone users in the US also used Amazon and 27% used Walmart, up from 59% and 22%, respectively, a year prior. Additionally, while Amazon ranks #1 in the US in 2020 for monthly active users among Shopping apps, the average US user spent 60% more time in Pinterest each month than they did in Amazon on Android phones. 
---
"People have always come to Pinterest to shop, and in 2020 we made it easier than ever to go from inspiration to purchase, and for retailers to upload their catalogs and benefit from product discovery. The acceleration of online shopping during the pandemic has heightened the need for high quality, contextual and visually browseable shopping experiences that replicate how it feels to discover great products in-store or while window shopping. As distributed commerce unlocks seamless shopping experiences, we'll continue our work to make every item on Pinterest shoppable."

-Dan Lurie, Head of Shopping Product, Pinterest
---
Go Deeper:
Outside of retailers and the average consumer, Pinterest has also gained traction with influencers on various social media platforms, who have experienced success linking their content to the app. Following a fruitful year for mobile commerce, we anticipate Pinterest and other social apps will continue to expand platform shopping features in 2021. 
Looking for more mobile insights heading into 2021? Download App Annie's industry-leading State of Mobile report, covering everything you need to know about how to win on mobile in 2021.
Looking to make more of the mobile opportunity? Talk to an expert today.
This post is the latest in a Mobile Minute series that features App Annie's perspective on how mobile is impacting current events and consumer trends. Check in weekly for our take on the latest news cycles and how mobile transformation is shaping industries around the world.
DISCLAIMER: 
App Annie is a mobile market estimate service provider. App Annie is not registered in any investment advisory capacity in any jurisdiction globally, and does not offer any legal, financial, investment or business advice. Nothing contained in this communication, or in any App Annie products, services, communications, or other offerings, should be construed as an offer, recommendation, or solicitation to buy or sell any security or investment, or to make any investment decisions. Any reference to past or potential performance is not, and should not, be construed as a recommendation or as a guarantee of any specific outcome. You should always consult your own professional legal, financial, investment and business advisors. Additionally, by providing the information herein, App Annie does not make any representations or warranties and does not undertake any legal or contractual obligations whatsoever. No liability may accrue to App Annie as a result of providing this information to you.