Uncover how consumers are shopping in the new year, and which brands are leading the pack.
What's Happening: 
Off the back of a record year for mobile shopping in 2022, consumer shopping habits are already shifting in 2023. In 2022, consumers were plagued with record inflation putting a squeeze on purchasing power. And as a result, shoppers turned to coupons & rewards apps, Buy-Now-Pay-Later services and budget & tracking apps for financial relief.  
Several weeks into the new year, we are seeing deals-driven mobile shopping behaviors evolve: 
Resell App Downloads Boom:

+40% in the UK, +32% in Canada, +27% in Australia and +15% in the US.

High-Demand Coupons & Rewards Apps:

Top coupons and rewards apps appeared as breakout players in the US, UK, Australia and Germany so far in 2023, but the sector as a whole declined 9% globally from holiday season highs.

Favoring Fast (and Affordable) Fashion

:

SHEIN

was the #1 breakout app in the US, Canada and Australia, #2 in Germany and #3 in the UK, performing better in the new year than the lead-up to the holidays.
Why It Matters
: 
More shopping happens in the palm of our hands than ever before, with time spent in shopping apps growing +10% year over year in 2022. These days, apps are an integral part of an omnichannel retail experience, providing retailers unparalleled options that connect them to customers, deepen customer loyalty and enable them to personalize the shopping experience for their audiences. 
One noteworthy change in shopping habits is reflected in the growth of resell apps and Consumer to Consumer (C2C) marketplaces. This could be the next evolution of deals-driven purchases: seeking cheaper secondhand goods and also looking to earn extra cash. There may also be some seasonality at play with users looking to resell unwanted holiday gifts and influence of growing sustainability interest.
Poshmark did particularly well in the US, Canada and Australia as the #1 breakout Resell app. In the UK, Vinted claimed the top spot for shopping apps overall. And longtime favorite eBay Kleinanzeigen captured demand in the New Year for C2C buying and selling in Germany. 
Despite downloads for coupons & rewards apps softening after the holiday fervor, they remain a staple with shoppers in 2023. In Germany, Bonial's KaufDA and MeinProspekt ranks among the top five coupons & rewards apps by monthly active users (MAU) in January 2023 — continuing their Q4 success as a top-used shopping app in Germany. 
We spoke to Bonial's Chief Commercial Officer, Florian Reinartz about their apps' roles in driving foot traffic to stores: 
---
"At Bonial, we invest a lot to ensure that retailers and brands benefit from the steadily increasing user numbers of kaufDA and MeinProspekt. The combined power of both platforms makes us the leading drive-to-store provider. Together with our partners, we show that digital substitution is possible in a cost-effective way. Wide reach, high quality, and strong impact."

— Florian Reinartz, Chief Commercial Officer, Bonial
---
Go Deeper:
Dig Into Your Mobile Strategy with data.ai at etail Palm Springs! 
Swing by – or book a meeting with us ahead of time – and get a free app assessment with our proprietary Mobile Performance Score. It's like a credit score for your app! See you there.
Booth 115,

JW Marriott Desert Springs Resort, Palm Springs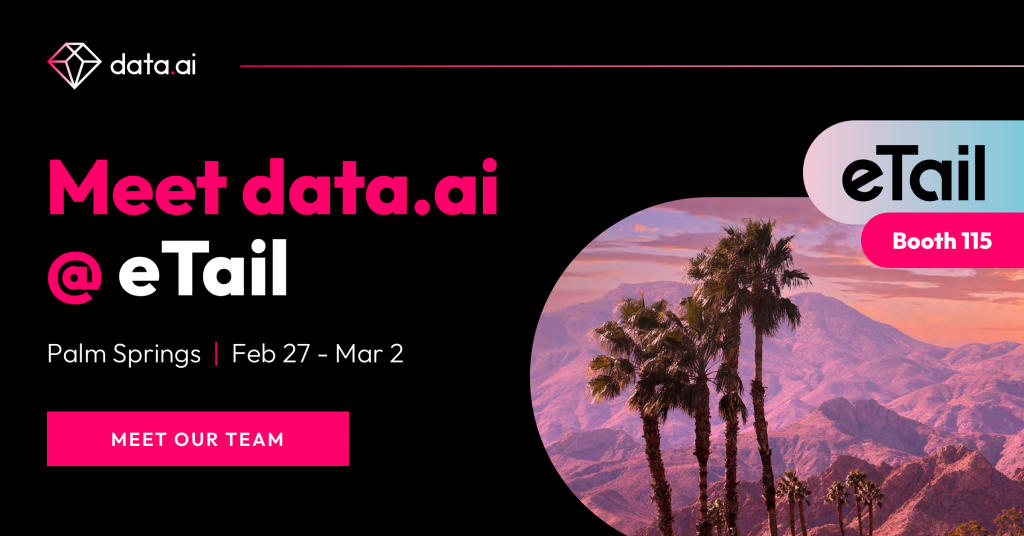 This post is the latest in a Mobile Minute series that features data.ai's perspective on how mobile is impacting current events and consumer trends. Check in weekly for our take on the latest news cycles and how mobile transformation is shaping industries around the world.
DISCLAIMER: 
data.ai is a mobile market estimate service provider. data.ai is not registered in any investment advisory capacity in any jurisdiction globally, and does not offer any legal, financial, investment or business advice. Nothing contained in this communication, or in any data.ai products, services, communications, or other offerings, should be construed as an offer, recommendation, or solicitation to buy or sell any security or investment, or to make any investment decisions. Any reference to past or potential performance is not, and should not, be construed as a recommendation or as a guarantee of any specific outcome. You should always consult your own professional legal, financial, investment and business advisors. Additionally, by providing the information herein, data.ai does not make any representations or warranties and does not undertake any legal or contractual obligations whatsoever. No liability may accrue to data.ai as a result of providing this information to you.